National Lockdown. School is closed except to vulnerable children and children of key workers. Online school is open for all classes until further notice.
Home Learning
Home Learning
Home Learning
For those of you who choose to keep your child at home, we will still be using the Seesaw app to continue our learning and interact with the children. Upload your work and the teachers can take a look! Our Learning Project is also available in the "Related Downloads" section on the right. If you cannot access Seesaw or would prefer to work on paper, there is also a weekly home learning pack available for download in this section too.
You will also find more home learning challenges on other sections of our web page, just click below or on the left-hand side-menu. We change some of these daily and some weekly so keep checking back in.
Keep up with the basics
Read every night for 10 minutes
Read to your child for 5 minutes, sharing stories is so valuable. Your child can read to you for 5 minutes. Question them on what they have read – examples of questions are on the "Reading" section of our class webpage.
2s, 5s and 10s times tables
Practise these by playing number tennis – your children will show you how! There are also links to helpful clips on the "Maths" section of our webpage
Writing our full names
Write your child's full name at the top of a piece of paper and have them practise it underneath. It's important to be able to write your own first and surname.
Have Fun!
Fun things to do as a family – cross off the ones you get done and bring this sheet back in to school. We would love to know what you got up to! Take photos, take videos, write about what you've done.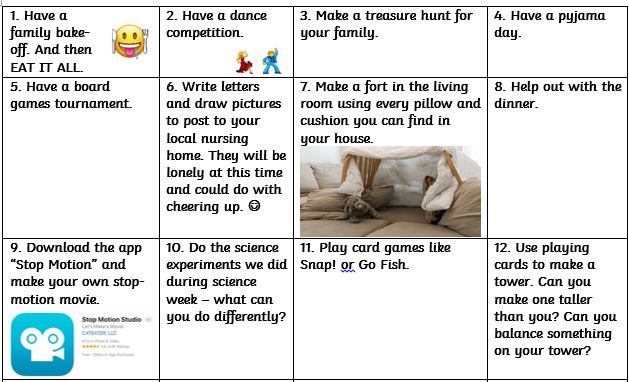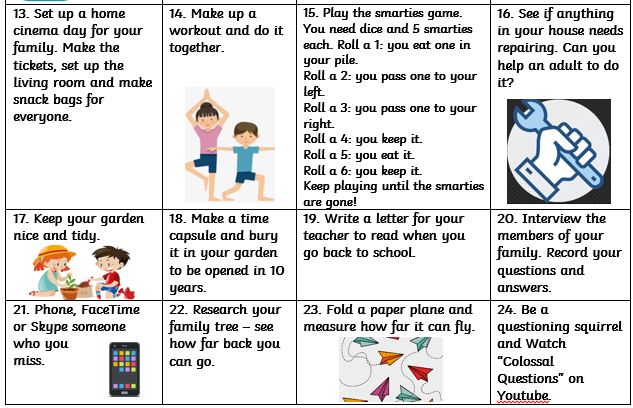 Music Express - Free Until August
Exciting news for all our super singers and music lovers in Year 1. Music Express is free online until August 31st. Just click on the music notes to go to the website.

Homework
Homework will be set weekly and will consist of:
· 5 words to learn how to spell and write and 5 vocabulary words to learn the meaning of. The children will be tested on these every Monday.
· Times tables and basic maths activities to do at home.
· Child reads to an adult for a minimum of 5 minutes every day.
· Adult reads to the child for a minimum of 5 minutes every day.
We will also be sending home a half-termly "menu" of exciting topic projects for your child to choose from
Spring 2 Homework Menu
Here is our homework menu for this half-term. If you require any support with this, please speak to your class teacher.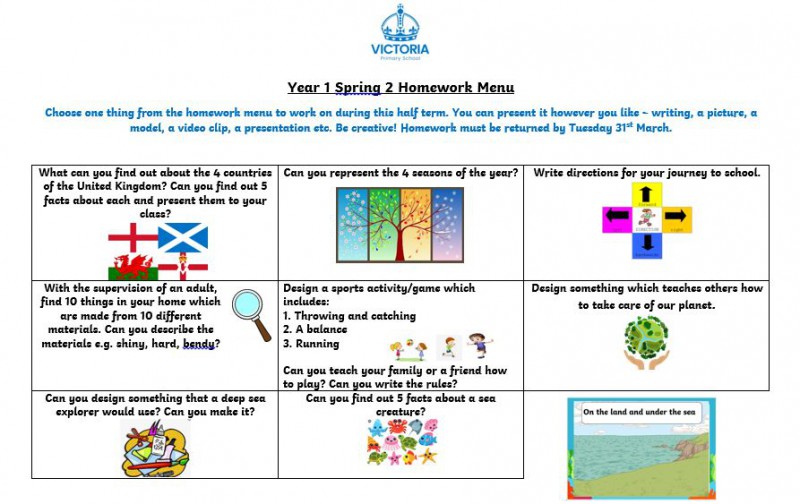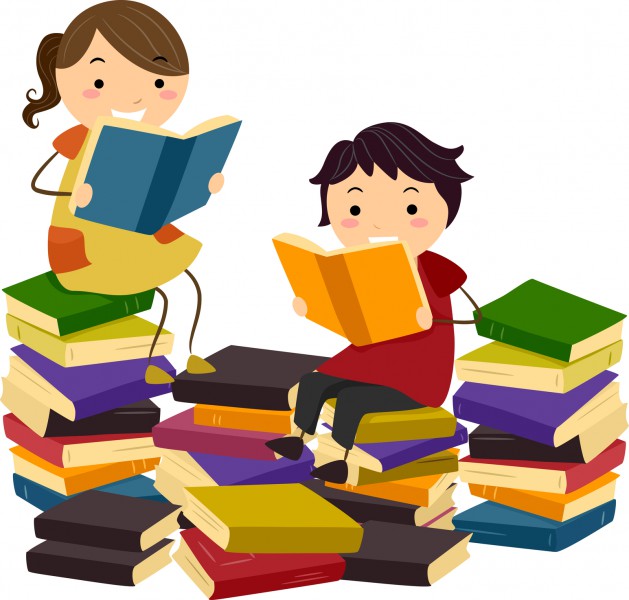 Related Downloads
January 2021
| M | T | W | T | F | WE |
| --- | --- | --- | --- | --- | --- |
| | | | | 1 | 2 |
| 4 | 5 | 6 | 7 | 8 | 9 |
| 11 | 12 | 13 | 14 | 15 | 16 |
| 18 | 19 | 20 | 21 | 22 | 23 |
| 25 | 26 | 27 | 28 | 29 | 30 |