Welcome to Nursery
Nursery
Welcome to the Nursery Class website
You can read our latest newsletter by clicking on the section 'Related Downloads' on the right. ------>
The Nursery team:
Mrs Walker
Mrs Greenhalgh
Mrs Offorne
______________________________________________________

In Victoria Primary we believe that every child is unique and our curriculum is designed to reflect and meet the needs of each individual child. Our EYFS curriculum provides the keys to learning and development through rich opportunities, play, both direct teaching and teaching in the moment. It is enabled by positive relationships and a purposeful and engaging environment.
__________________________________________________________
Our class patron is Charles Darwin.
Charles Darwin was an English scientist who studied nature. He is known for his theory of evolution by natural selection.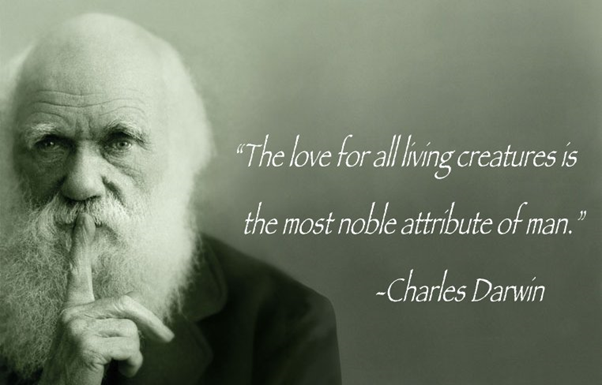 Summer 2
Our topic this term is Music
This week we are reading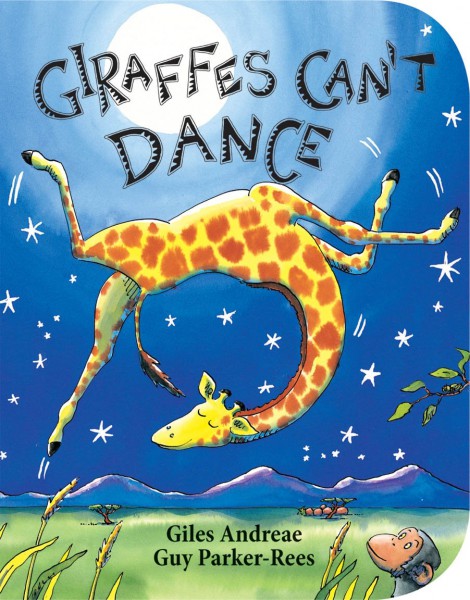 We are learning to count with our new rhyme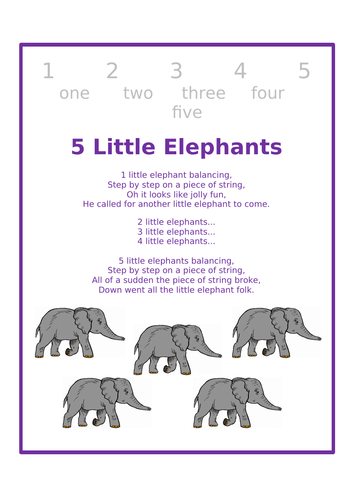 Our book of the week: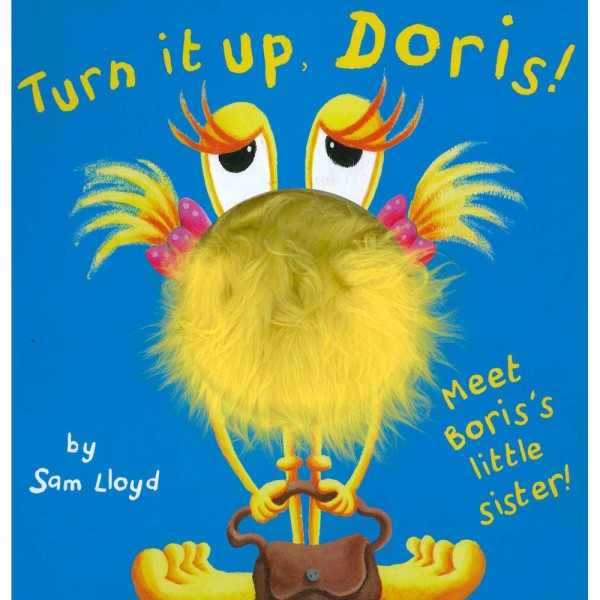 Our rhyme of the week: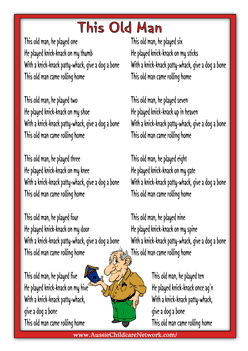 Summer 1
Our topic this half-term is Countries of the World
Our rhyme of the week is: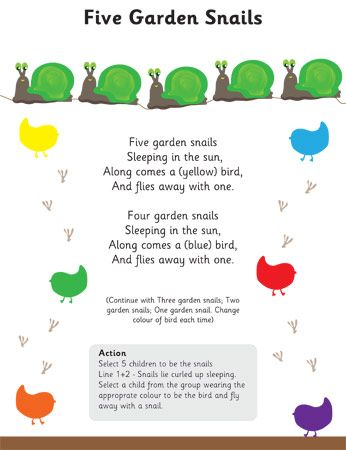 The book of the week is: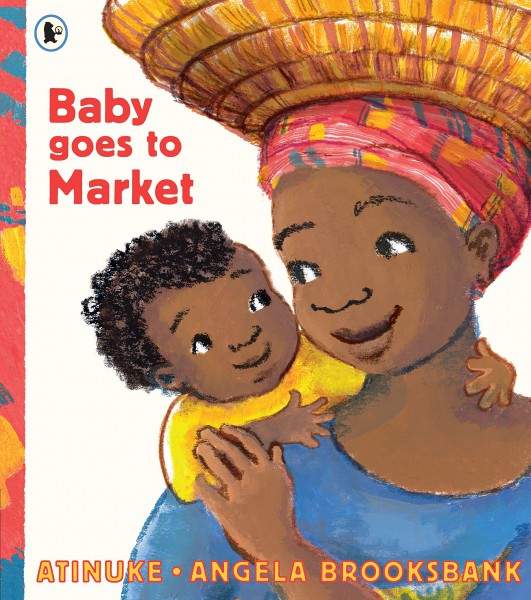 We also are learning about healthy diet and how to keep our teeth clean and healthy.
Spring 2
Our topic this term is ANIMALS ON THE FARM
The book of the week is:
Snore by Michael Rosen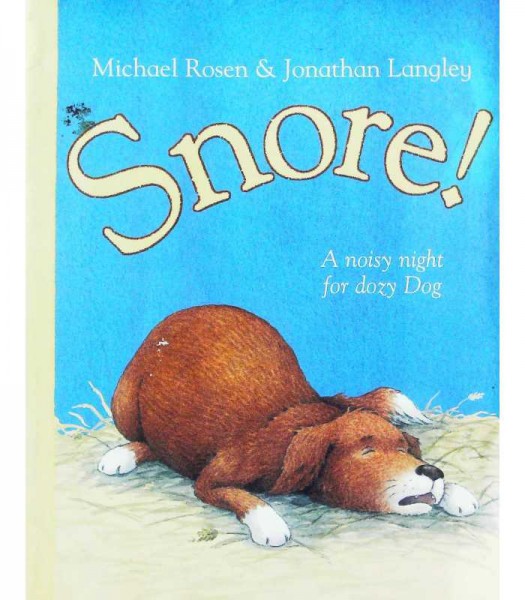 This week we are singing:
Old MacDonald had a farm...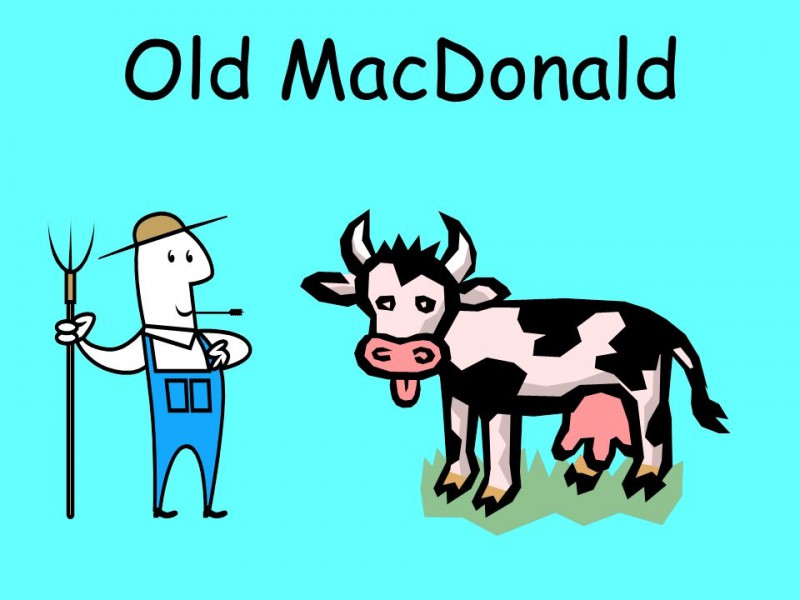 https://www.youtube.com/watch?v=_6HzoUcx3eo
The Book of the week is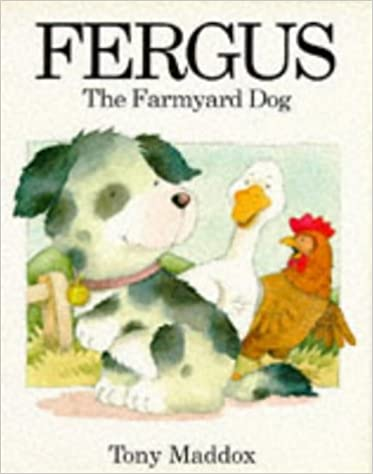 The rhyme of the week is 5 Little Ducks
https://www.youtube.com/watch?v=pZw9veQ76fo&t=10s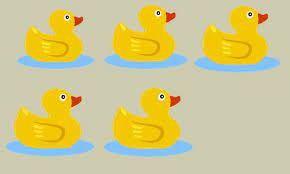 Spring 1
Our topic this term is MY COMMUNITY
We will be learning about people who help us. We will also learn how to help others at home and at school.
This week we are reading Please, Mr Panda by Steve Antony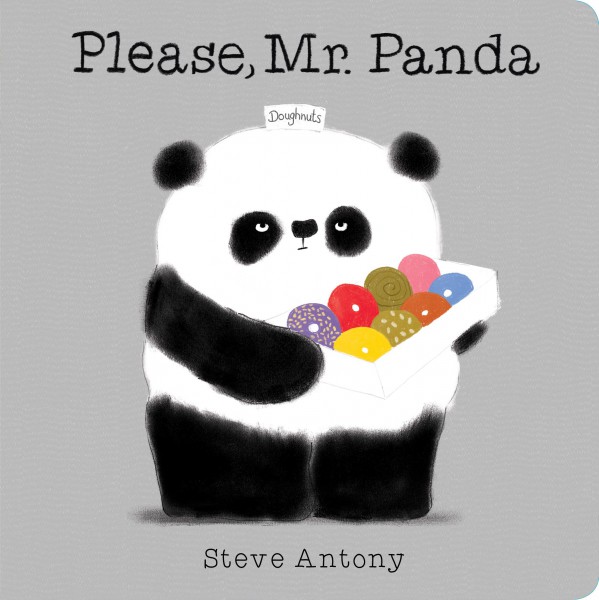 We are singing Give a Little Smile
https://www.youtube.com/watch?v=DYedaETbsBI
_________________________________________________________
Our first book this term is Pip and Posy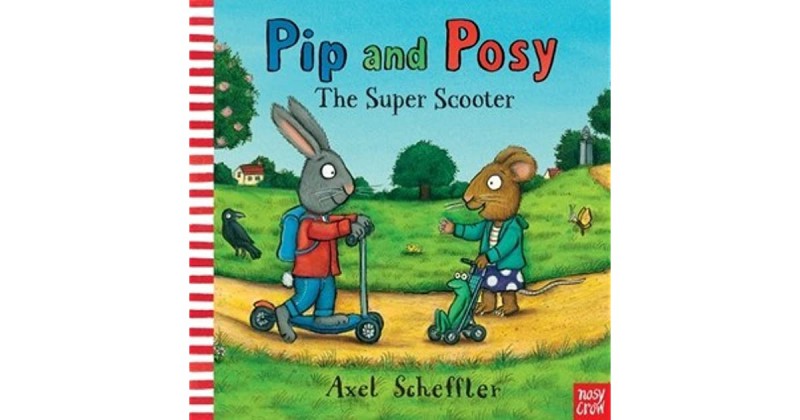 Our rhyme is 5 Little Monkeys sitting in a tree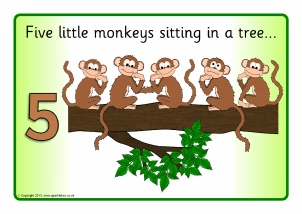 Writing skills
We are providing our children with rich writing experiences which will help to lay a foundation for literacy learning.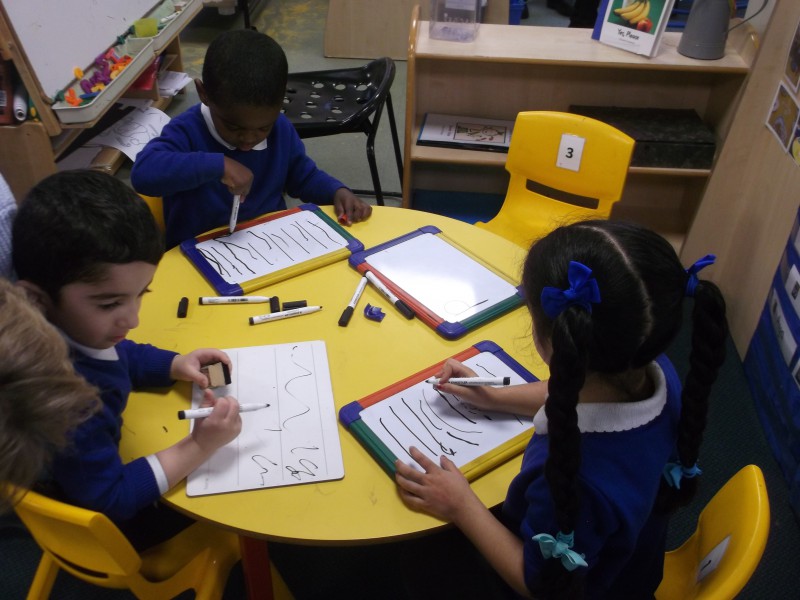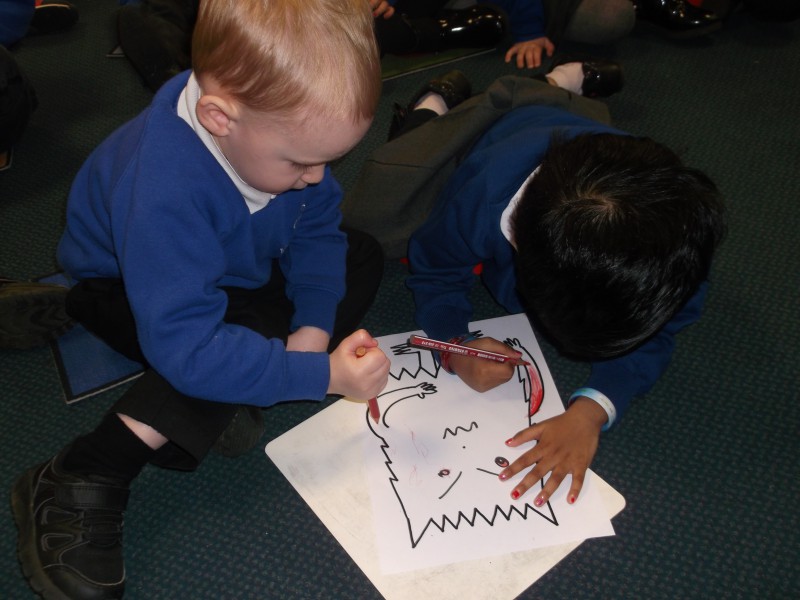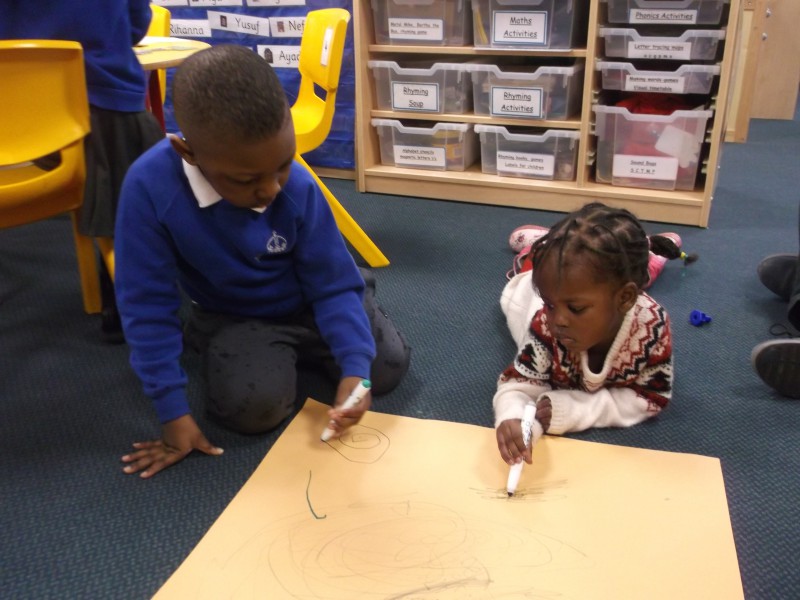 Learning to draw a person.
First we are learning how to make a person, putting all body parts together.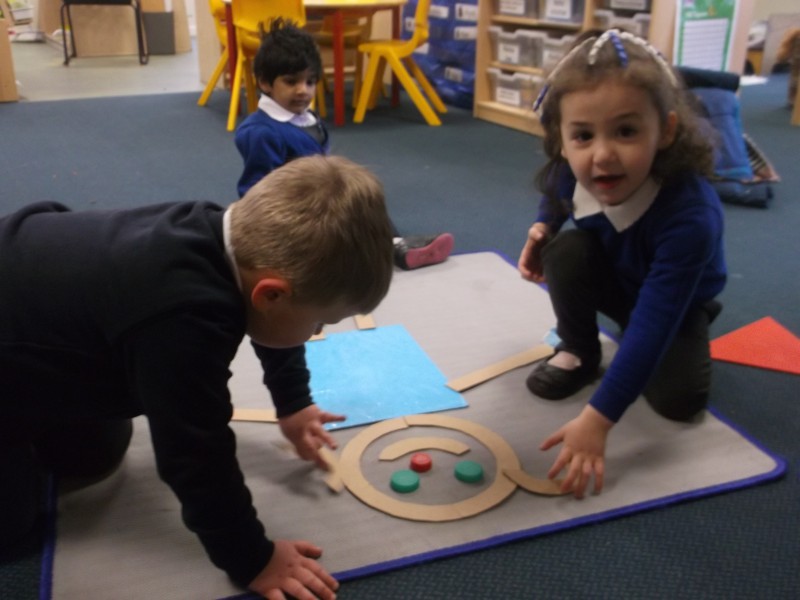 And now we can practise drawing a person.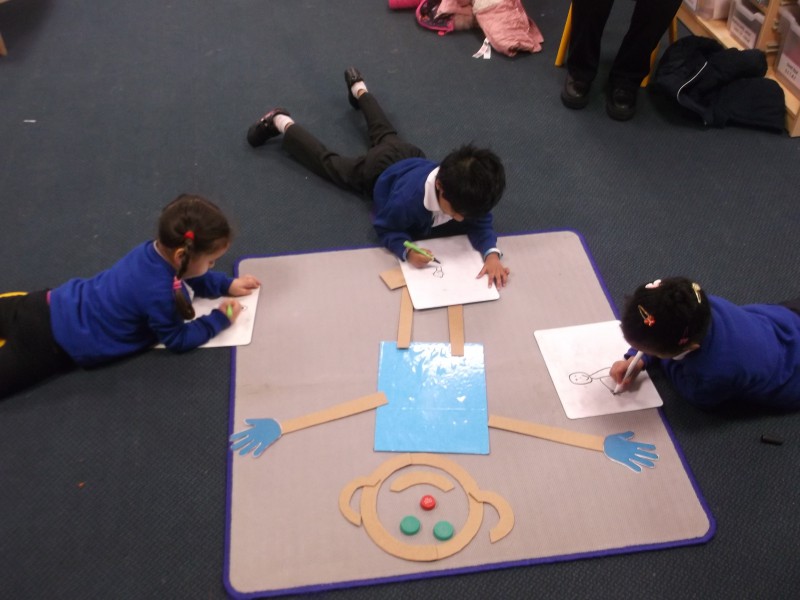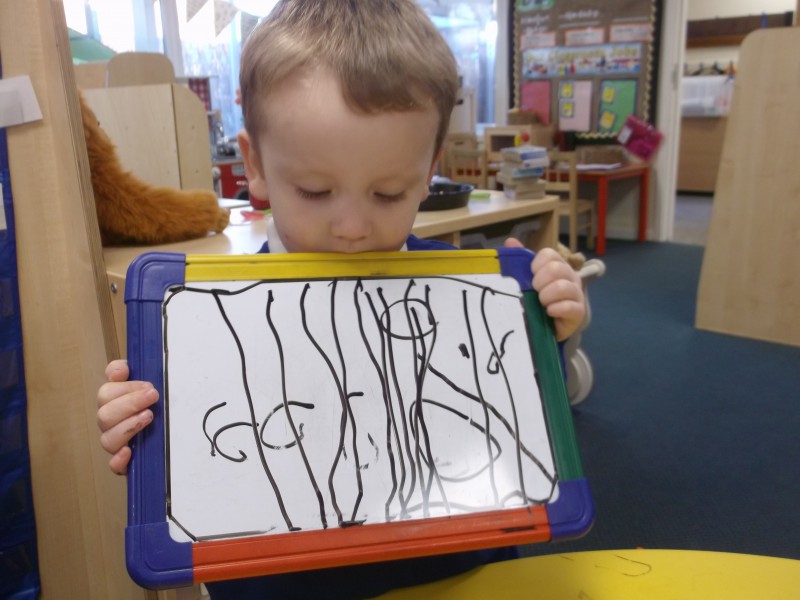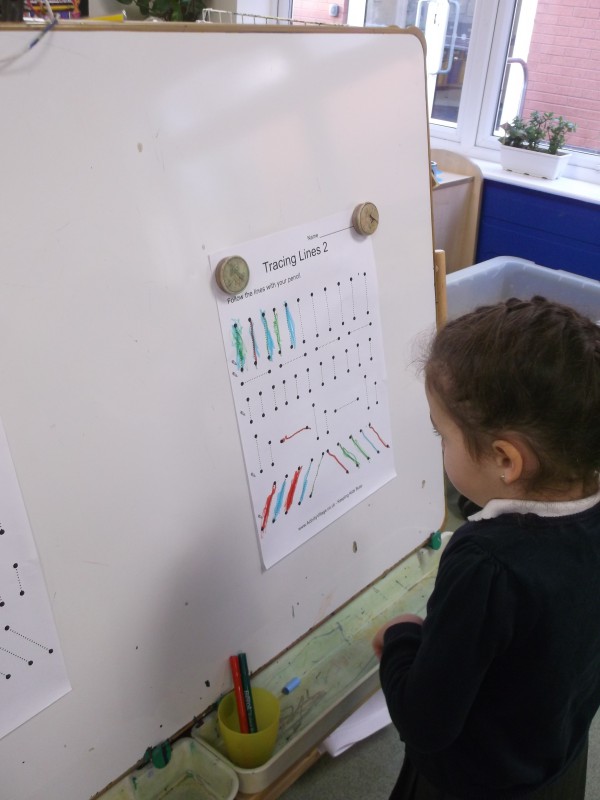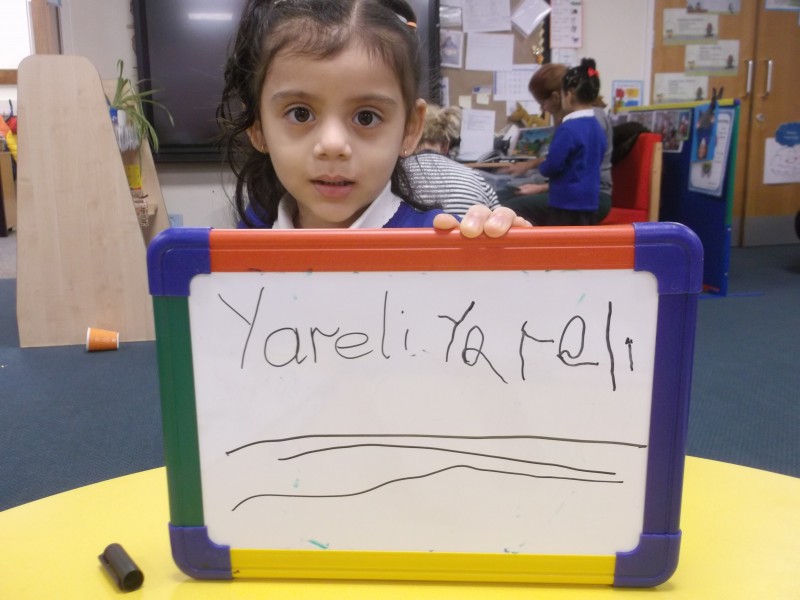 Autumn 2
Christmas in Nursery
Christmas performance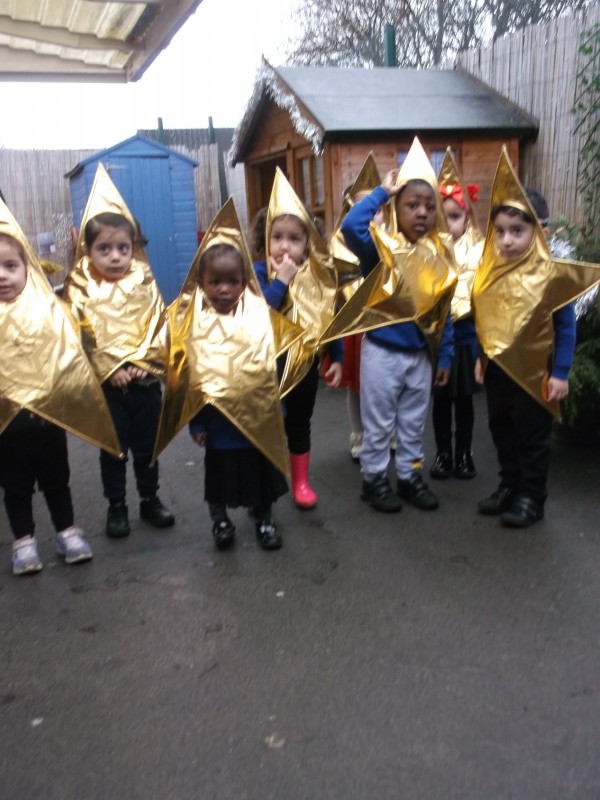 Christmas Story Teller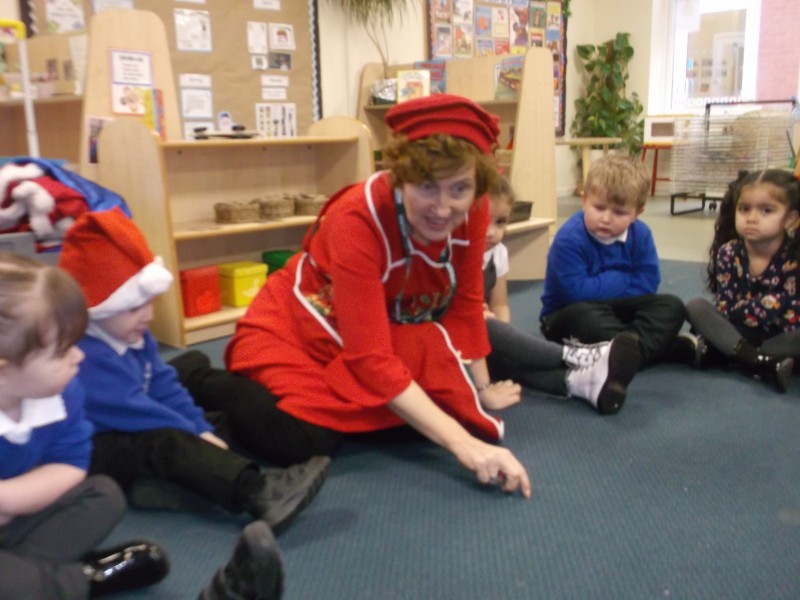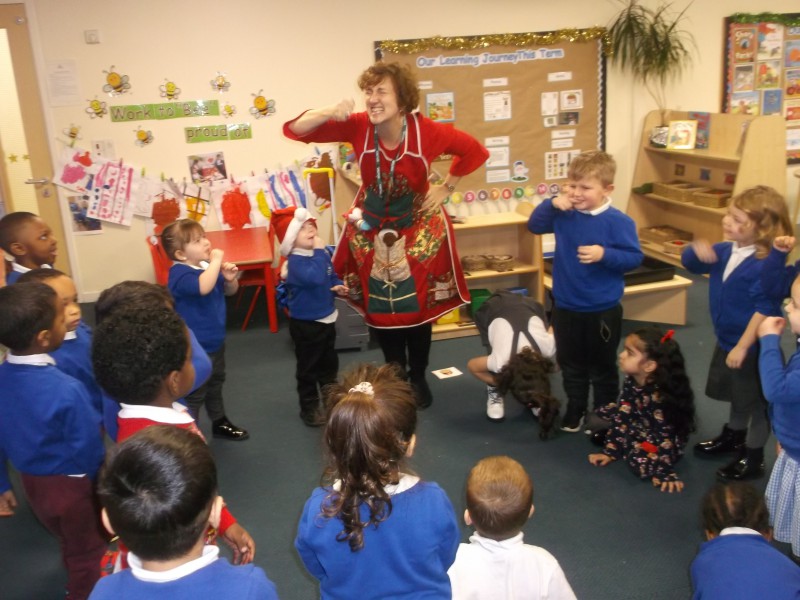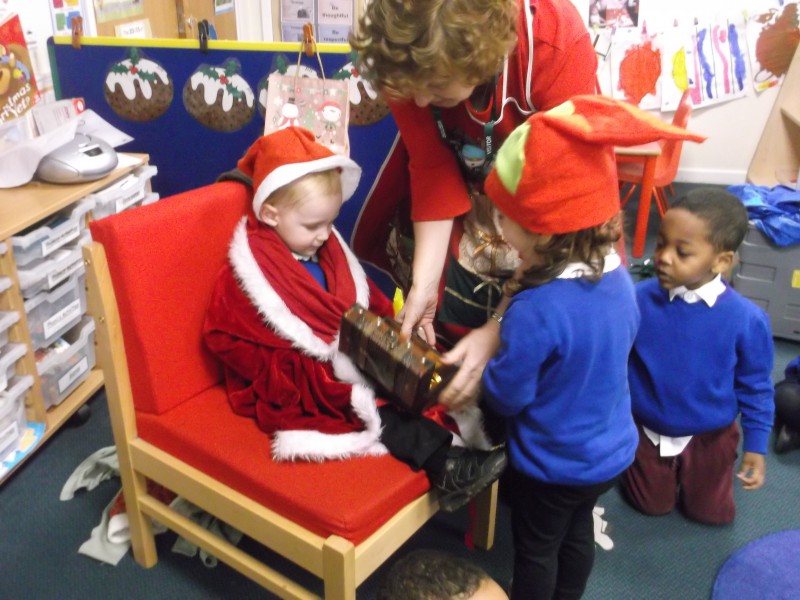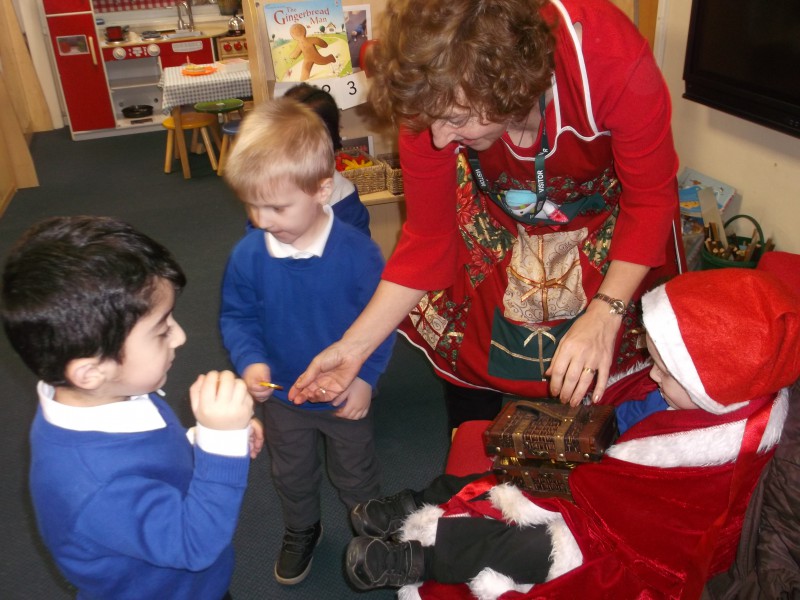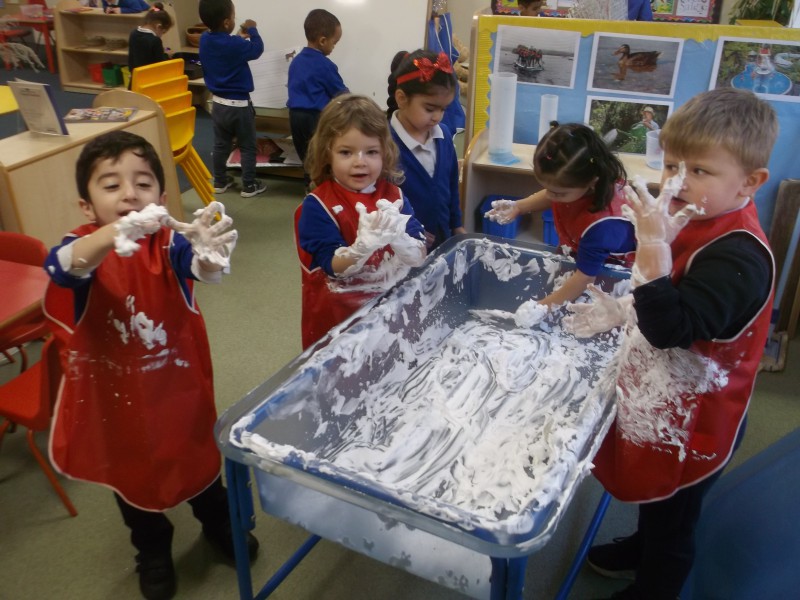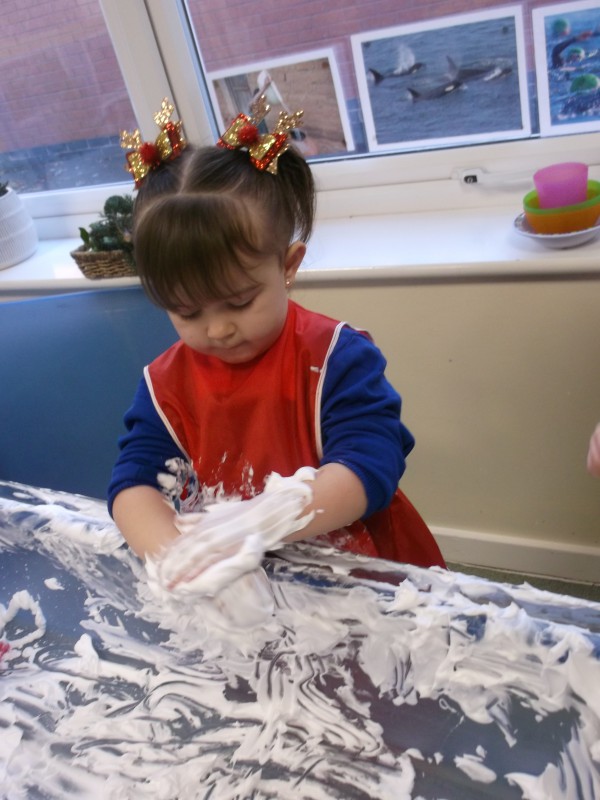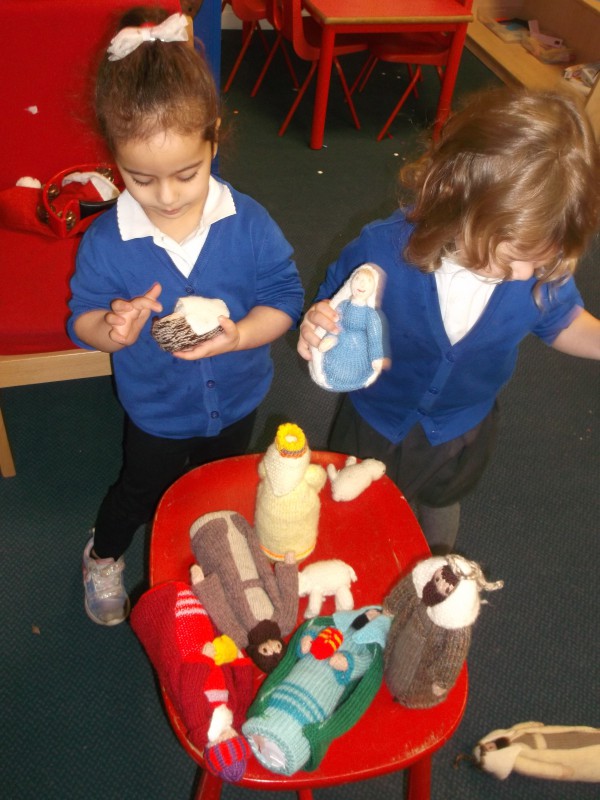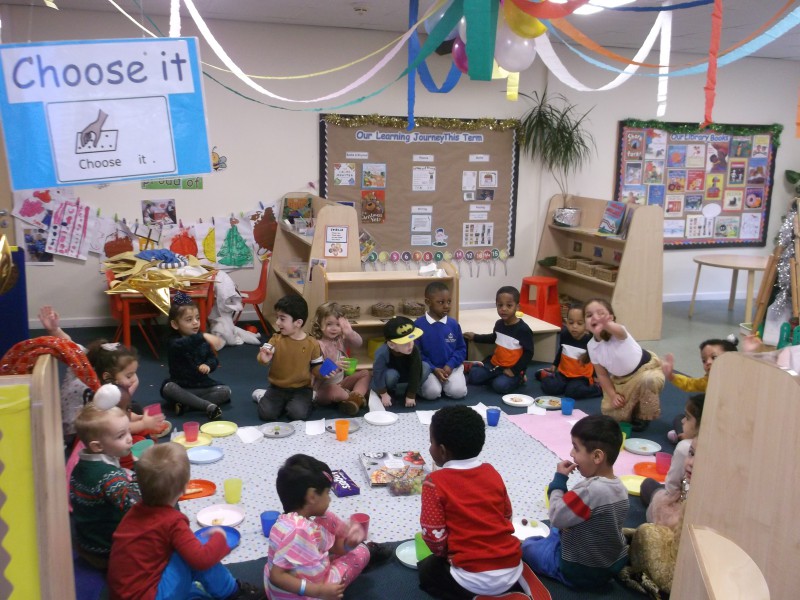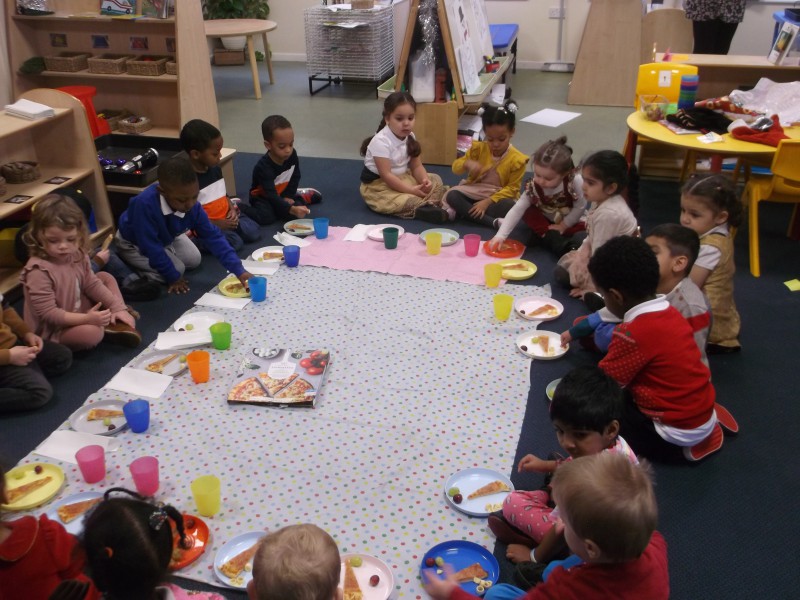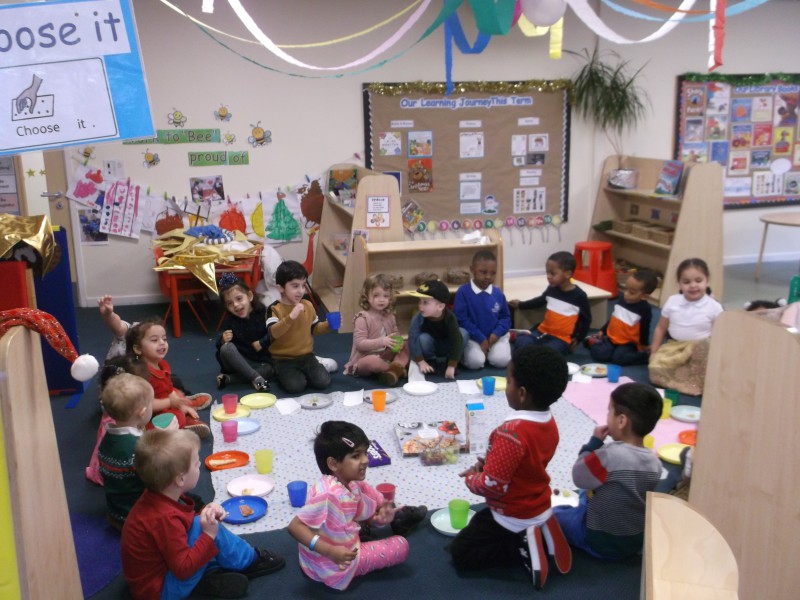 Dancing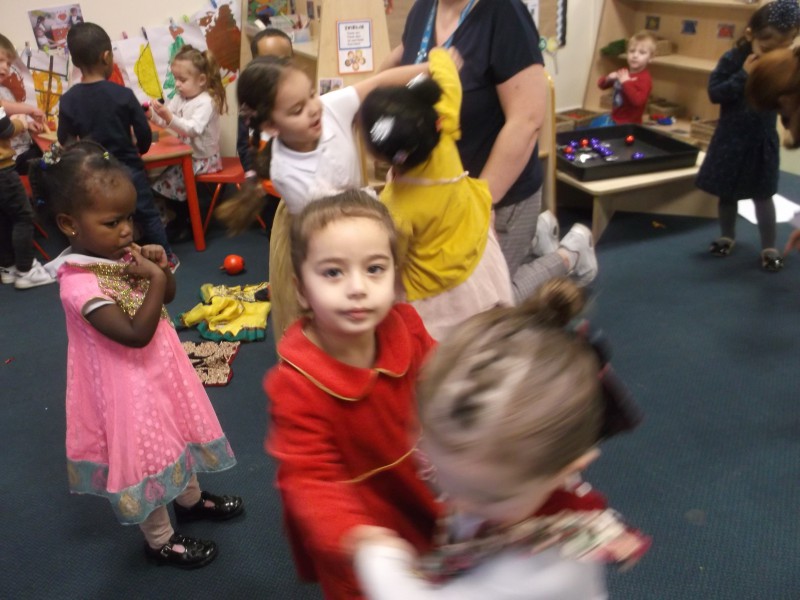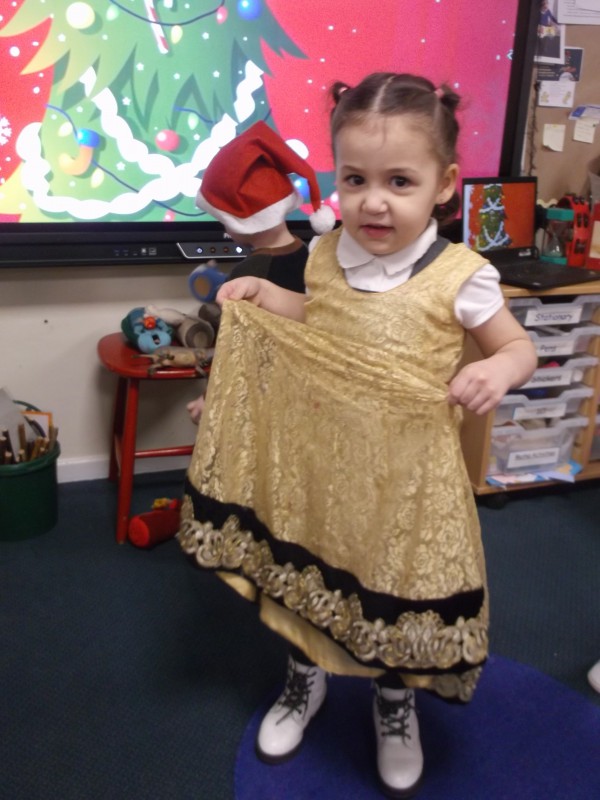 More dancing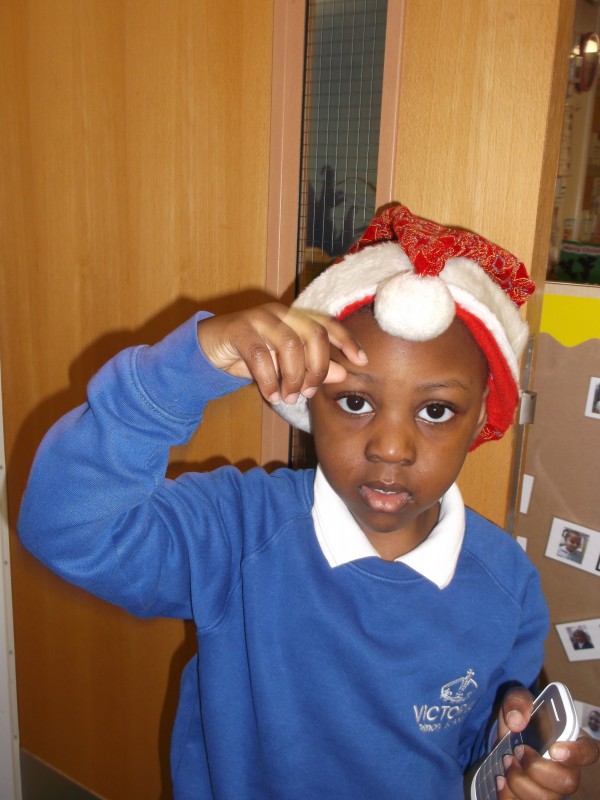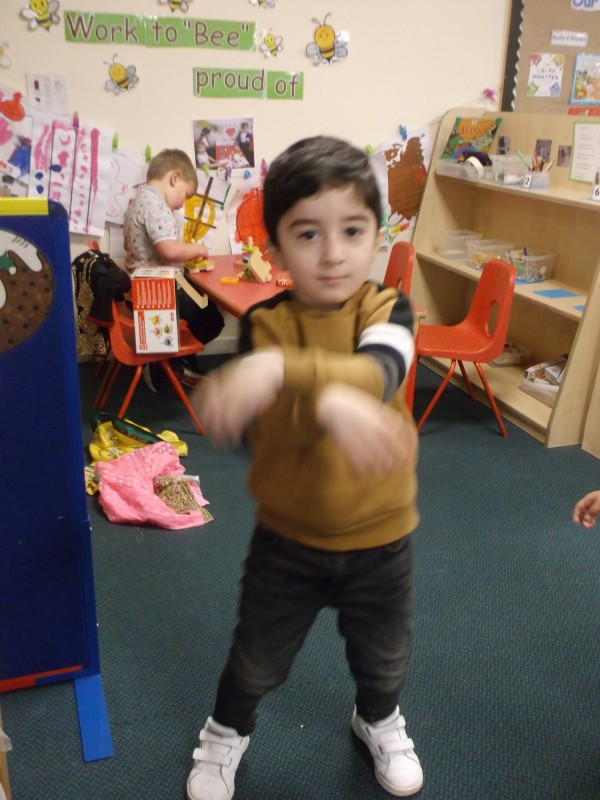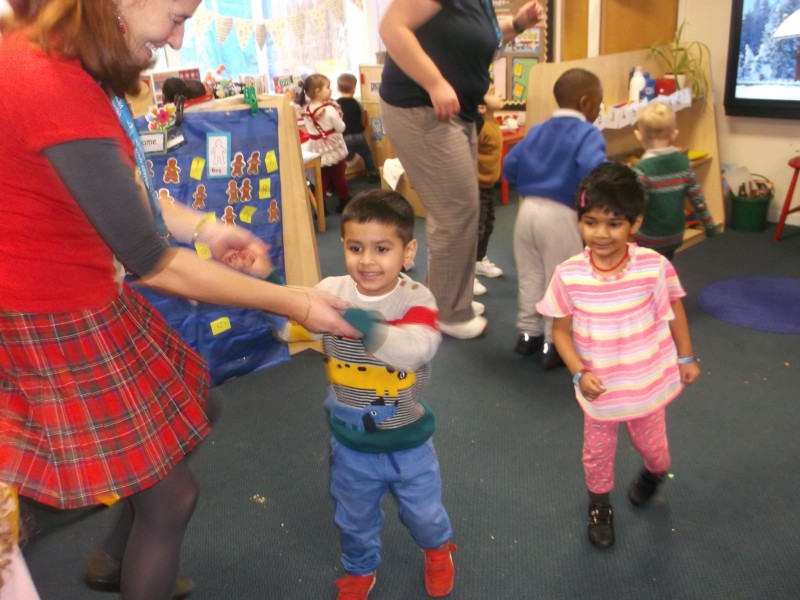 Santa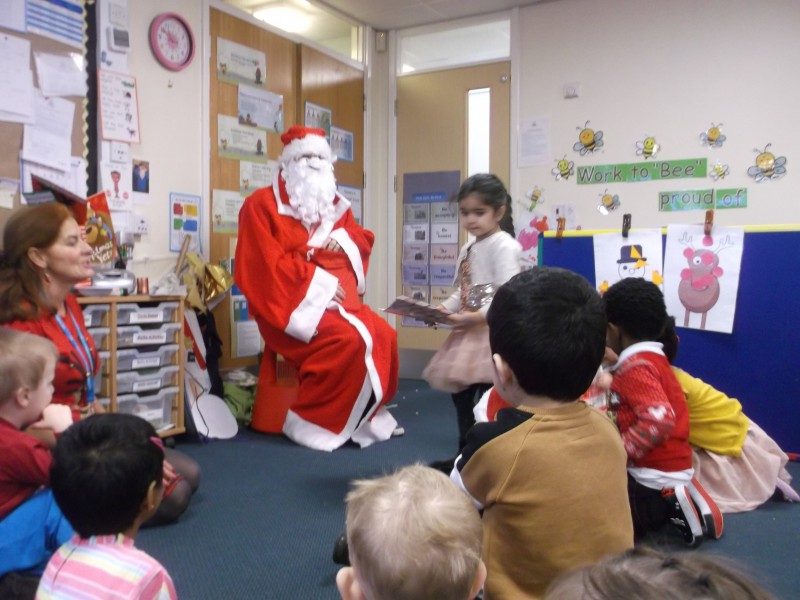 Playing games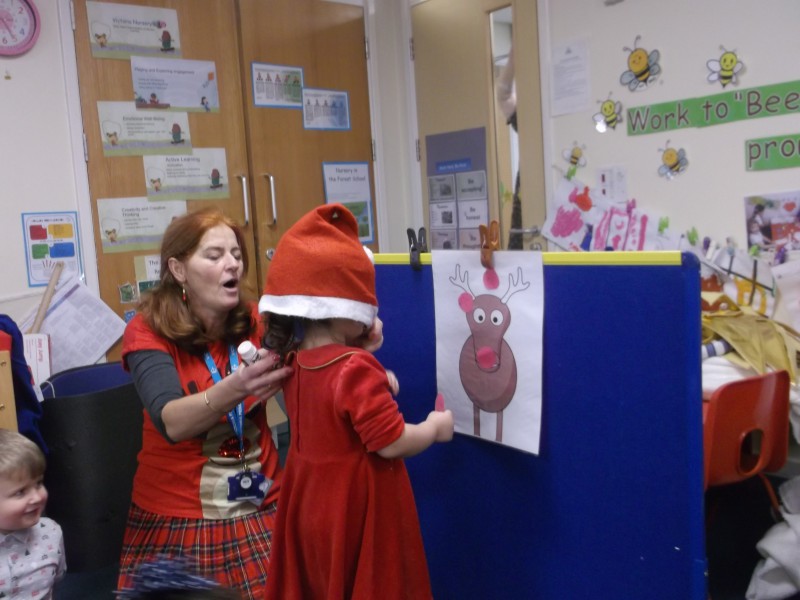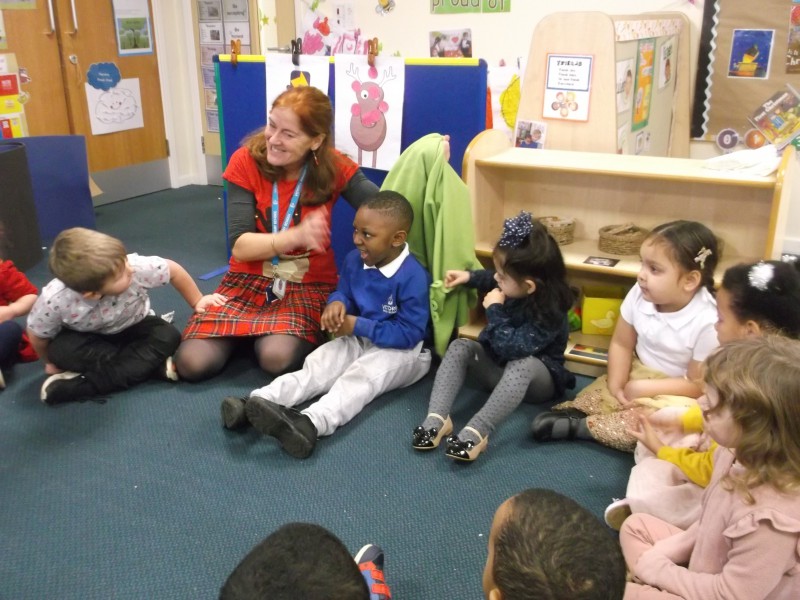 We are learning to listen and copy different sounds
"Listen to the sound, listen to the sound,
All around us everywhere, listen to the sound"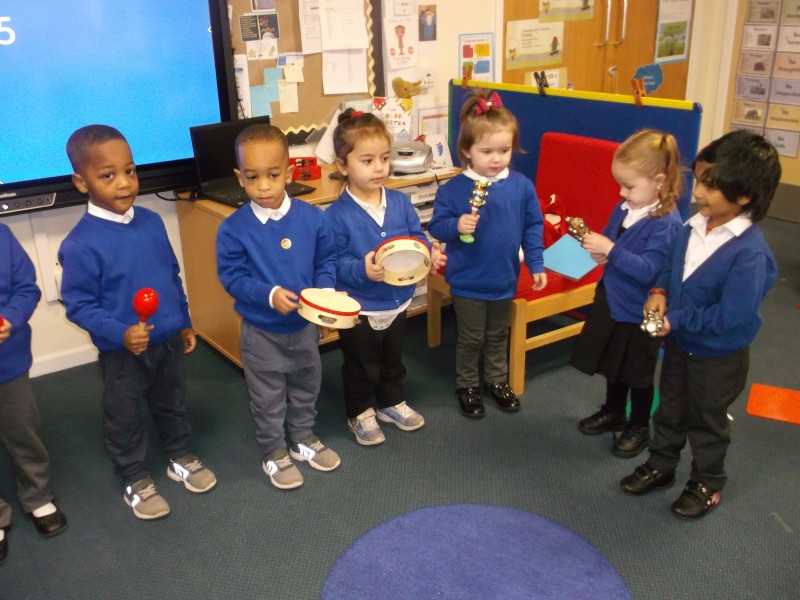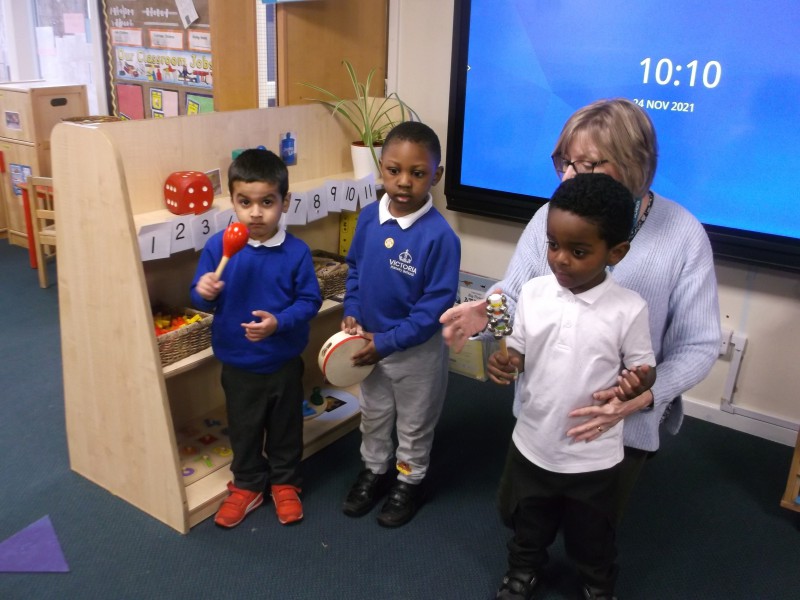 We used cornflour for our sensory play.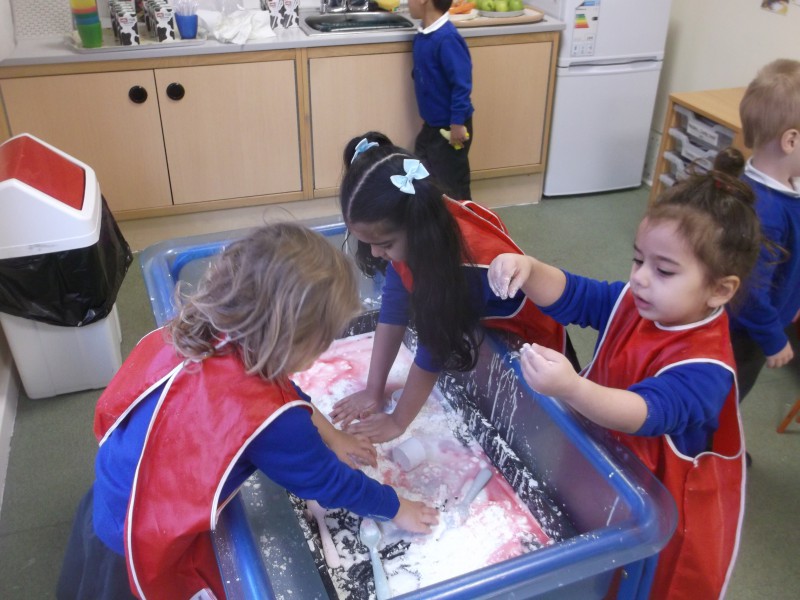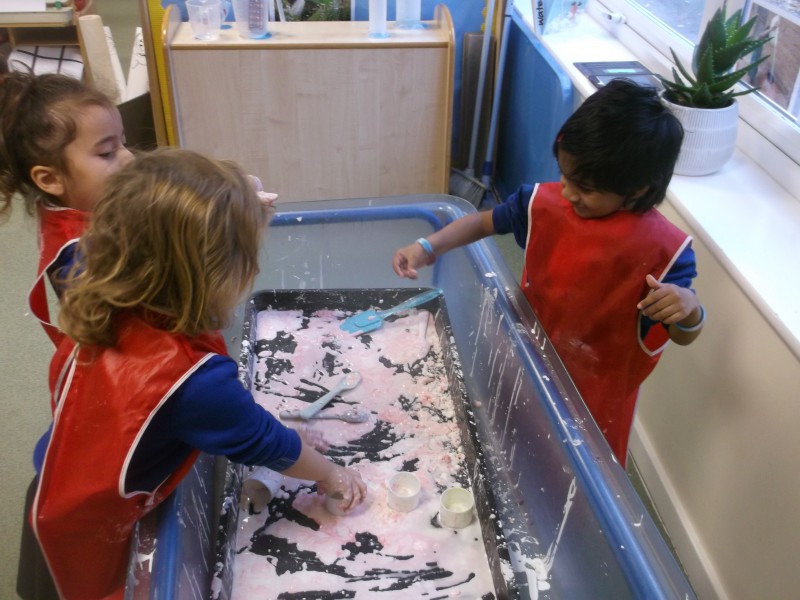 We are practising our writing skills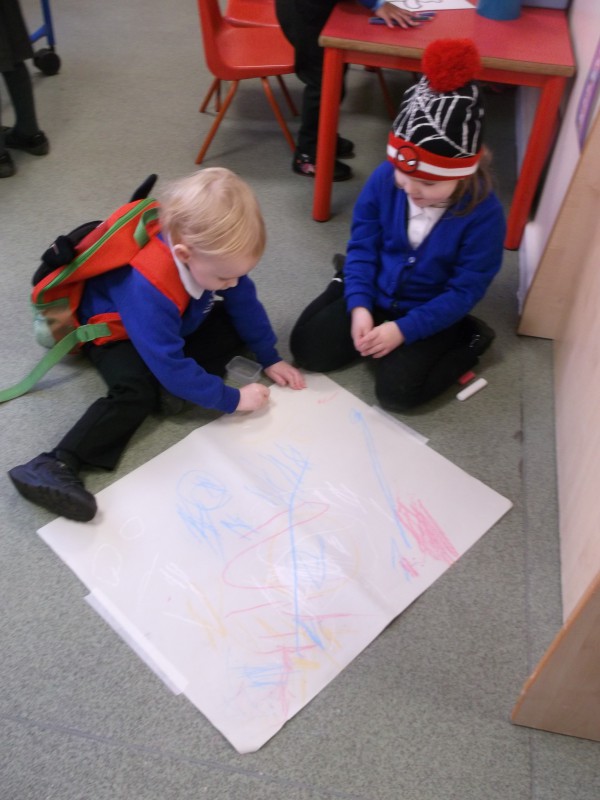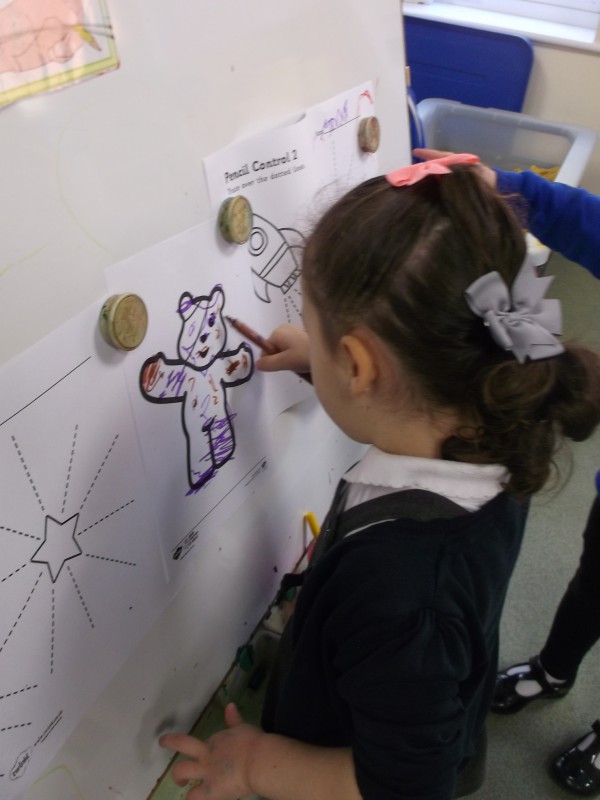 New challenges in our outdoor play.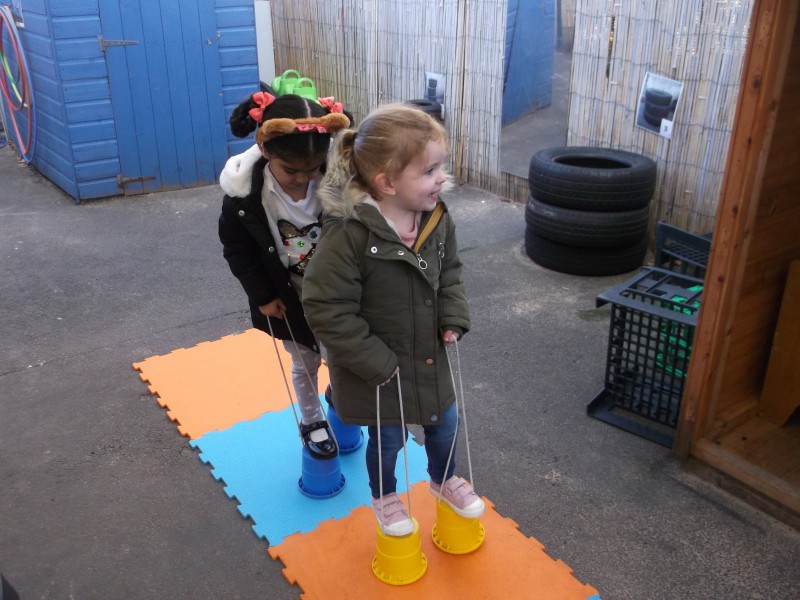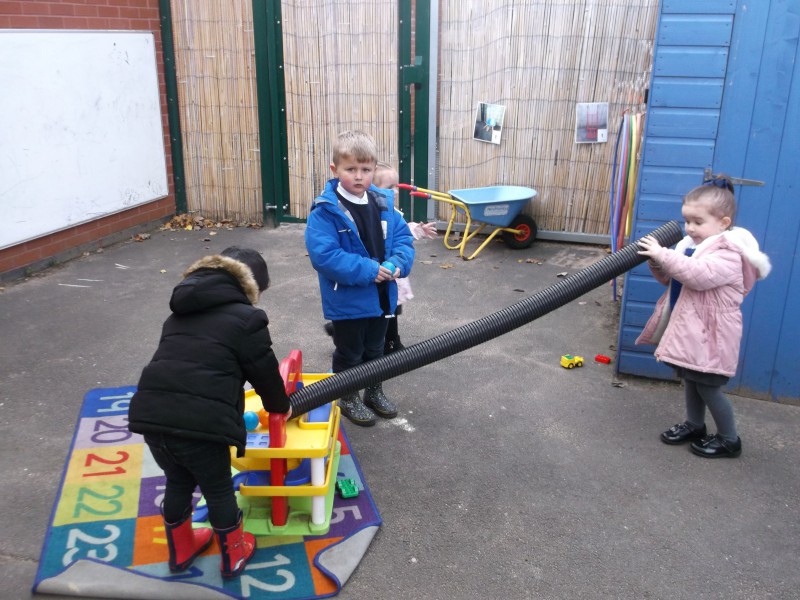 You always need some time to relax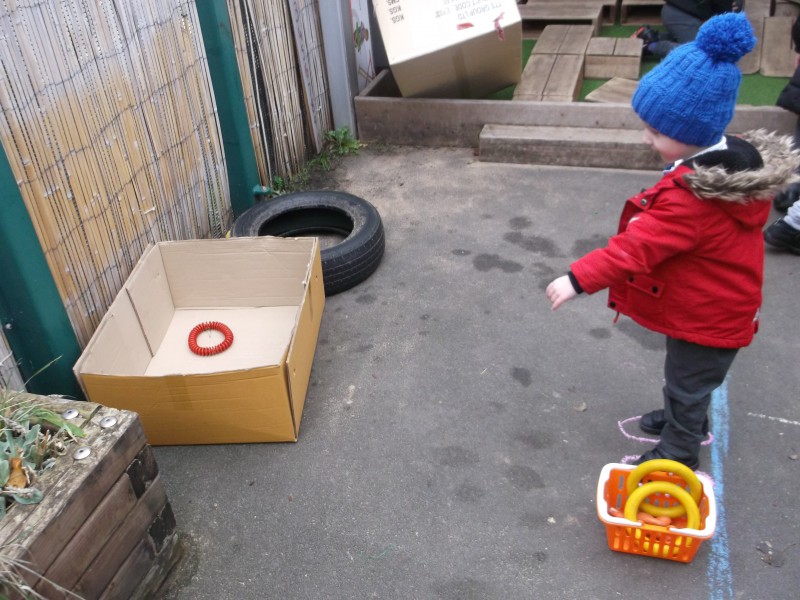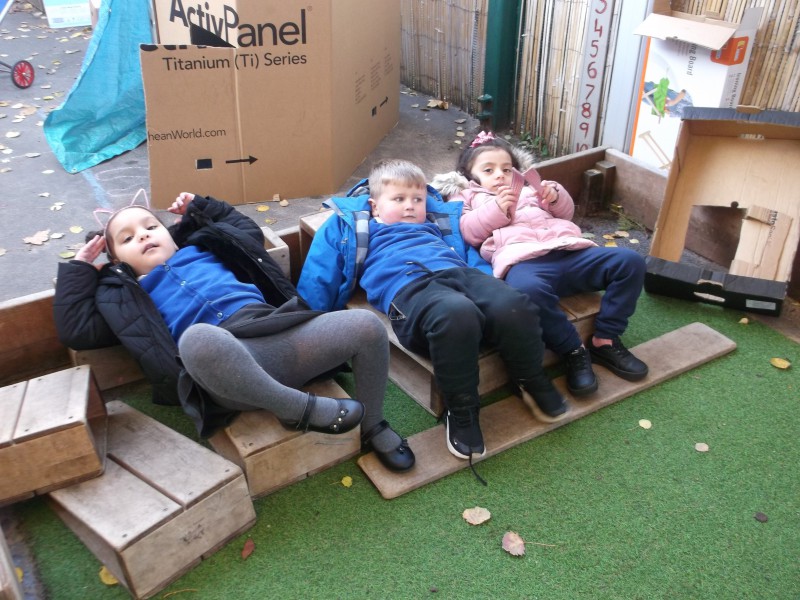 Look how many different shapes we can make using simple sticks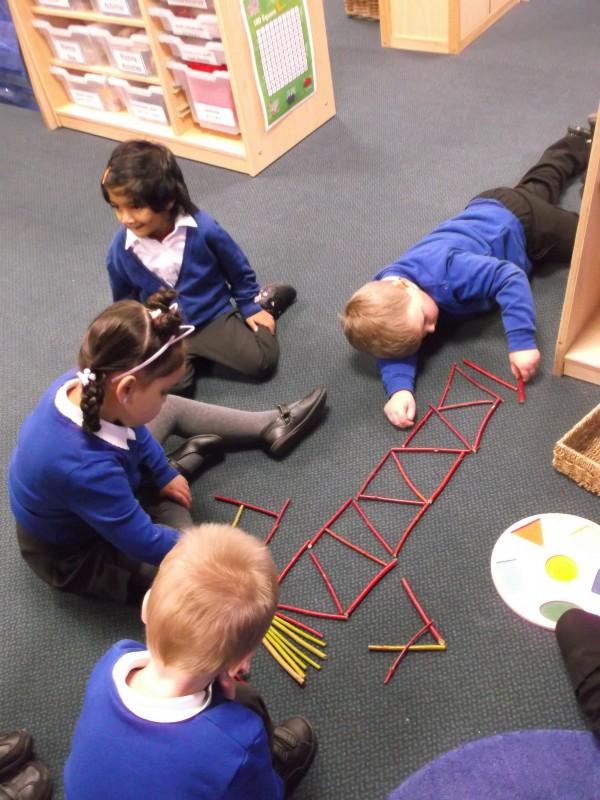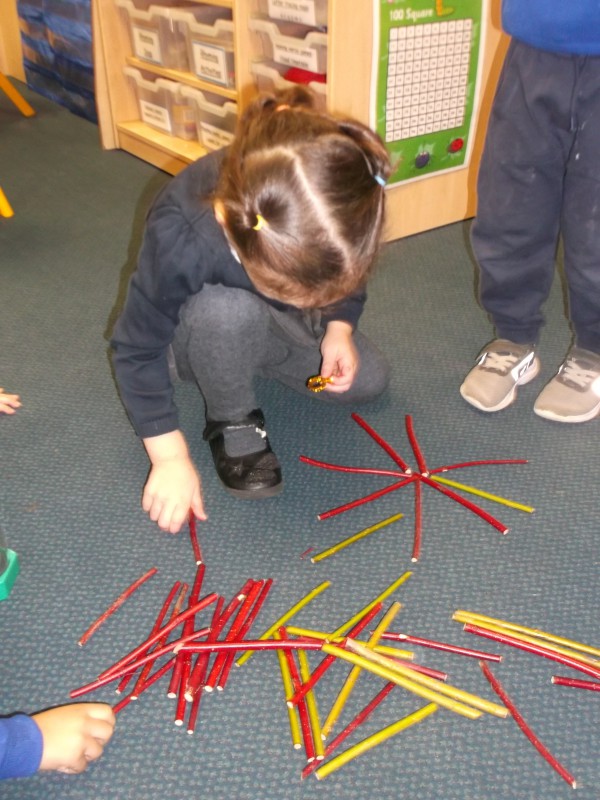 __________________________________________________________
Autumn Walk. Thank you mums and dads for coming with us!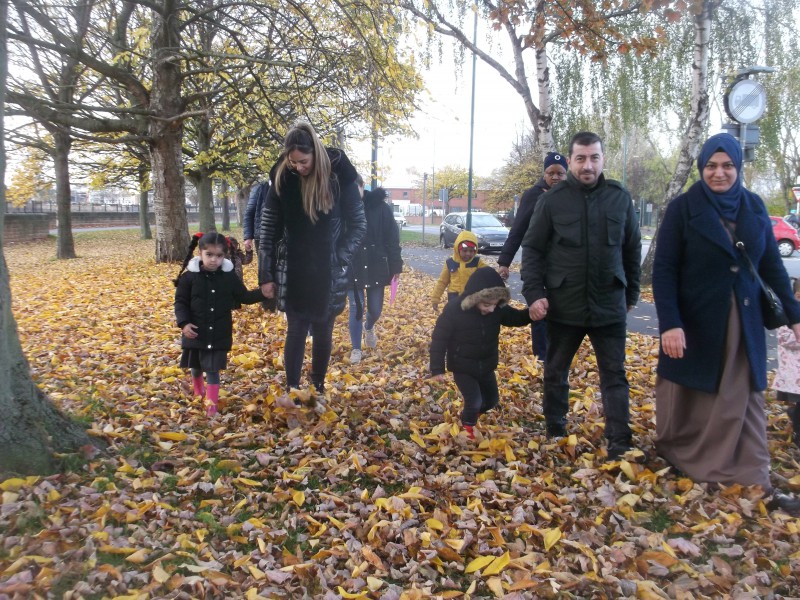 The leaves rustled under our feet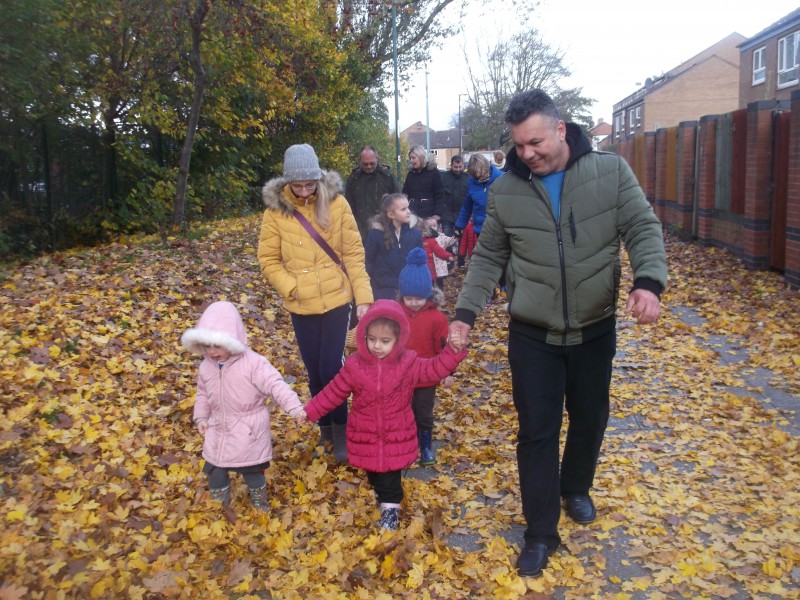 We jumped into a pile of leaves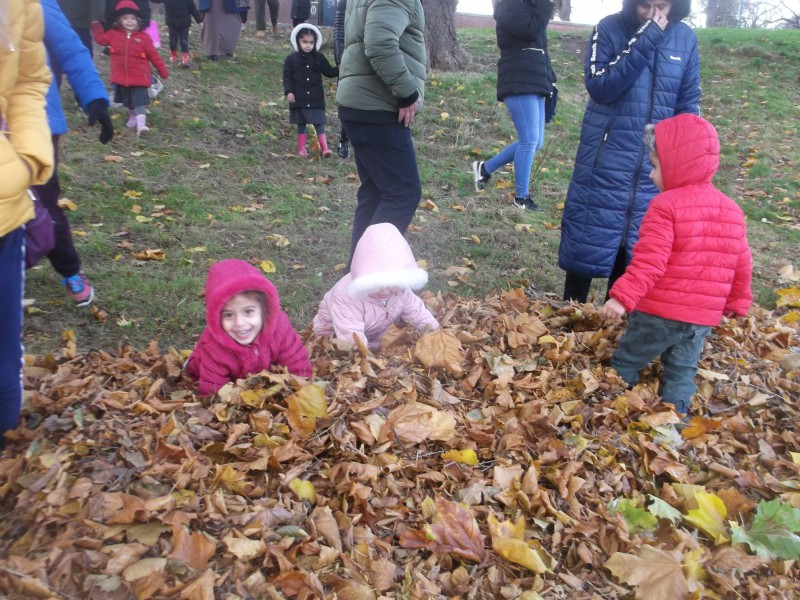 Autumn leaves are falling down red, yellow and brown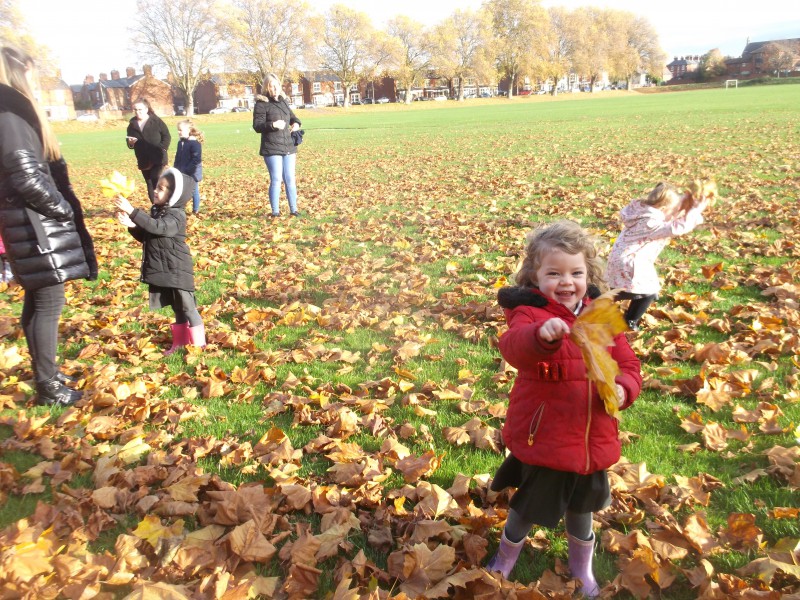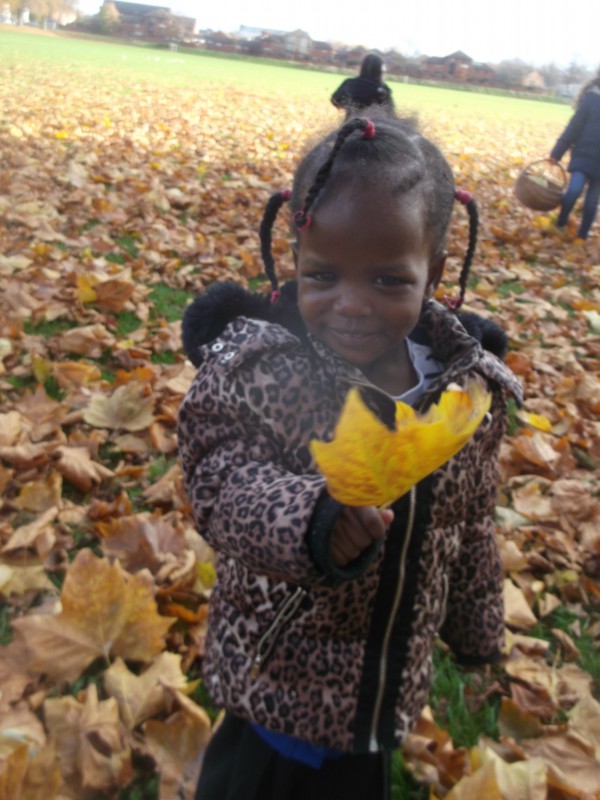 Who's that under the leaf?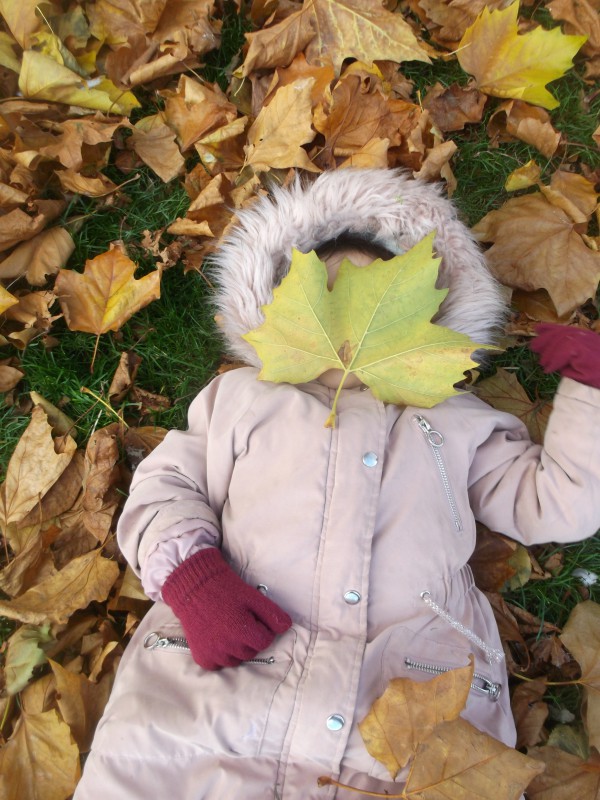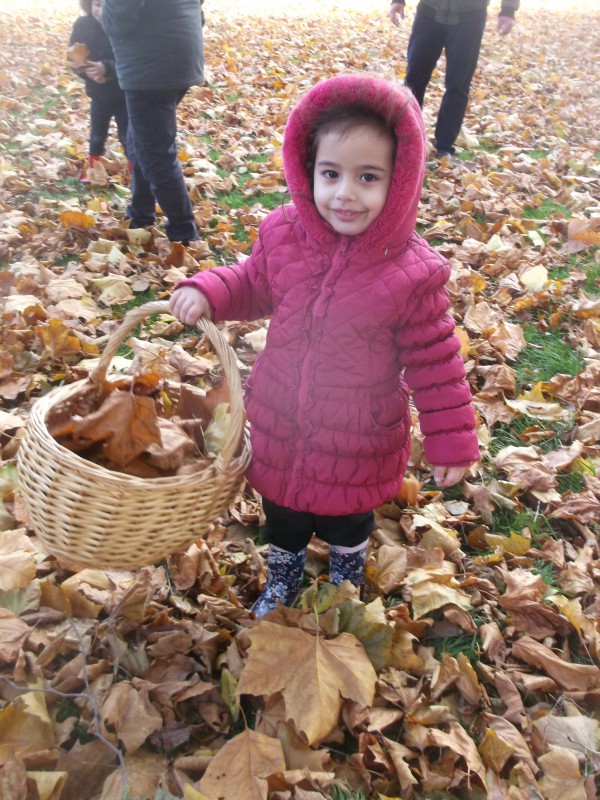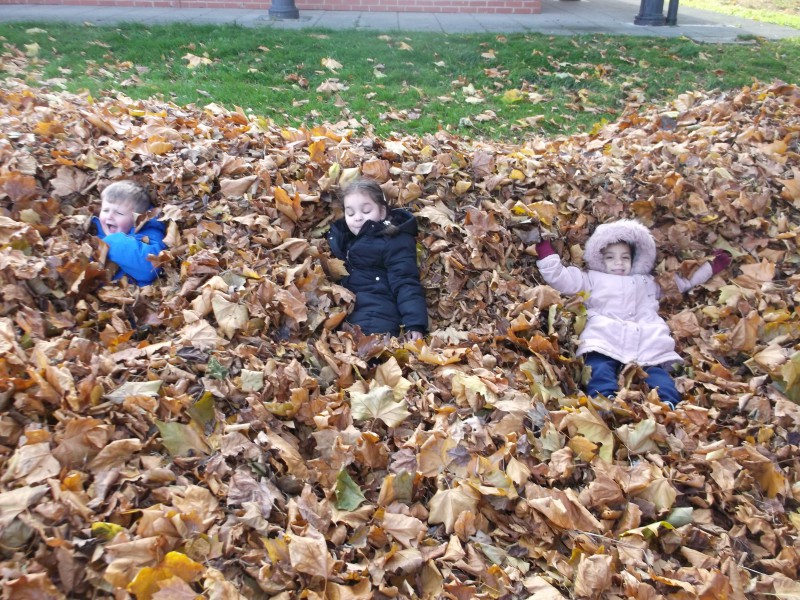 We played parachute games and made the leaves fly and dance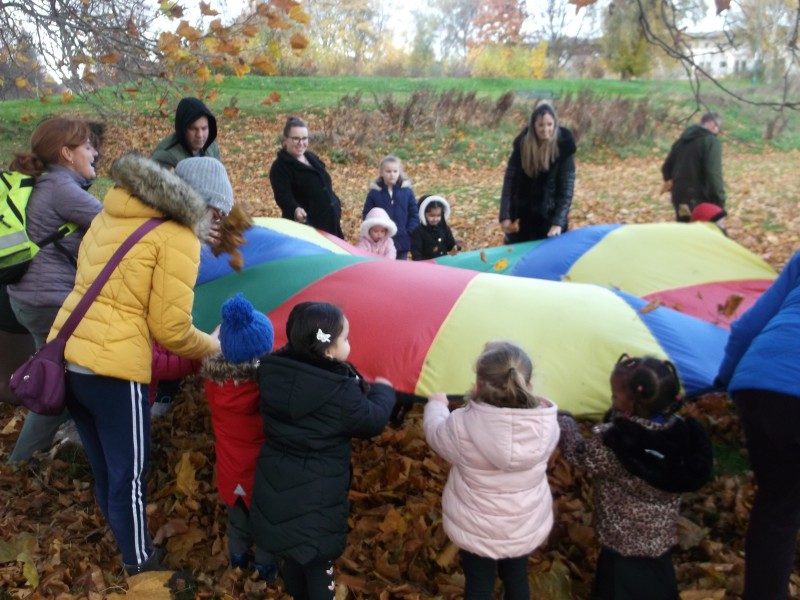 We buried Mrs Walker under the leaves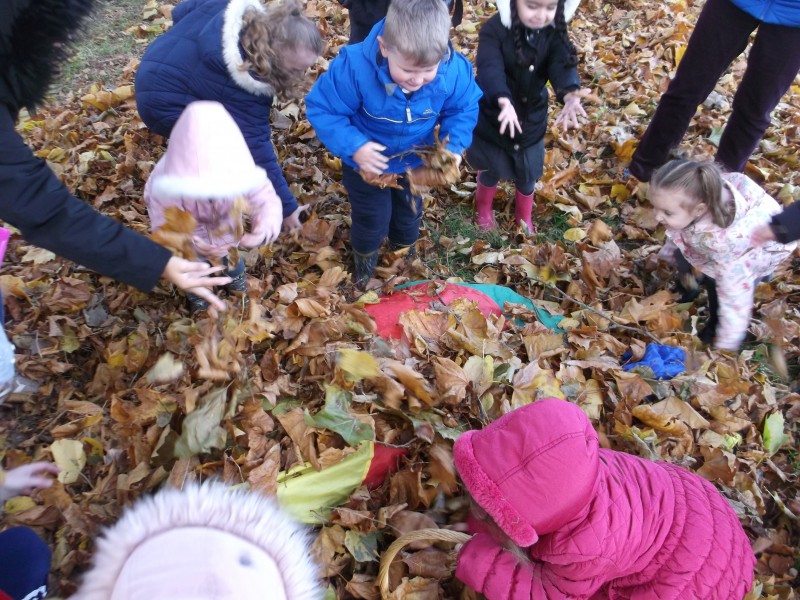 We are getting much better at riding our bikes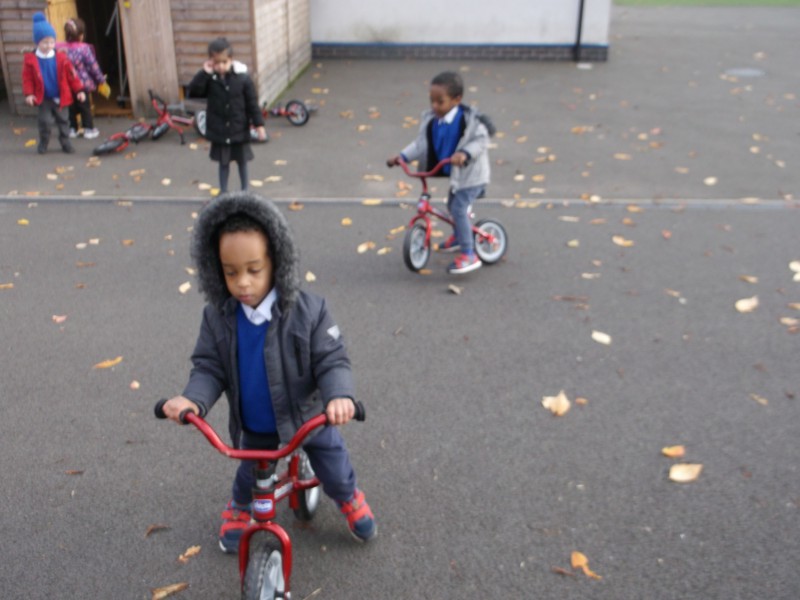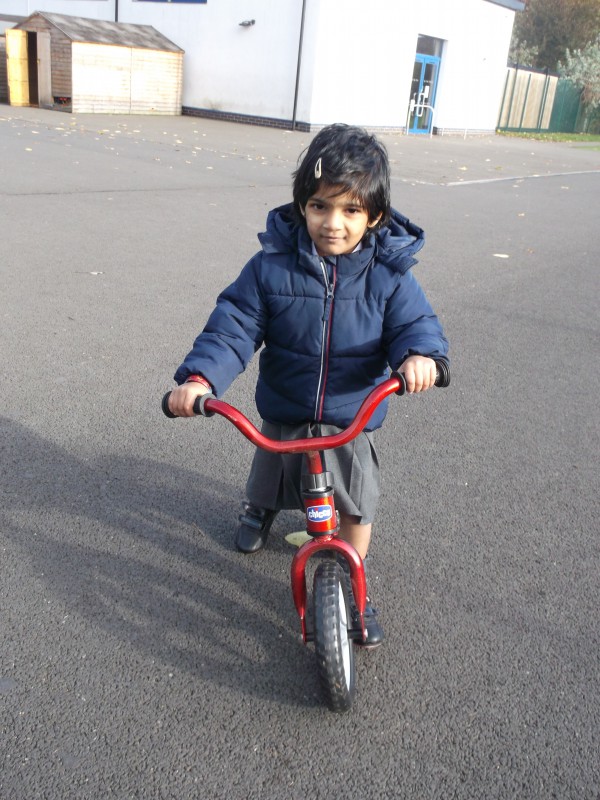 ​​​​​​
Look at these wonderful readers.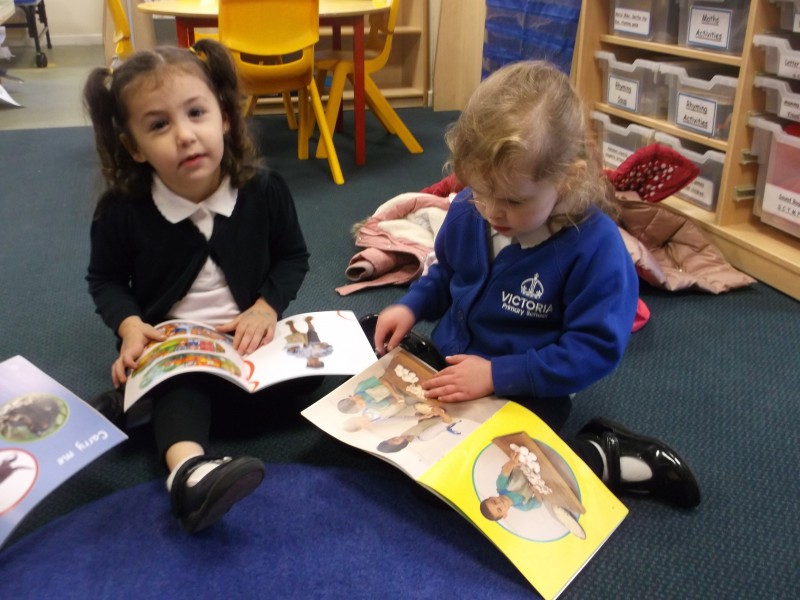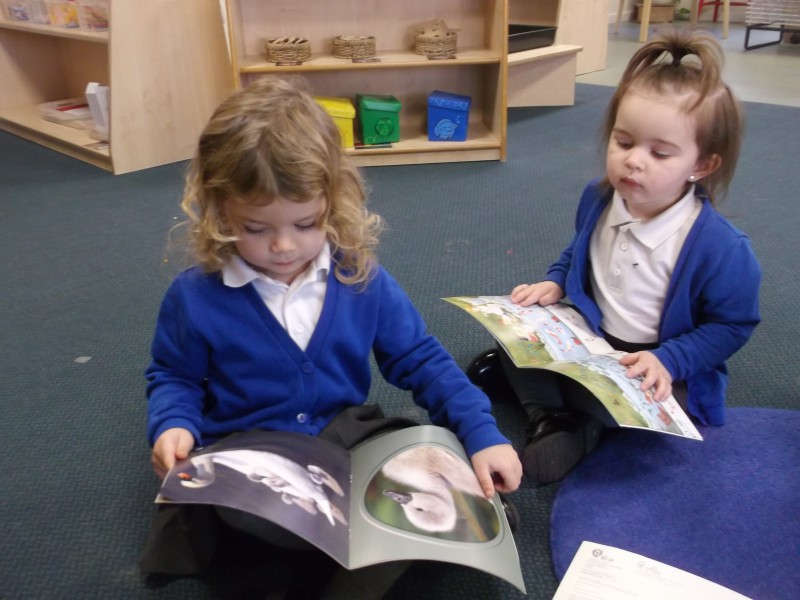 Learning to balance is not easy. You need to concentrate all the time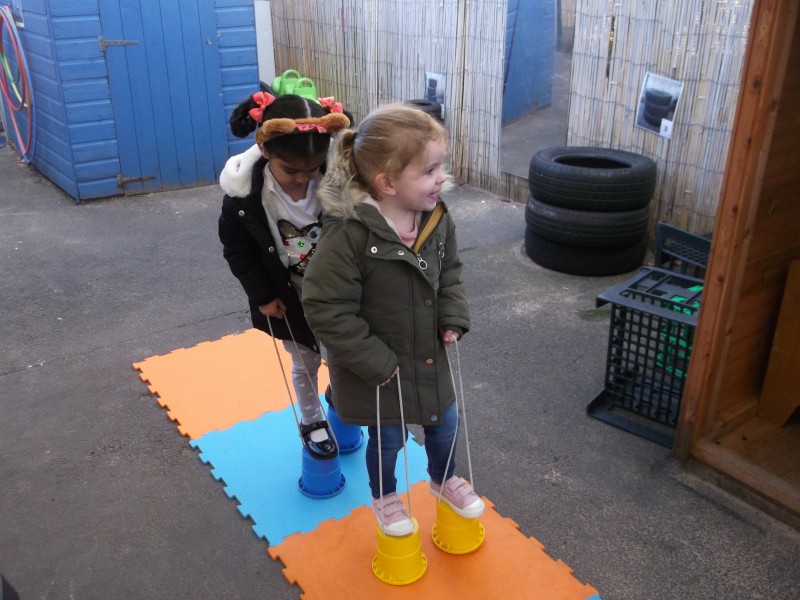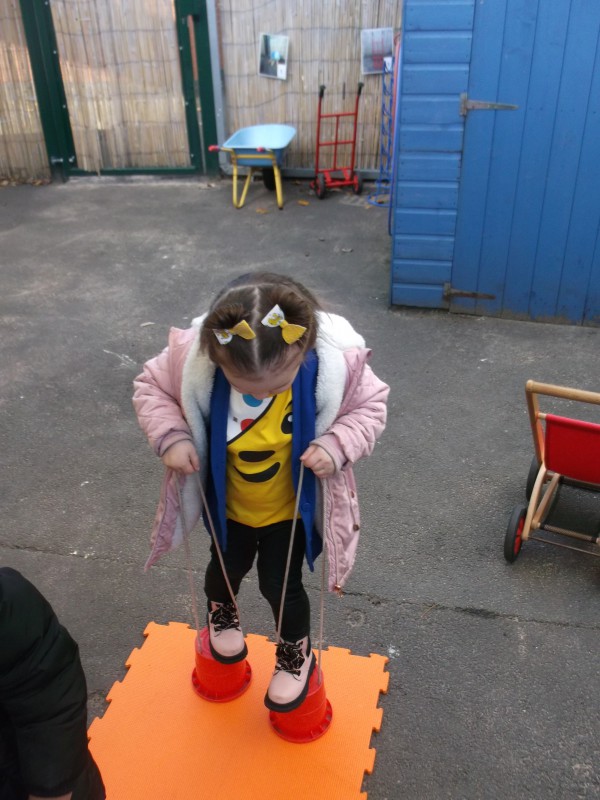 Can you make a loud sound? Can you make a quiet sound?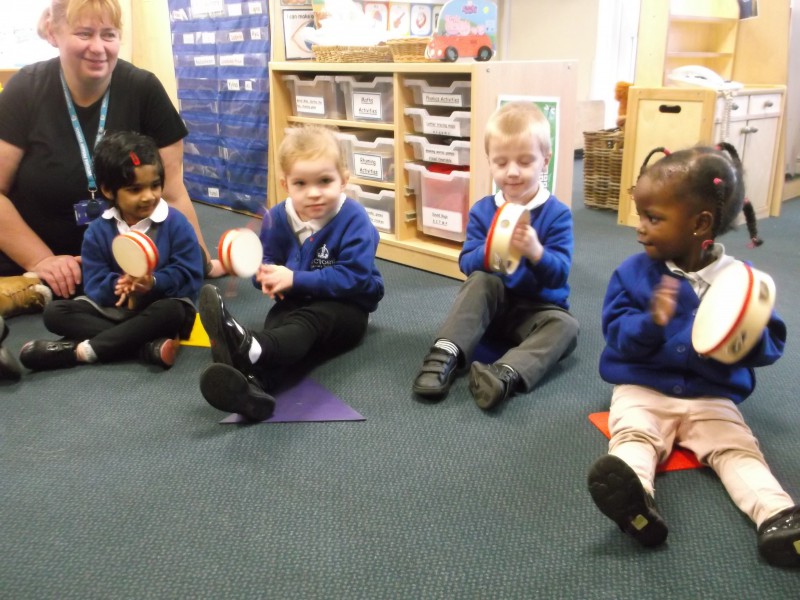 Can you play fast? Can you play slow?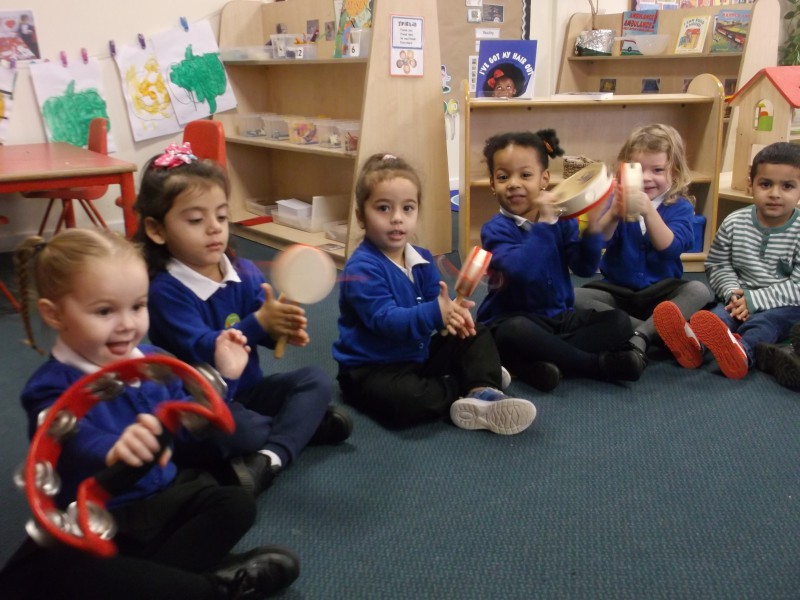 How many socks can you see? 10!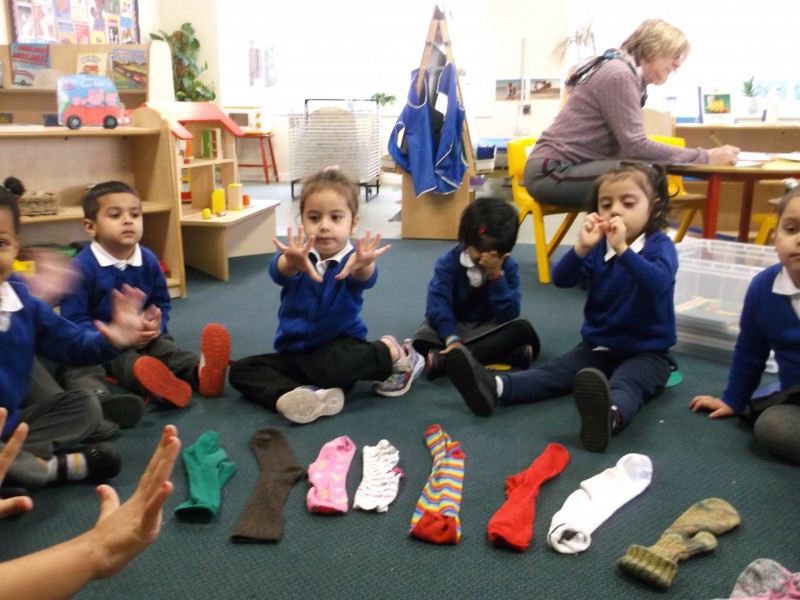 _________________________________________________________
Our guest reader this week was Mr Wiggly. We know how to sit and listen well to a story. We sang him our song' Zoom, zoom, zoom we are going to the moon'.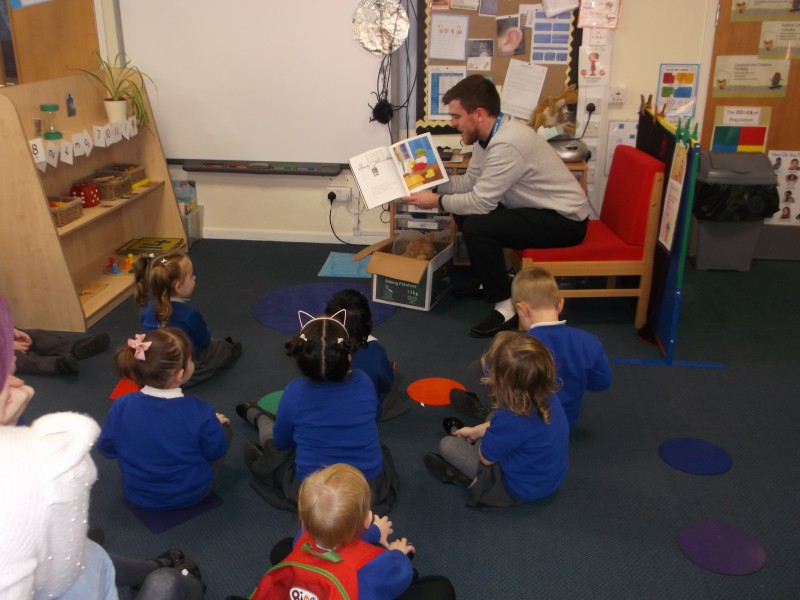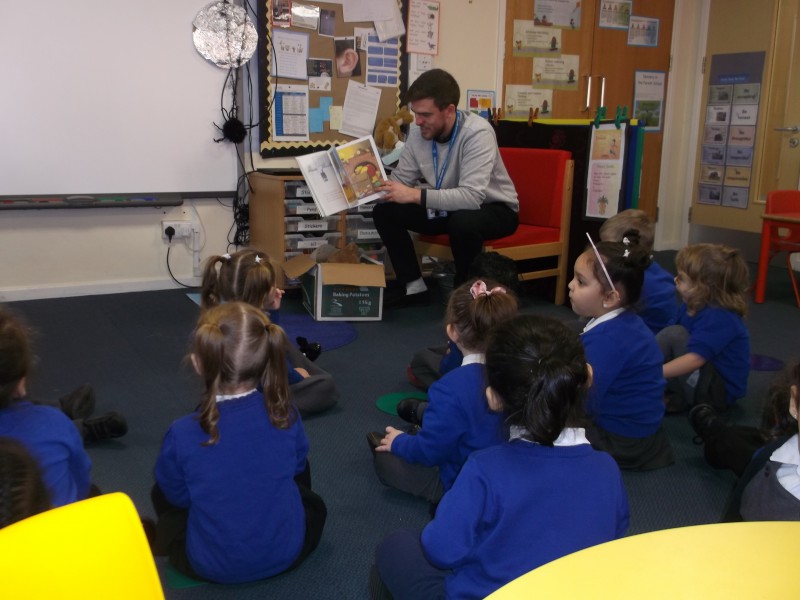 And another picnic on the moon :)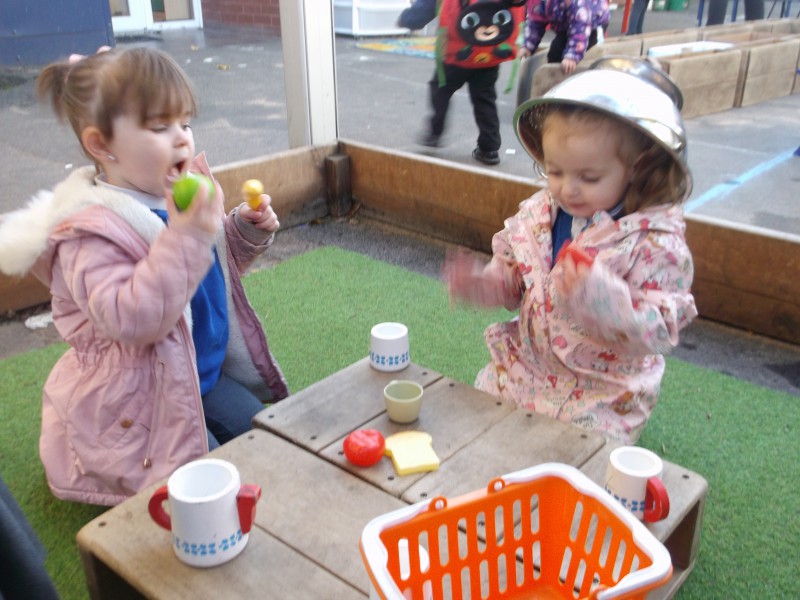 ________________________________________________________
Mr Bailey came to help us to assemble a new piece of furniture for our home corner. He needs his hammer and we will hand him all parts which are in the box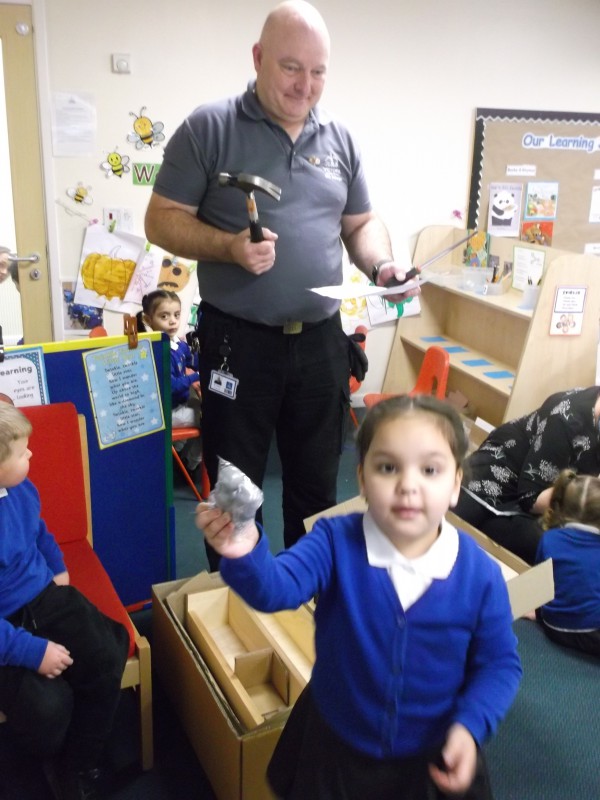 And ... TADA! here it is. A new Welsh dresser for our kitchen!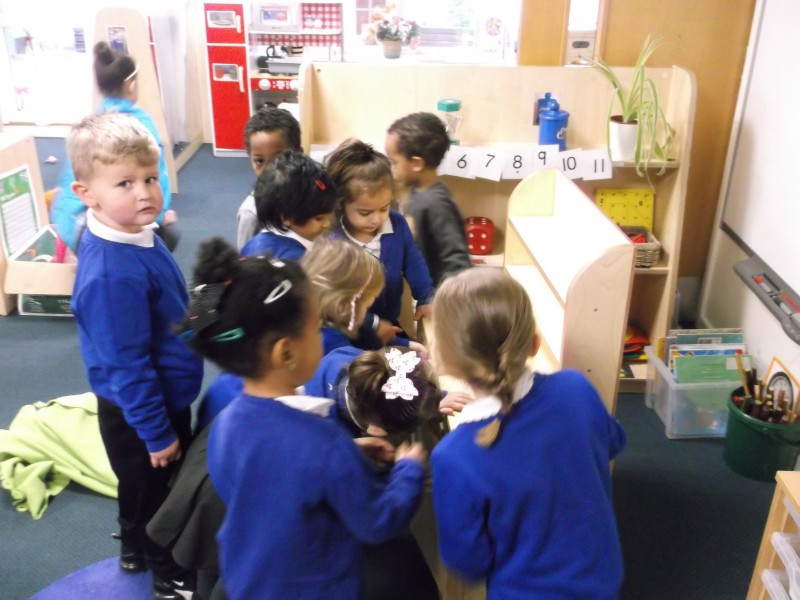 It looks great! Thank you Mr Bailey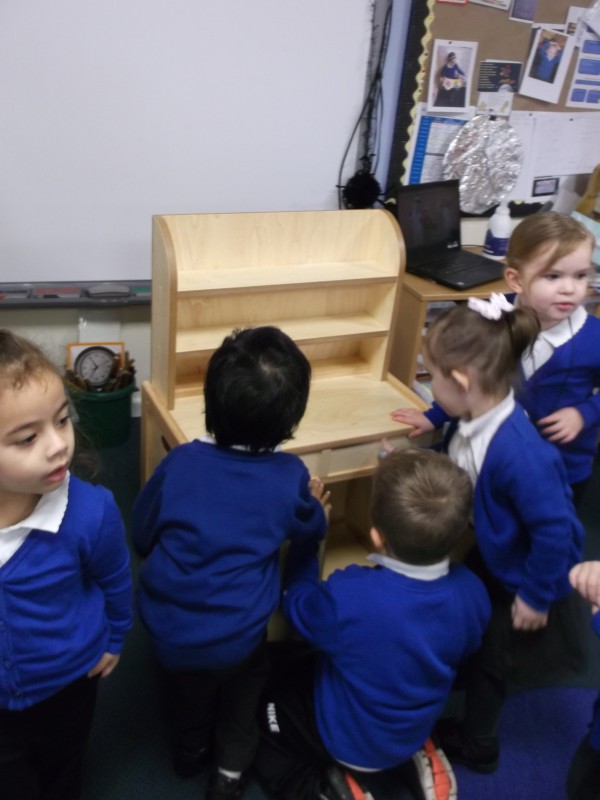 Another surprise! A new ironing board for our home corner.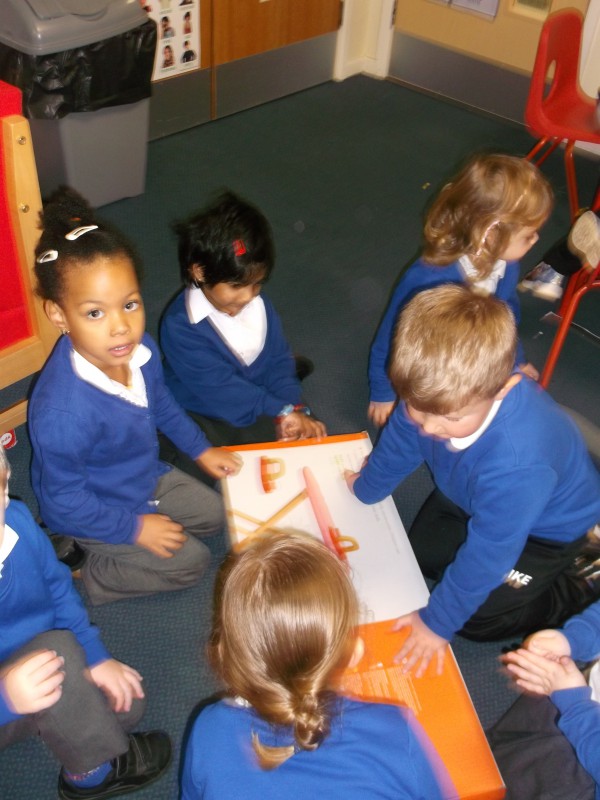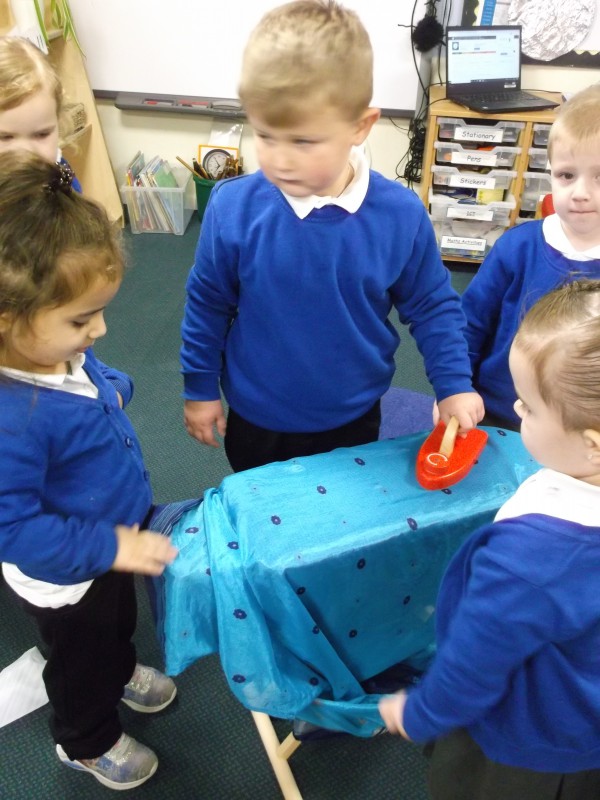 Our book of the week is WHATEVER NEXT by Jill Murphy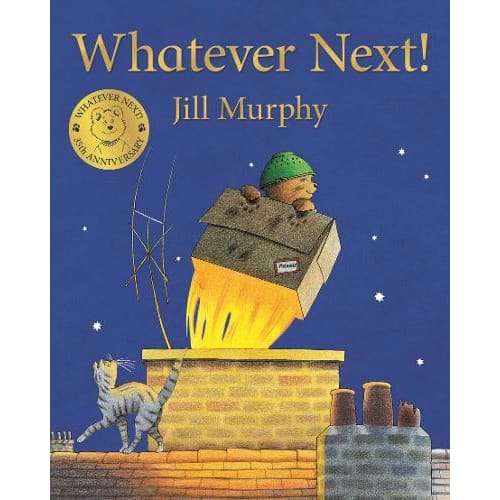 We are ready for our journey; rocket, helmet, space boots and a friendly owl.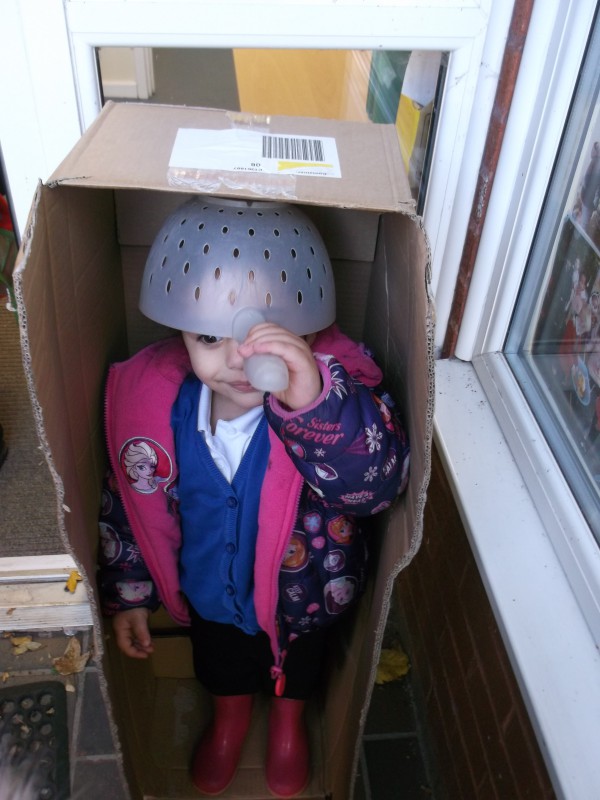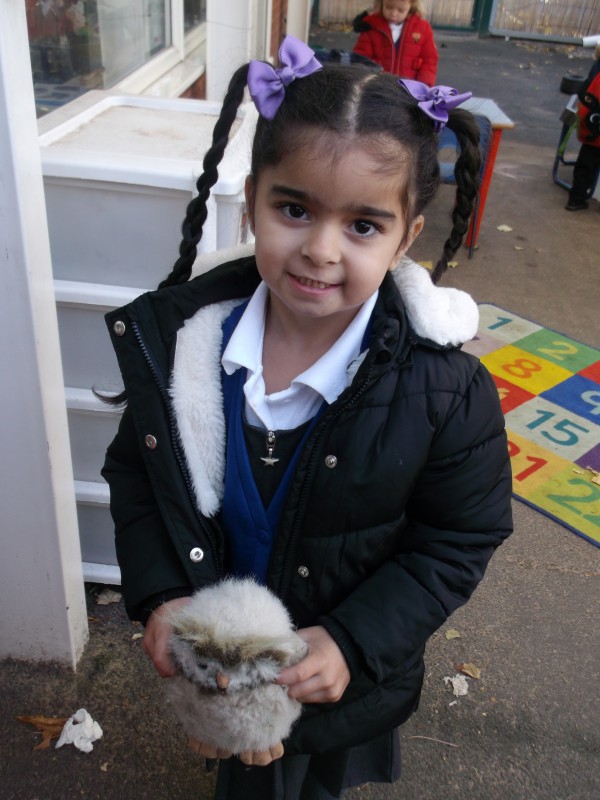 Zoom Zoom Zoom we are going to the Moon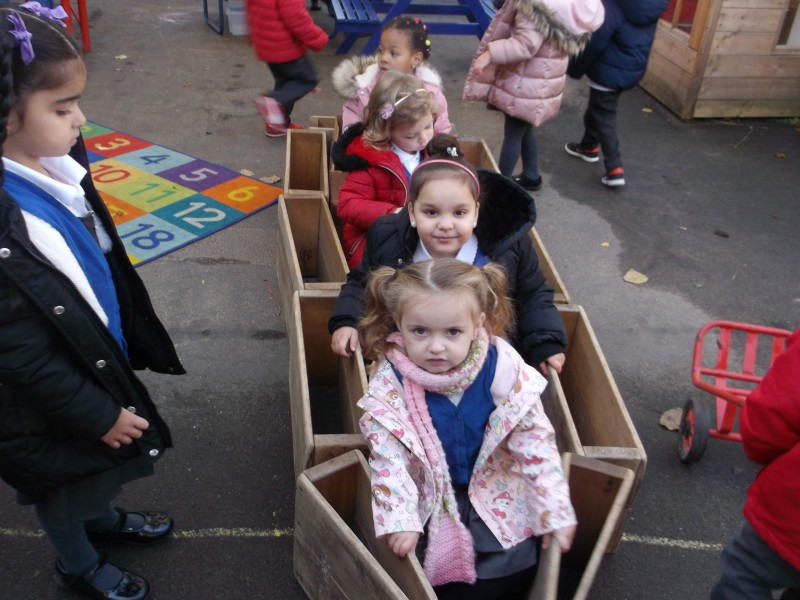 When we are on the Moon we will have a picnic.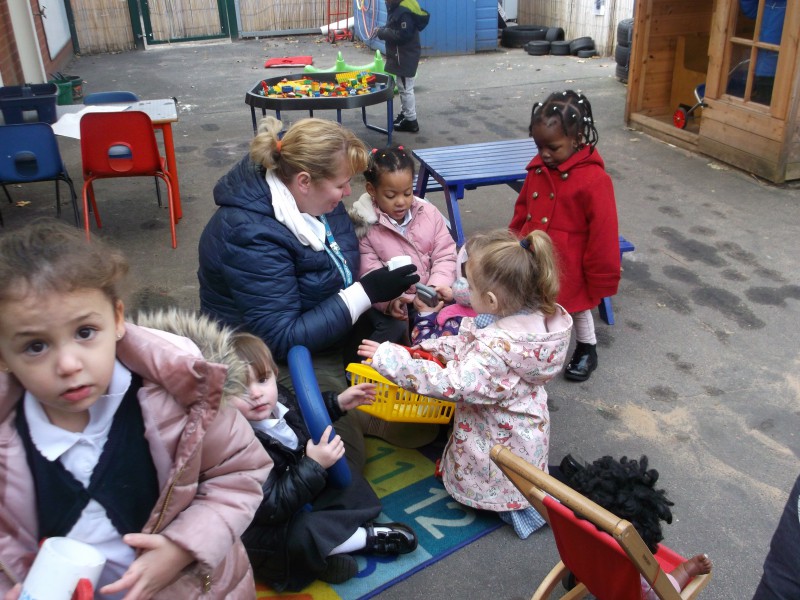 10,9,8,7,6,5,4,3,2,1 BLAST OFF!!!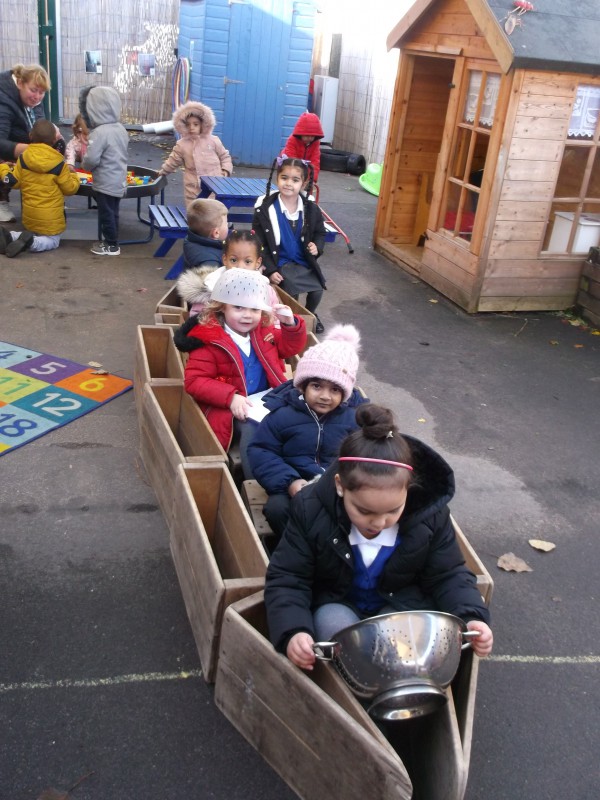 We have had a special guest this week.
A librarian came to read us three stories. We chose our favourite ones and she let us keep them. Thank you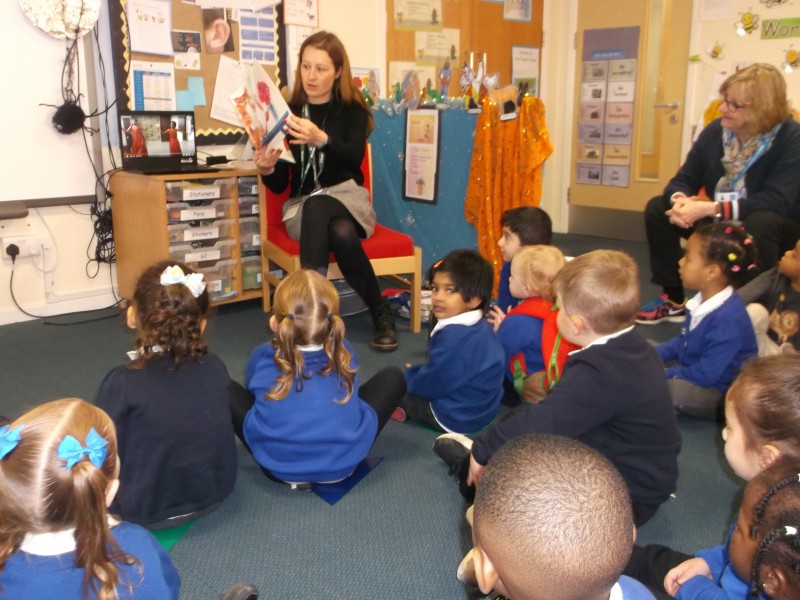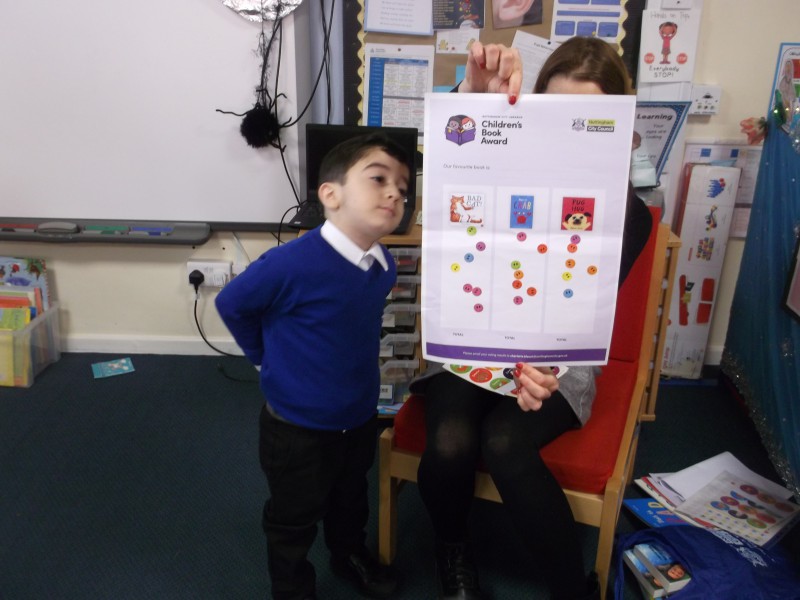 We were learning about the story of DIWALI.
We watched a puppet show about Rama and Sita. HAPPY DIWALI everyone!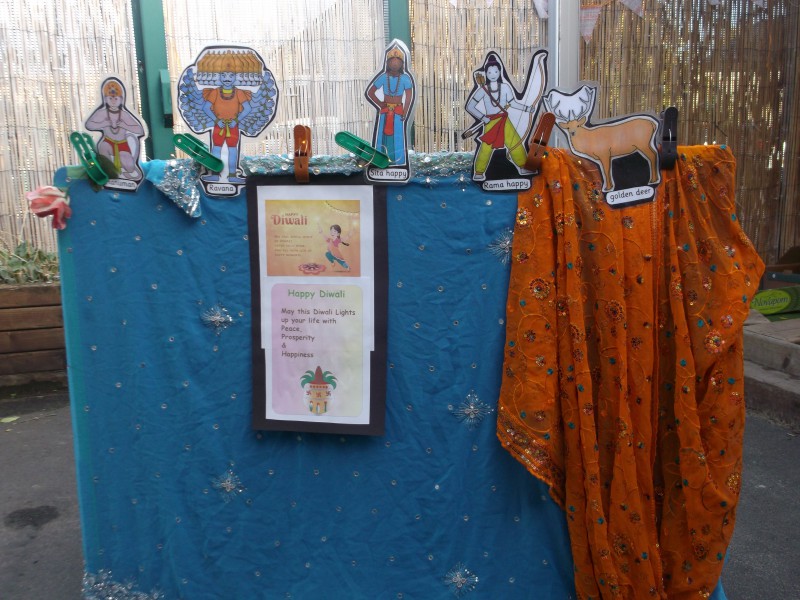 We fed our school guinea pig. She loves carrots and apples.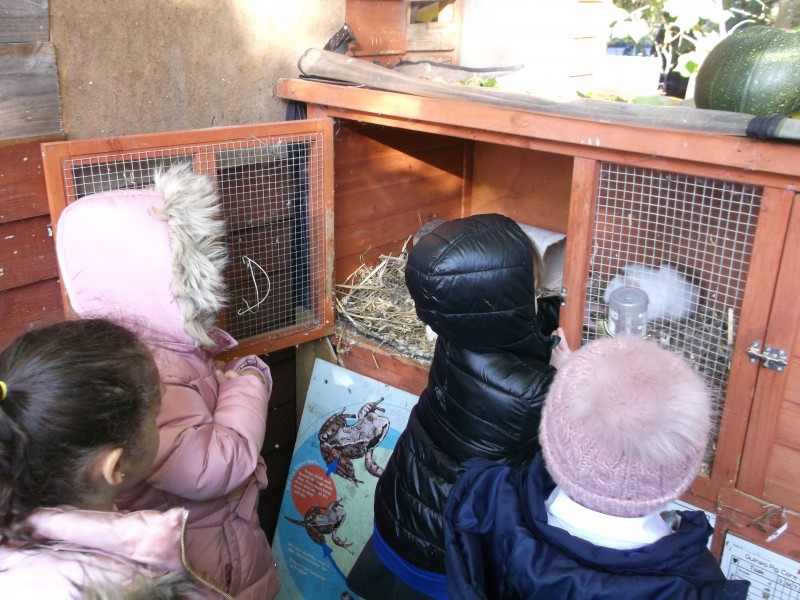 She seems very happy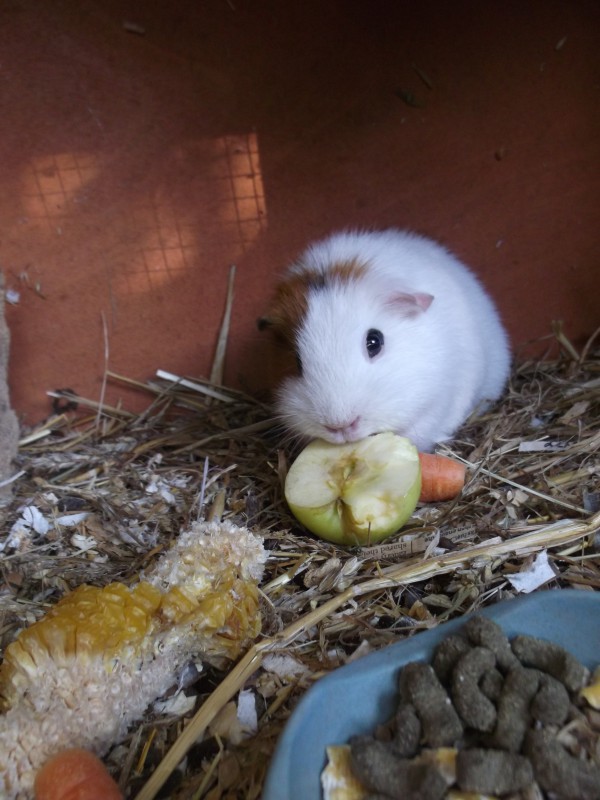 We have started our first push-bike riding lessons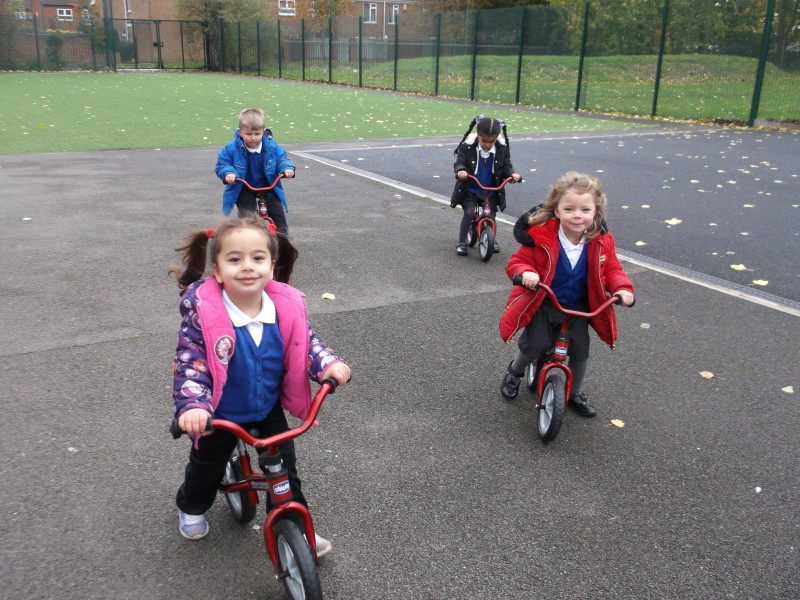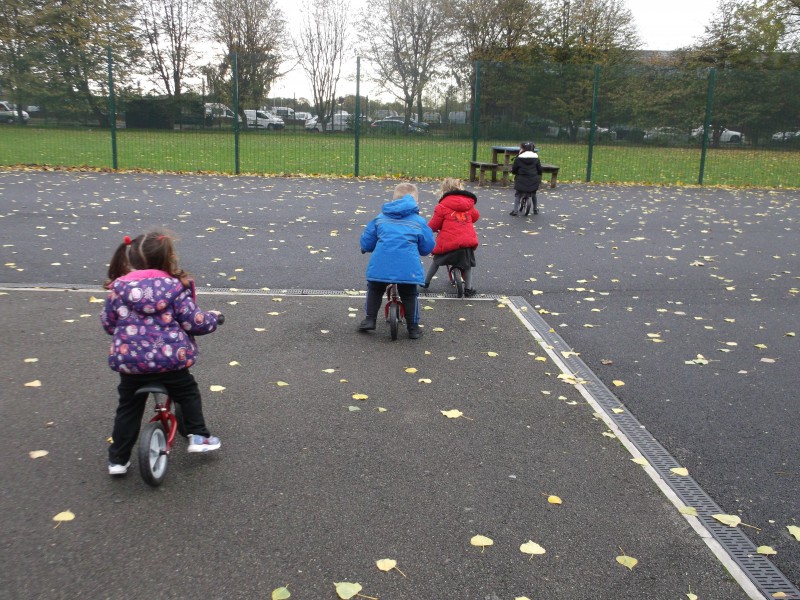 Autumn 1
Our first Guest Reader this year was Mr Gray our Headteacher.
He read the book called My Old Teddy.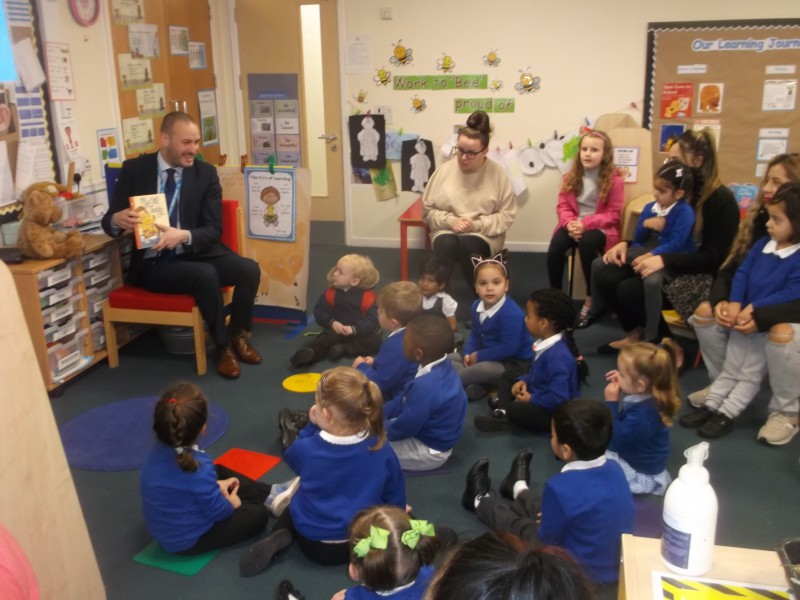 We have launched our Nursery Library.
Every Monday we will take a book home and bring it back on Friday.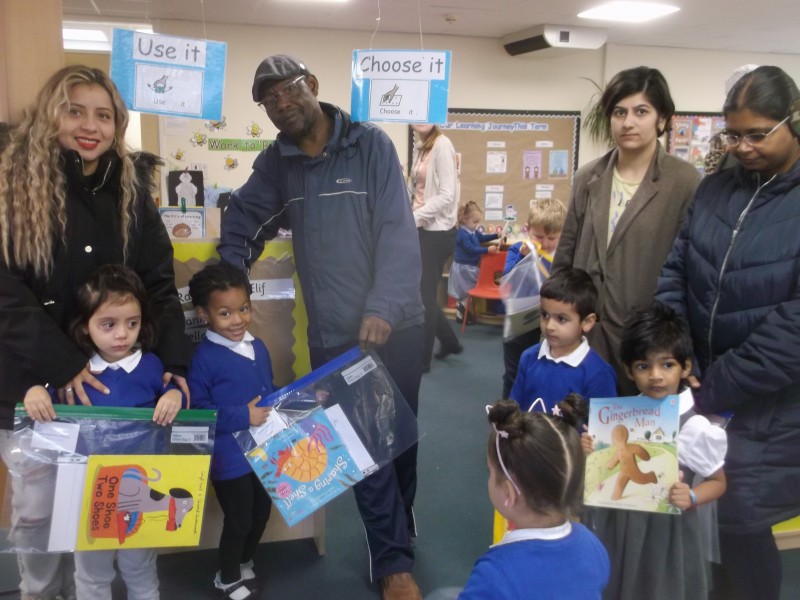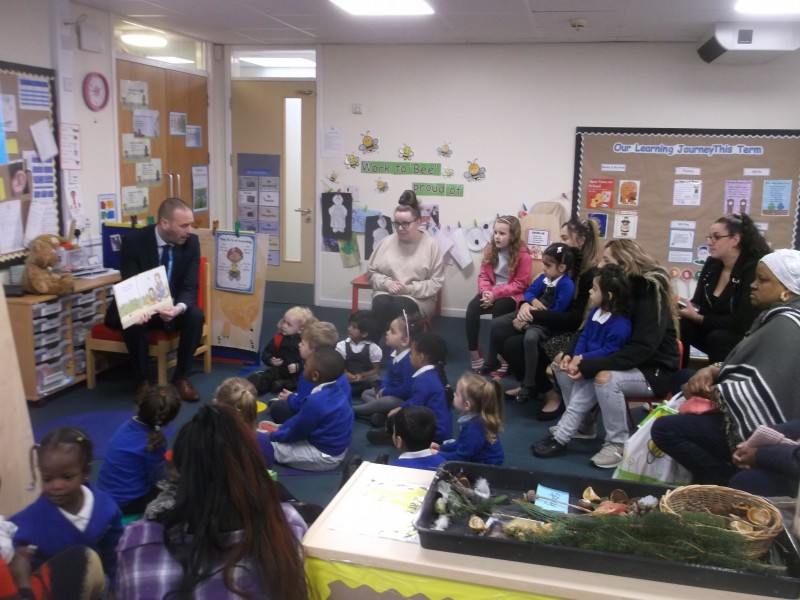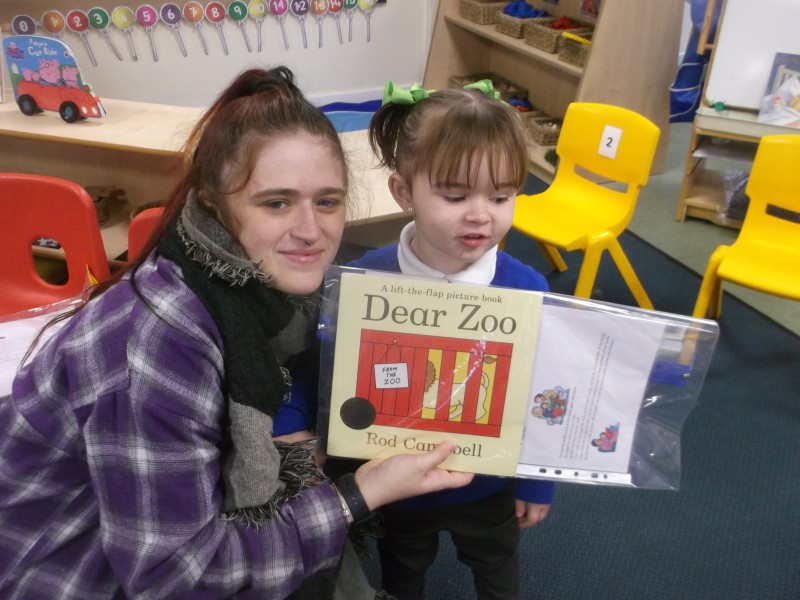 Our book of the week BROWN BEAR, BROWN BEAR
We can sit beautifully and actively listen to the story by predicting what is going to happen and by finding the right pictures.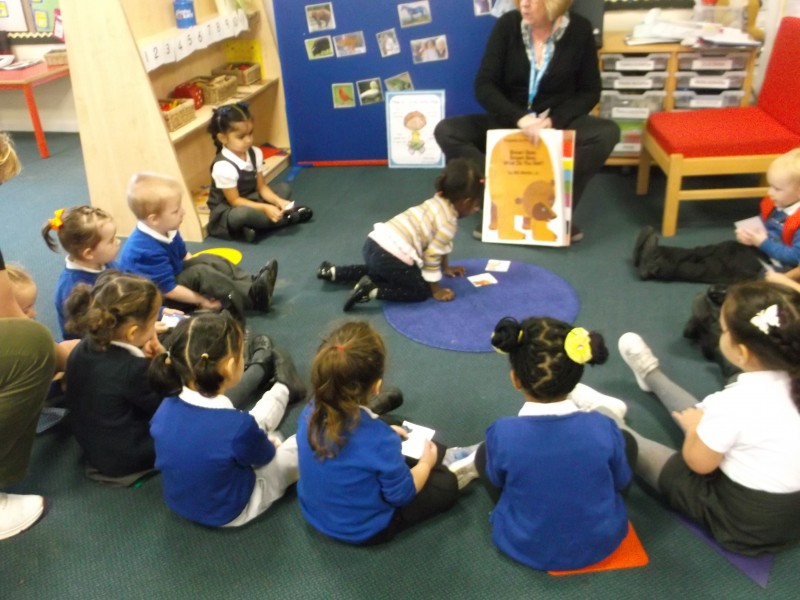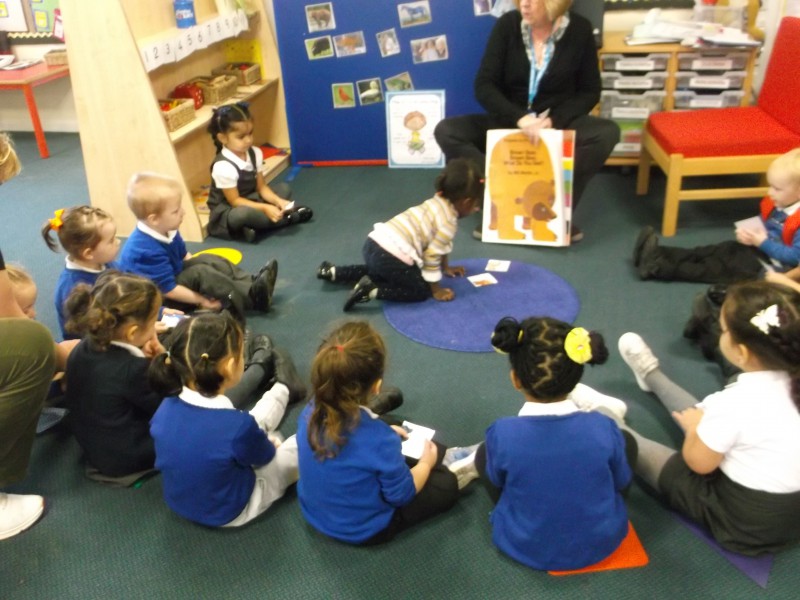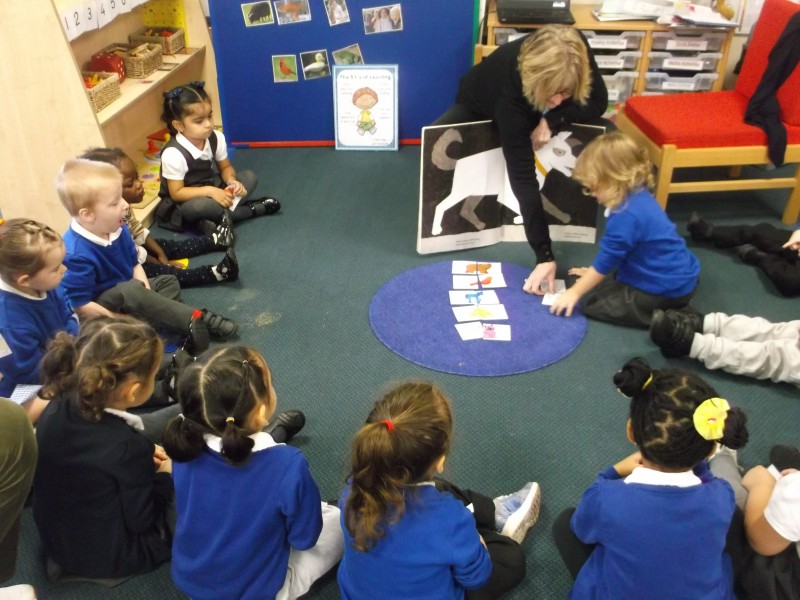 We are helping to prepare our snacks. We count the milk and sort out different kinds of fruit.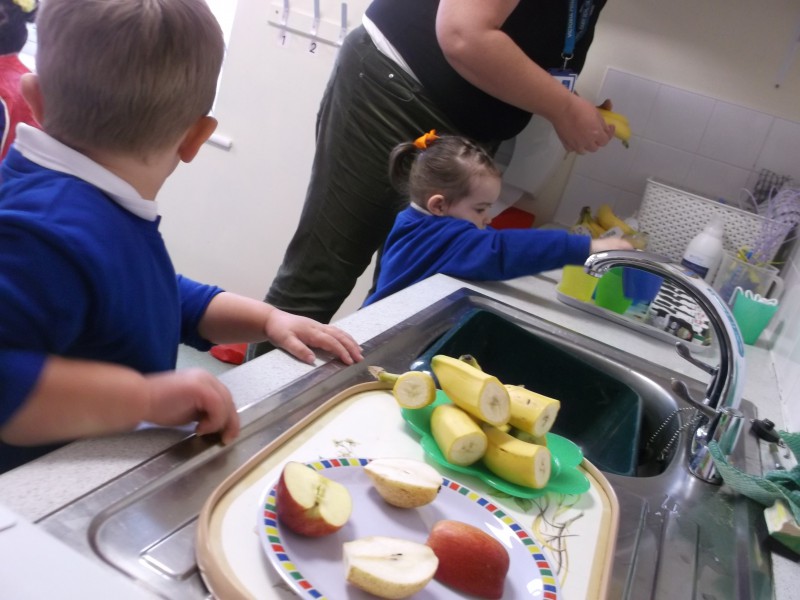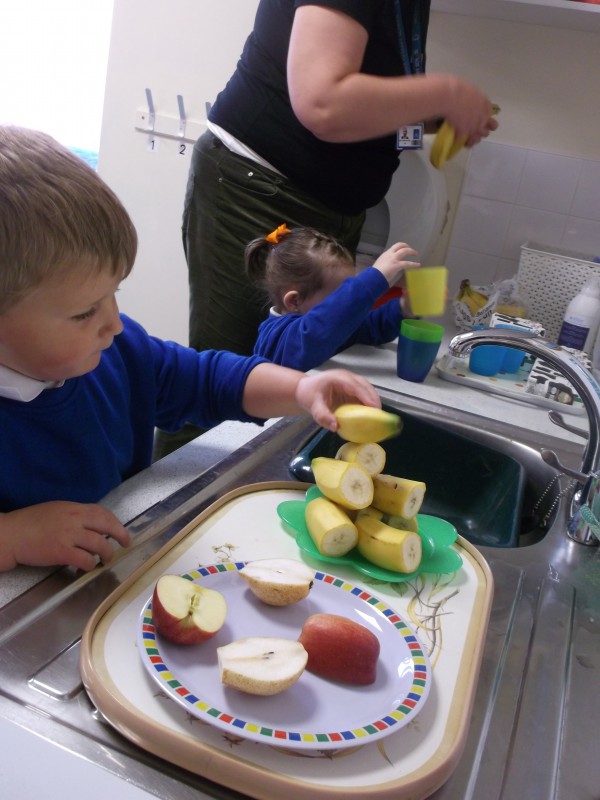 Open, shut. Open, shut that's the way we cut, cut, cut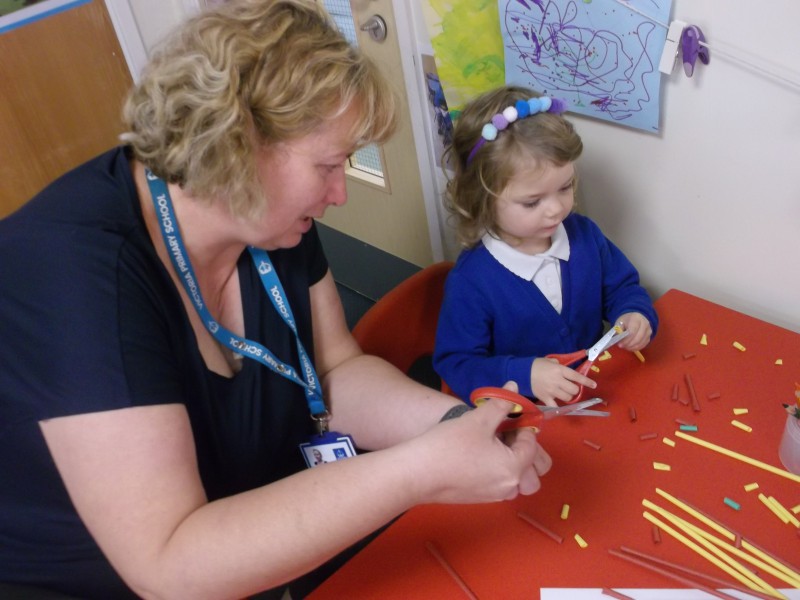 This week our story book is MRS WISHY WASHY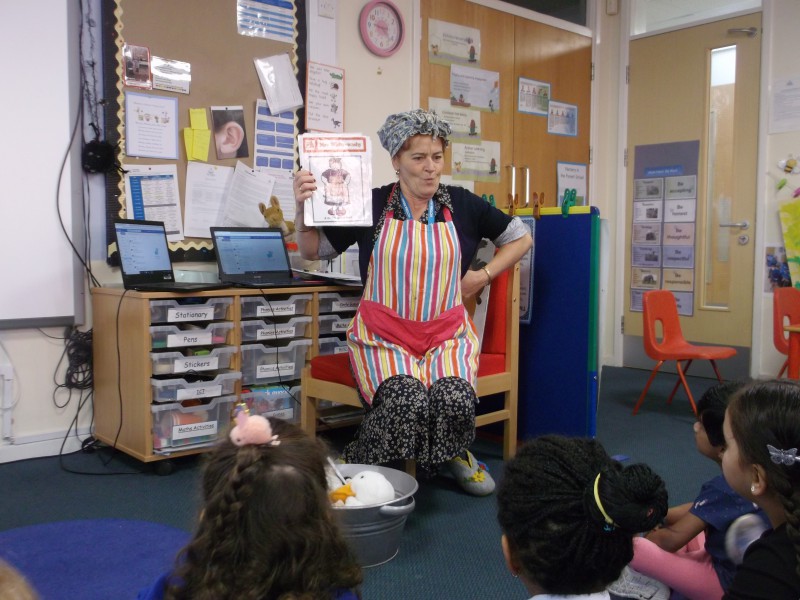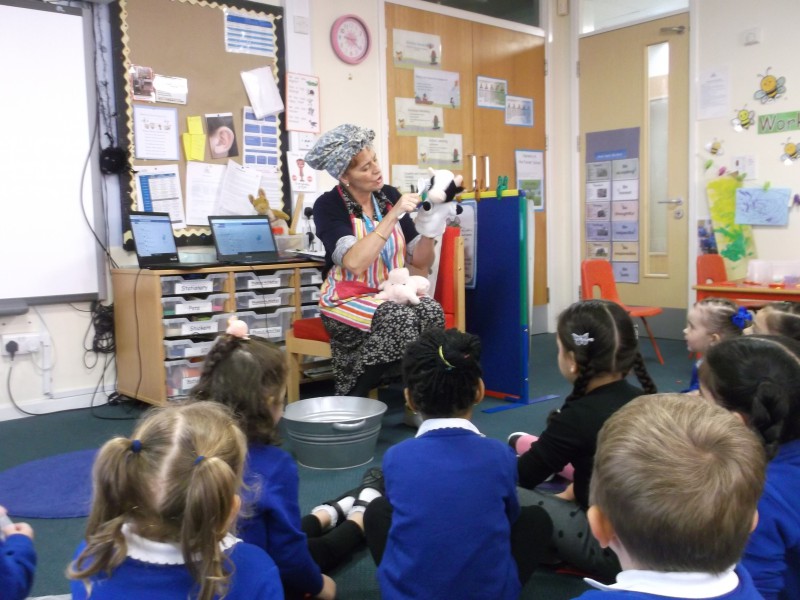 She goes "Wishy, washy. Wishy, washy" and the cow is clean.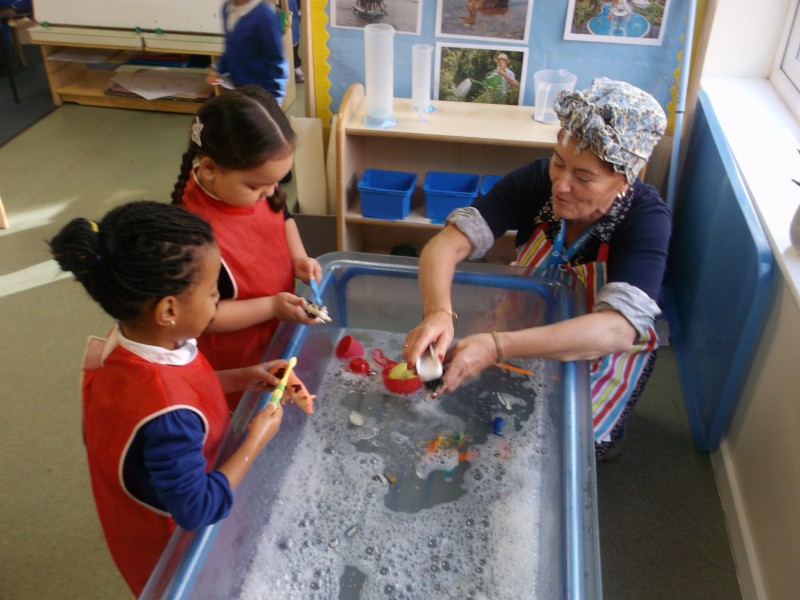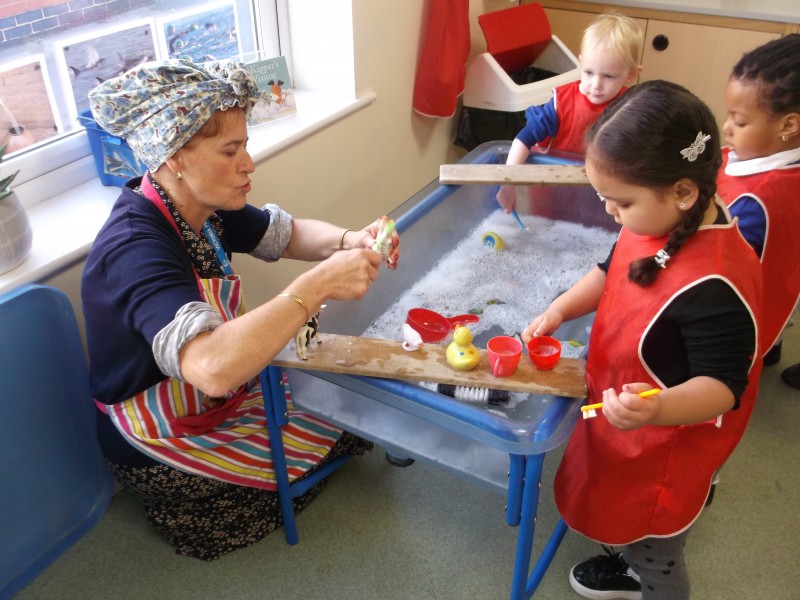 ______________________________________________________
Using our big muscles while brushing and scrubbing our playground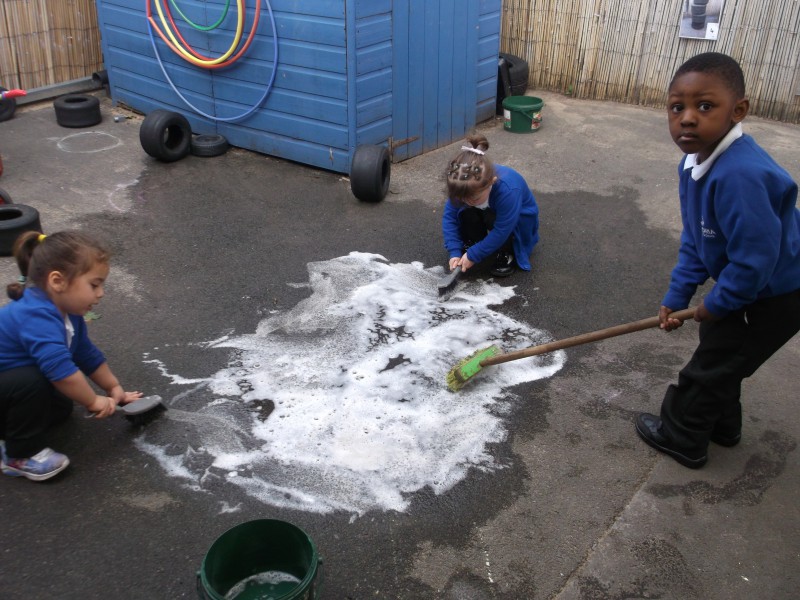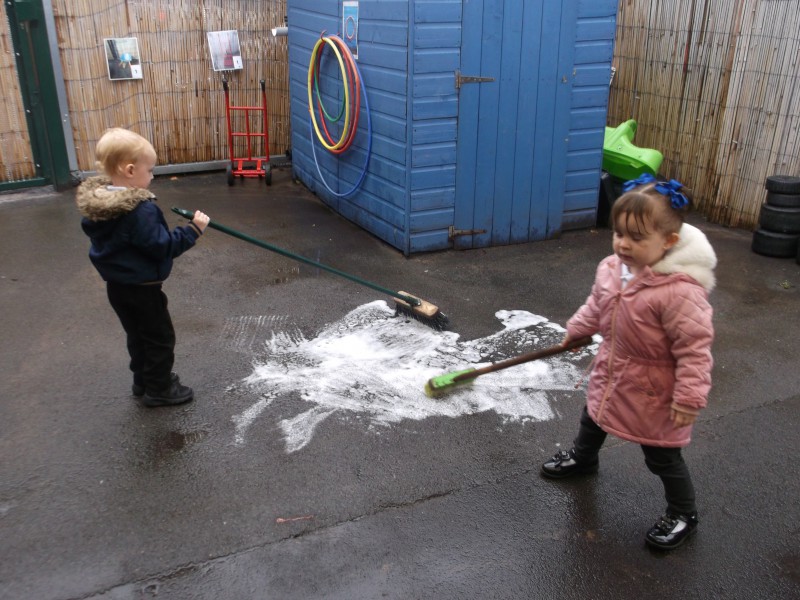 We play games and learn how to take turns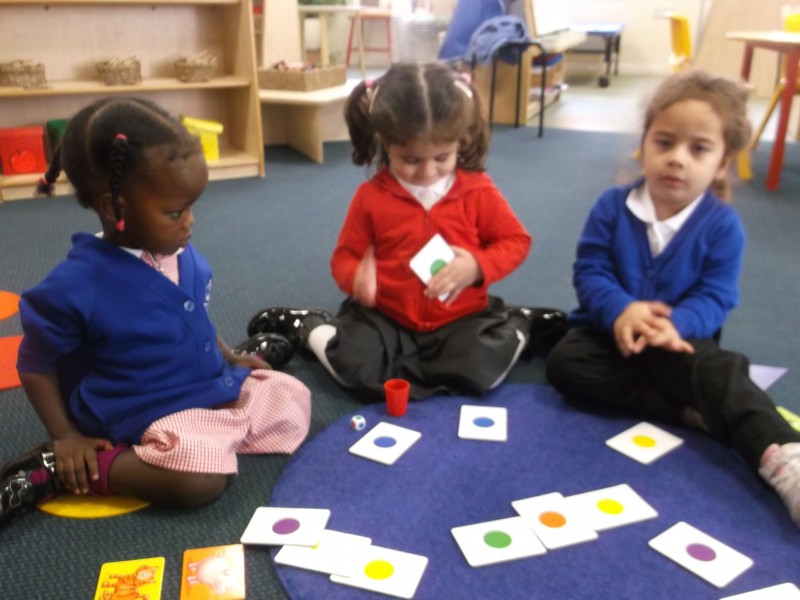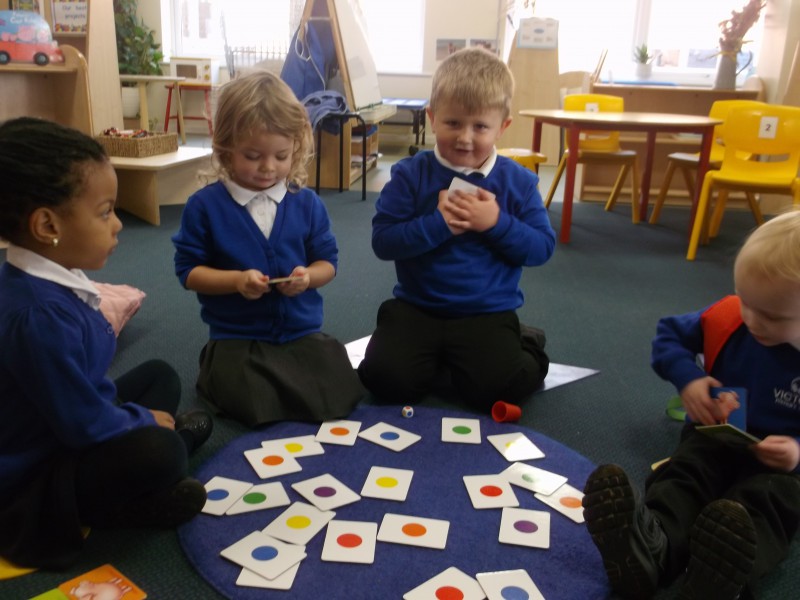 We are learning our new rhyme TWO LITTLE DICKY BIRDS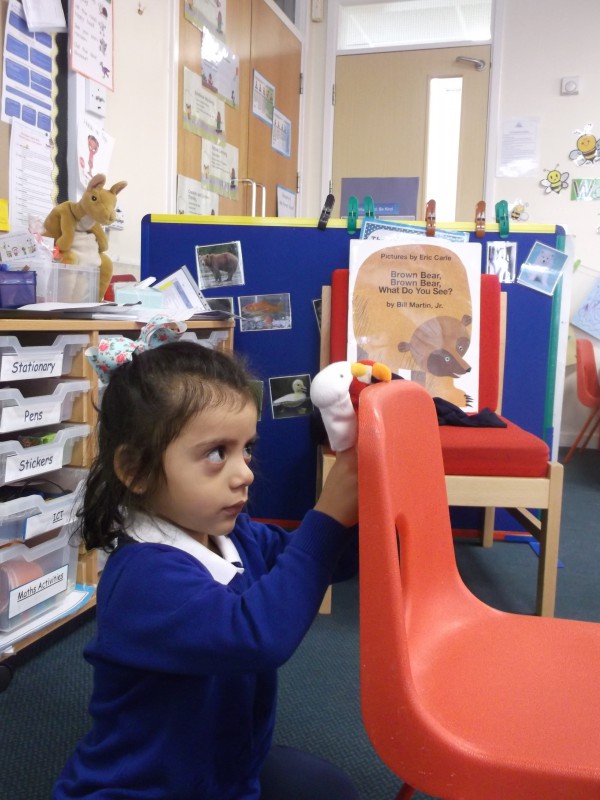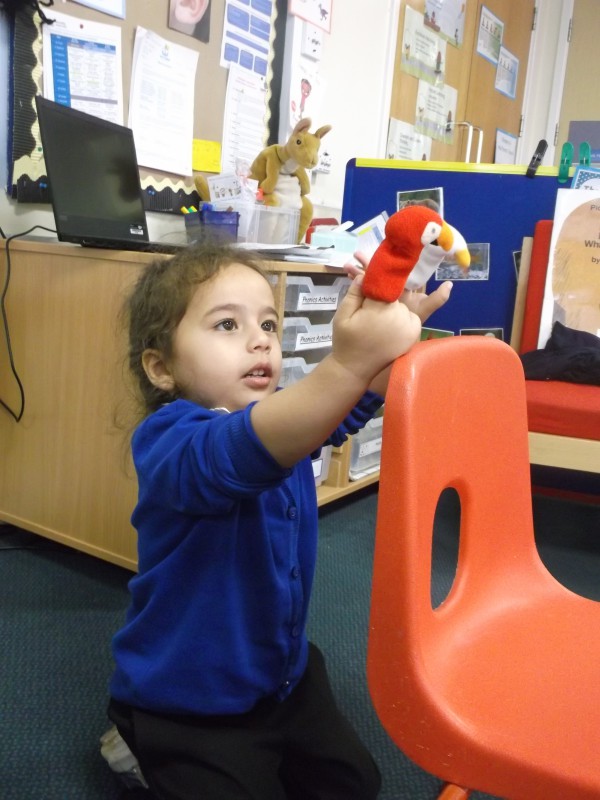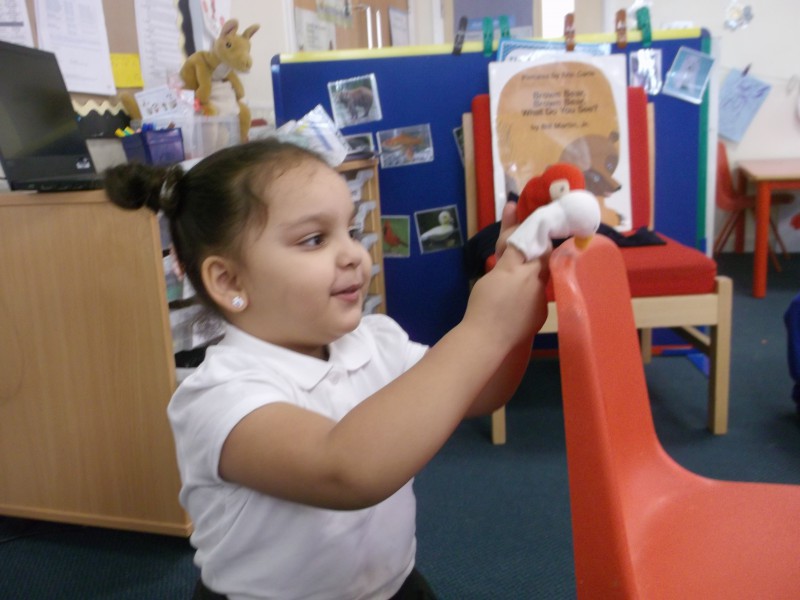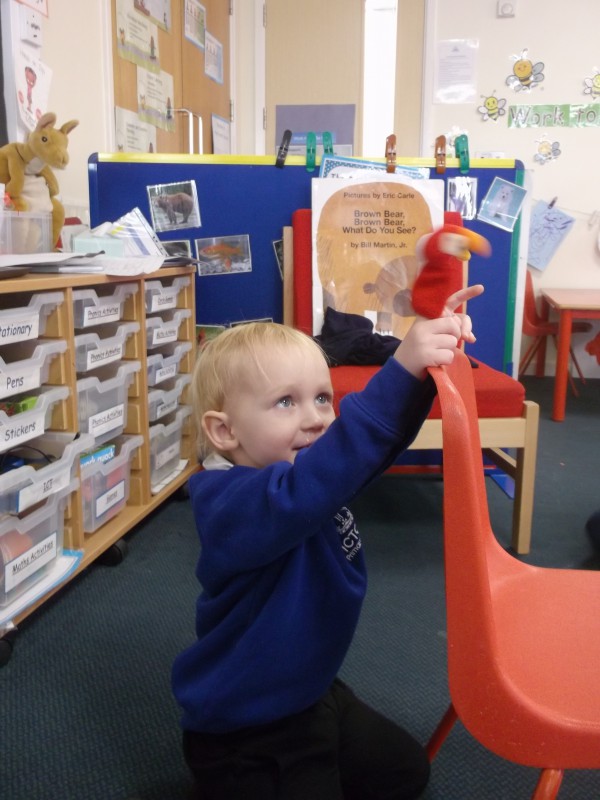 Our first week in the Nursery
The nursery class is usually a child's first formal school experience, designed to prepare our children for learning in the primary school setting and beyond.
The first day at school can be slightly rough for many children who are leaving their familiar environment of their homes for the first time and interacting with other children their age.
As teachers our role on the first day is to incorporate entertaining activities that will ease any child's anxiety and boost their confidence so they can feel safe enough to explore and use her imagination.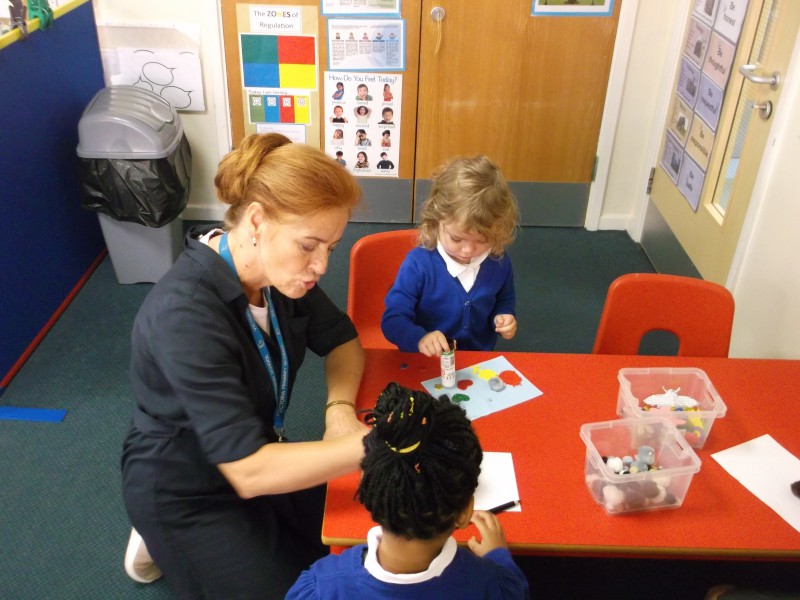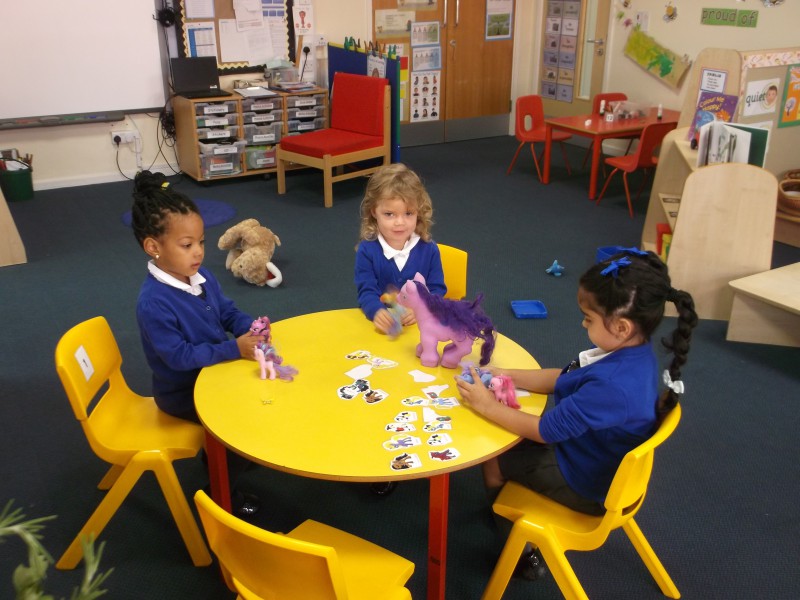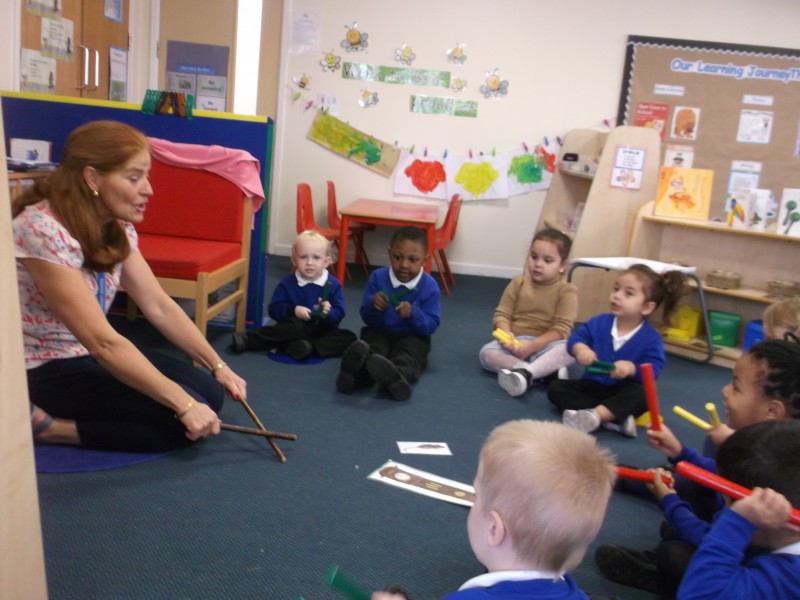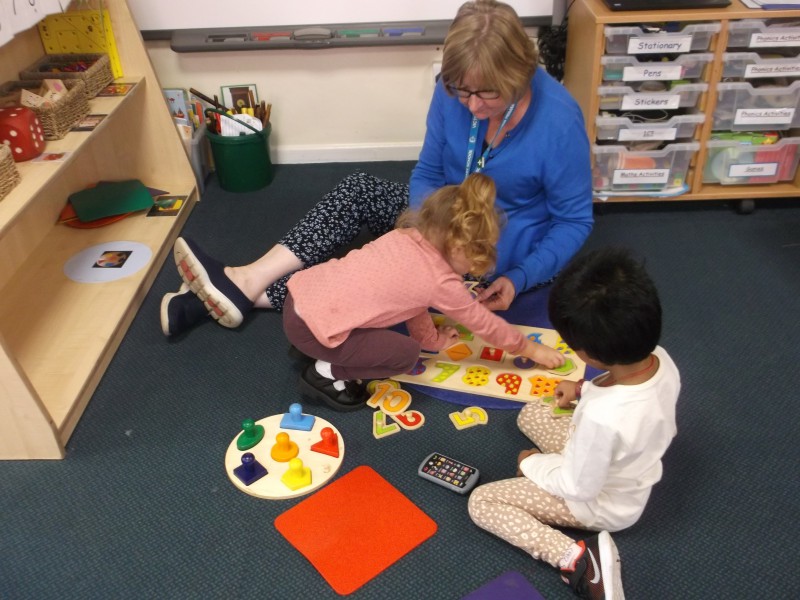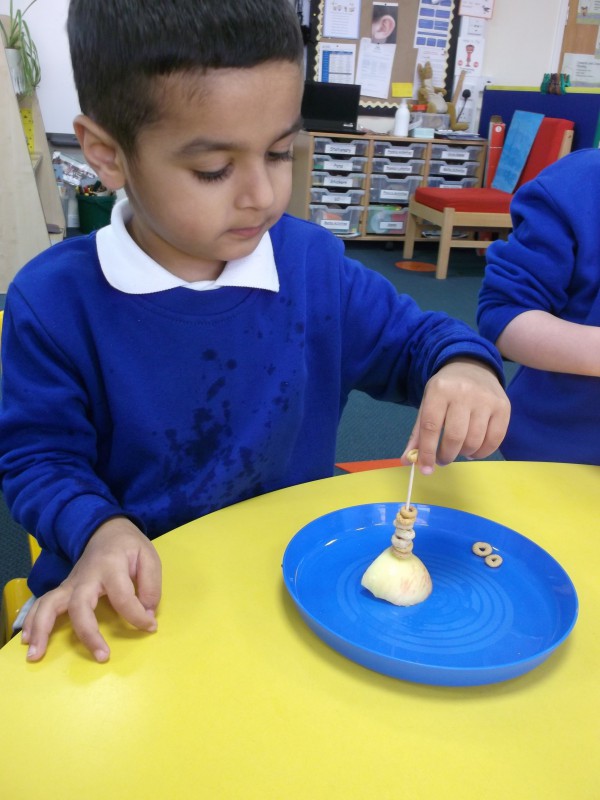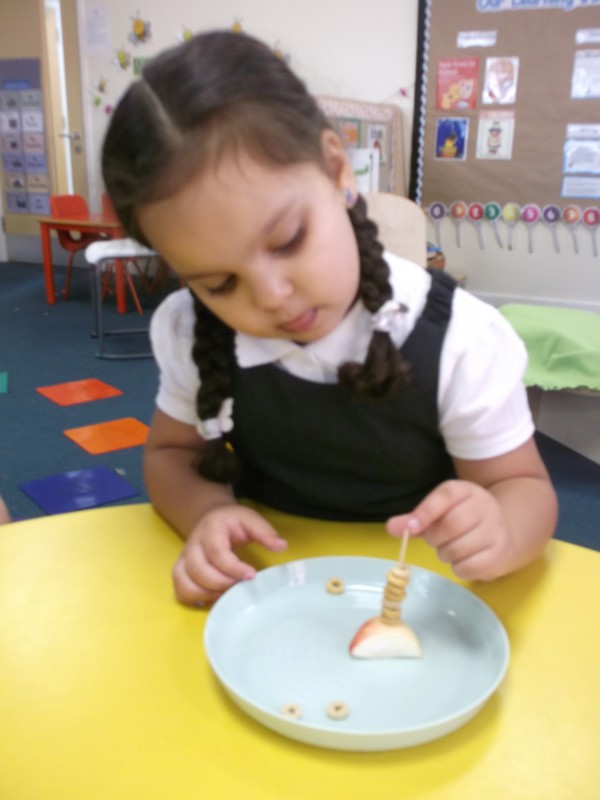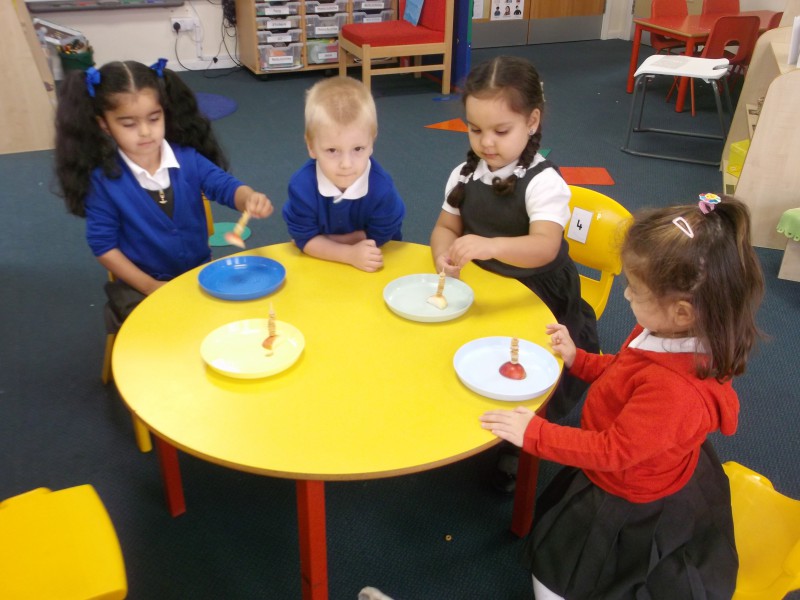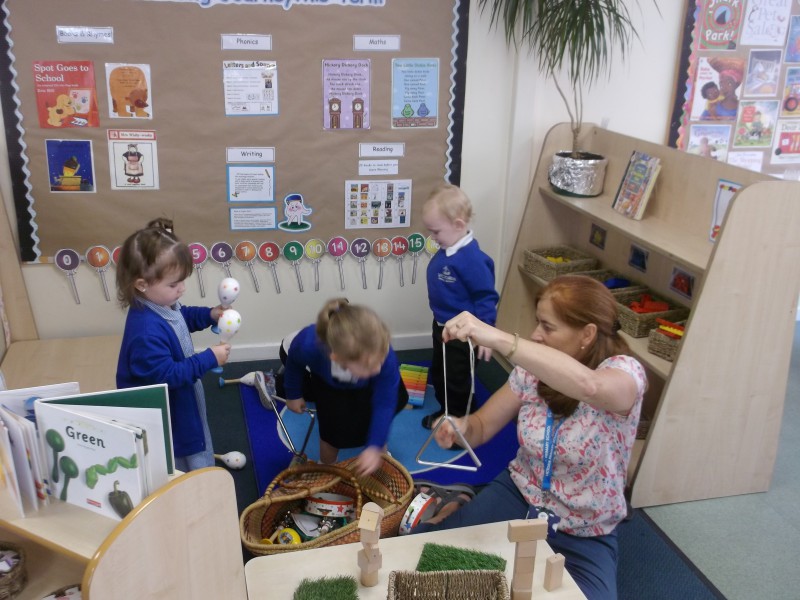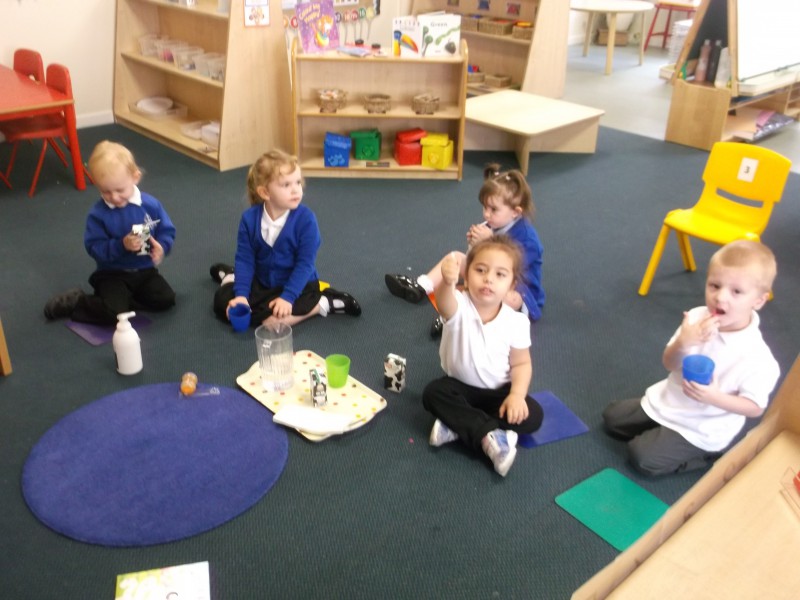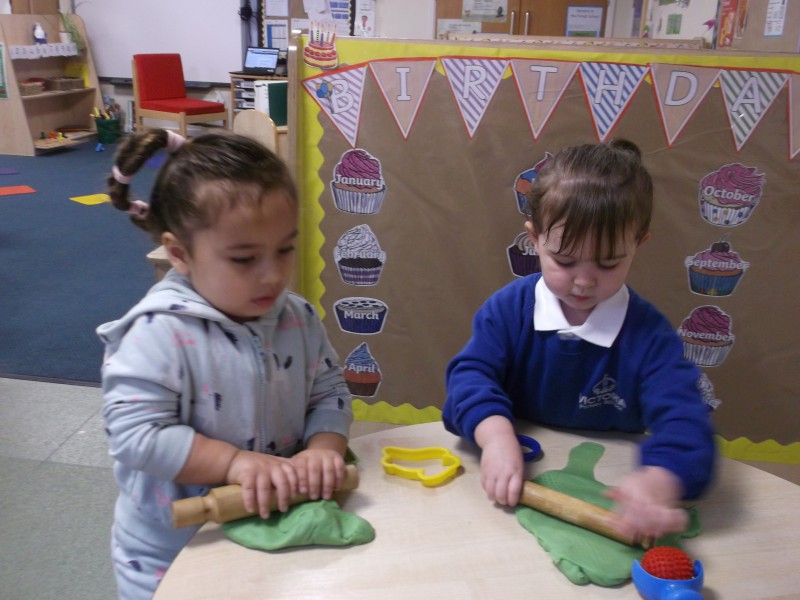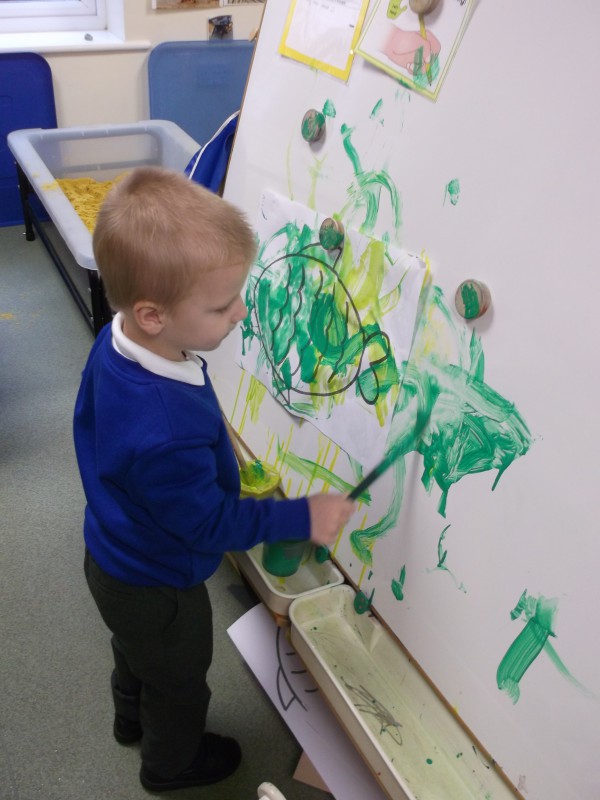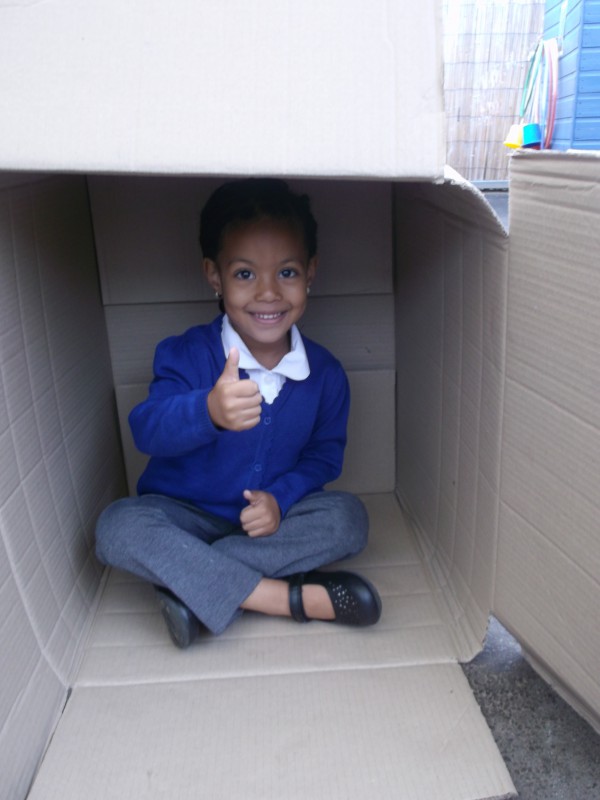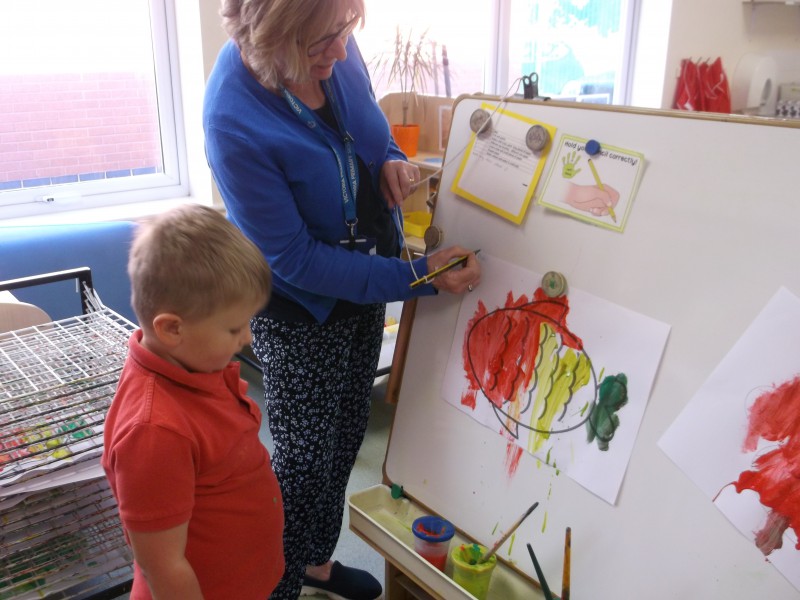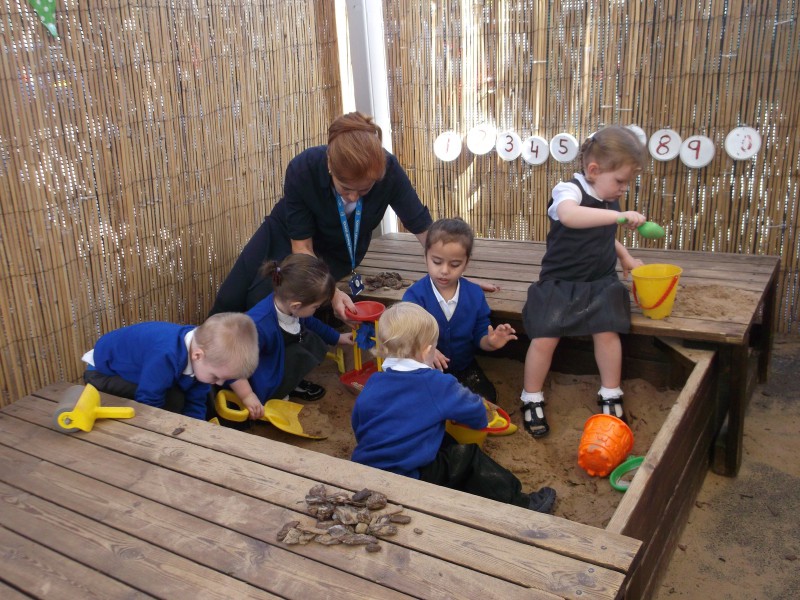 We cannot wait to see you!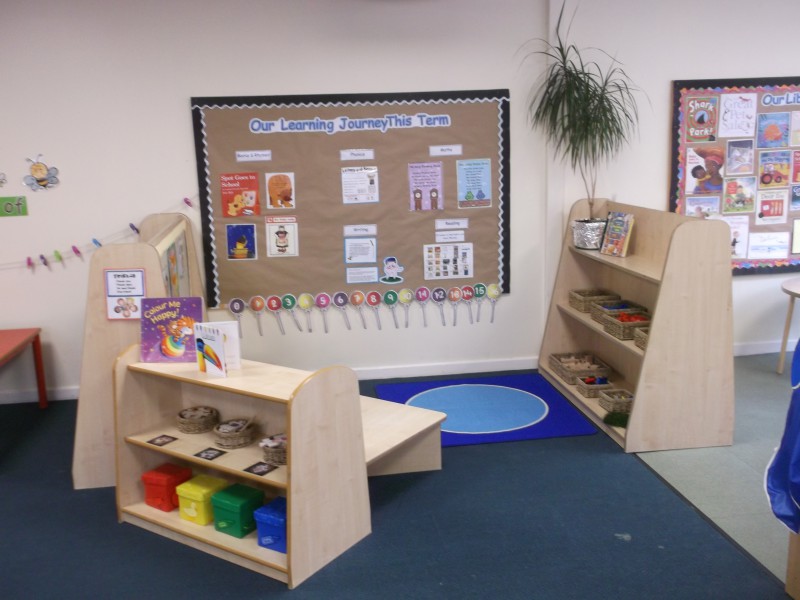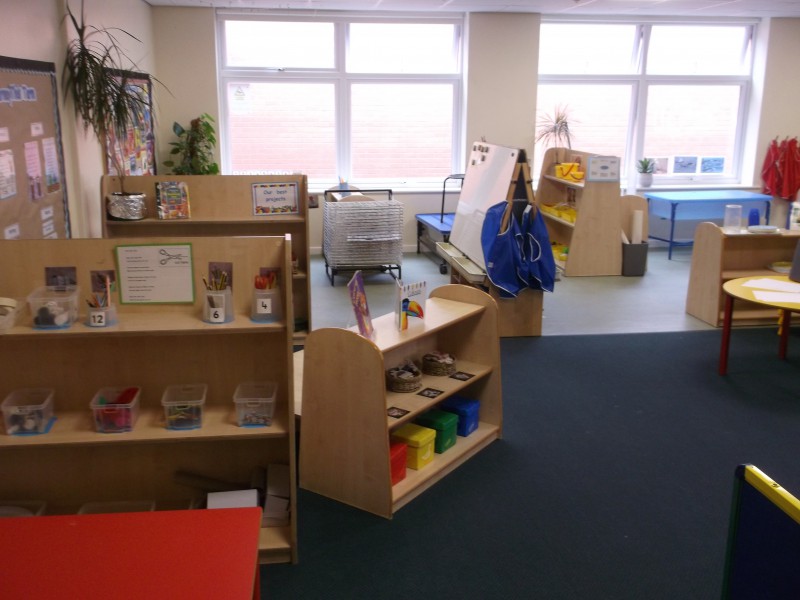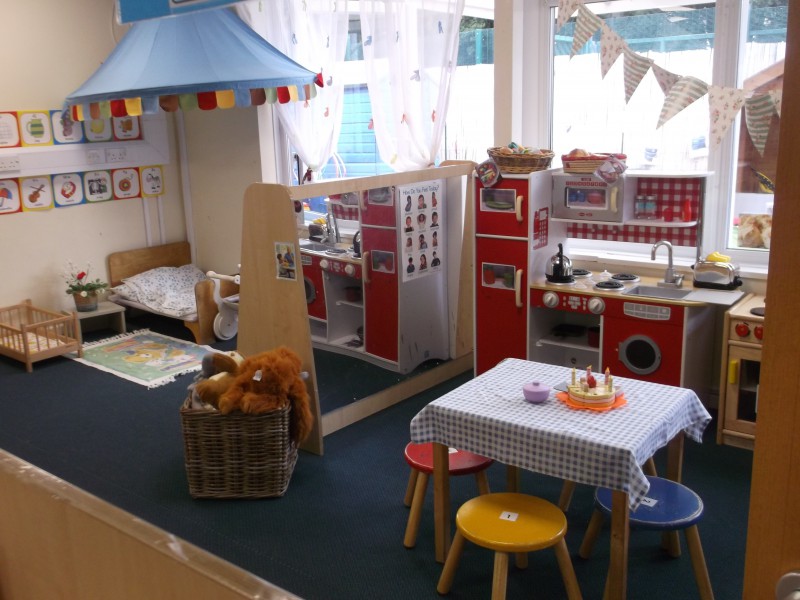 A warm welcome to all our children!
Look how we play and learn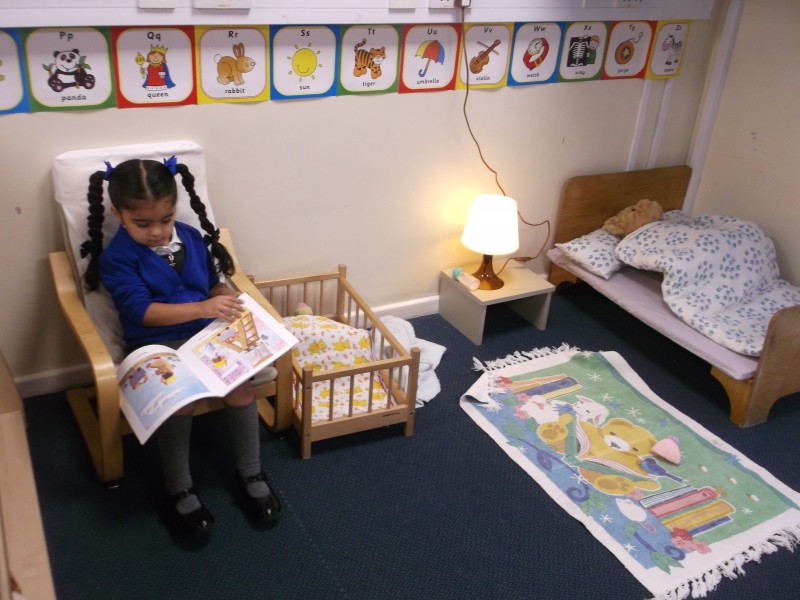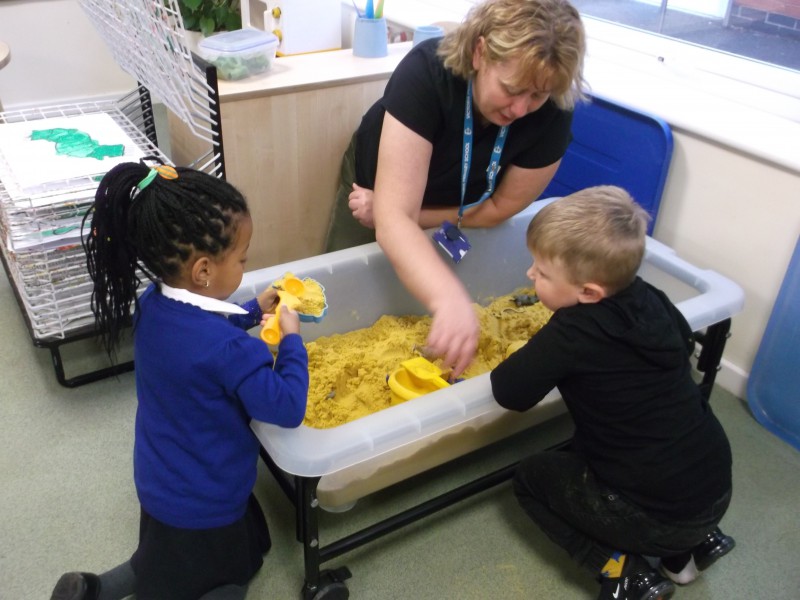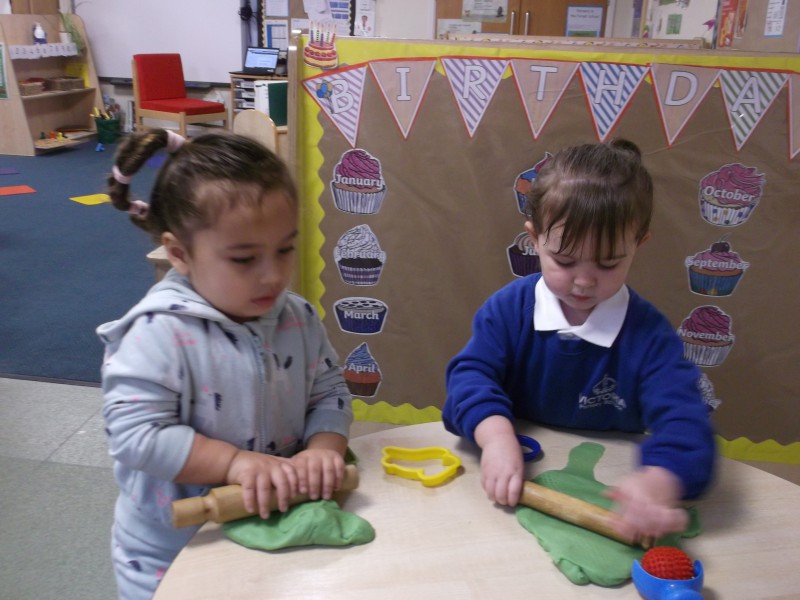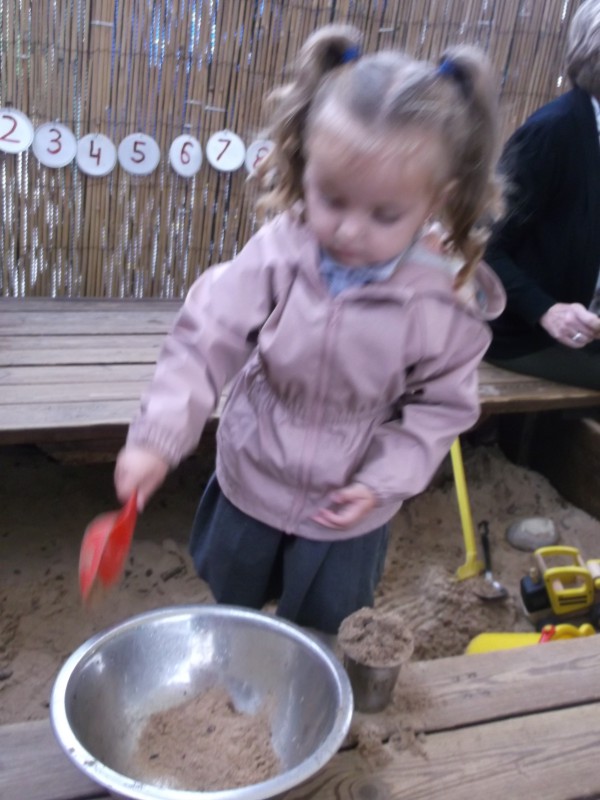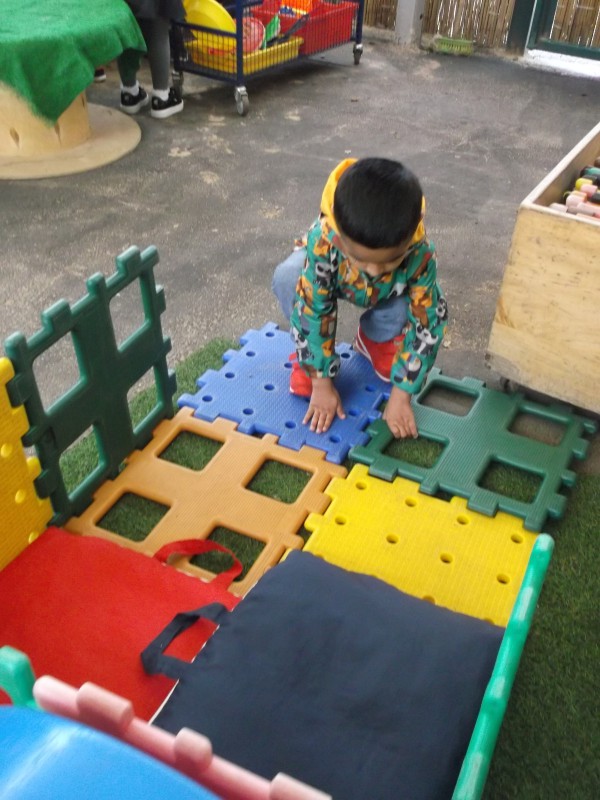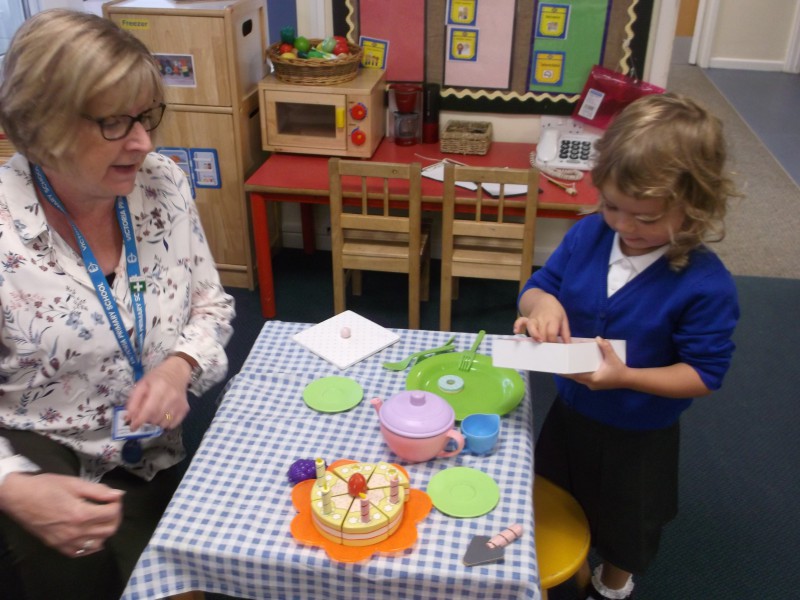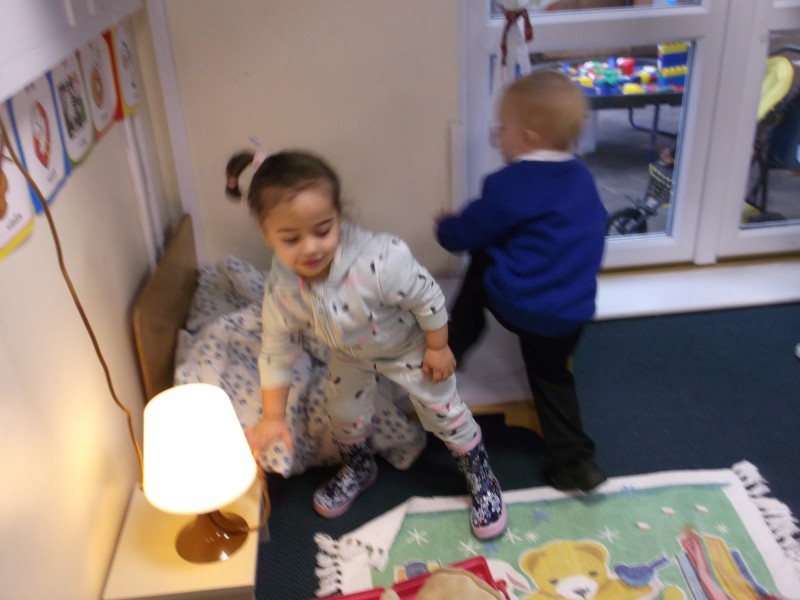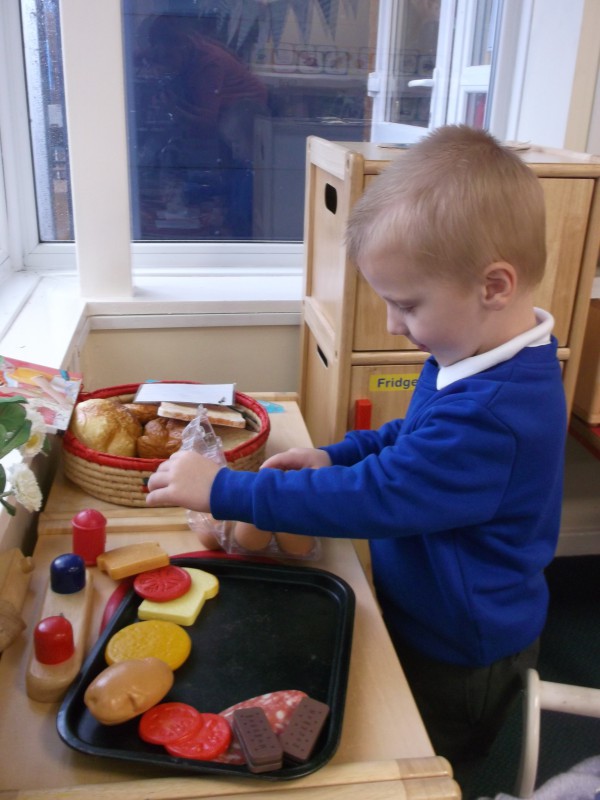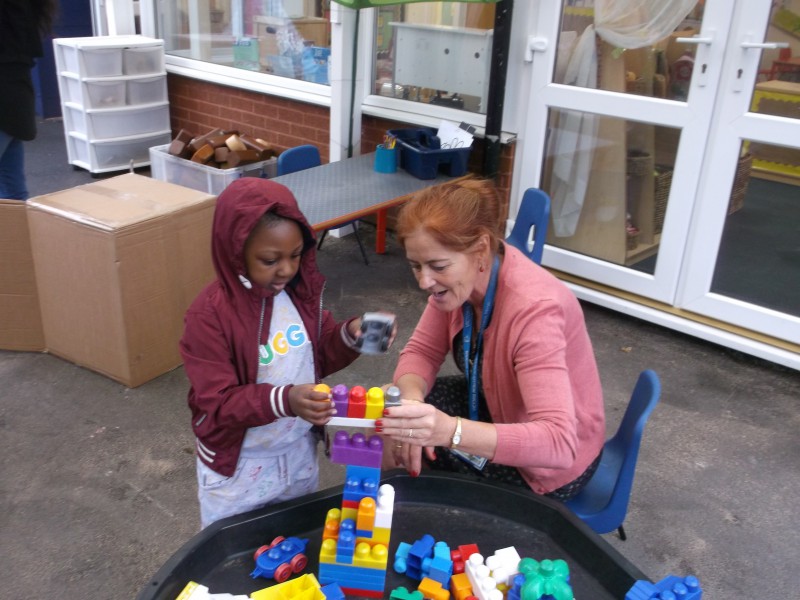 August 2022
| M | T | W | T | F | WE |
| --- | --- | --- | --- | --- | --- |
| 1 | 2 | 3 | 4 | 5 | 6 |
| 8 | 9 | 10 | 11 | 12 | 13 |
| 15 | 16 | 17 | 18 | 19 | 20 |
| 22 | 23 | 24 | 25 | 26 | 27 |
| 29 | 30 | 31 | | | |