Welcome to Nursery
Nursery
Welcome to the Nursery Class website
In Victoria Primary we strive to provide a loving, caring environment that will nurture every child's growth and development.
To My Fantastic Nursery Class
The school year was cut short because of the virus and I did not have a chance to thank you for being such a wonderful class. I wish we had more time to play together!
You have been so brave and did such a fantastic job of staying home and keeping yourself and your family safe.
In September I will visit you in your new class. We will all be together again and will play and explore and learn.
Enjoy the summer holidays with your family and next year we will start anew.
For now I want to say that I miss you all and I am very proud of you.
With lots of love and hugs
Mrs Walker
Coronavirus: learning and playing with your children while staying at home
Home Learning Week 12
Congratulations to all of you who have been learning at home during the lockdown. We admire your efforts and are immensely proud of you. You are all SUPER STARS!
This week have lots of fun; painting, blowing bubbles, playing with shaving foam, having picnics or listening to exciting stories.
Do not forget you are invited to Stay and Play on the school field Wednesday 15th July. See you on Seesaw
Lots of hugs
Mrs Walker and Mrs Greenhalgh
________________________________________________________
Home Learning Week 11
Only two more weeks of working on Seesaw and we all will have our summer holidays. This will be a very busy week for you. You will be doing your Seesaw activities and you can also come to school for your Stay and Play.
You will be able to meet your teacher on the school field:
9.30 – 10.30 Monday 6th July
9.30 – 10.30 Thursday 9th July
9.30 – 10.30 Wednesday 15th July
If it rains, the session will be cancelled and we will send a text to let you know.
We are waiting for your messages on Seesaw. Tell us all about your Stay and Play on the school field.
Take care and big hugs from Mrs Walker and Mrs Greenhalgh
Look at our work from last week
writing shopping lists
preparing healthy meals
making collages of healthy lunches
_________________________________________________________
Home Learning Week 10
Our topic for the next two weeks is Food
I hope you will enjoy our activities.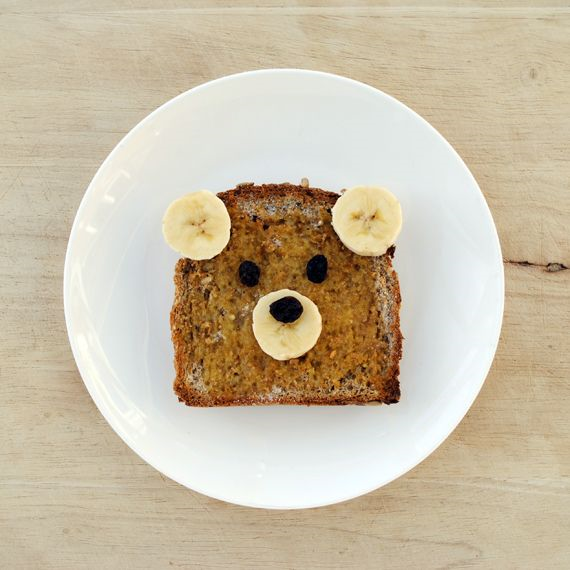 ____________________________________________________________
Home Learning Week 9
See you on Seesaw :)
Do not miss our new weather activities!
_____________________________________________________________________
Home Learning Week 8
The topic this week is Environments
See you on Seesaw. Have fun!
---------------------------------------------------
Rio helped to make a cake last week. It looks delicious!
______________________________________
HOME LEARNING Week 7
Check the activities on Seesaw this week.
Our topic is Animals. Have fun!
Last week children did some fantastic work on Seesaw.
Look at some example
By Enas
By Nadia
By Amelia
By one of our boys
_________________________________________________________
HOME LEARNING Week 6
Welcome back!
I hope you have enjoyed the beautiful weather during the half-term
Enjoy the activities this week
I am waiting for your replies on Seesaw
____________________________________________________________
HOME LEARNING Week 5
Waiting for your replies on Seesaw
Enjoy the activities!
_____________________________________________________________
Some super work on Seesaw from our class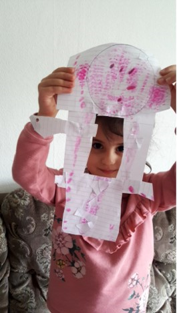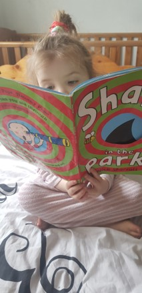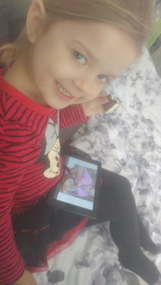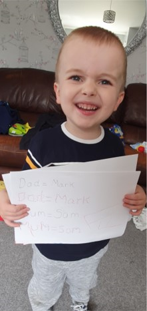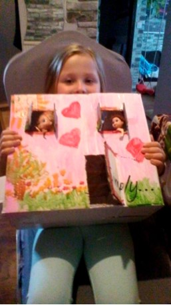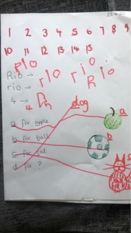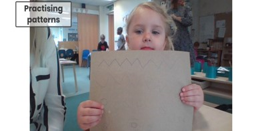 _____________________________________________________________________
HOME LEARNING Week 4
Waiting for your replies on Seesaw
Enjoy the activities!
_________________________________________________________________
HOME LEARNING Week 3
I hope you will enjoy the new set of activities for this week
Use Seesaw to send me your comments, videos and photographs
___________________________________________________________________
HOME LEARNING Week 2
This week activities come in day by day format.
Please let me know if you like the new set up. See you on Seesaw :).
_____________________________________________________________________
HOME LEARNING Week 1
Please check the activities for Week 1 .
Use SEESAW to send your work back to me.
I cannot wait to see it!
-------------------------------------------------------------------------------
______________________________________________________
Story Time and Art on line form Lakeside Arts

TWO FROGS IN MILK
BACK TO SCHOOL #INWITHLAKESIDE________________________________________________________
Please look on the Forest School page. You will see little baby robins in the nest in my garage. I have been photographing them for the past 5 weeks.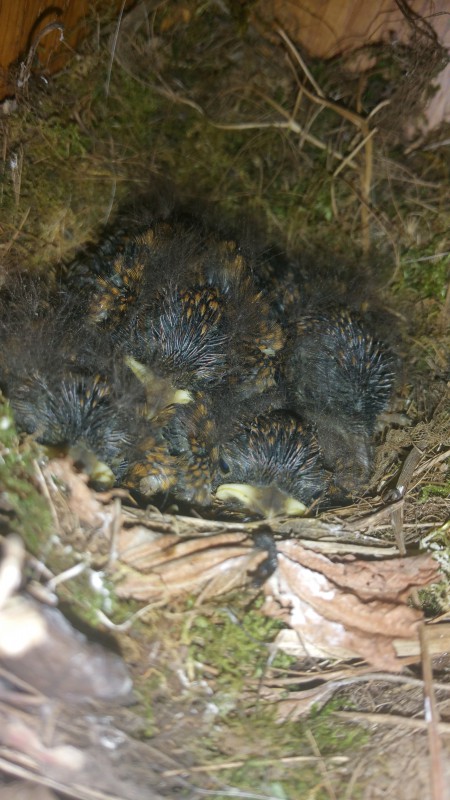 Happy Easter to you all!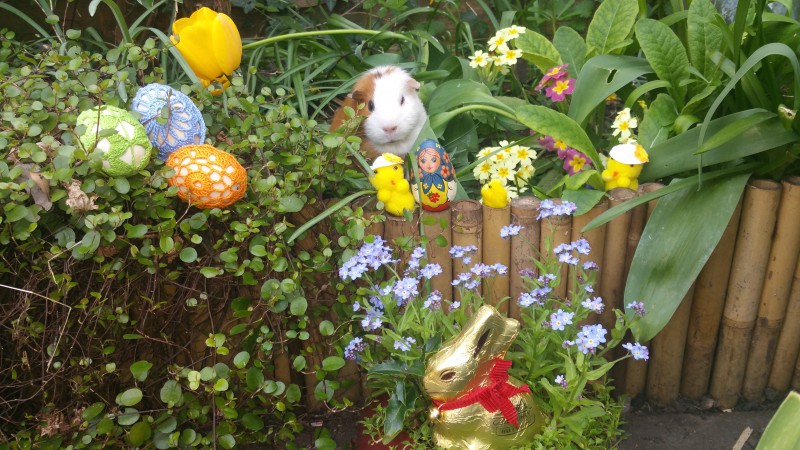 Some Easter activities you can do with your children
Have fun!
---------------------------------------------------------------------------------------
Stay on schedule Having some structure to the day can help children feel more secure. Try having a weekday routine in place and keep some familiar routines going, such as morning and evening routines. Plan in time for lots of different activities, including things your children already enjoy.
Stay Active-Staying physically active is a key part of looking after our mental wellbeing. If you can, try to schedule in some time outside. If it's safe to do so, you could explore a local park with your family, kick a ball around in the garden (if you have one), or simply go for a walk around the block.
You could schedule in some indoor exercise time. Our class favourites are the following YouTube activities and songs:
- The Kiboomers- Kids Music Channel ( Freeze Dance, I love you your button nose, etc)
- The Learning Station (Boom Chicka Boom, Move and Freeze, )
- Wake up! School Assembly Song and Dance:
- Baby shark, Banana Banana Meatball
Stay Creative Anything lying around the house could become a project: old boxes; toilet paper rolls; or even scrap paper can be transformed with a little imagination. Encourage your children to grab some paints, felt tips or pencils and find a space at home where they can make a little bit of mess.
Try CBeebies ten minutes craft ideas
Stay in Touch If you and your children are at home, it's important that you find time to stay in touch with your friends. You may be able to contact other parents and arrange a 'virtual playdate' over a video calling service like FaceTime or Skype, giving your children a chance to see the friends they would normally be seeing at school.
If possible, try not to rely solely on social media to stay in touch with family and friends. Make time for telephone catch ups too!
It is really important that you read with your children at home.
Amazon offers free resources - books and audible books - for parents to download.
Other useful websites
https://www.teachyourmonstertoread.com
Topmarks
A range of phonics and maths games for the children to enjoy.
BBC Teach – Nursery Rhymes
Cosmic Kids – Yoga for kids
Scholastic - Free Resources to download
To access the free resources, it just takes a few moments to create an account.
Thank you for your support. Stay healthy and safe
_____________________________________________________________________
Access 400+ songs from Music Express to sing with your children
collins.co.uk/learnathome (click on 'Free Children's Song bank' box).

EARTH HOUR 2020
SATURDAY 28TH MARCH 2020
8:30 - 9:30PM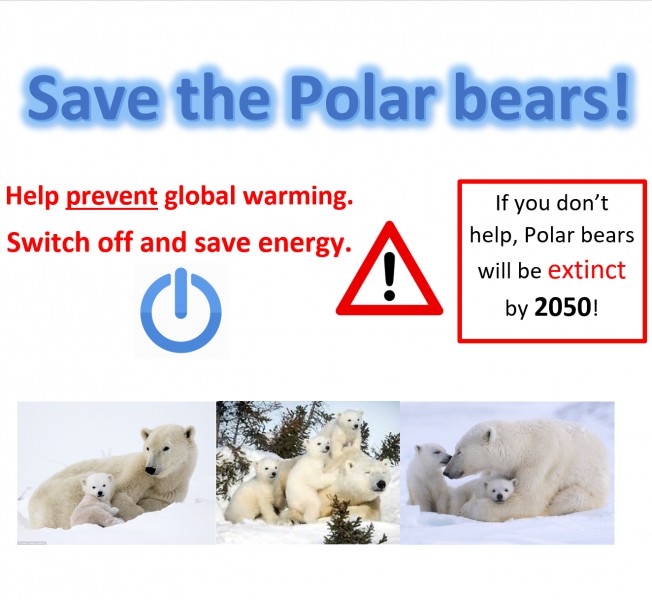 More than a symbolic event, Earth Hour is a global environmental movement to stop the destruction of nature.
At 8.30pm on 28 March, take an hour to switch off your lights in solidarity with people worldwide.
____________________________________________________________________
Autism awareness week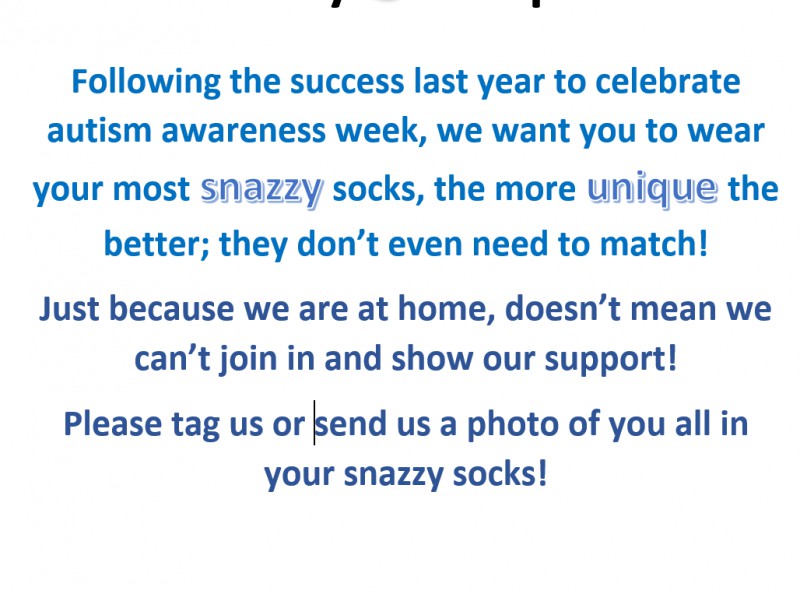 _________________________________________________________________
Spring 2 Shopping
STEM week
From powder to solid and from solid to liquid. Truly amazing science experiment!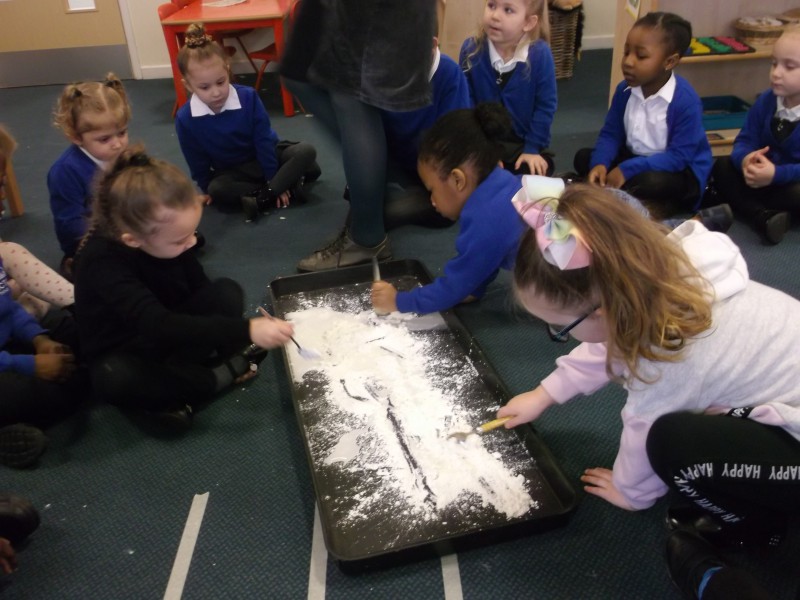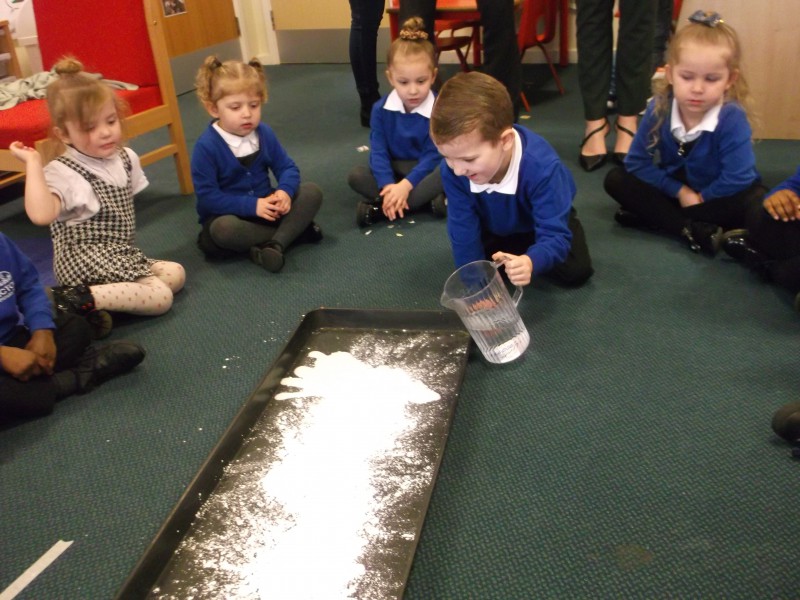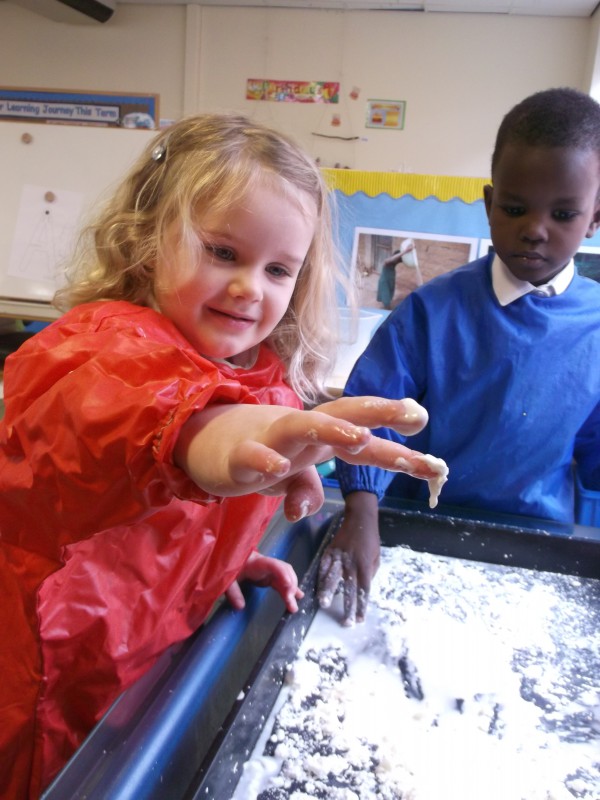 Aluminium foil is an excellent material for making models and items of clothing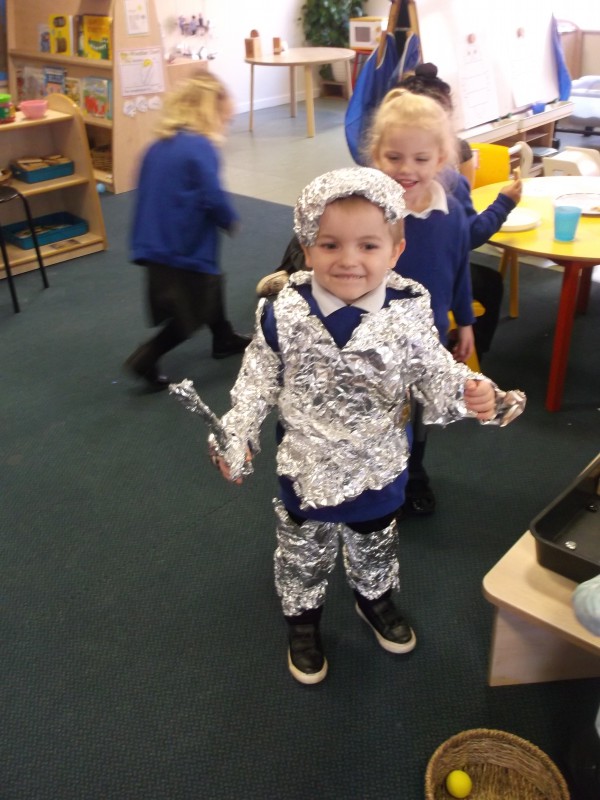 A knight in a shinning armour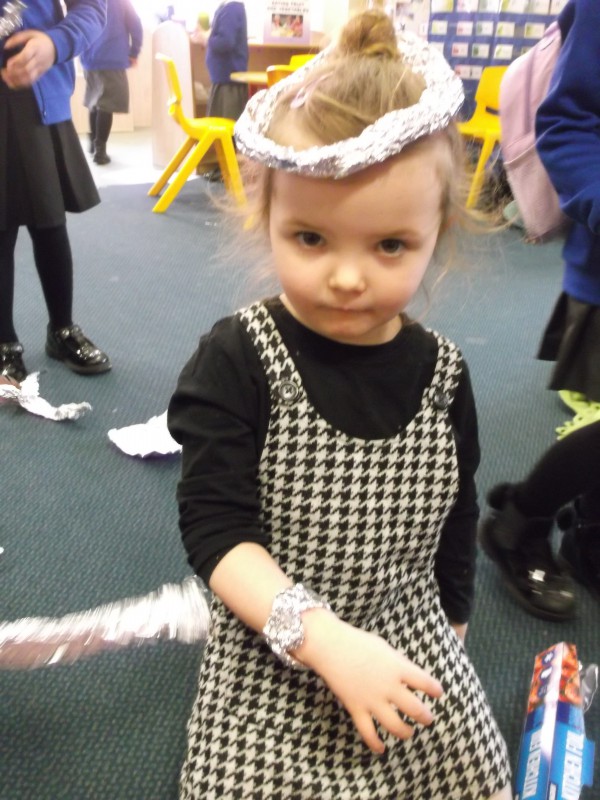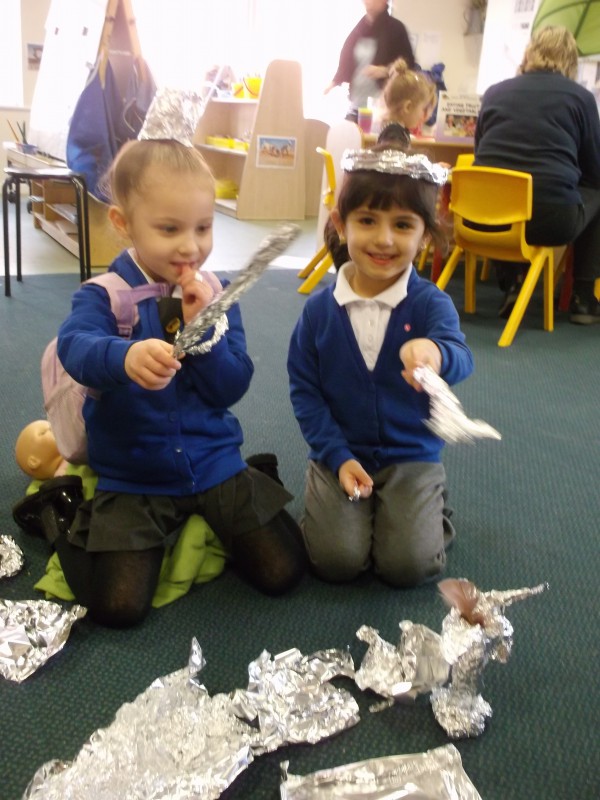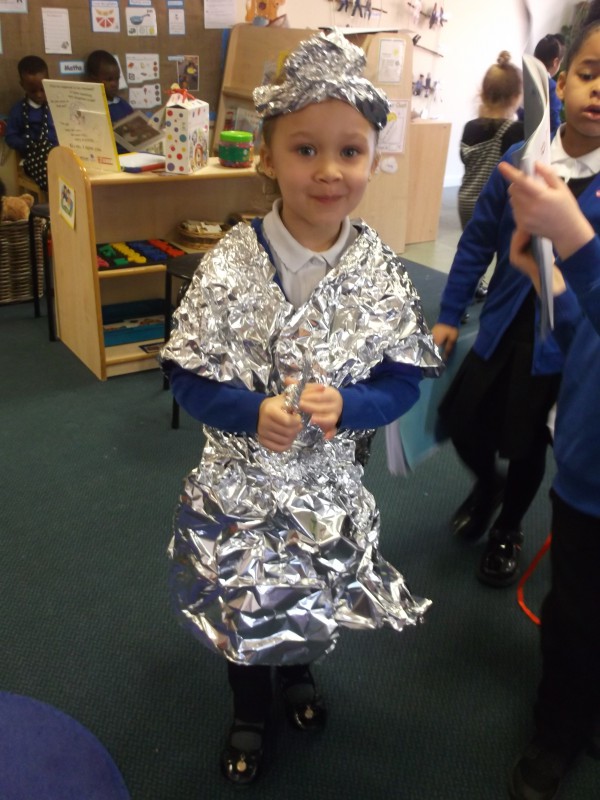 Pancake Day
We are checking our ingredients for making pancakes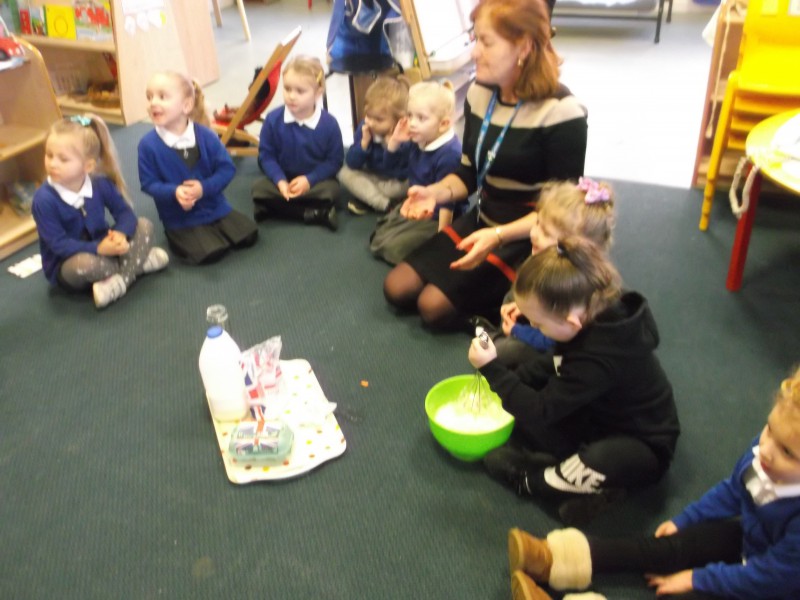 Time for the competition for the fastest pancake tossing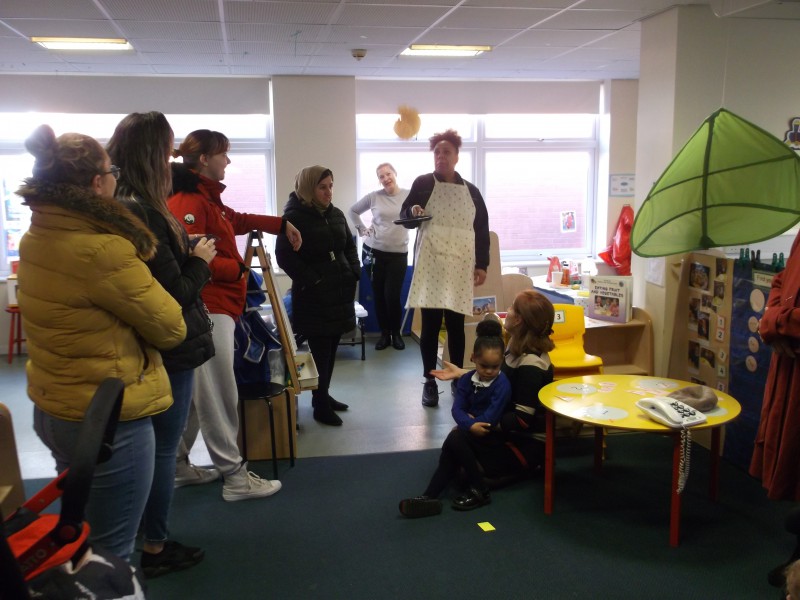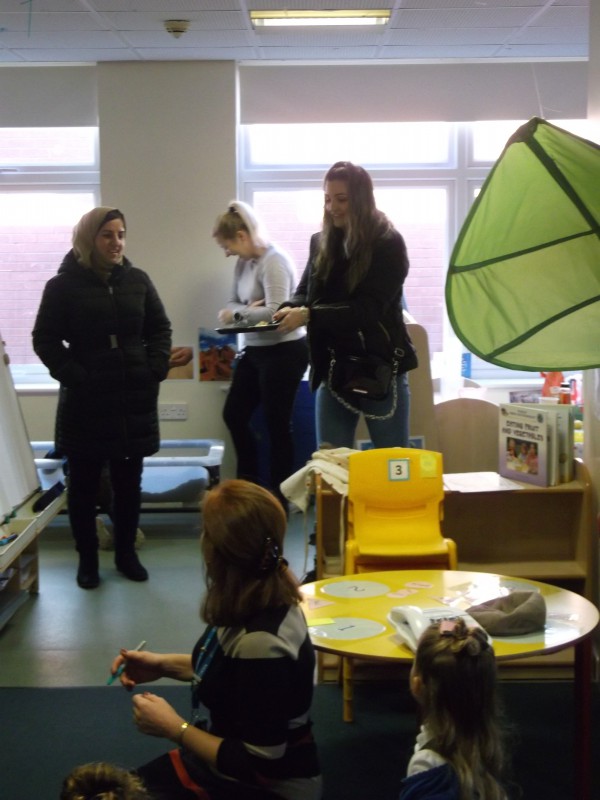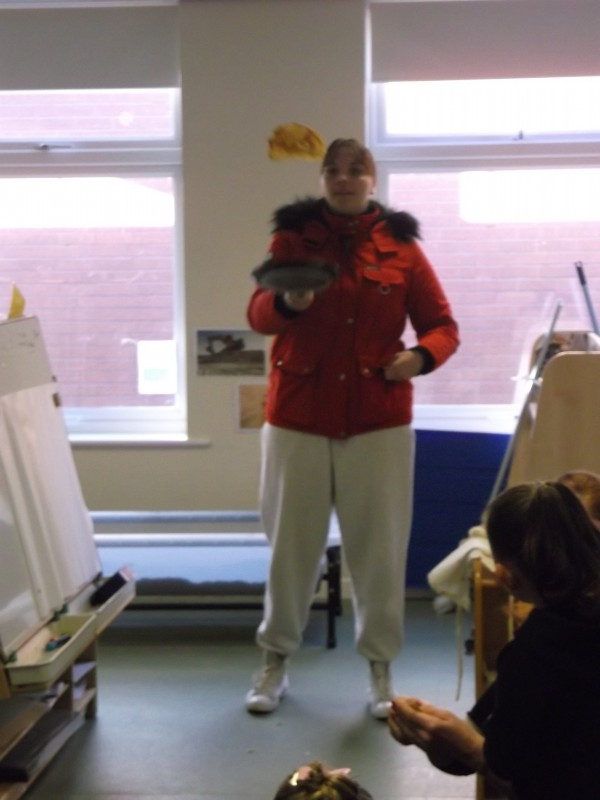 We are very good at dividing and sharing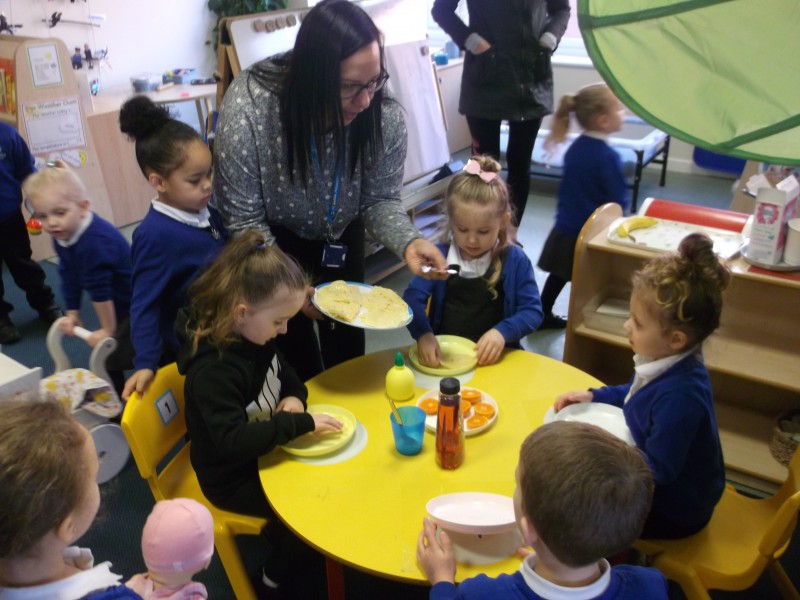 We are choosing different kinds of toppings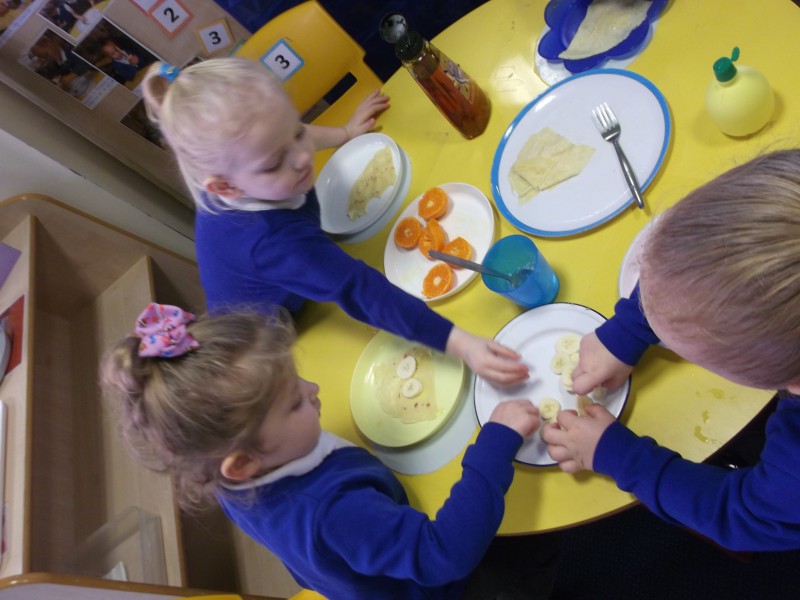 We recorded how many pancakes we had and what topping was our favourite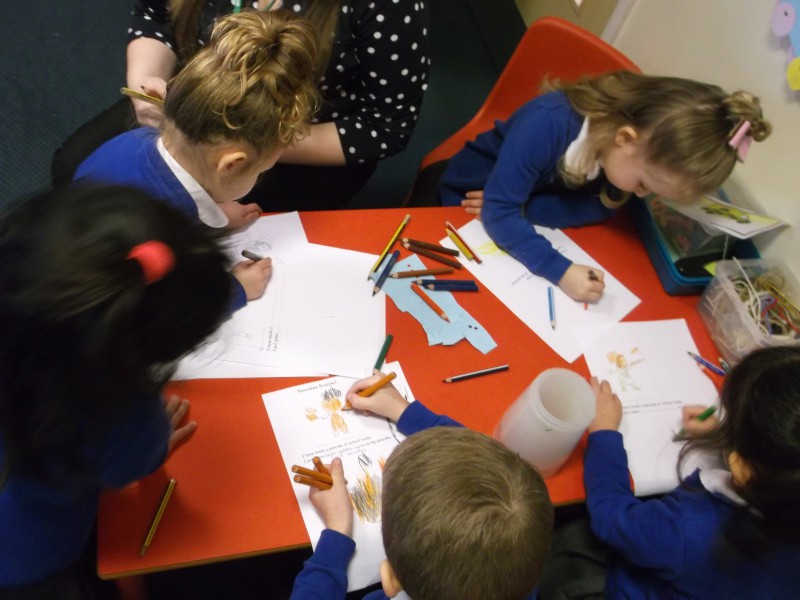 We are learning to make different sounds using ocarinas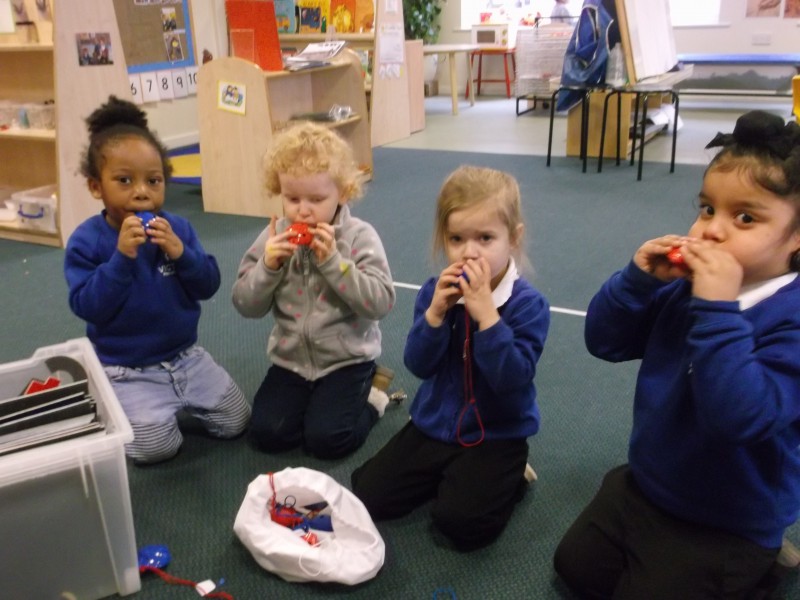 Looking at the shopping list in our topic book and writing our own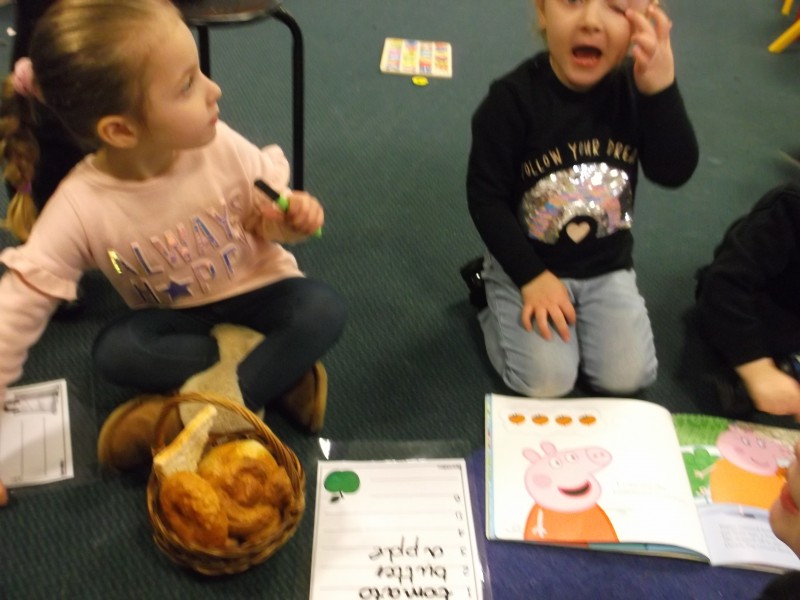 The lollipop shop is ready for business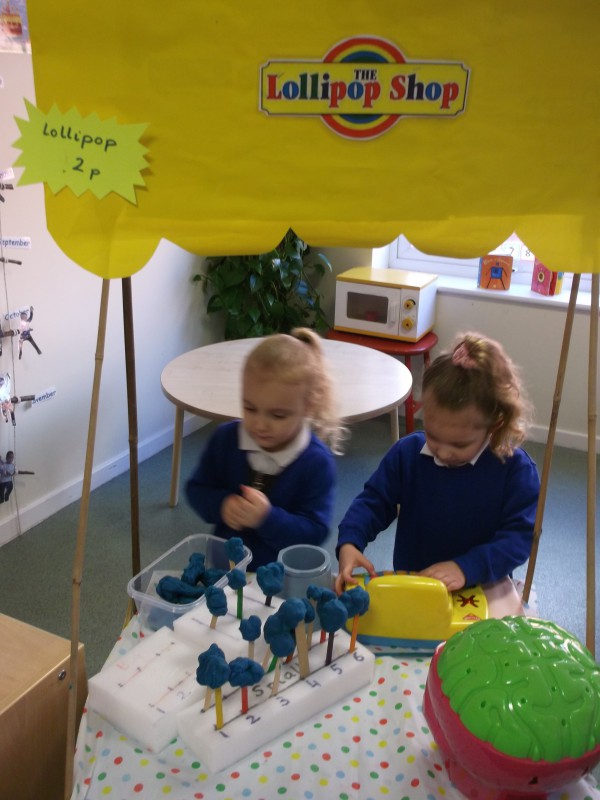 World Book Day our guest reader Ms Froggatt read Oi Frog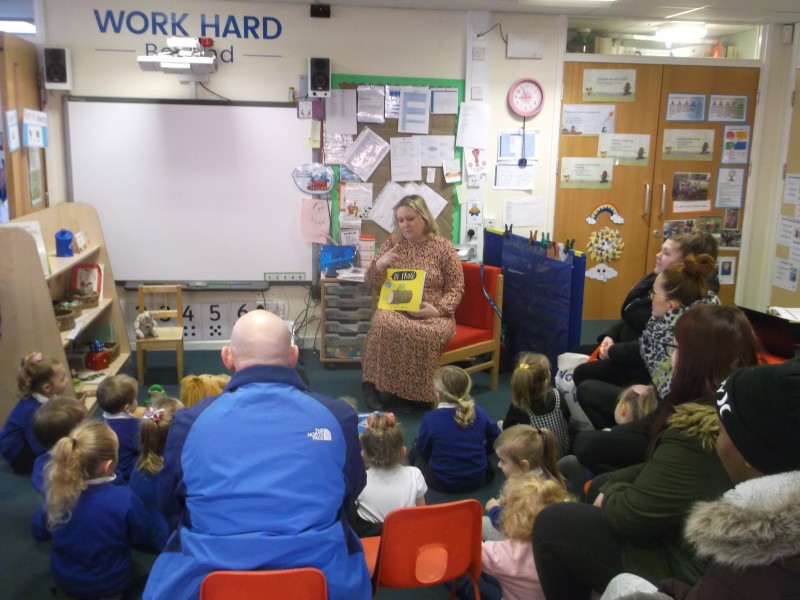 We dressed up as our favourite book characters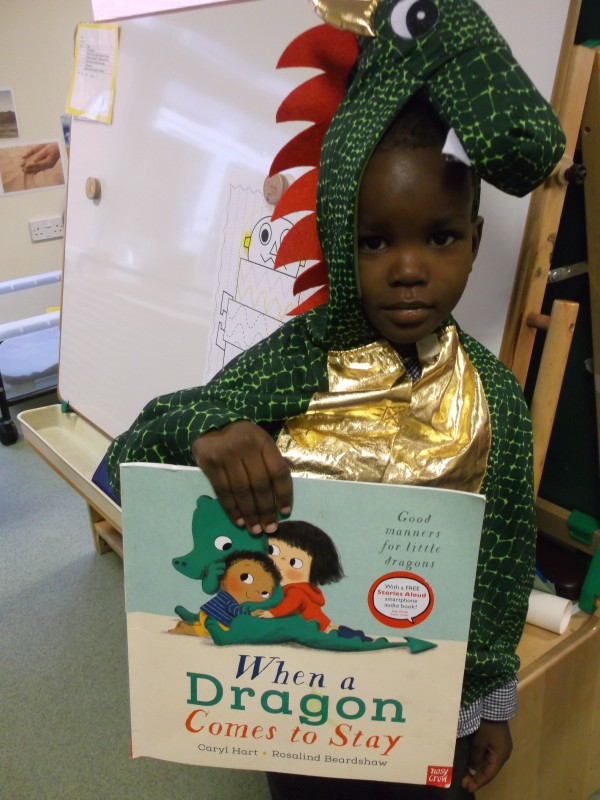 Spring blossom in the school garden. What a beautiful fragrance!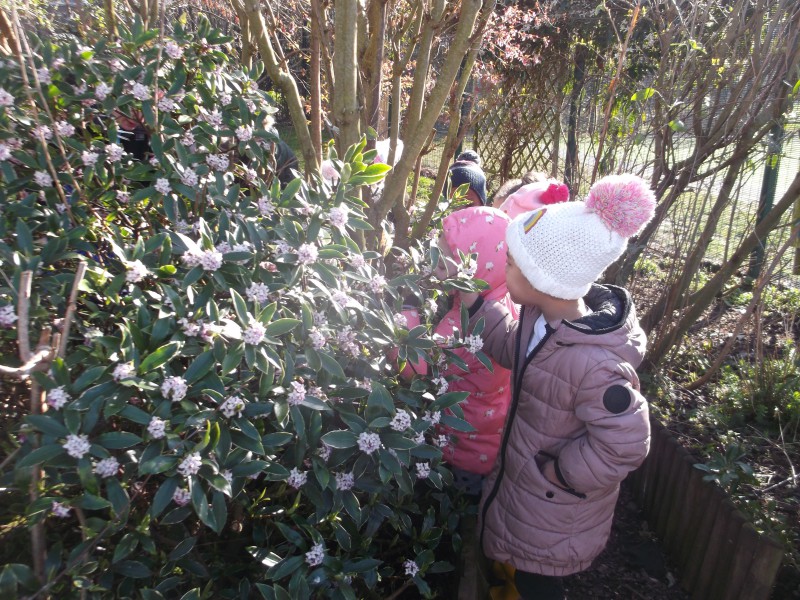 Spring 1 Transport
Making biscuits. Thank you for your help Cake Lady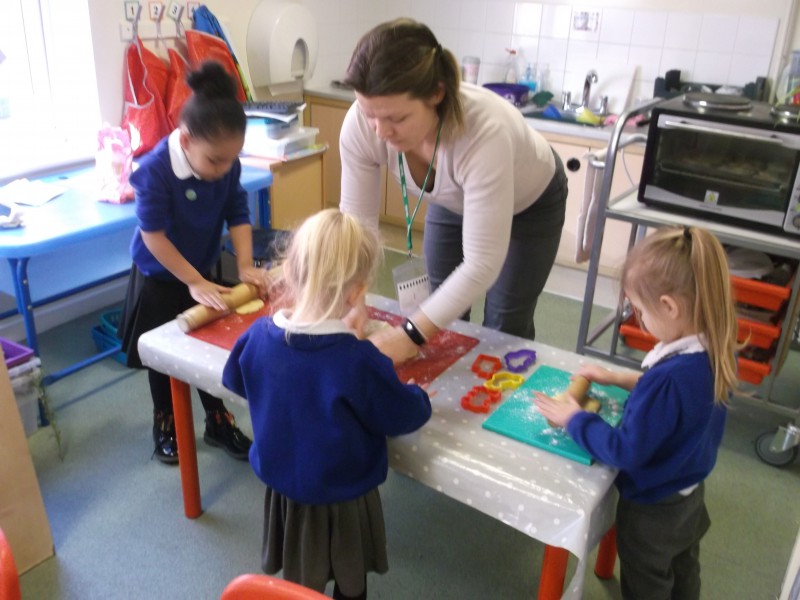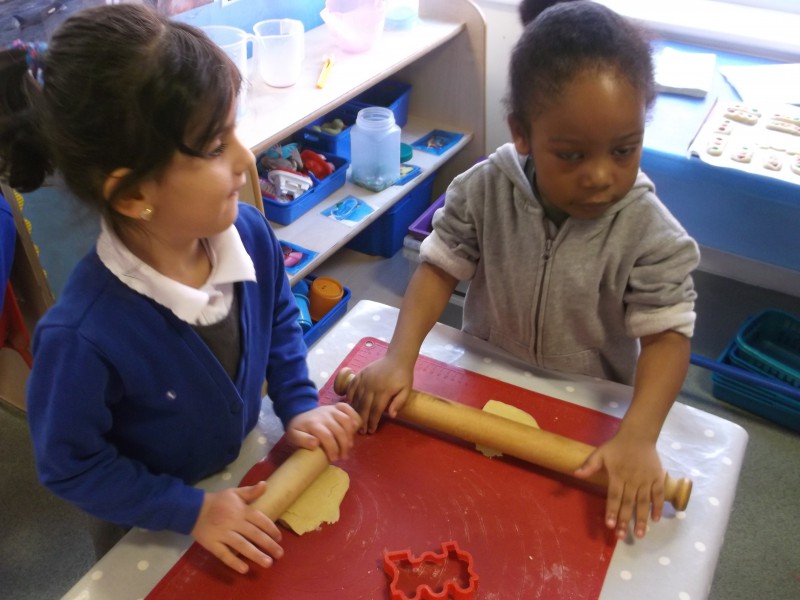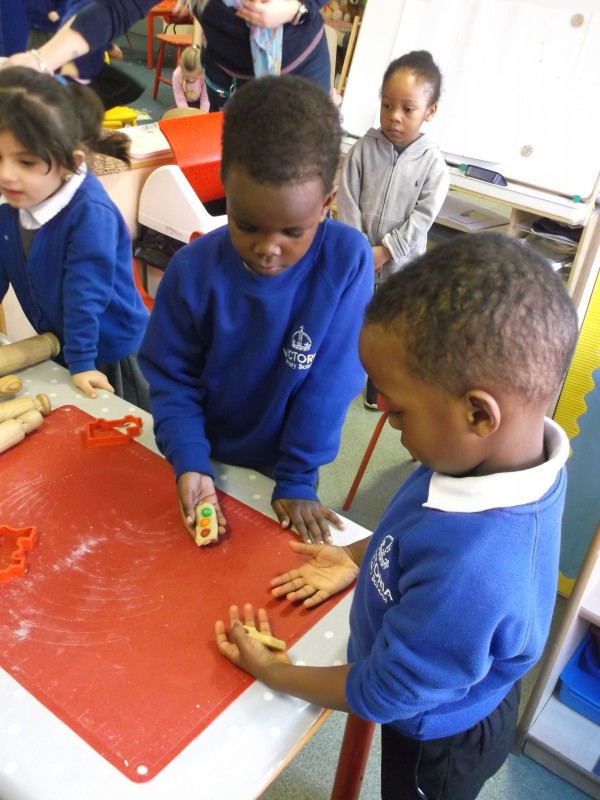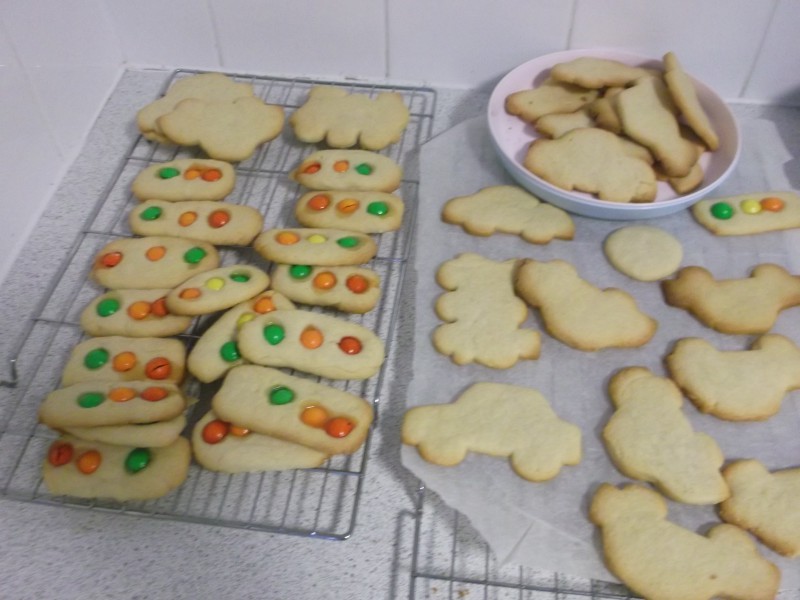 We are learning to make patterns.
We can even record the pattern. The baby is really impressed!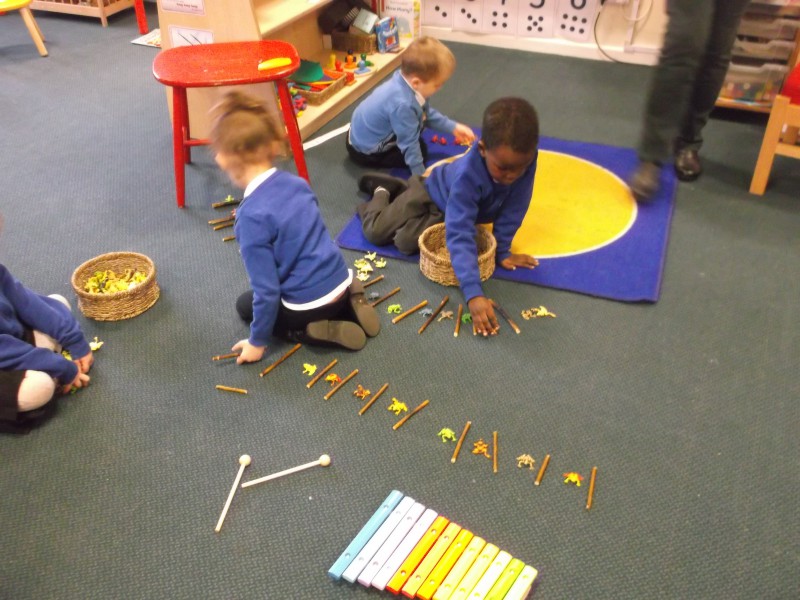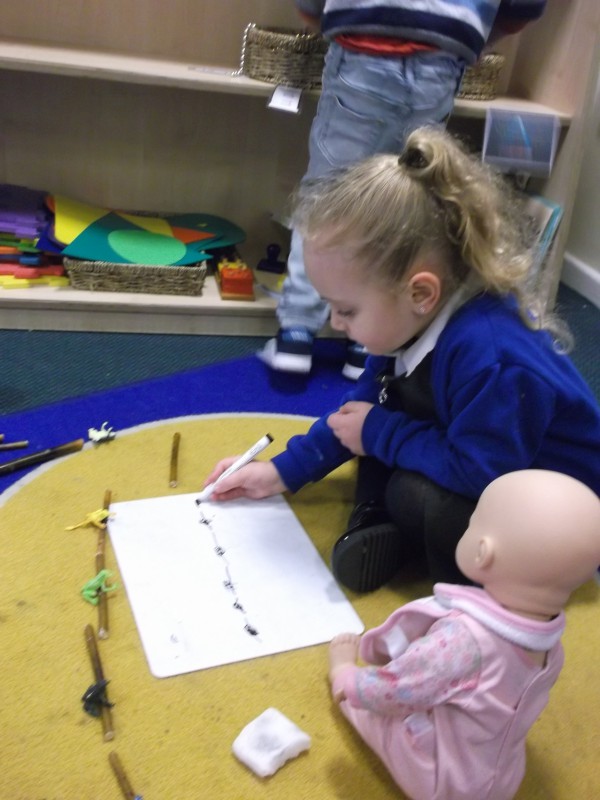 WHO AM EYE?
Can you find my eyes mum?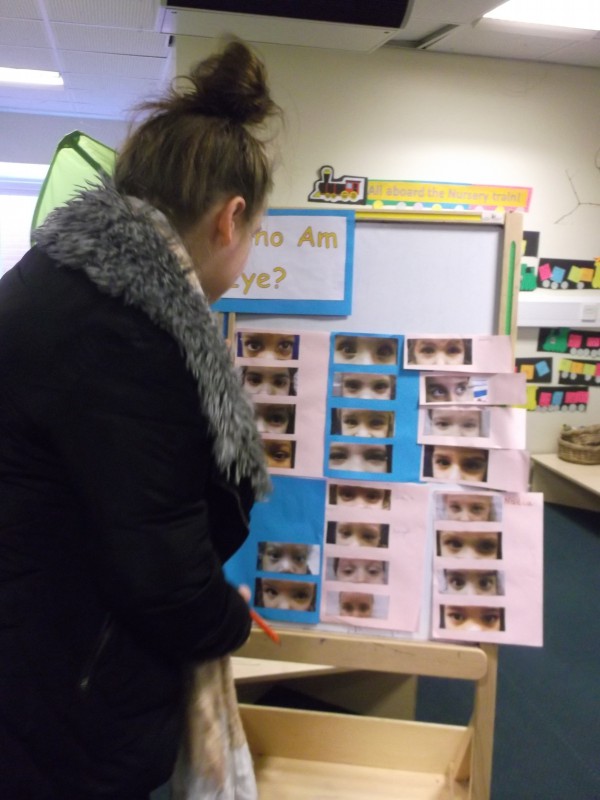 How can you feed 3 bears with 1 sausage? Easy peasy just divide it into smaller pieces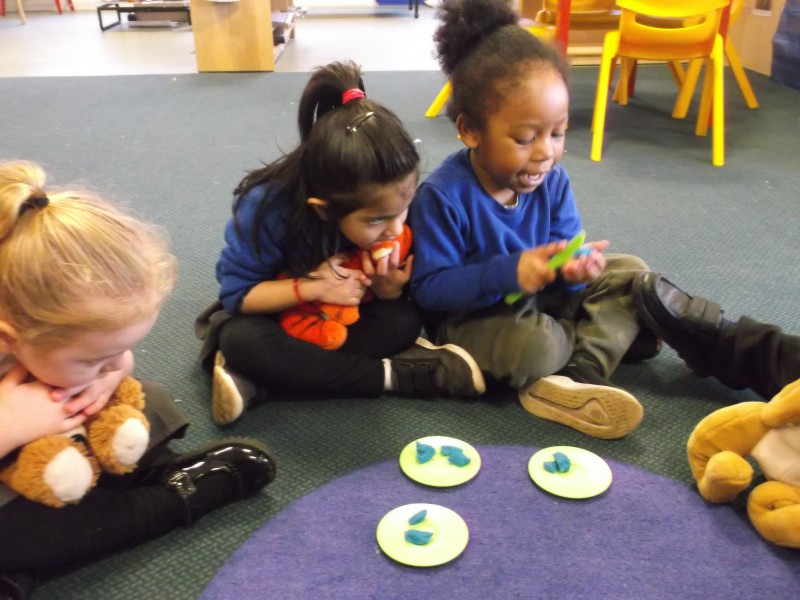 We are getting better at holding pens and drawing shapes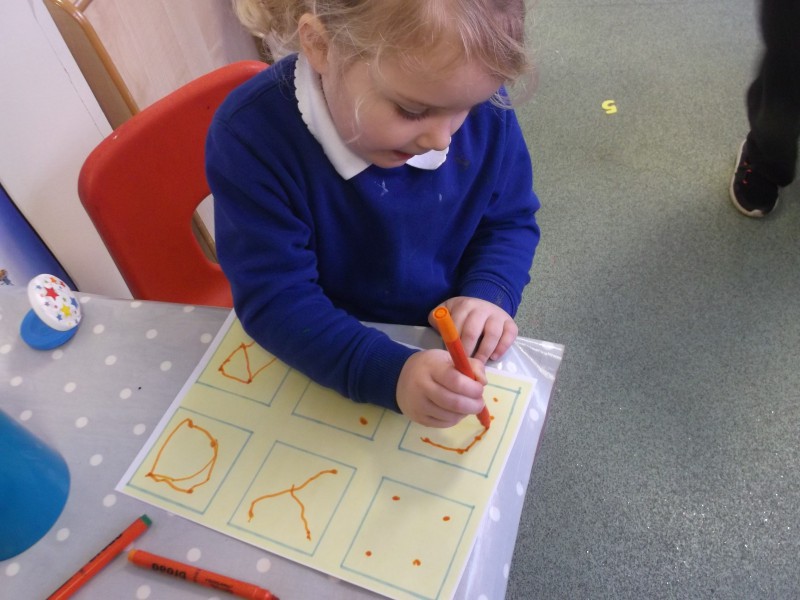 Bike riding lessons. We are so fast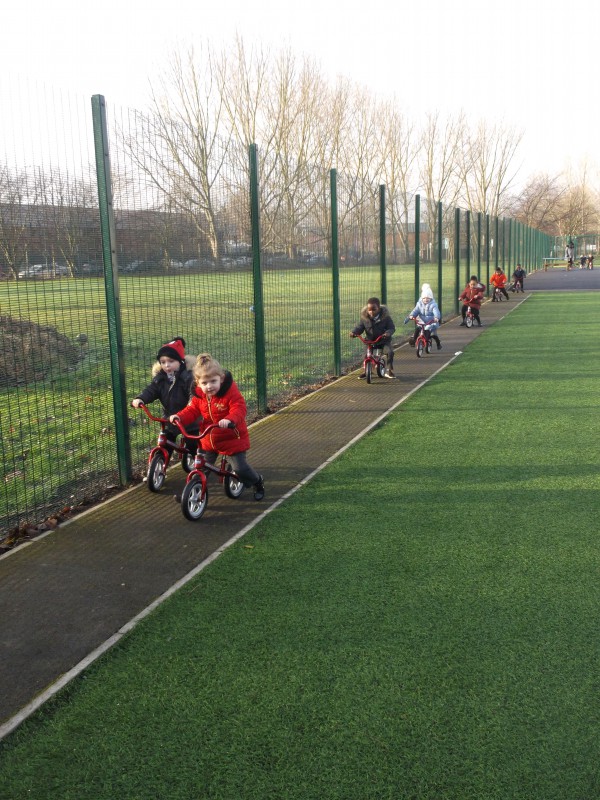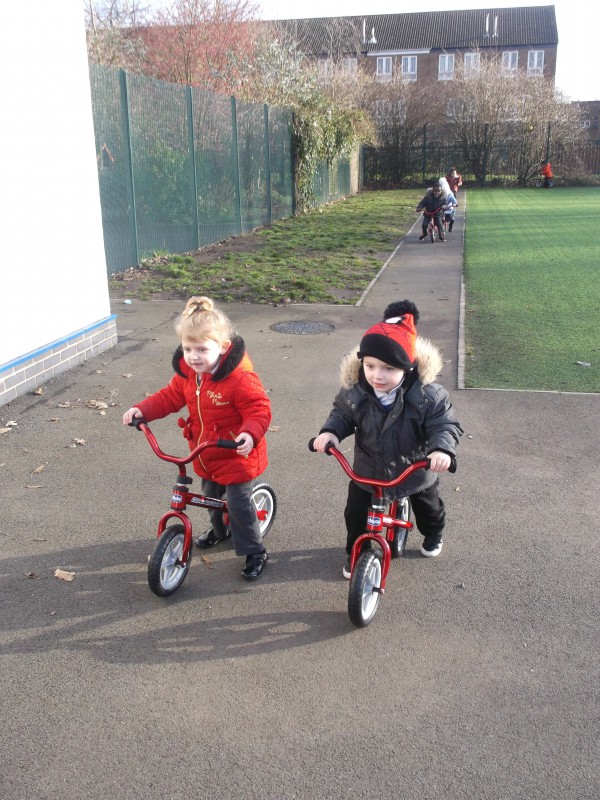 Our friend from year 2 did a professional presentation of his special train set.
We all loved his train
Our guest reader read us a story about animals traveling across the river. Which one of them sunk the boat?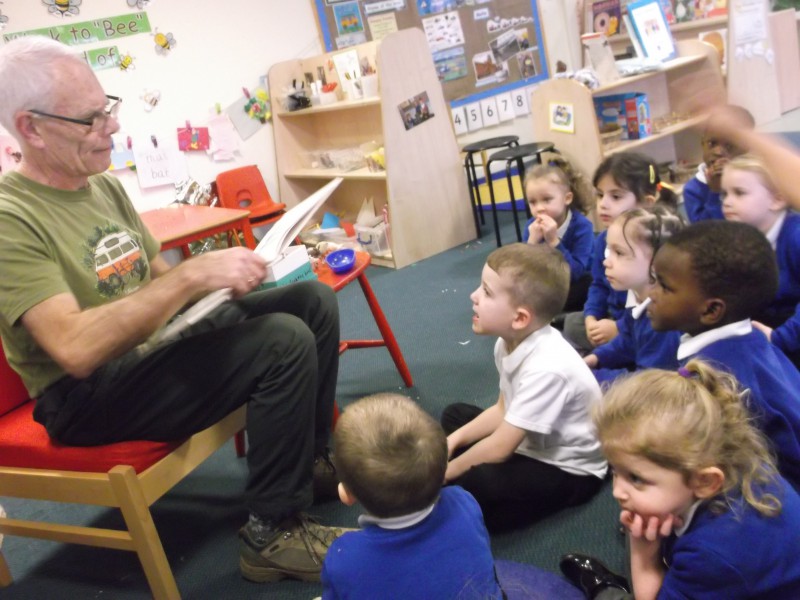 At our snack table we made some edible boats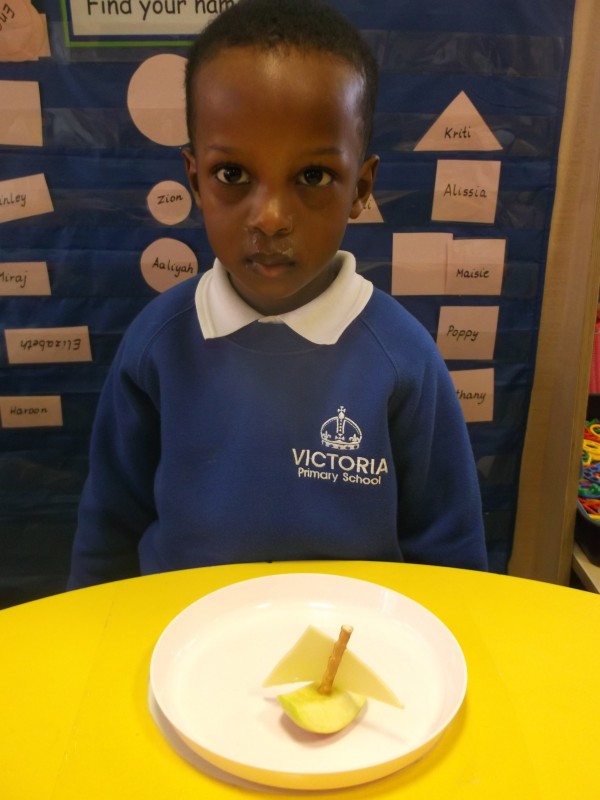 A visit to the Nottingham railway station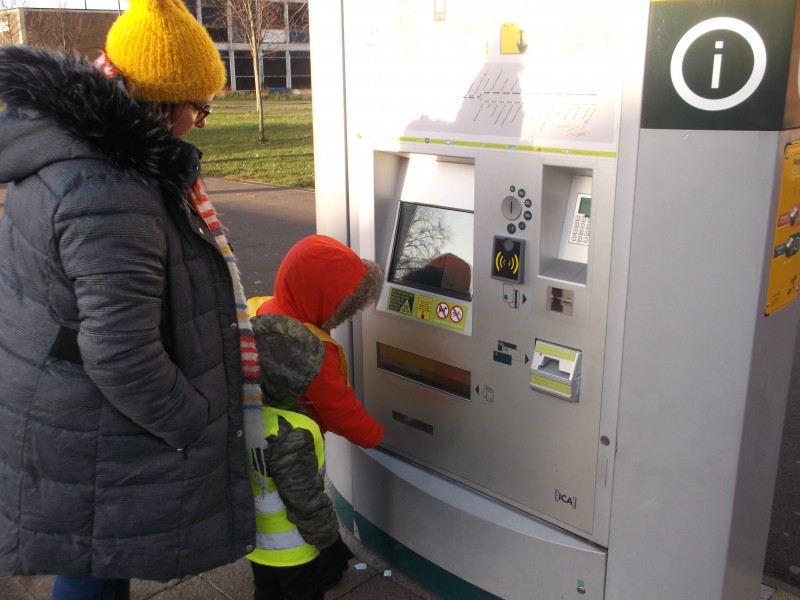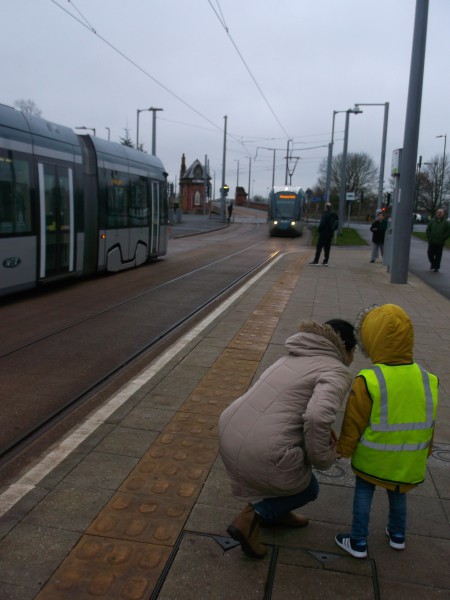 Buying tickets and waiting for our tram.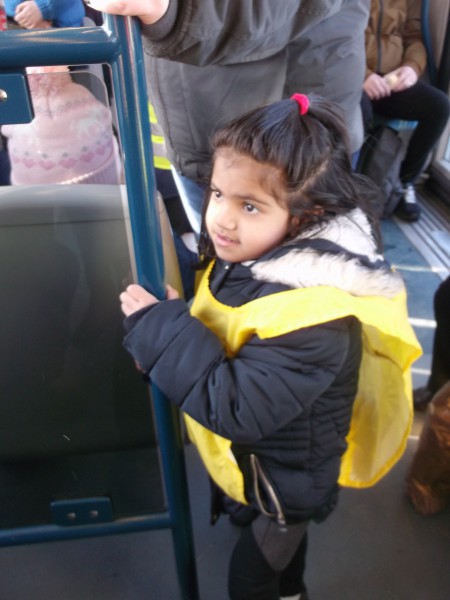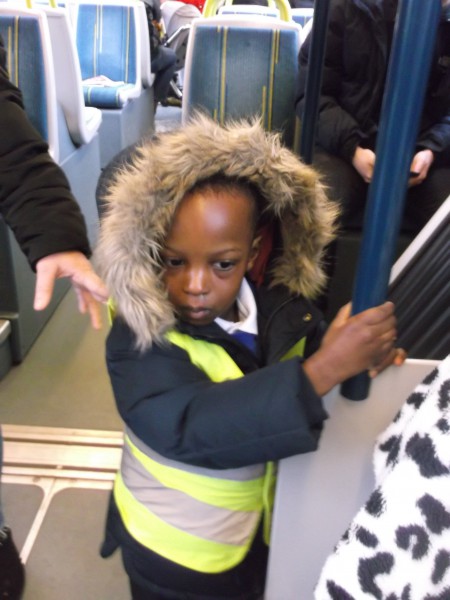 Holding on tight while traveling on the tram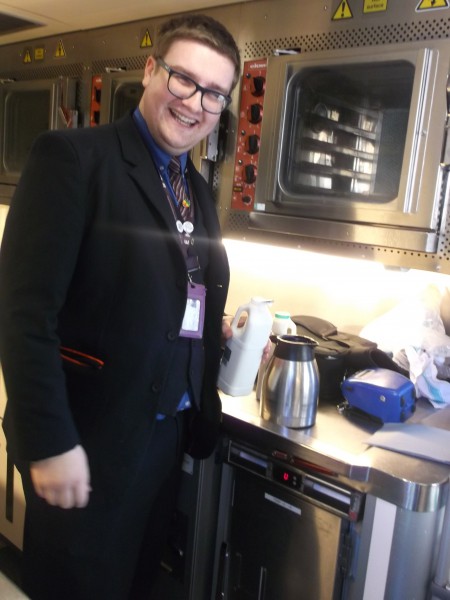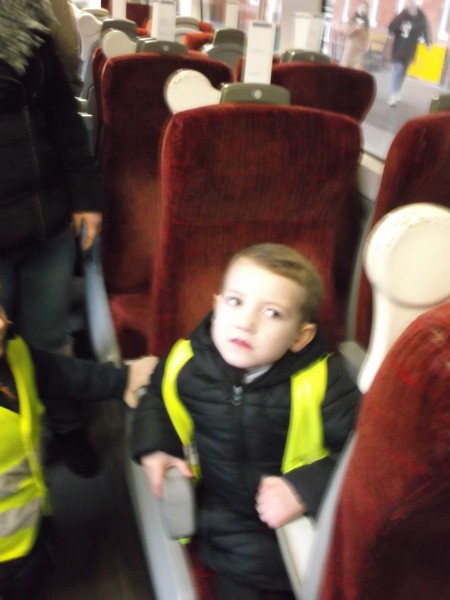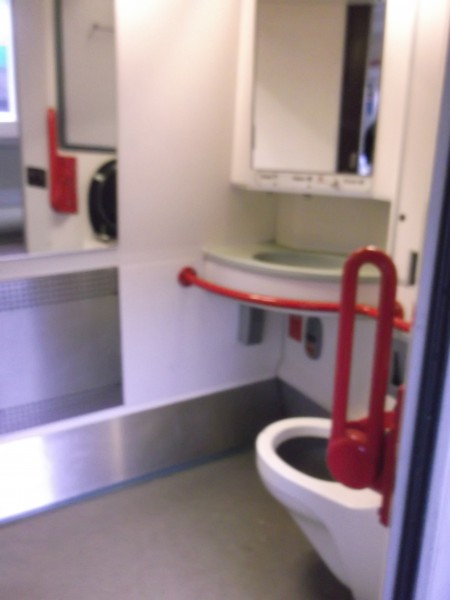 We boarded a train. On the train we saw a toilet, a kitchen, comfortable seats and small tables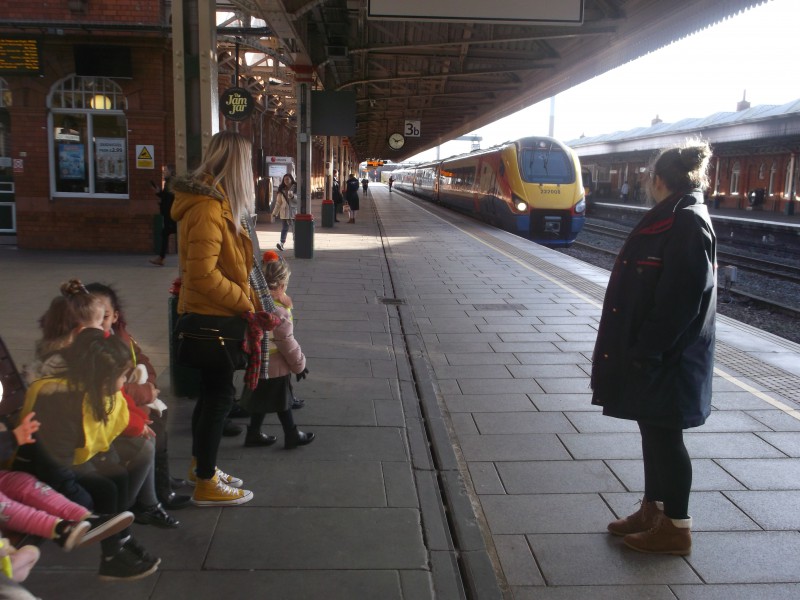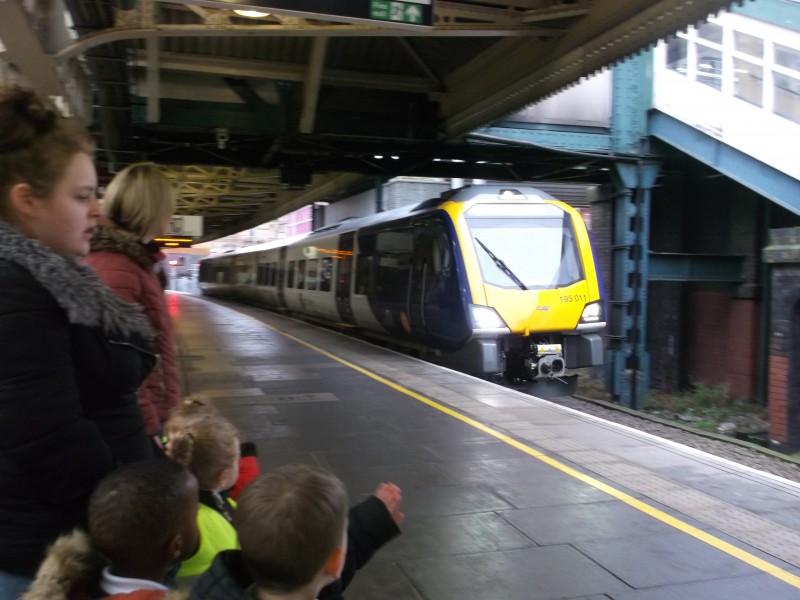 We watched trains arriving and departing. We wave to the passengers on the trains
Walking on platforms we always remember not to cross the yellow line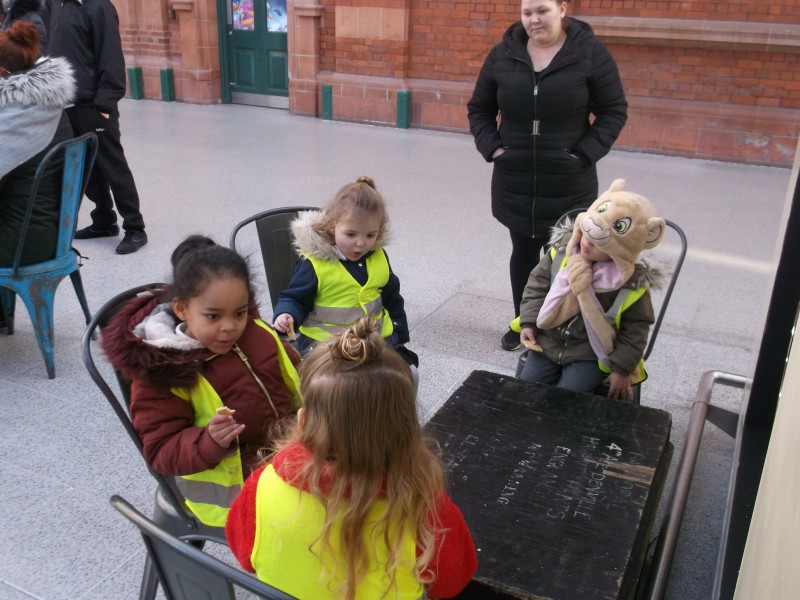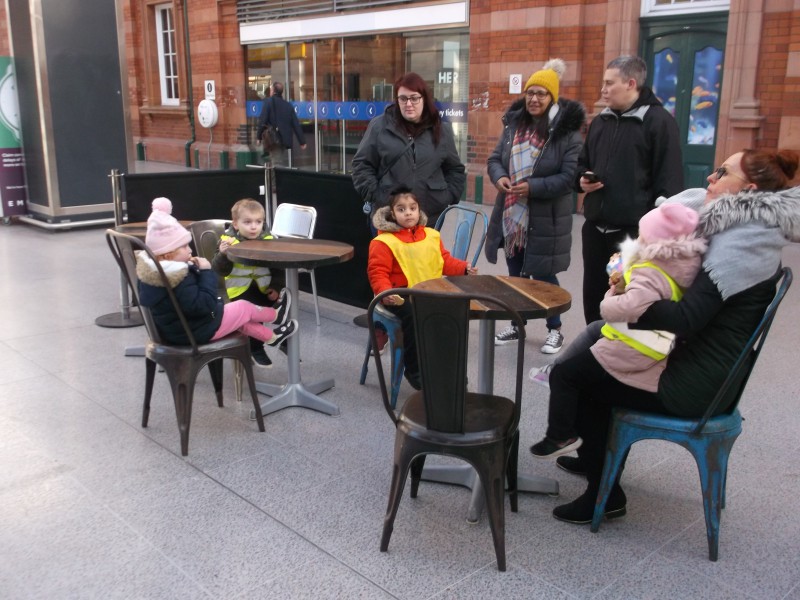 Having a biscuit in the station cafe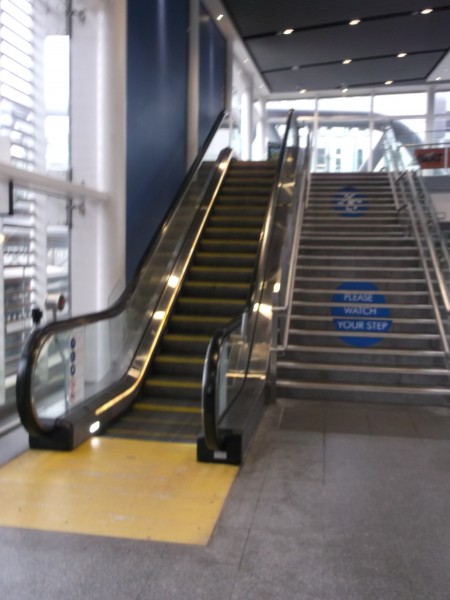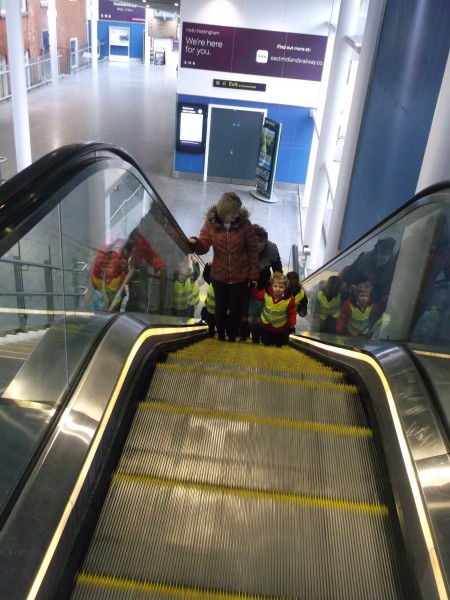 We used escalator to travel up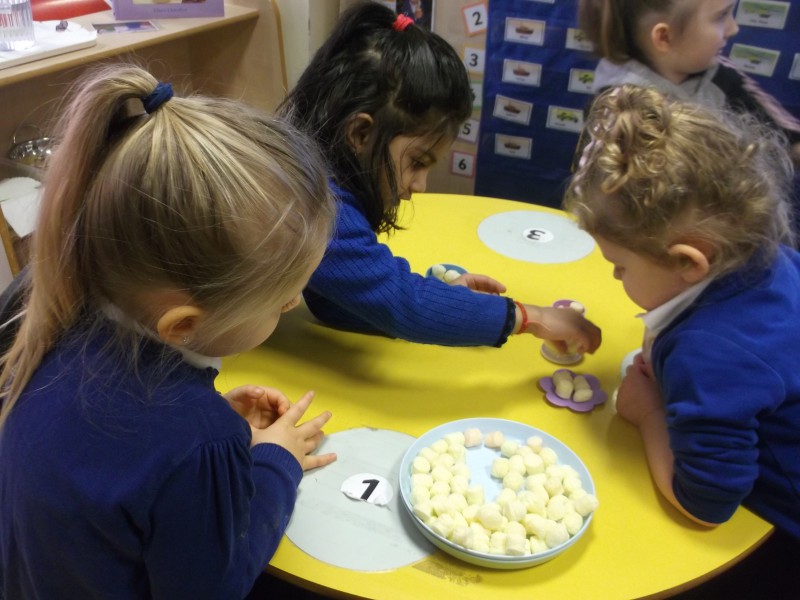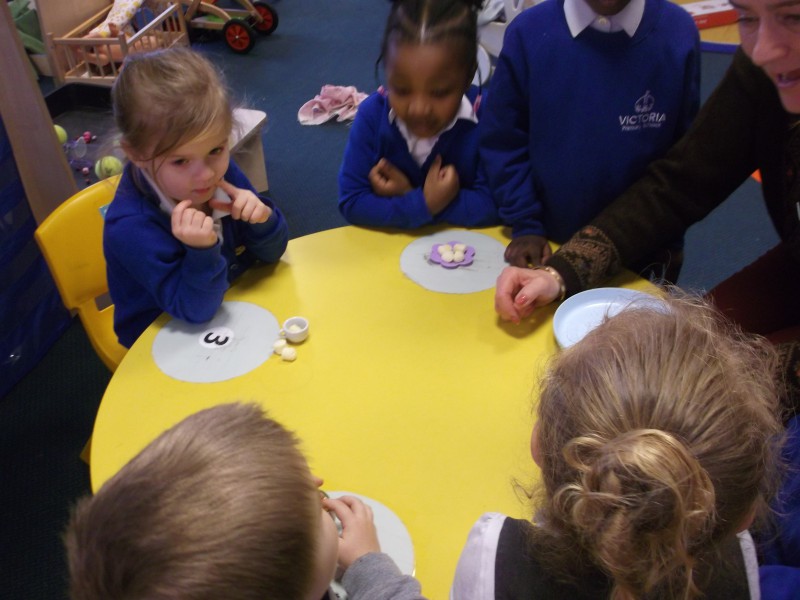 Counting and sharing. How many do you have? Who has more? Who has less?
Is that fair?
_____________________________________________________________________
Our rhyme this week is Humpty Dumpty.
We experimented with boiled and raw eggs to see what would happen when they fall off the wall.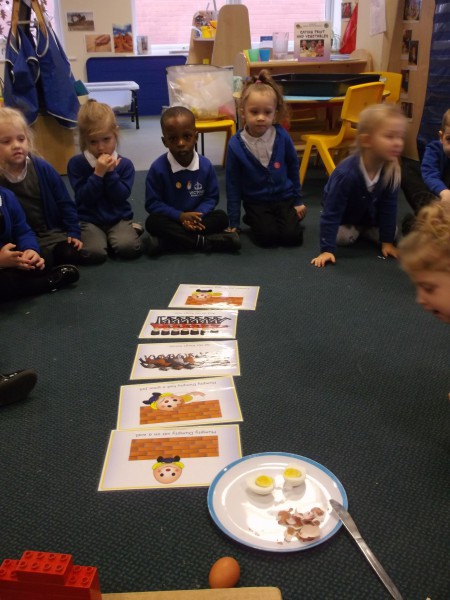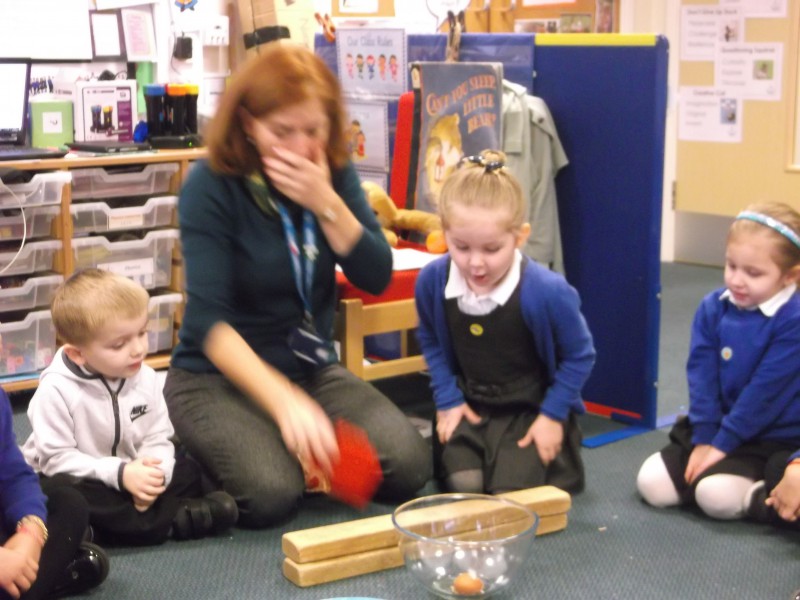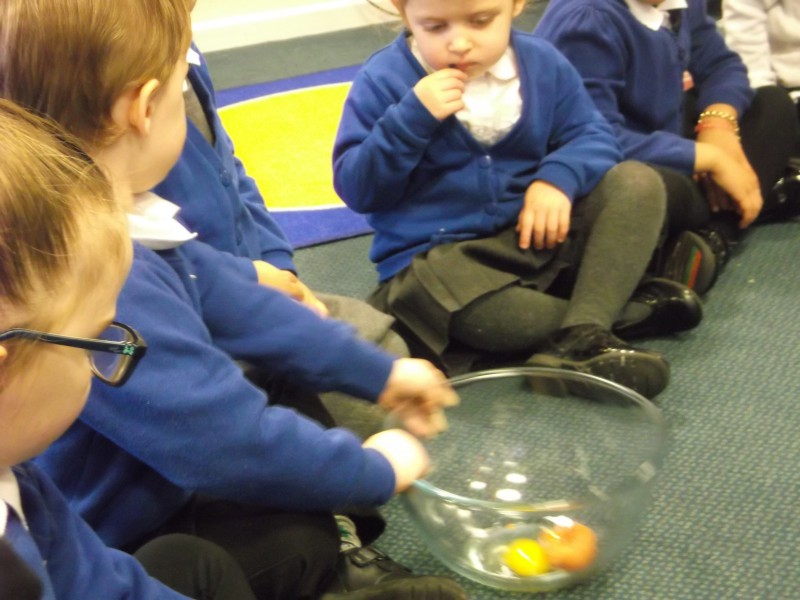 We are learning to count a greater amount of objects. We must remember to line them up and to touch them whilst counting.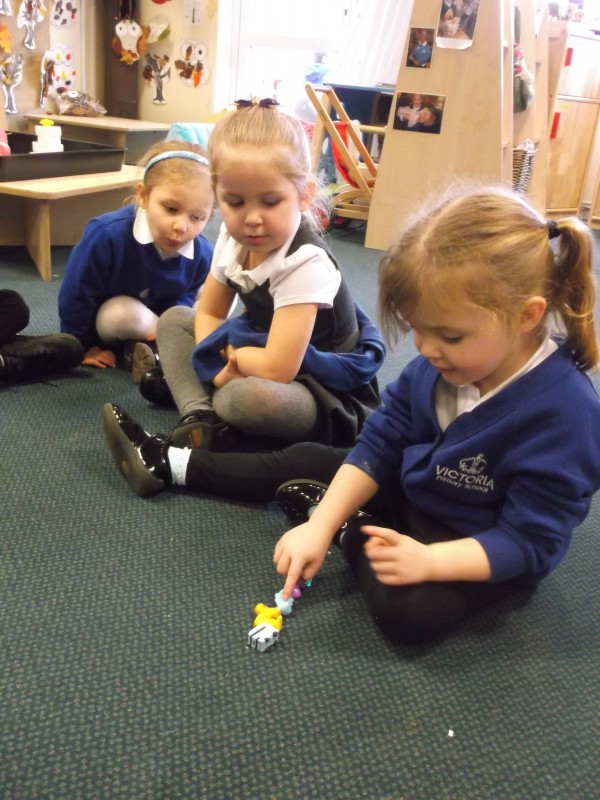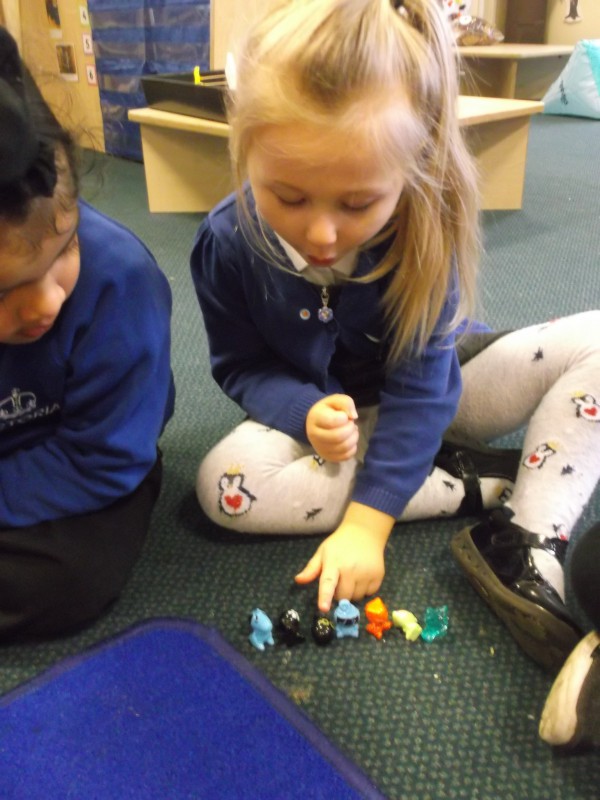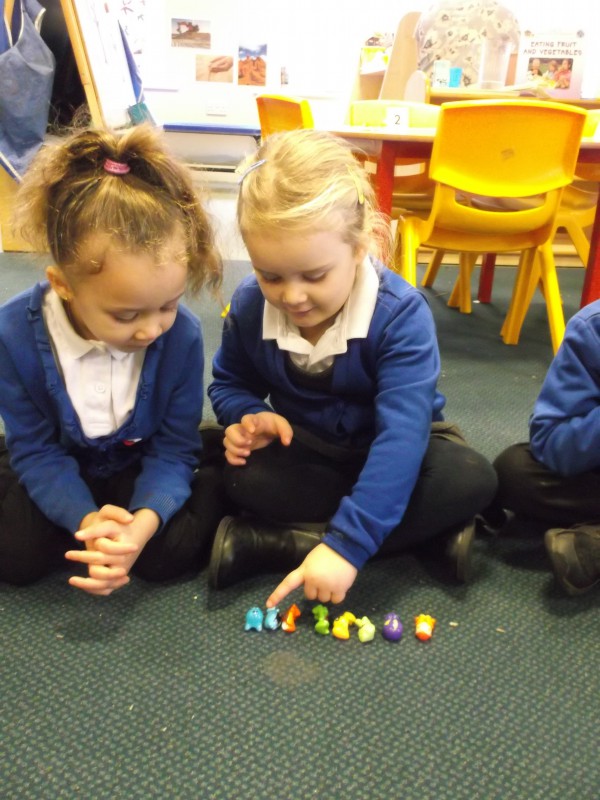 -------------------------------------------------------------------------------------
In Forest school we played traffic light games. GO! STOP!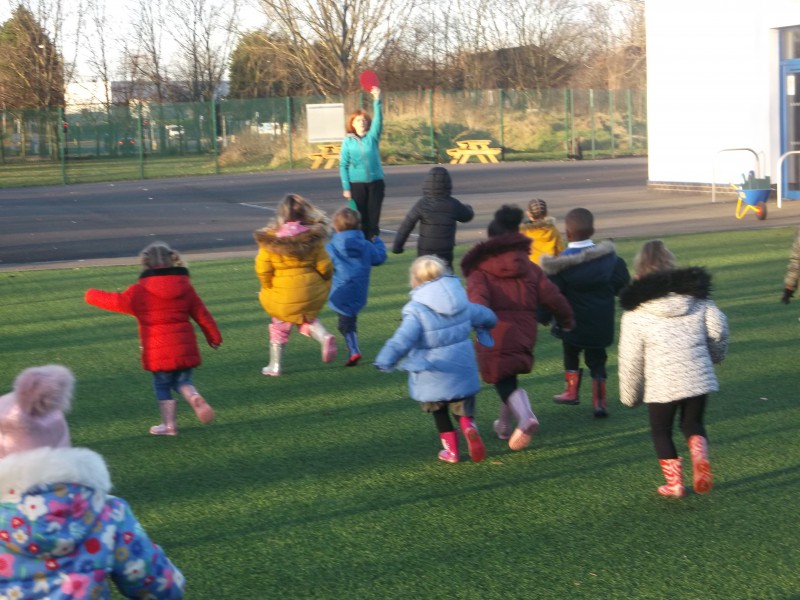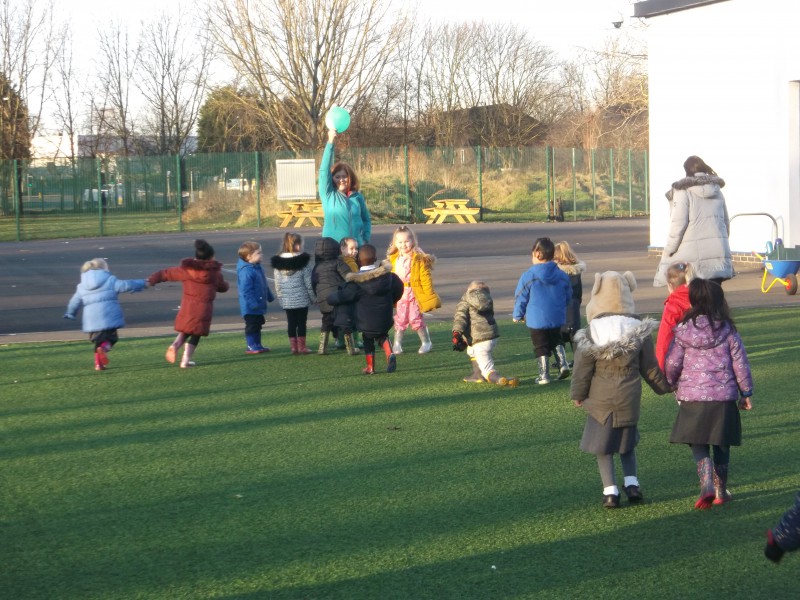 We discovered a muddy patch on the field. It was fun listening to all the squelching noises it made when we trod in it.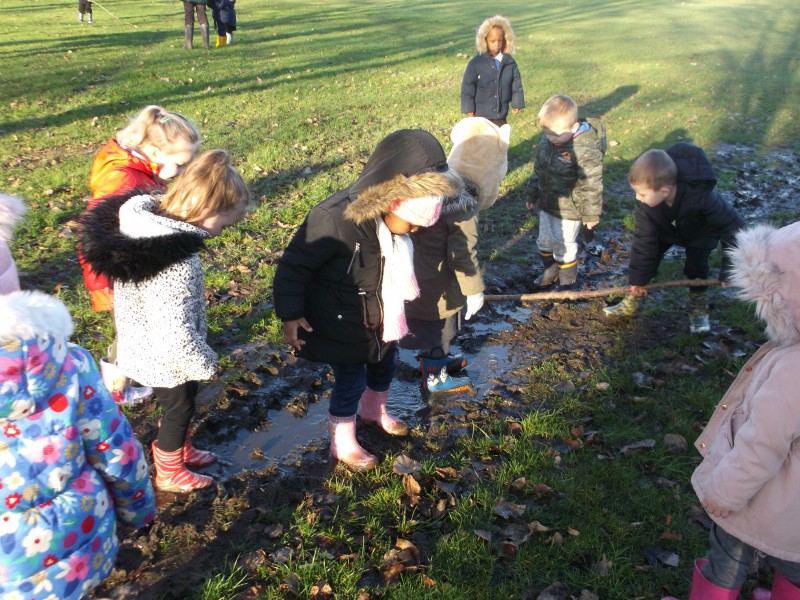 Ipads are fun! We were matching numbers and counting buttons on a teddy.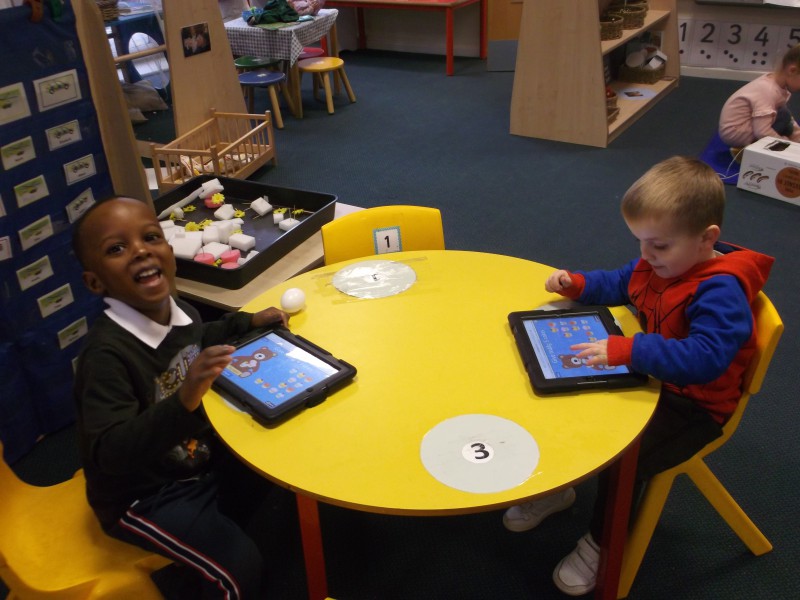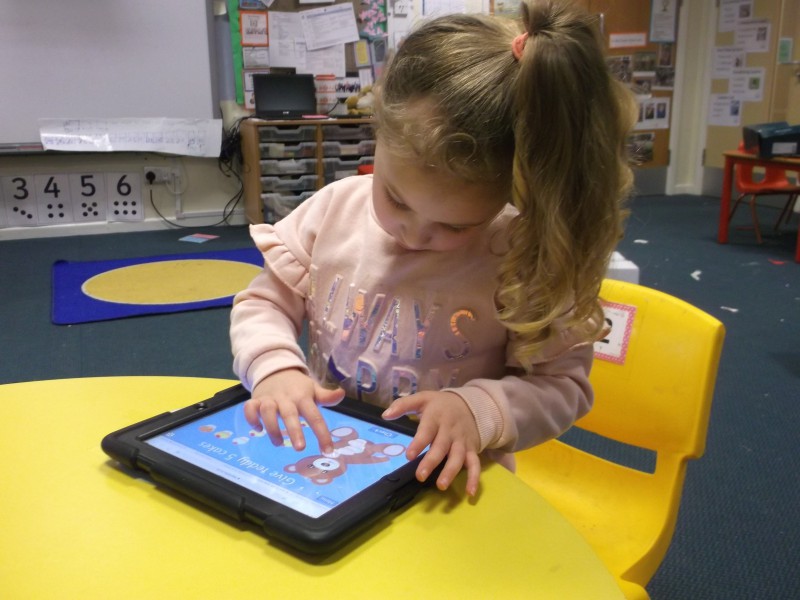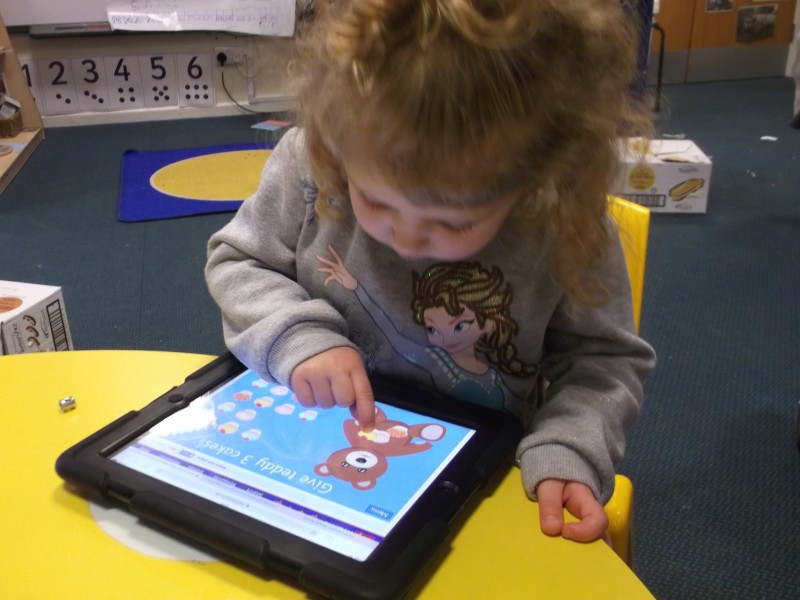 We have a new tank with 4 fish to look after!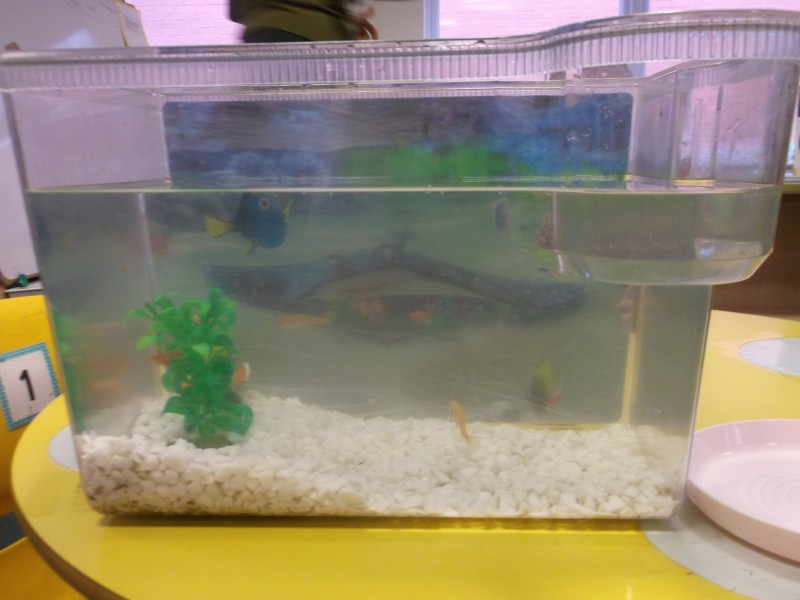 Autumn 2
Christmas Show for our parents, grandparents and friends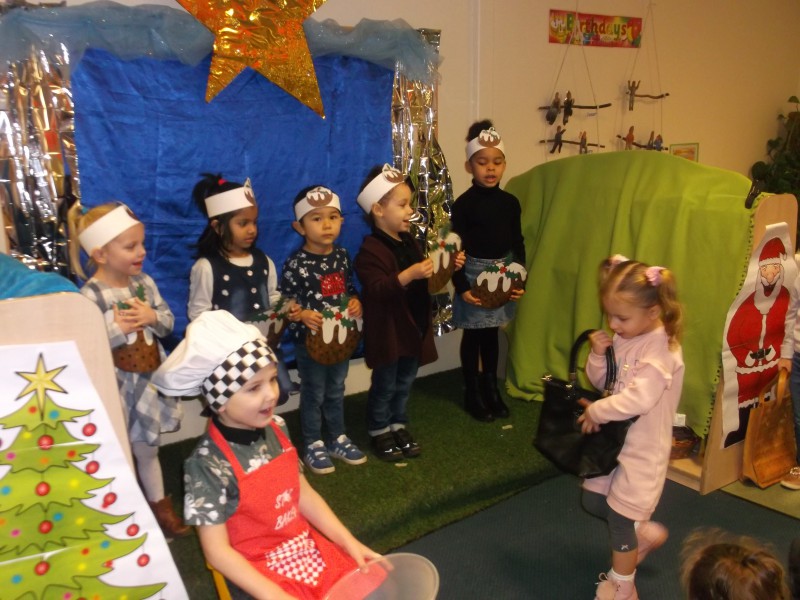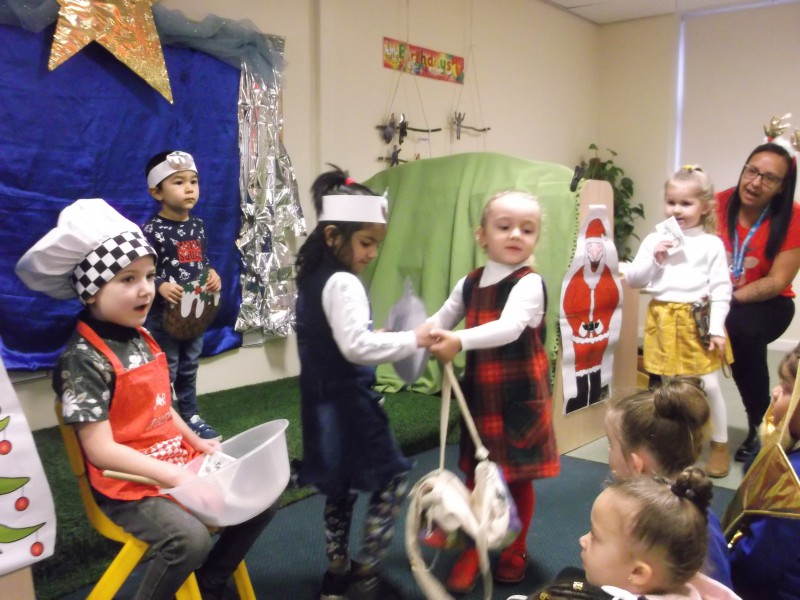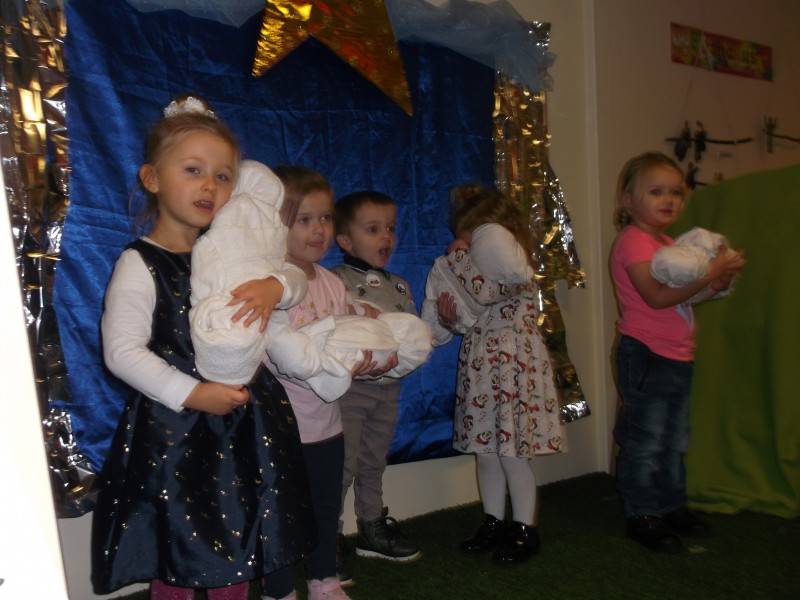 After the Show we had our Christmas party with food and games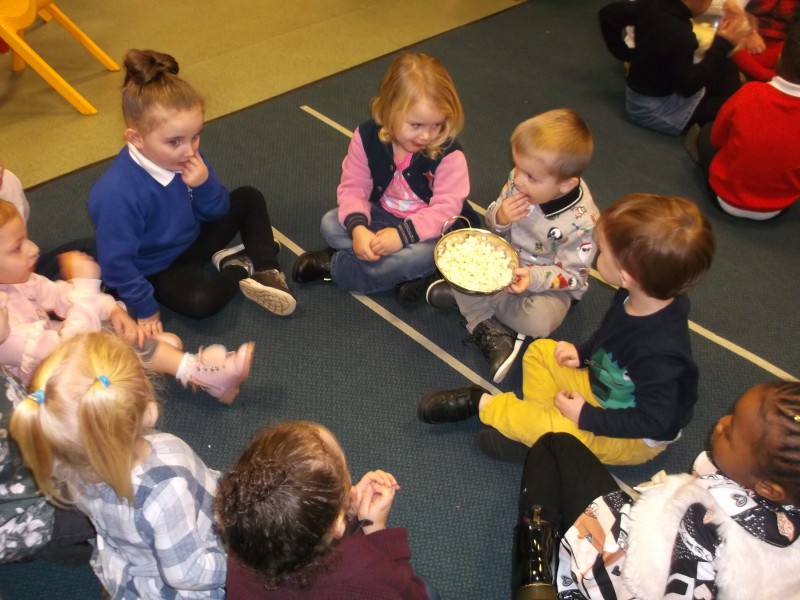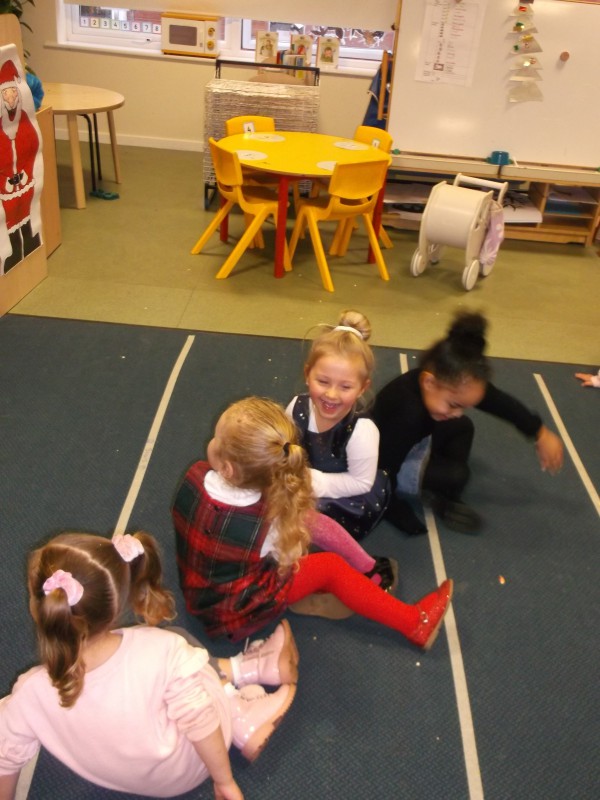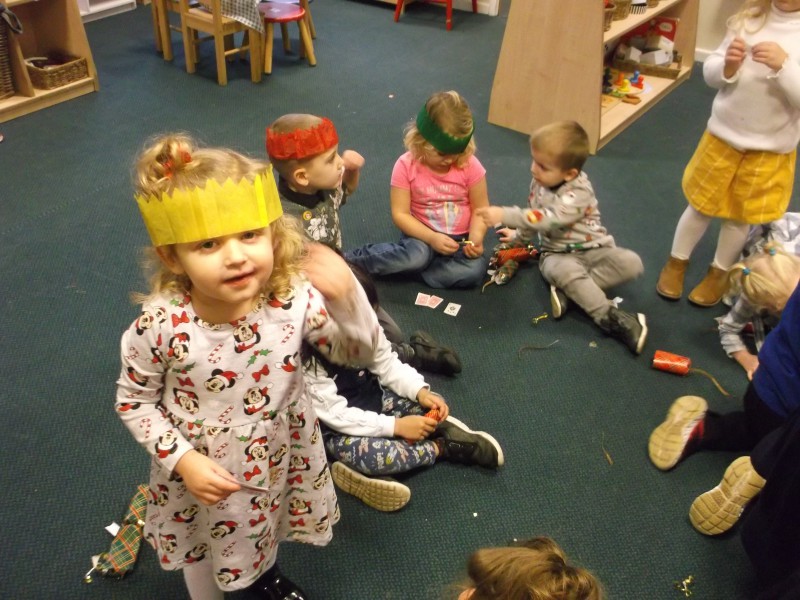 We have made some popcorn today for our snack time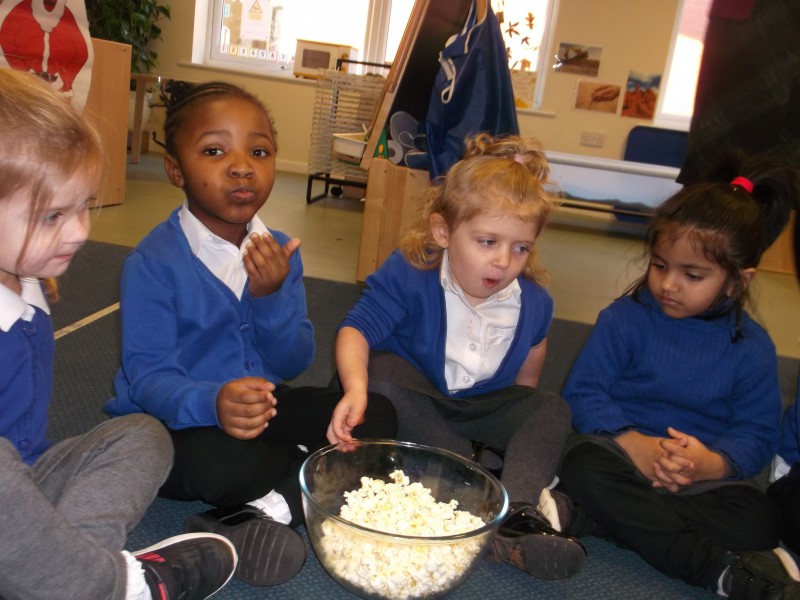 We have been sorting out and collecting yellow objects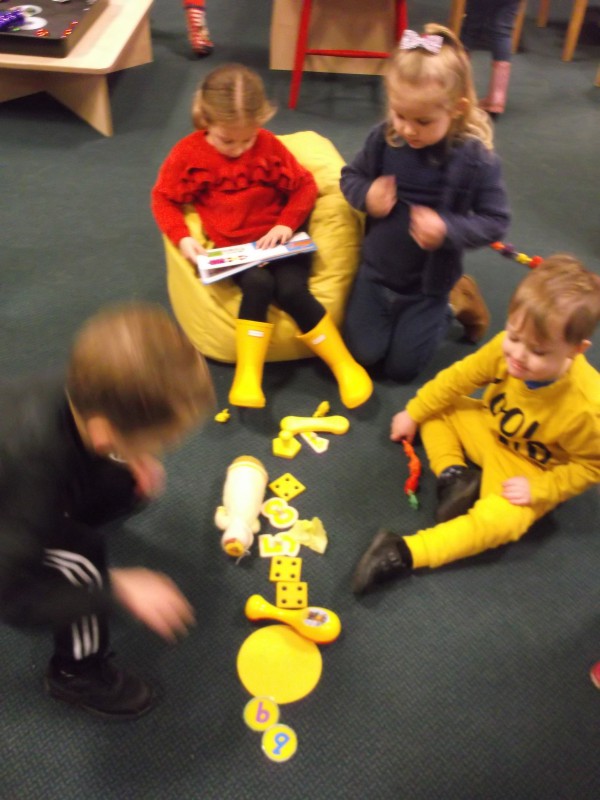 Making and decorating Christmas biscuits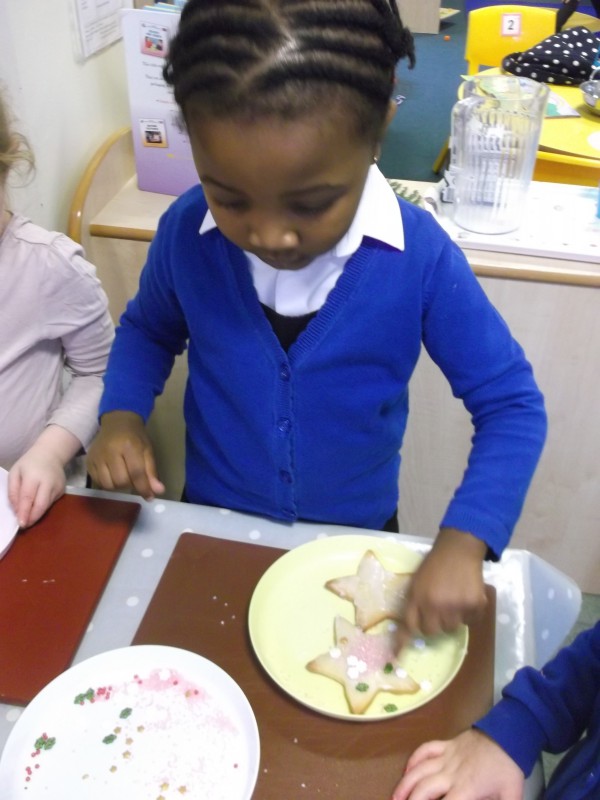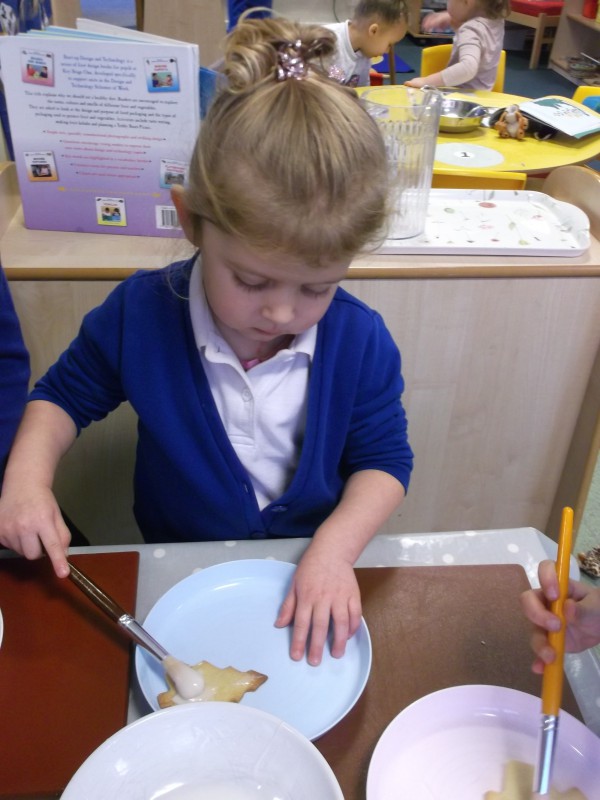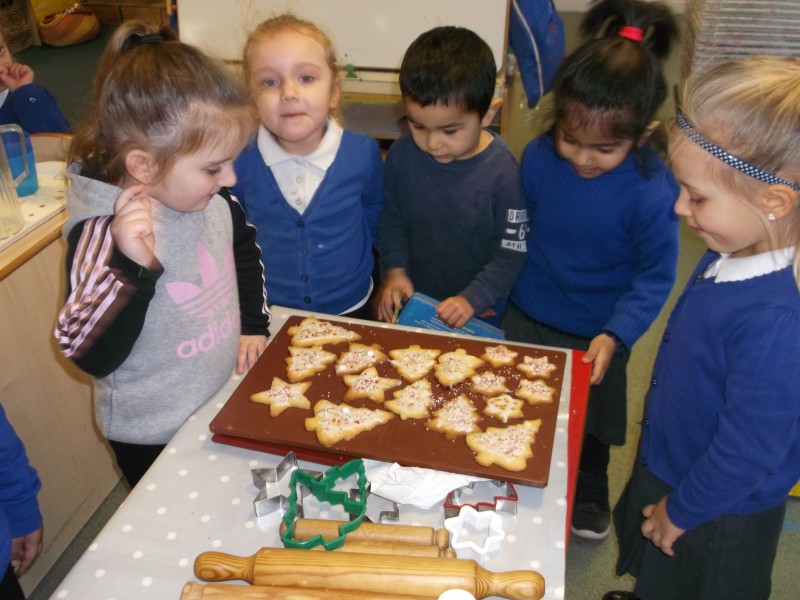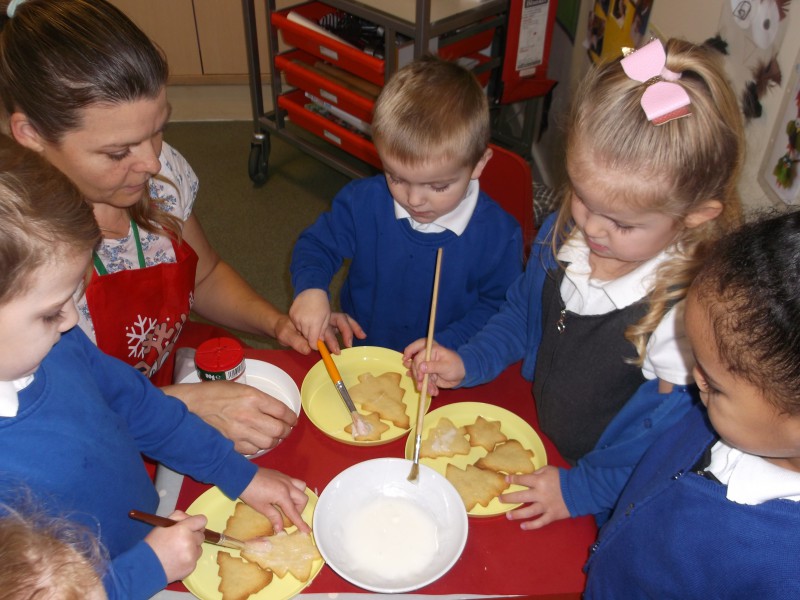 In Forest School we were feeding our guinea pig. We gave her lots of fresh grass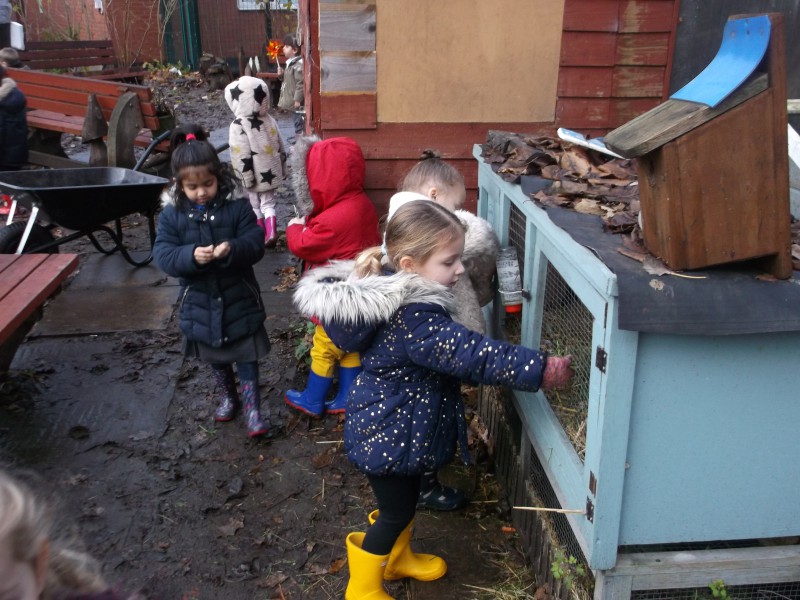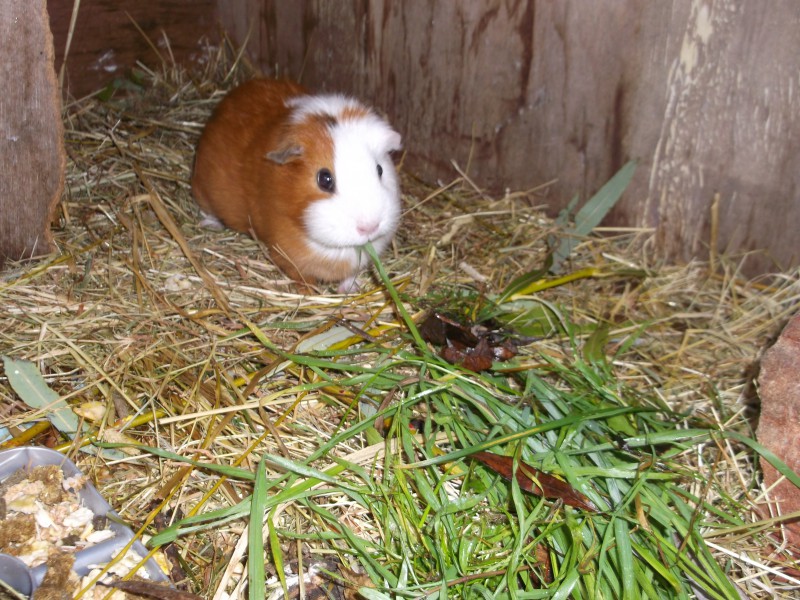 We found some feathers. We thought it must have been a pigeon. The fox could have eaten it. That made us a bit sad.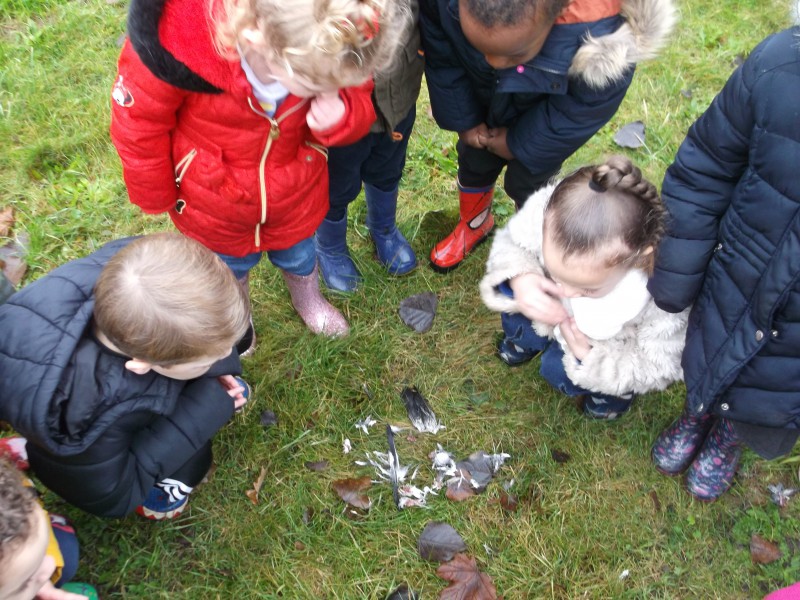 Mrs Adams and Mr Gray loved our letters to Santa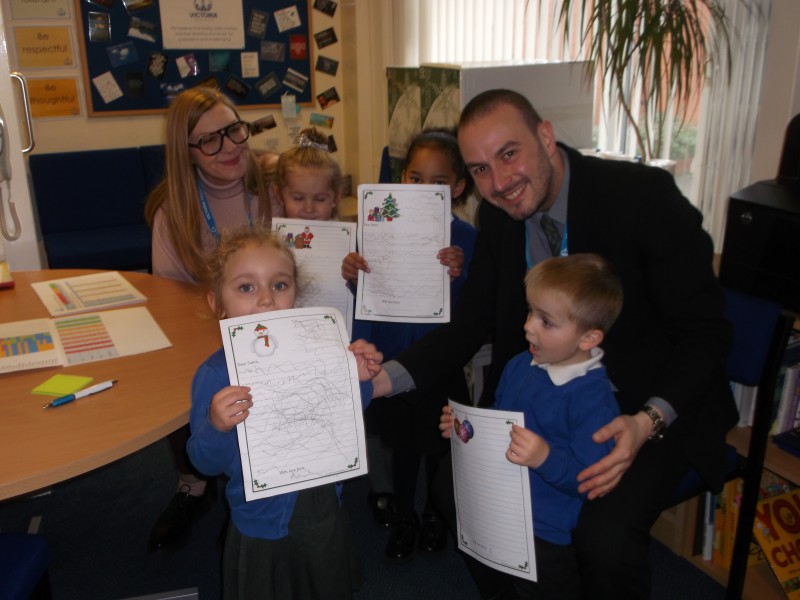 We had some visitors on Monday. They were looking for a dragon.
The dragon's mum was worried about him so they came to check how he was.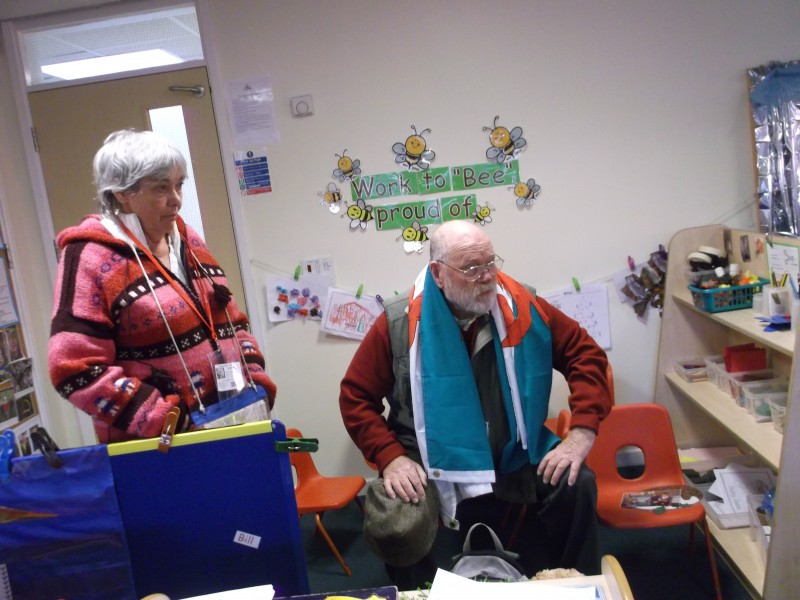 Our dragon's mummy looked like this and was living in Wales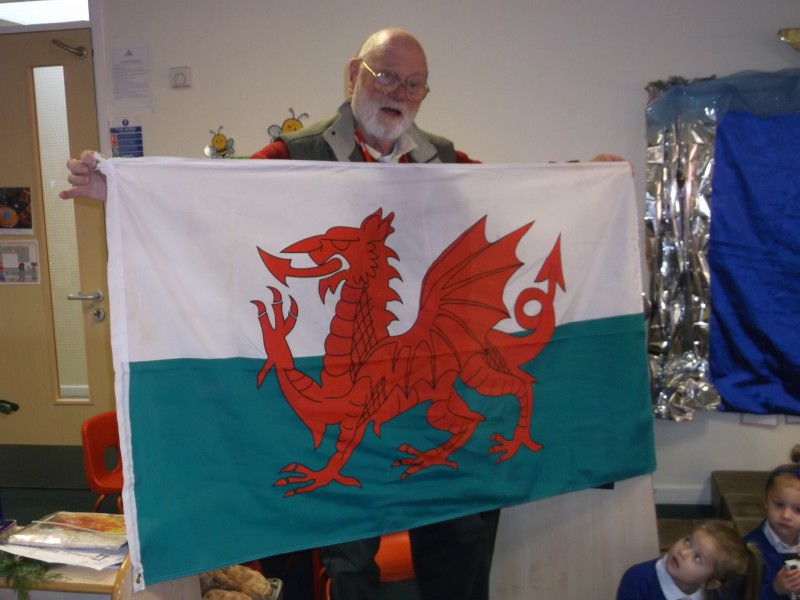 We showed them the dragon and told them how we look after him. They were very pleased and said that the dragon can stay with us forever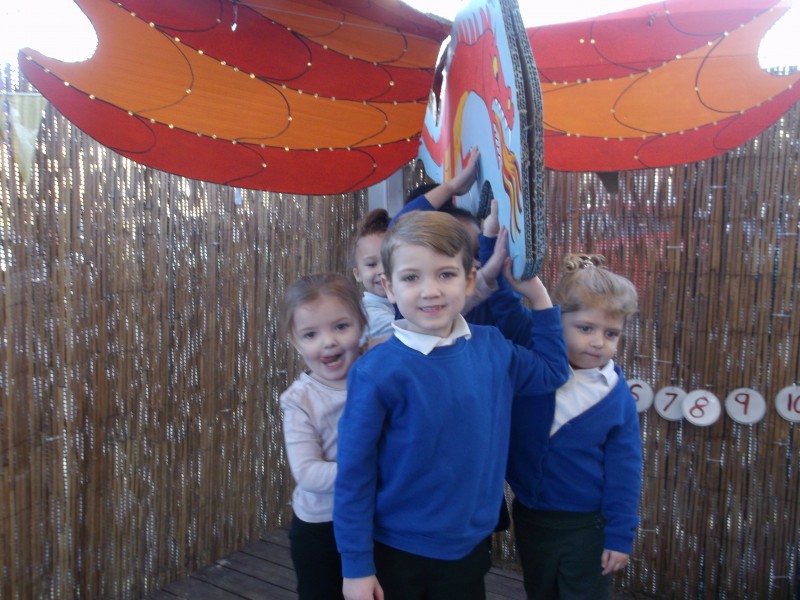 Chris, our visitor read us the dragon story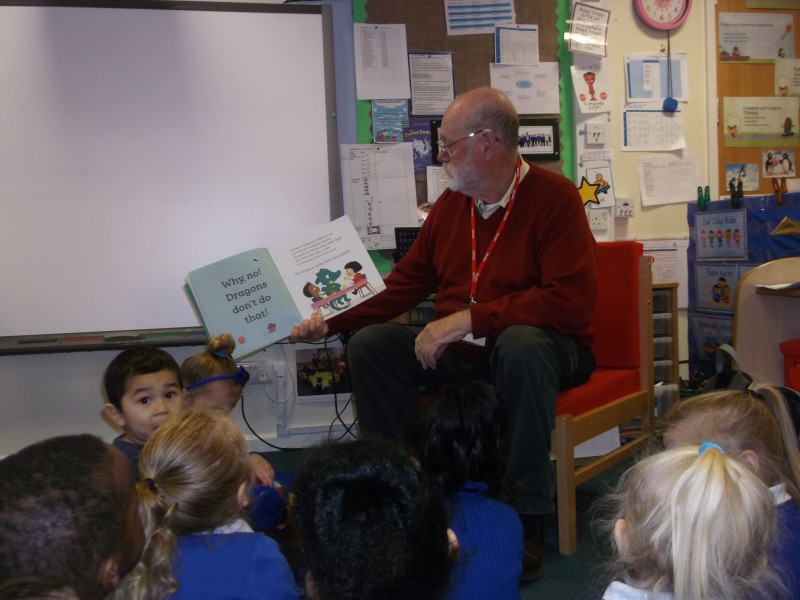 g
We can sing all the nursery rhymes from our Singing Board
Lots of activities in the Nursery help us to develop fine motor skills. These will help to make our fingers ready for writing,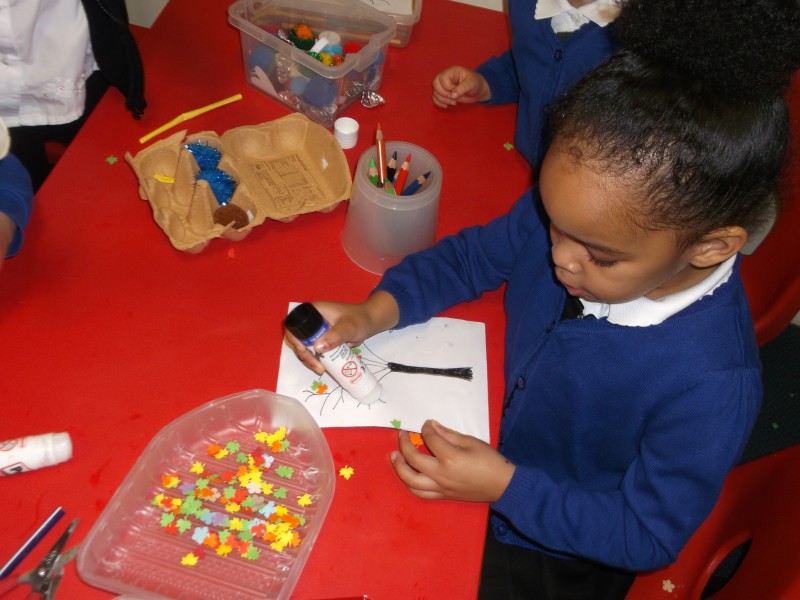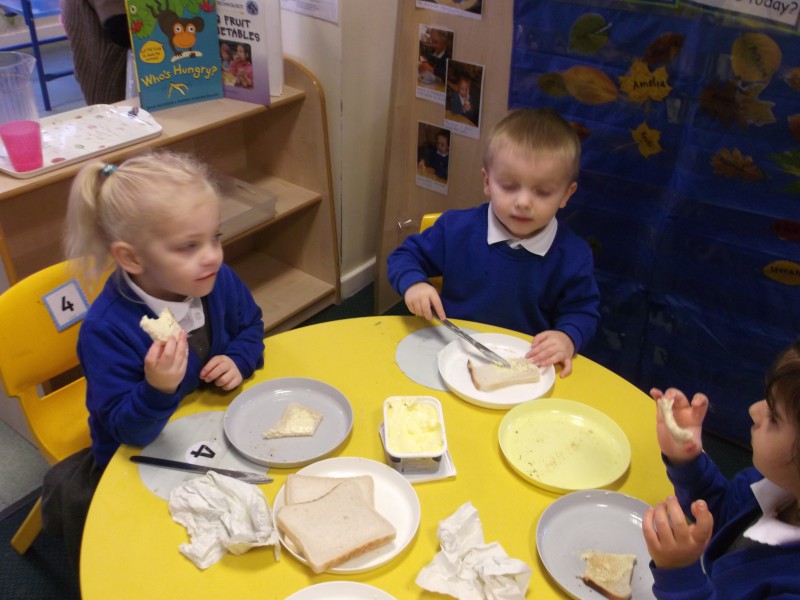 .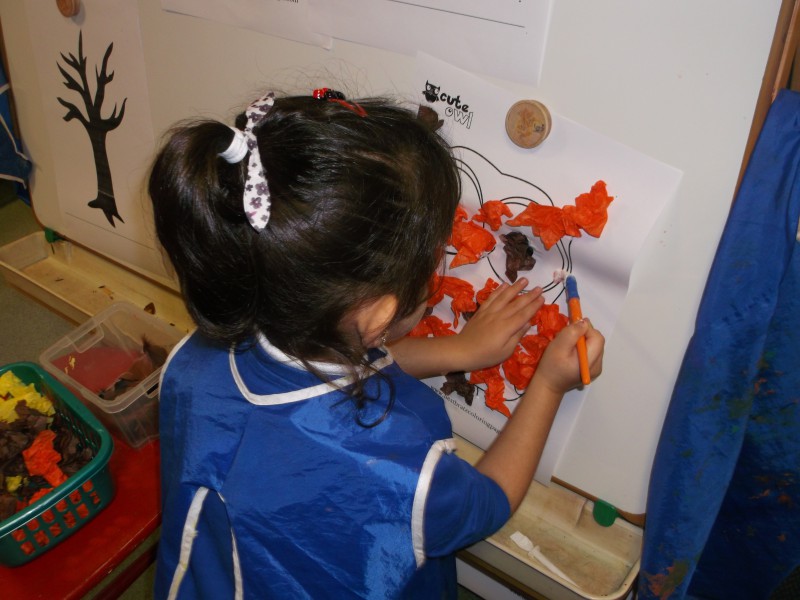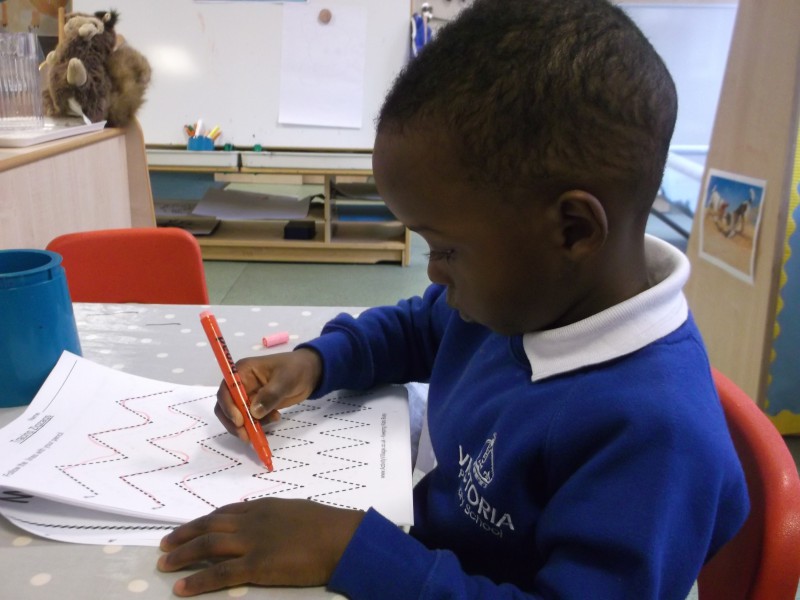 Learning maths through our snack activities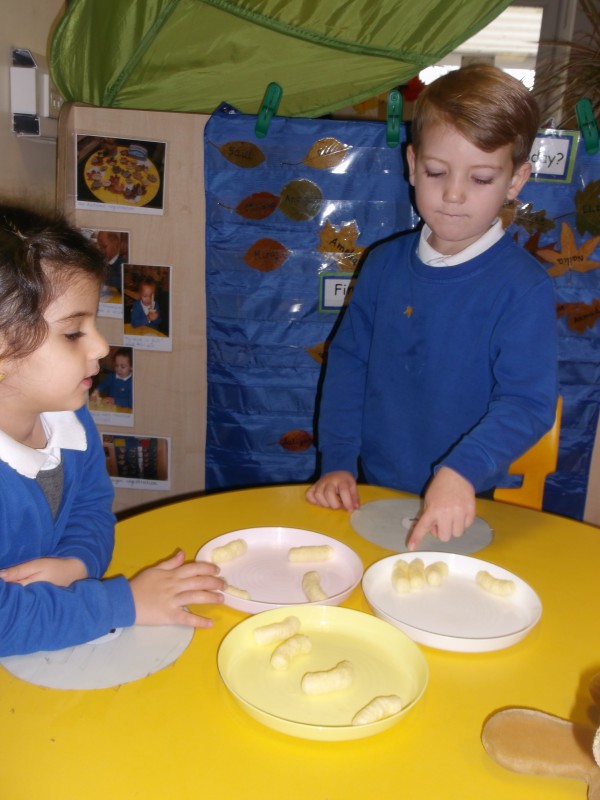 Introducing Nativity story in the circle time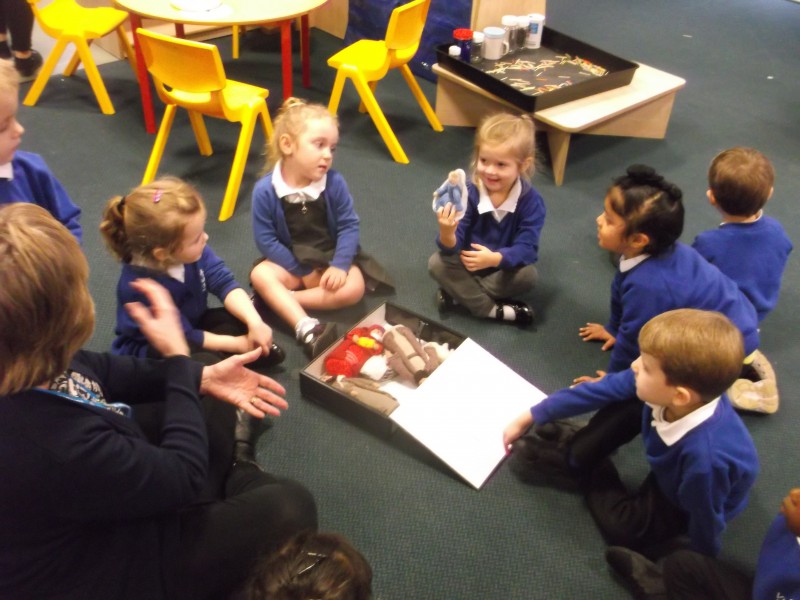 No rain today in Forest School. We had to squint our eyes to be able to see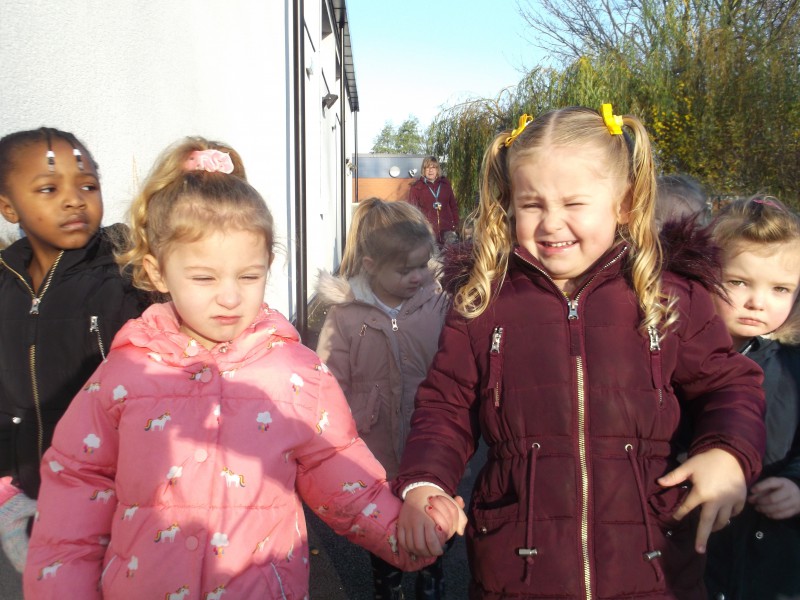 On the ground we found the frost. We tried to melt it with our hands
d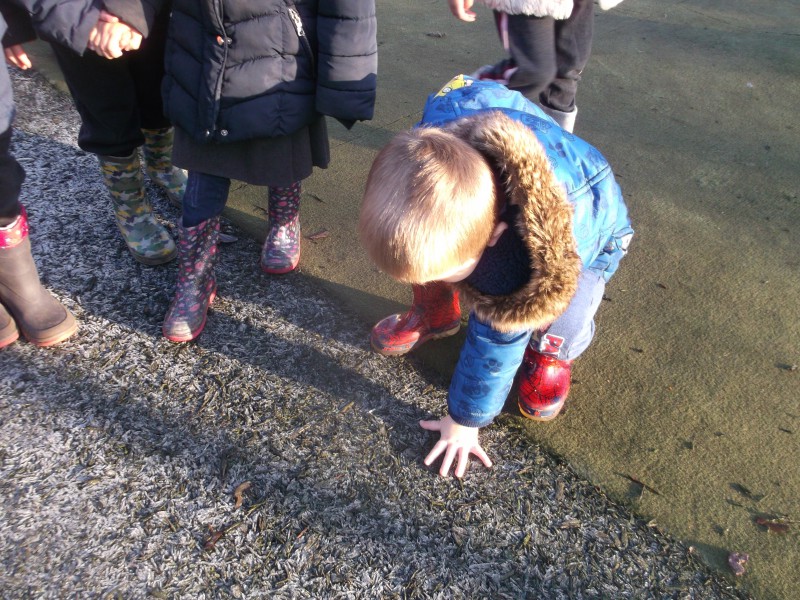 There was lots of mud on the field. Good job we are wearing wellies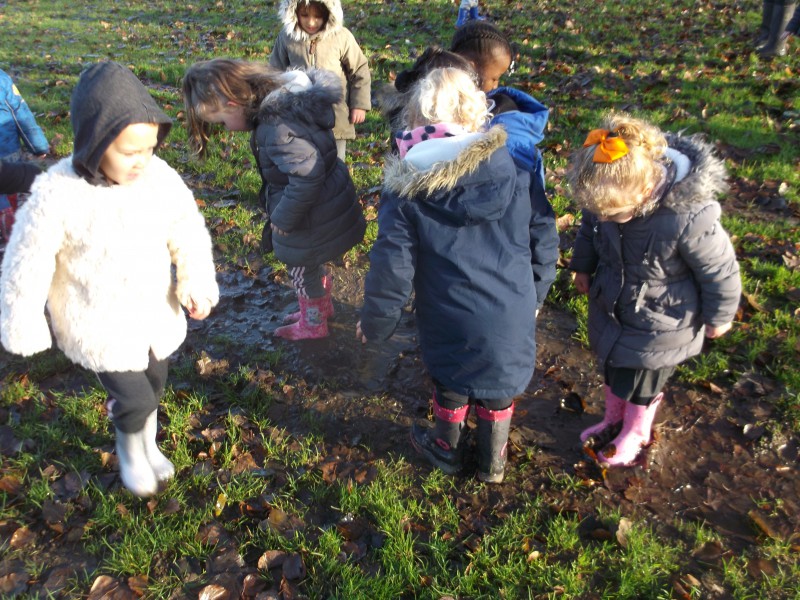 _____________________________________________________
Owl visit and demonstration.
Archie is waiting to fly to sit on Bob's hand .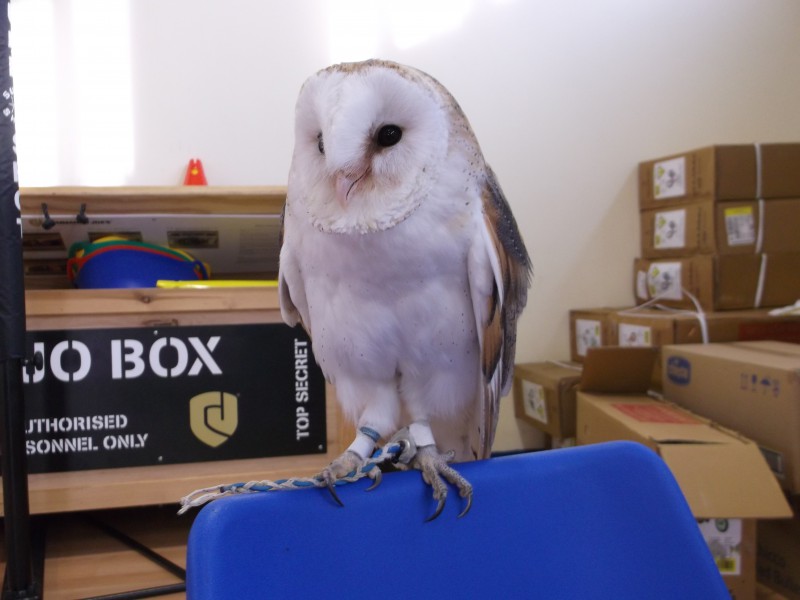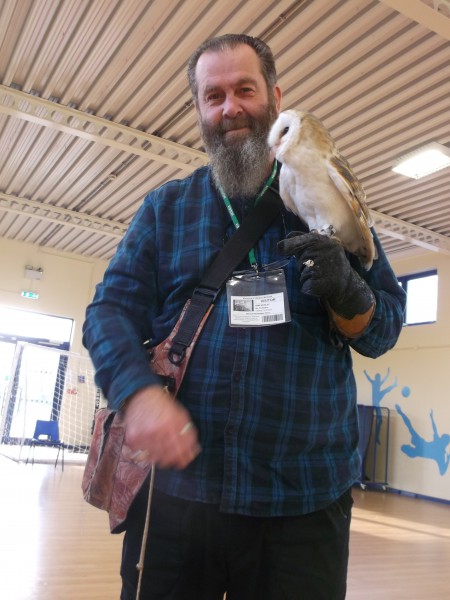 Gizmo lets us hold him with a special glove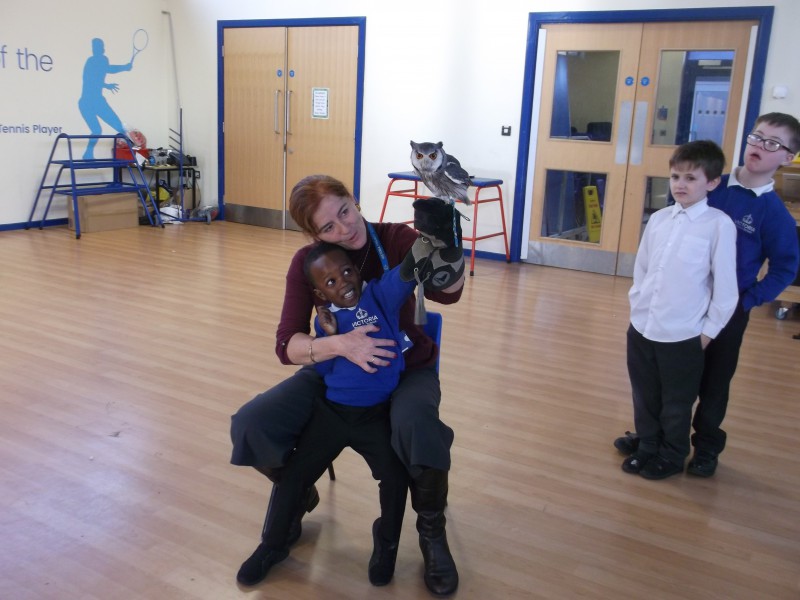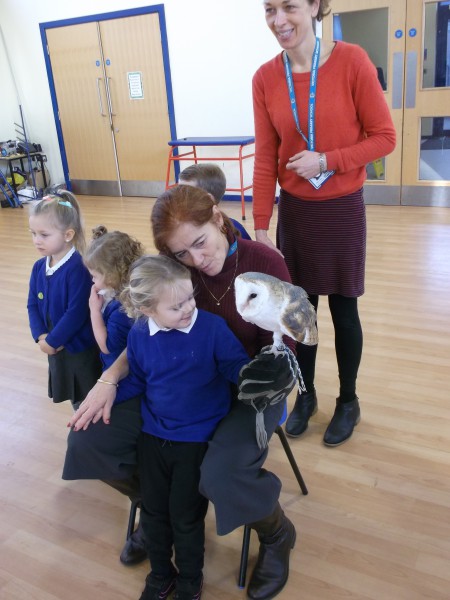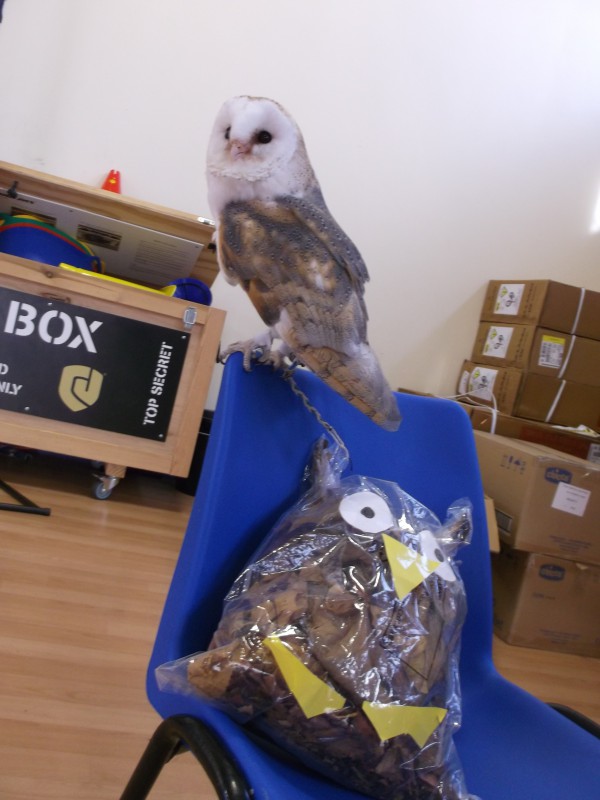 Archie likes the owl we made in the class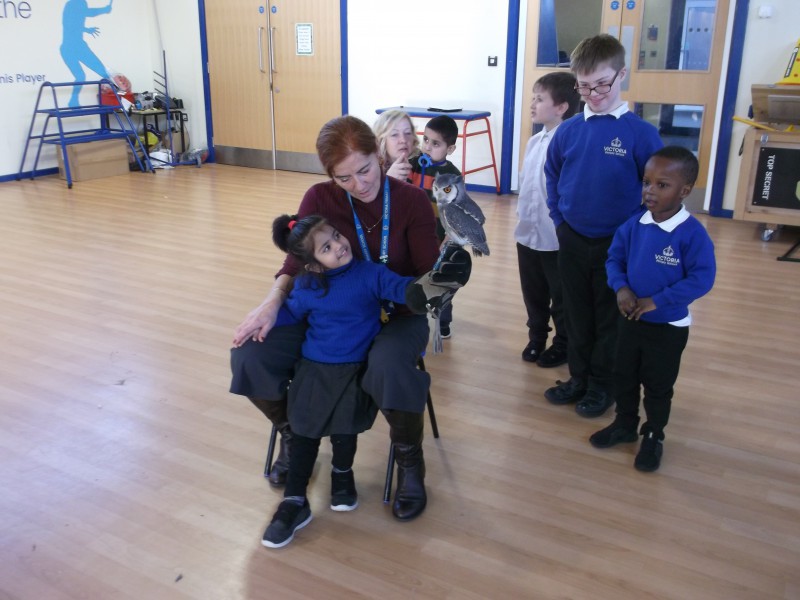 We celebrated Children in Need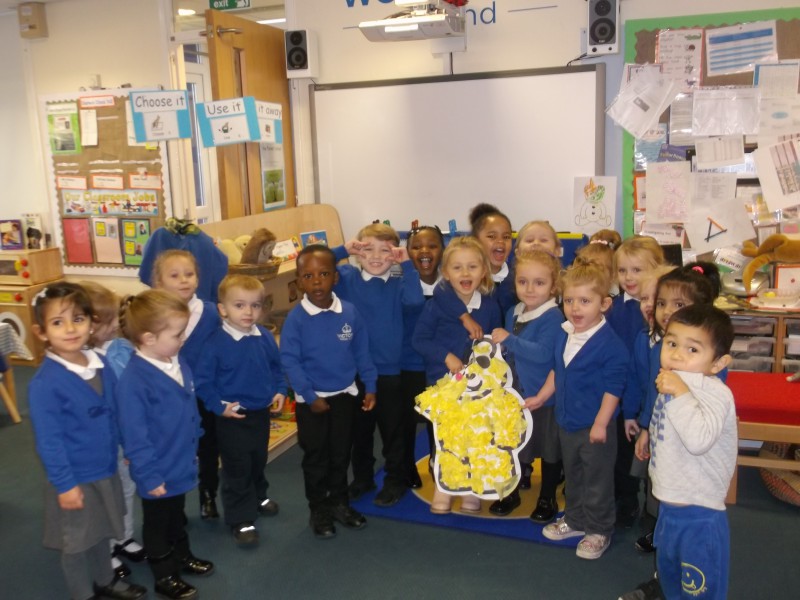 Our guest reader this week was Mr Walker. We read a book about owls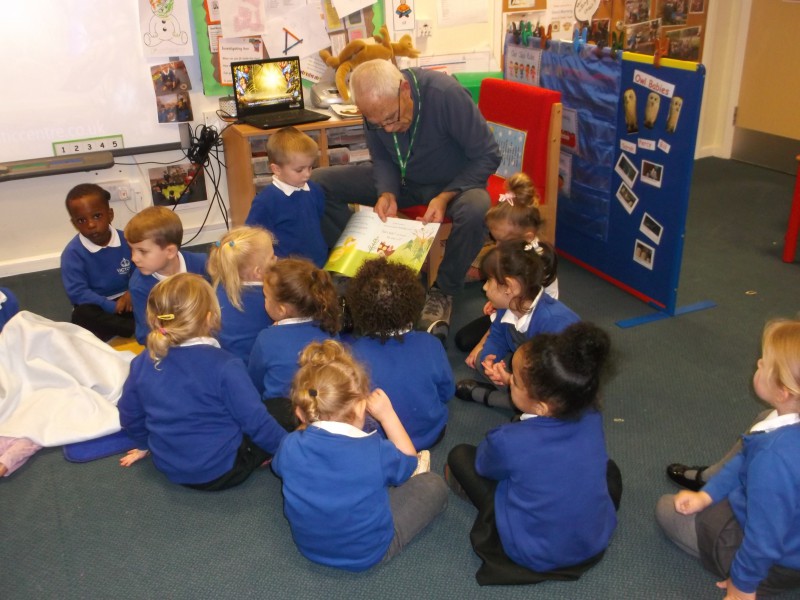 Toast Day. We are learning to spread the butter and divide the toast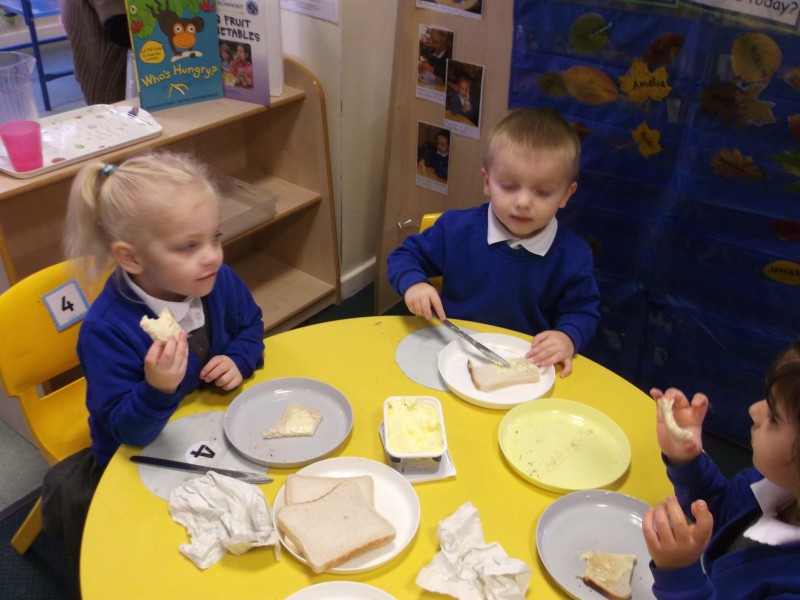 Our Maths this week: sorting out leaves by colour and shape.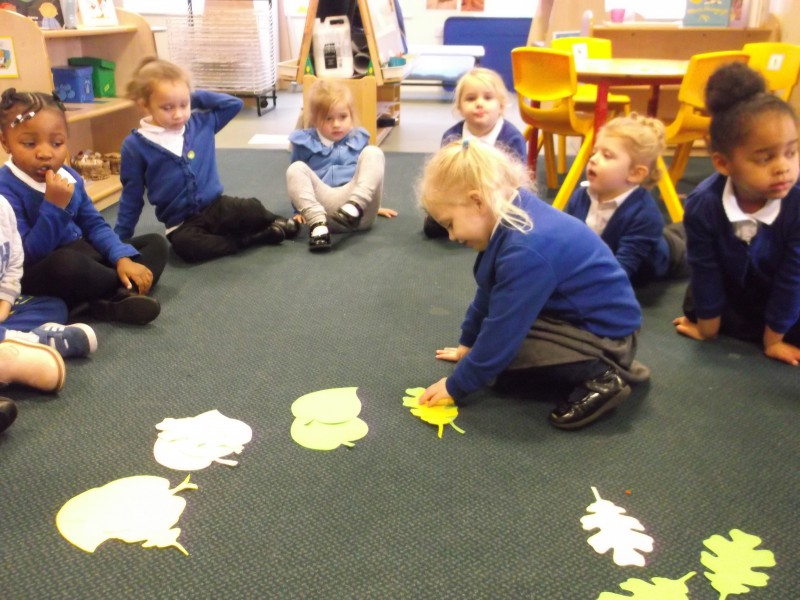 Nursery in Forest School on a sunny Autumn day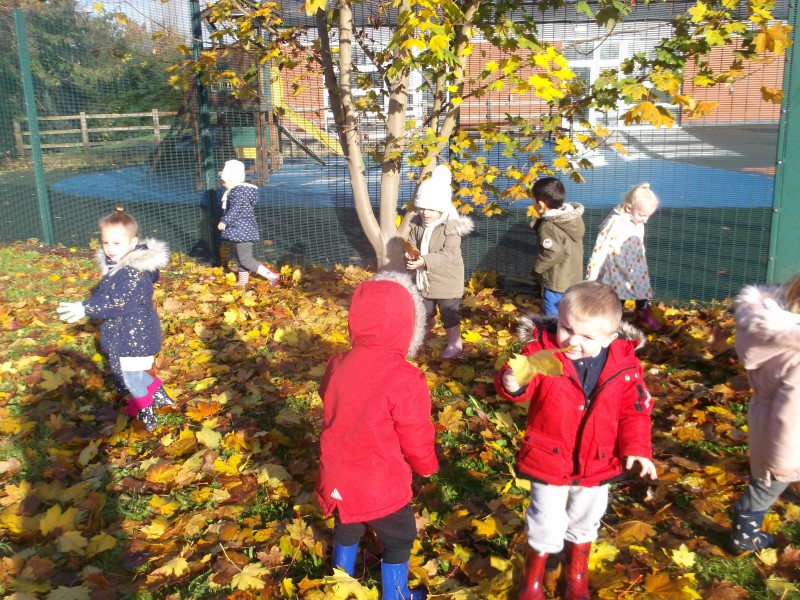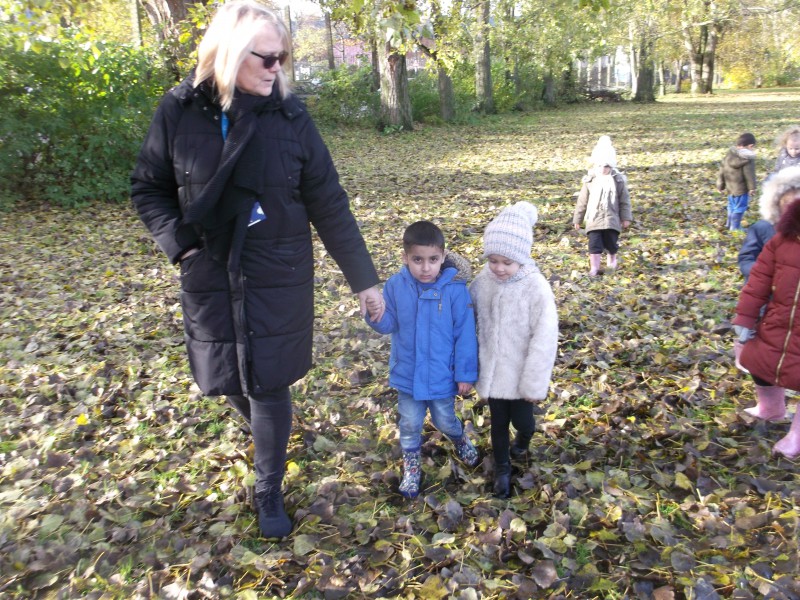 Our new dragon registration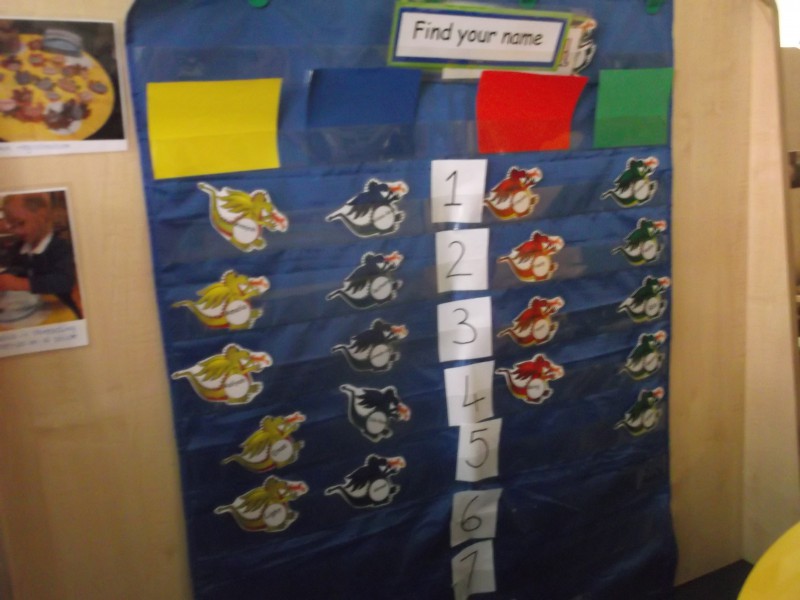 This week we baked some carrot cupcakes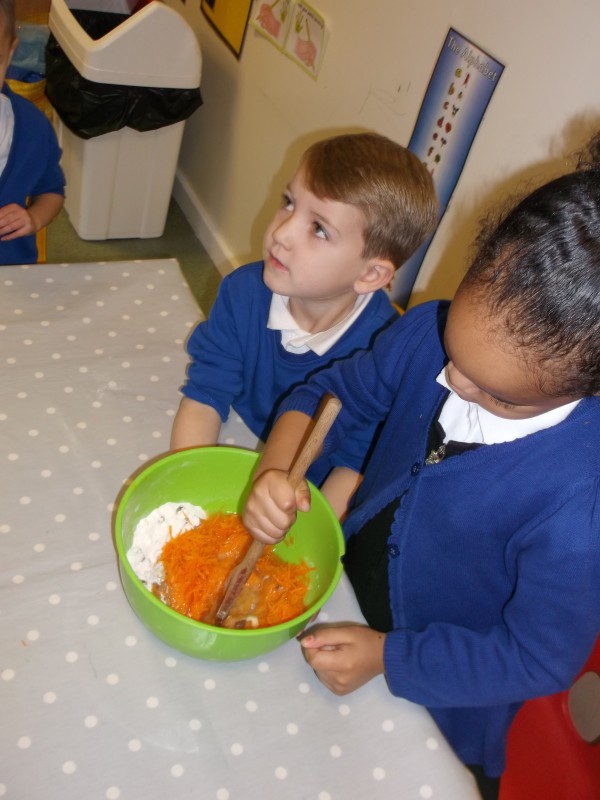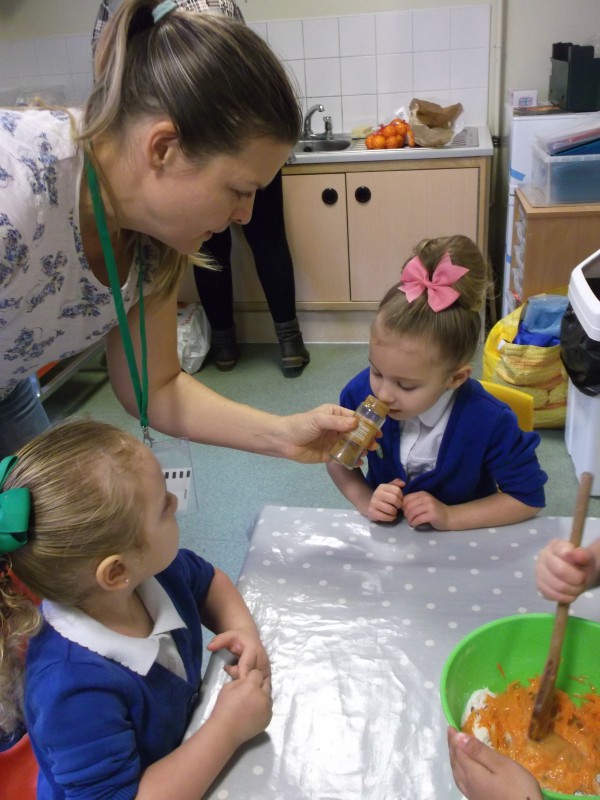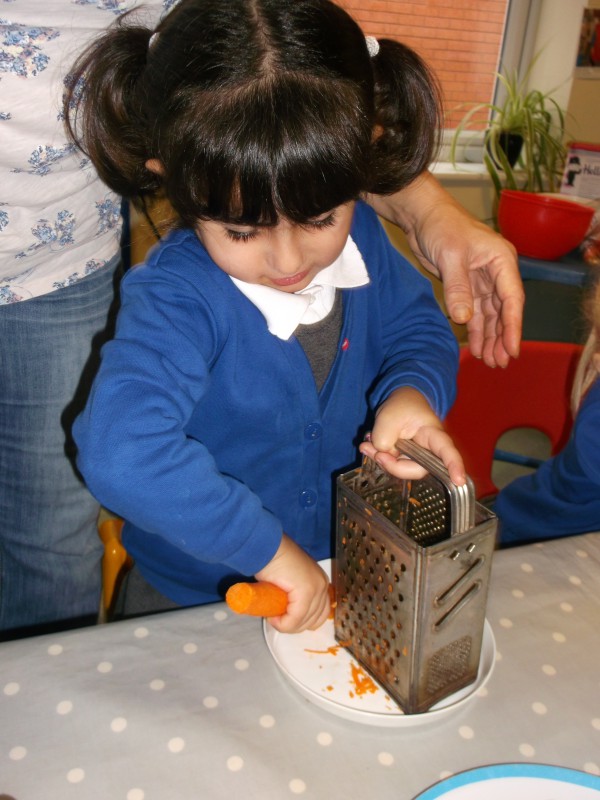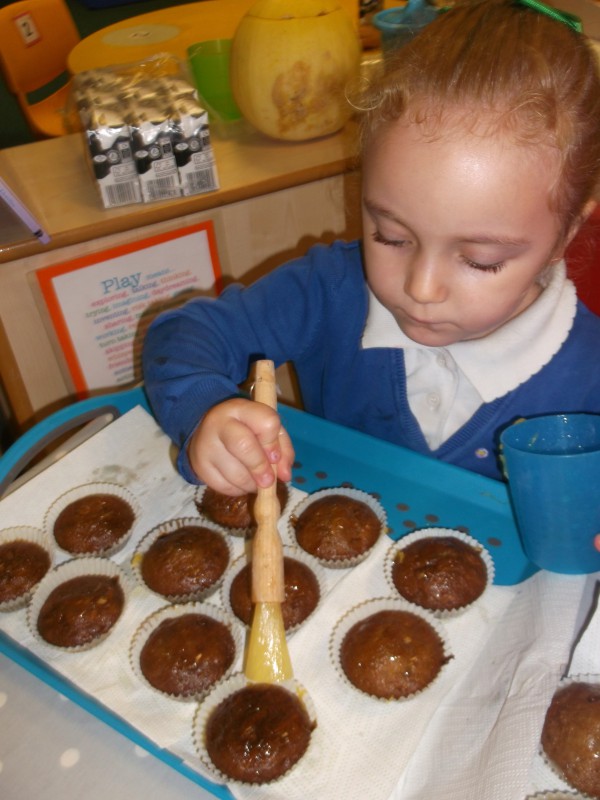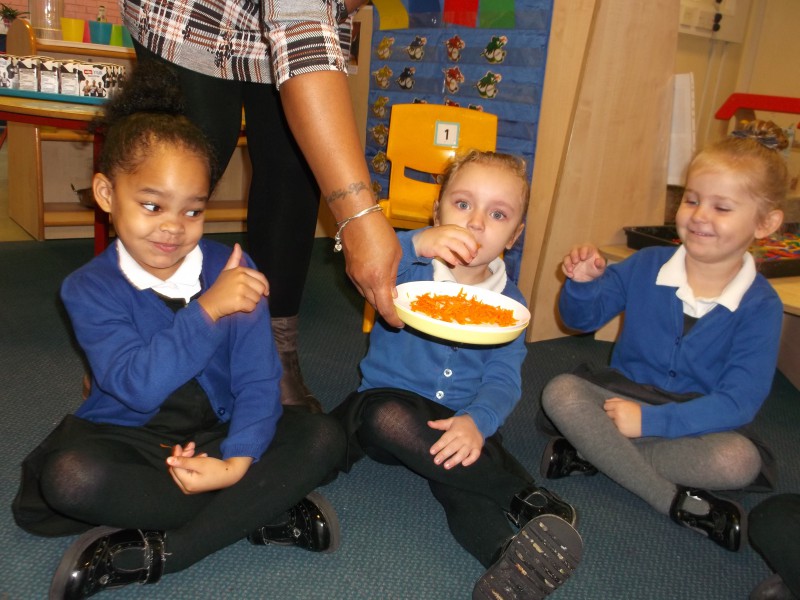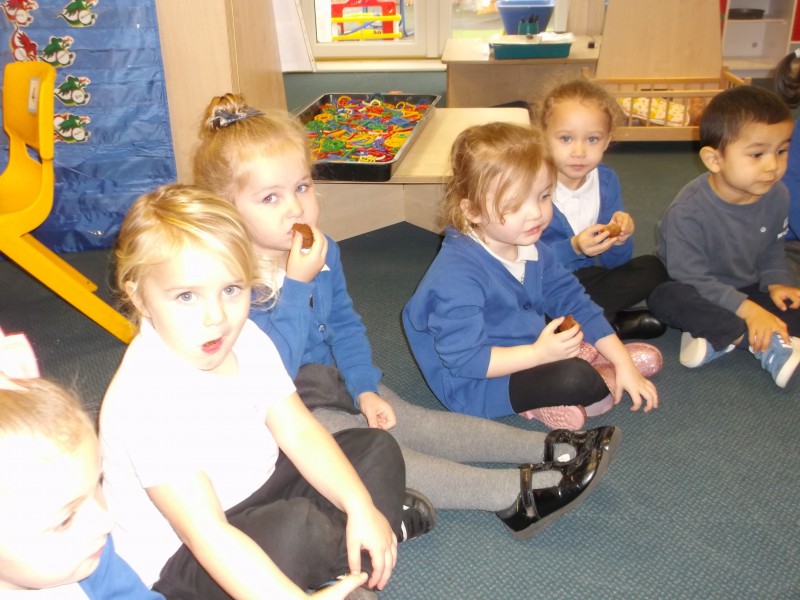 Our guest readers this week were Miss Froggatt and Mr Martey.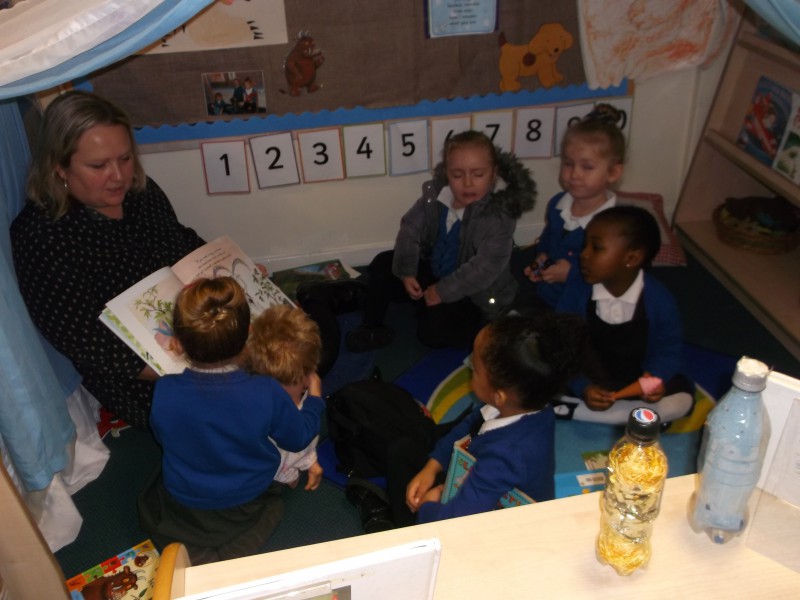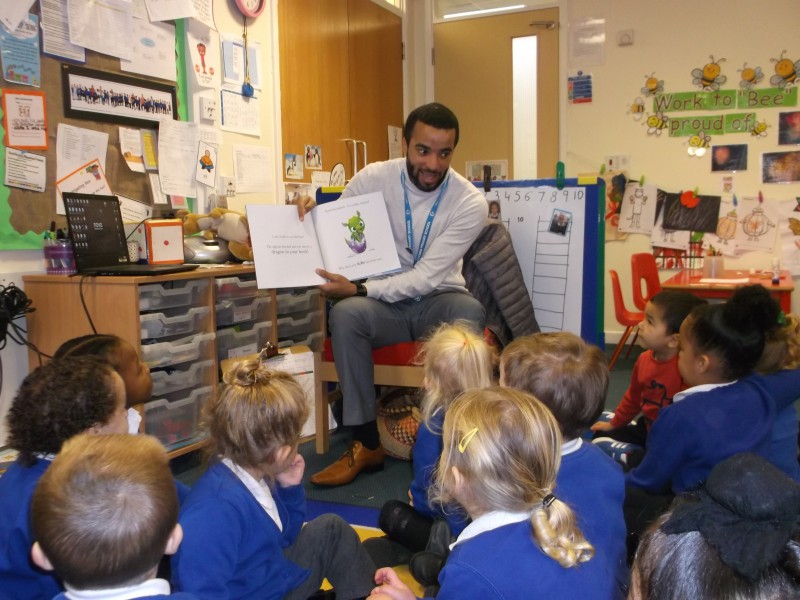 Halloween in the Nursery.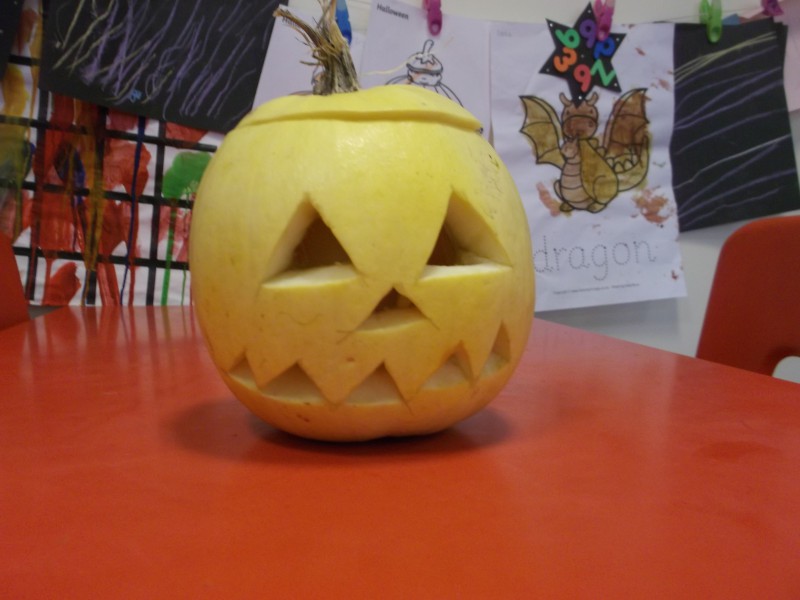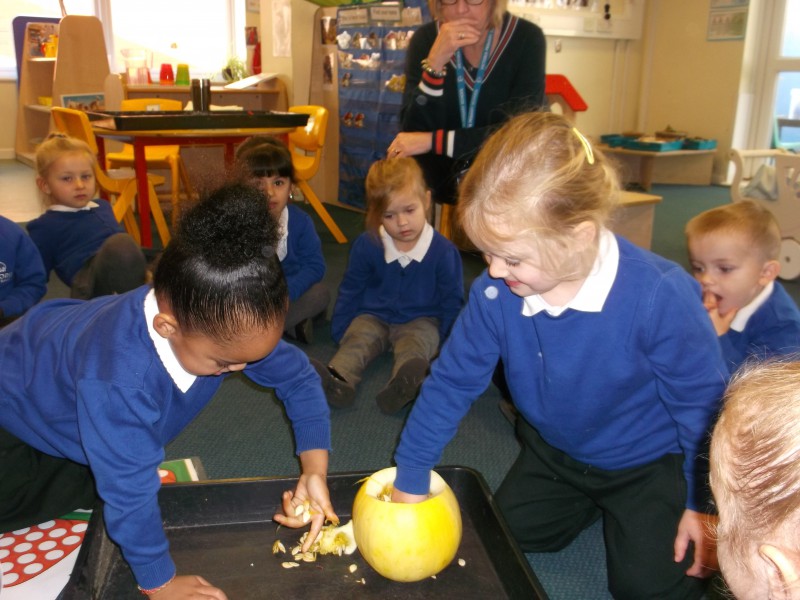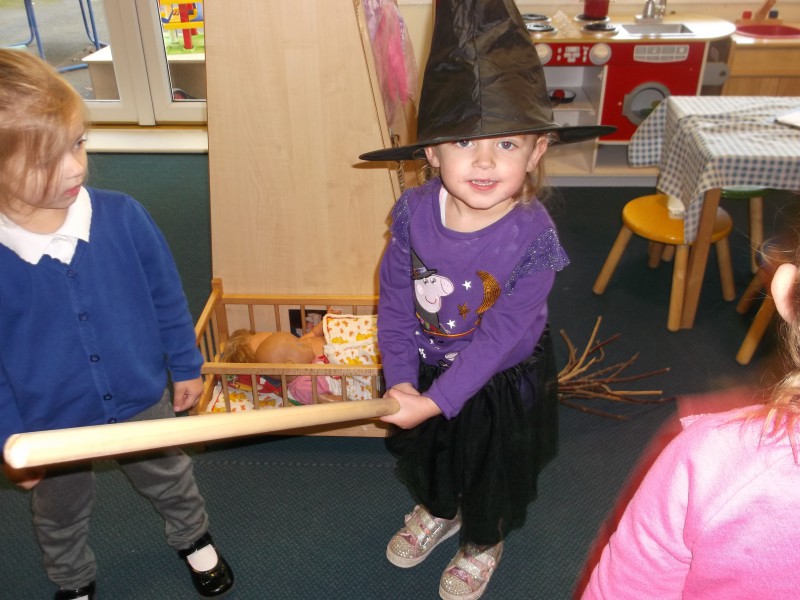 We have started our bike riding lessons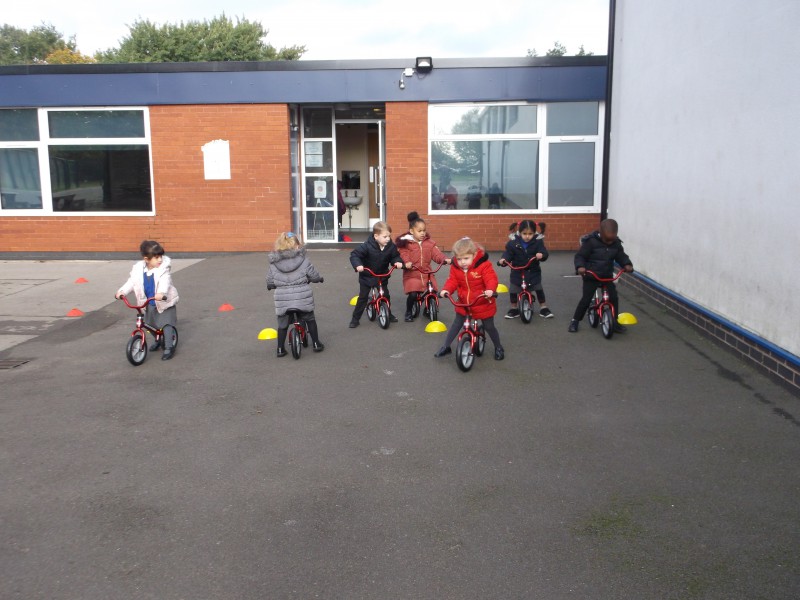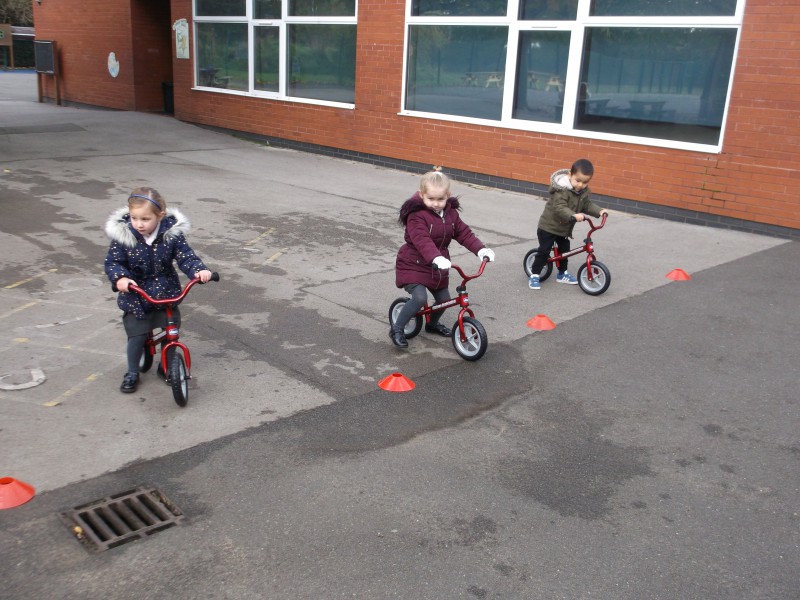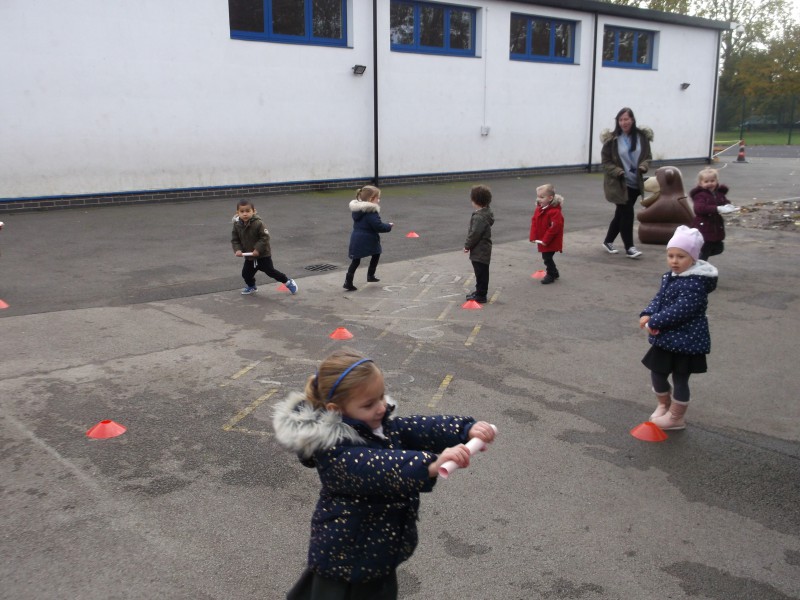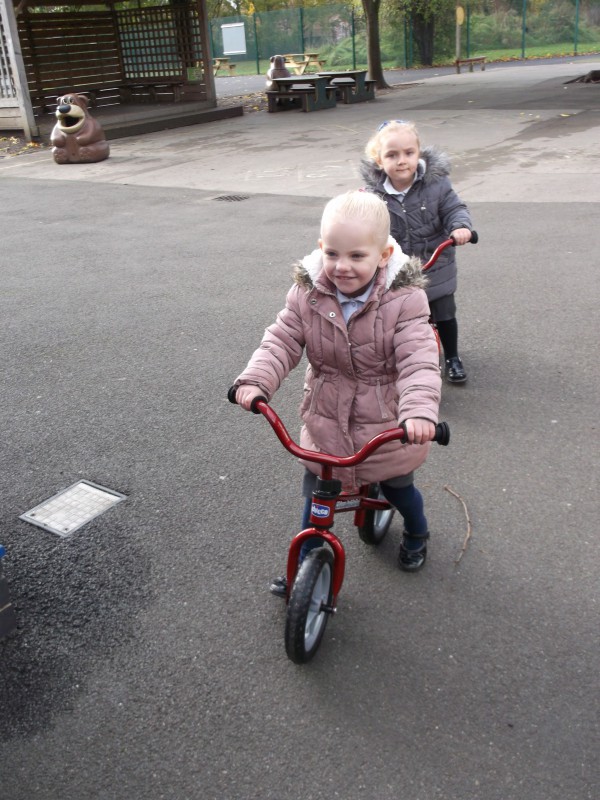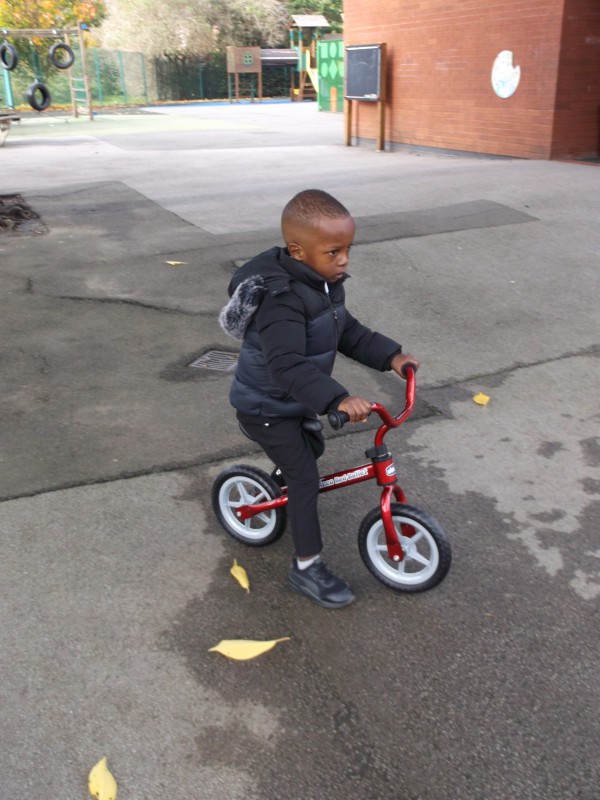 A dragon has visited our Nursery last week. Fortunately he is kind and teaches us how to share and be helpful.
Autumn 1
Playing and exploring in our new outdoor area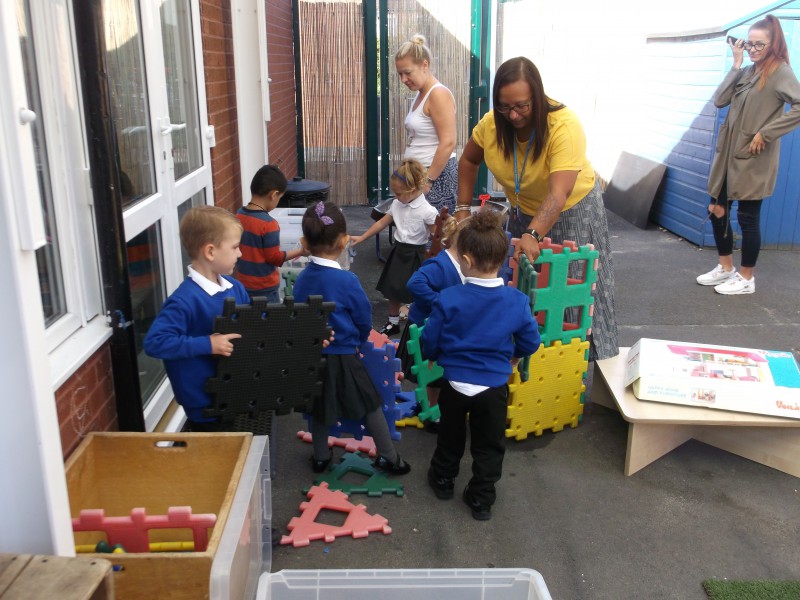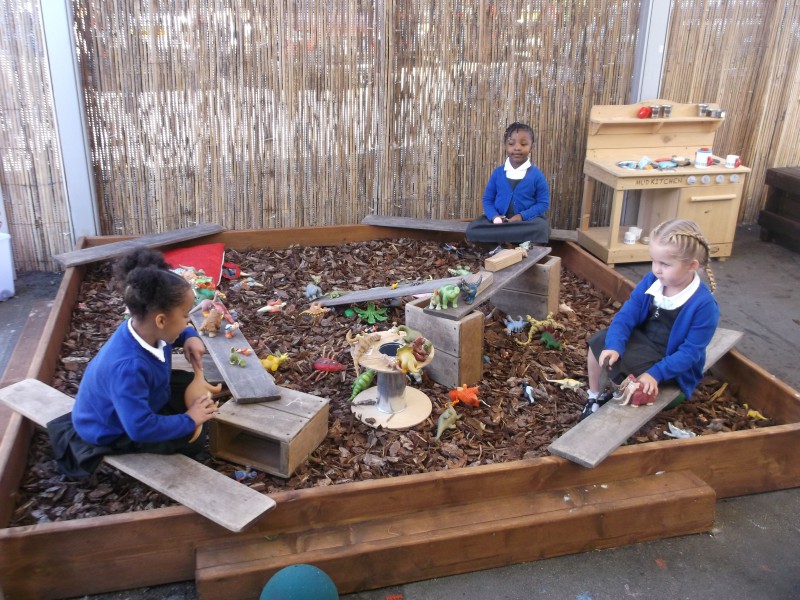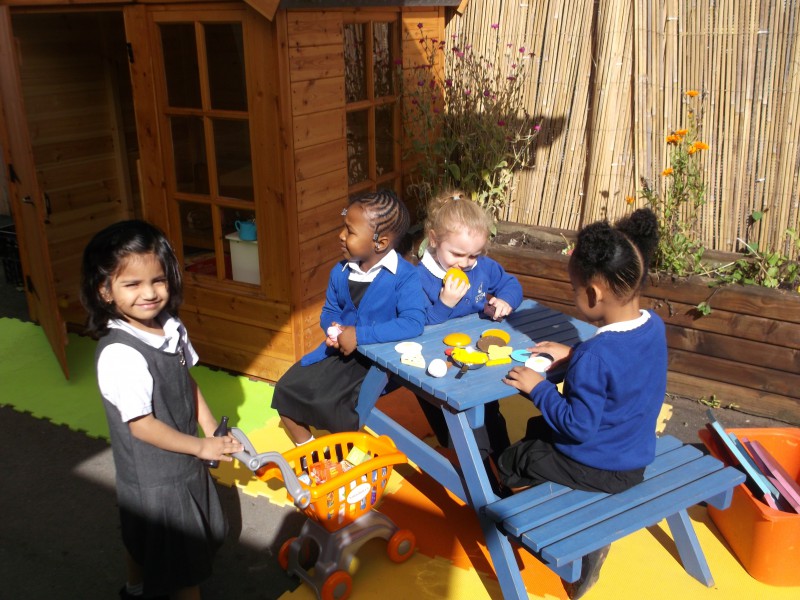 So many activities to choose from and so much to experience together in the coming year!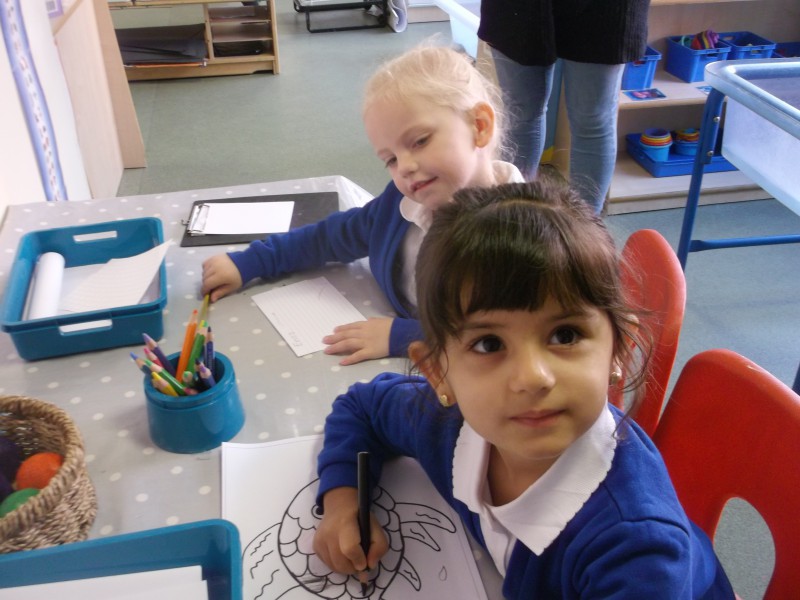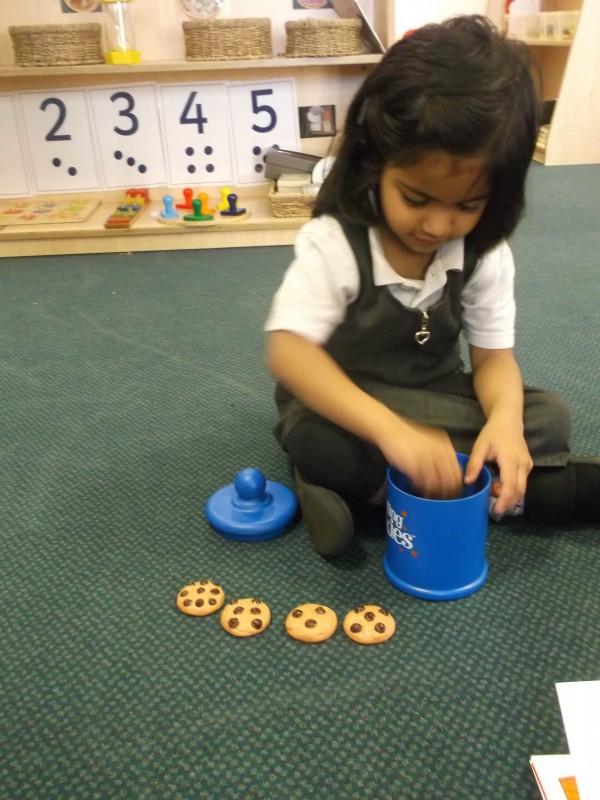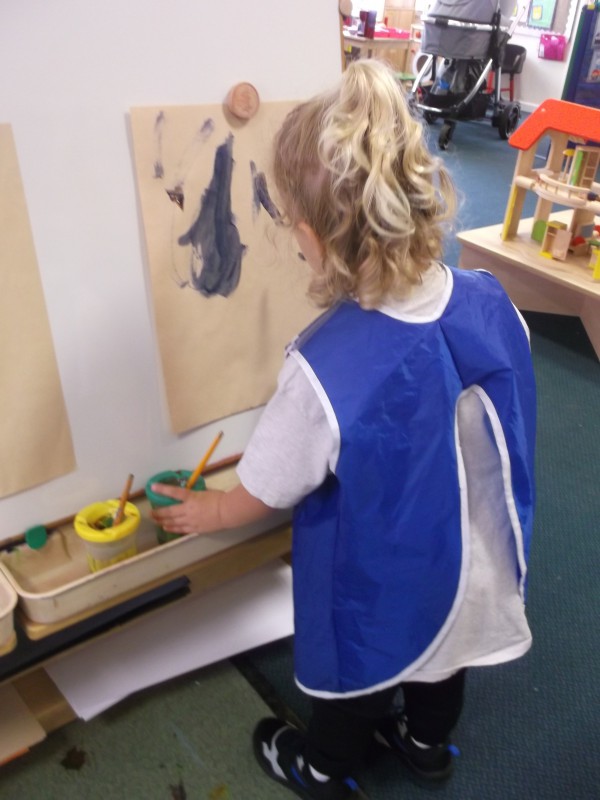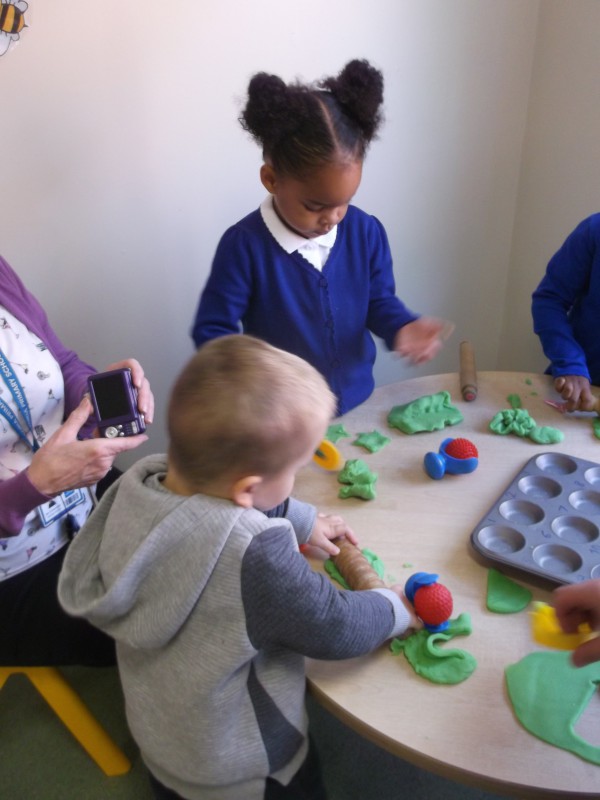 Look how well we can concentrate during our circle time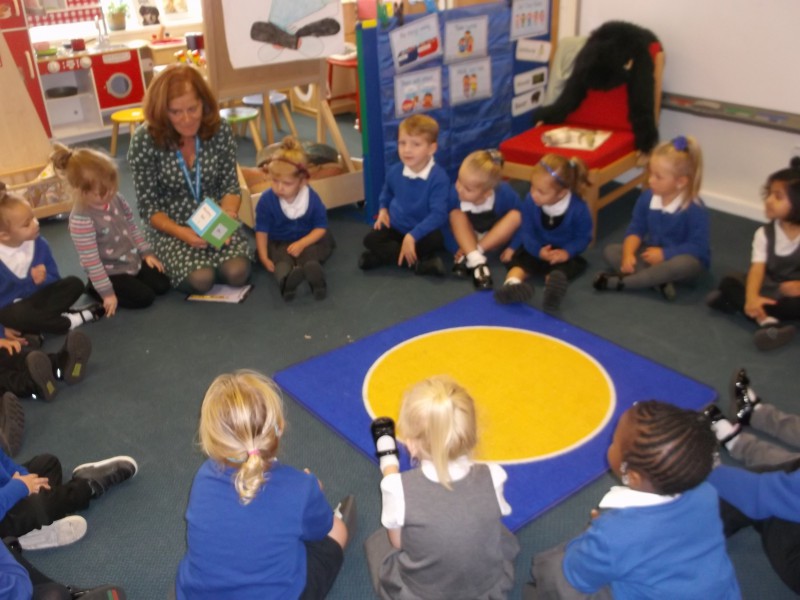 Our first school dinner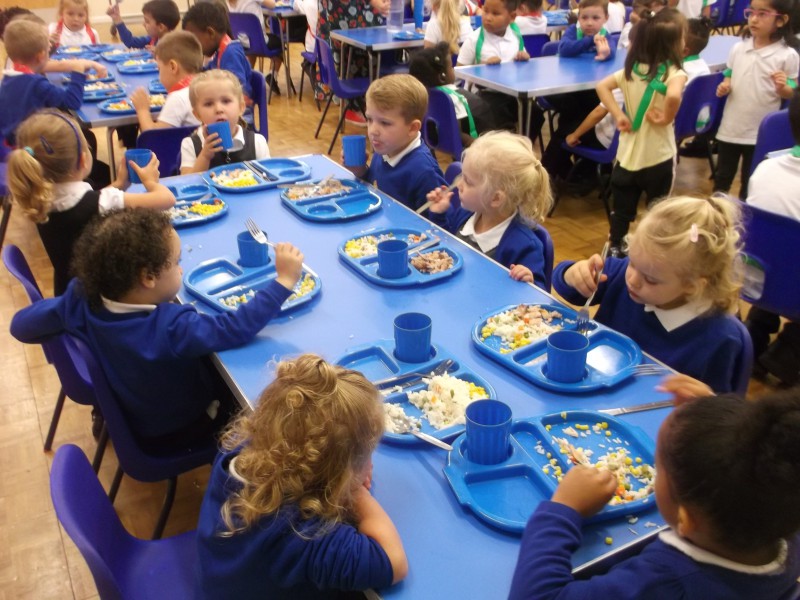 We are learning to play a game and take turns
We are all making a new house to share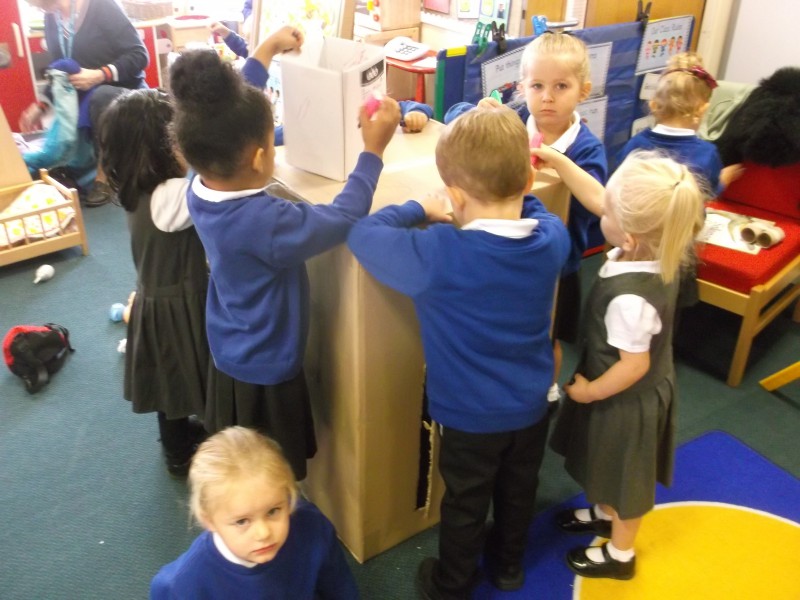 Off we go to Forest School. Follow the leader!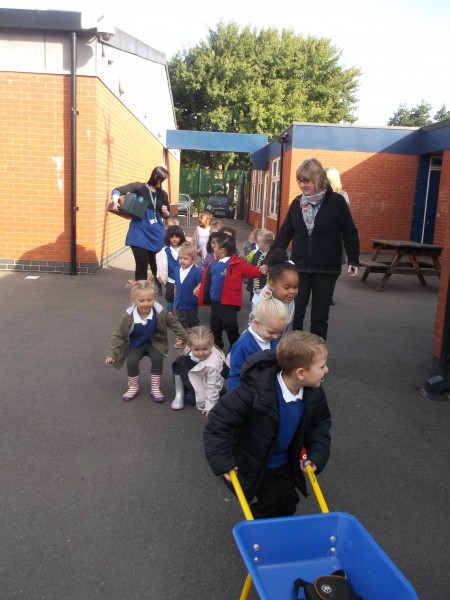 Playing "Duck, duck, goose" during Forest School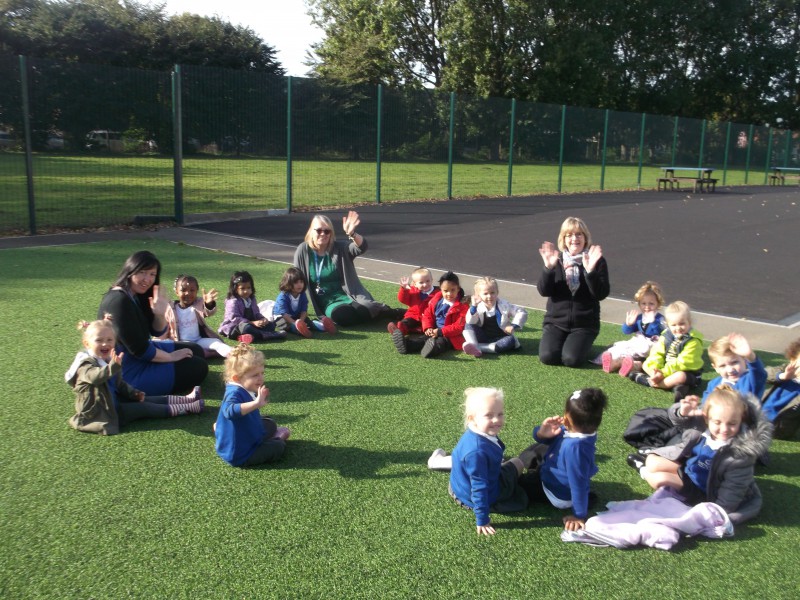 Meeting our Forest School friends Candy and Fudge
We are testing one of our new pieces of equipment and this one is definitely a winner.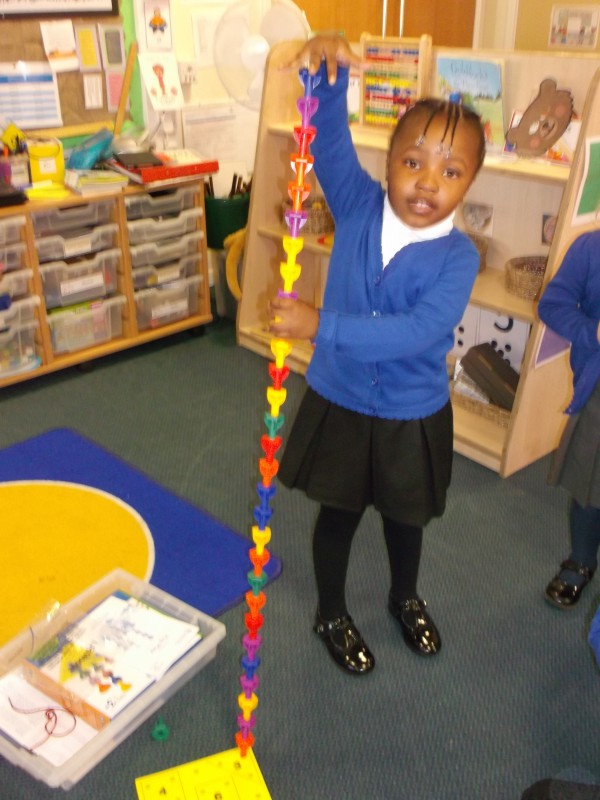 We need BIG pieces of paper for our art work
We are learning how to make a person. We call him "Flatman"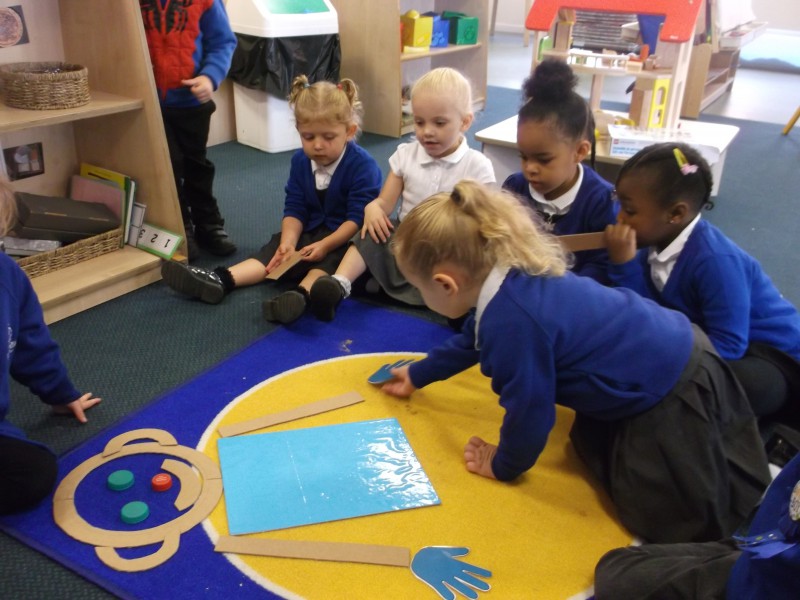 And now we are having a go at drawing his picture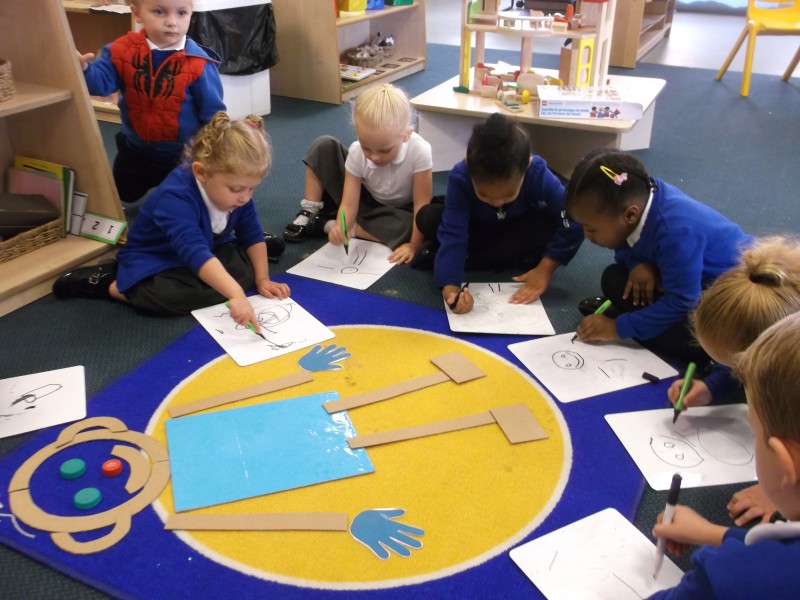 In Forest School we looked at different vegetables ; beetroot, pumpkins, marrows, onions and carrots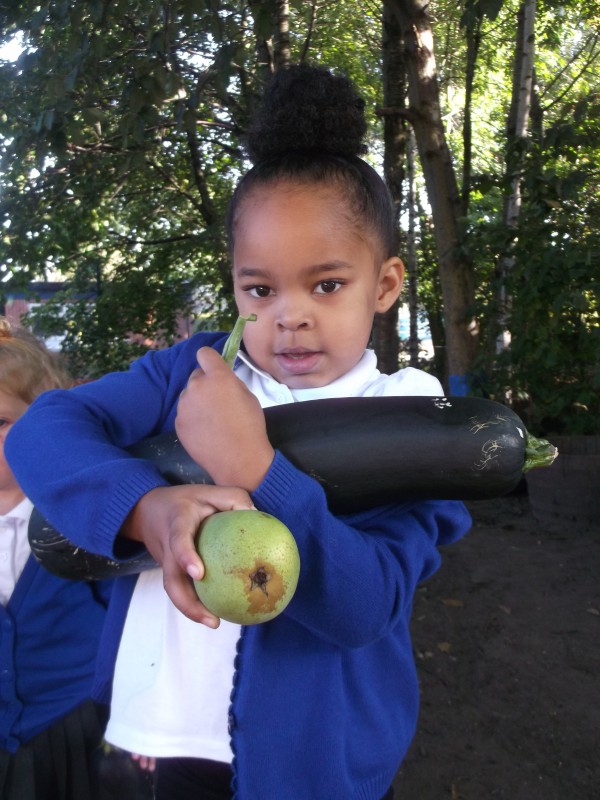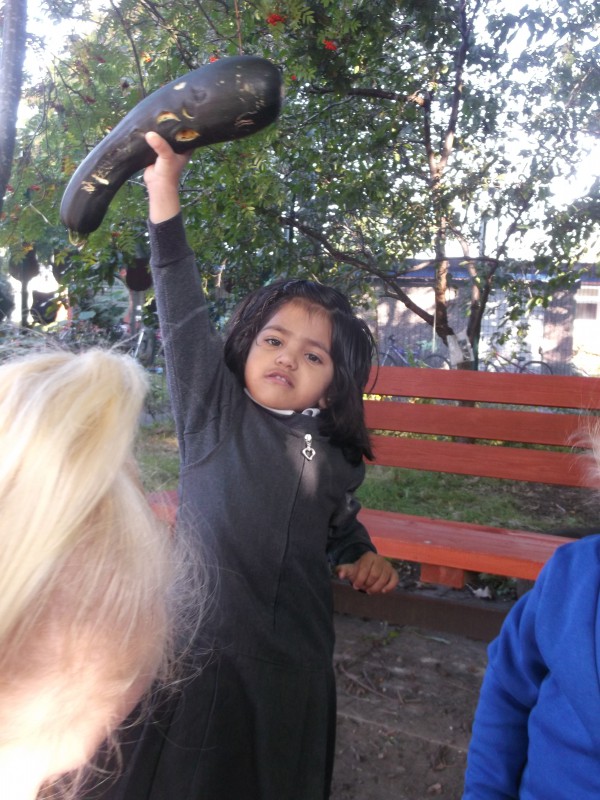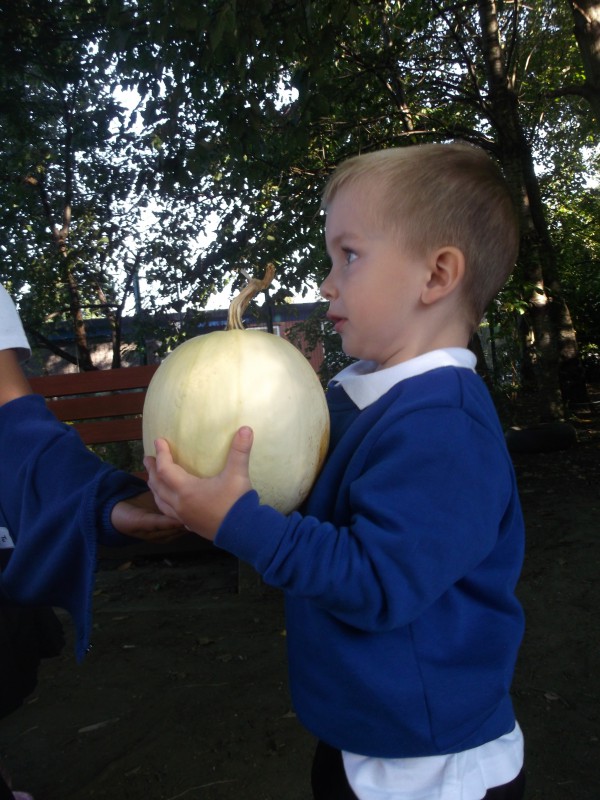 It is not easy to walk in the long grass on a sloppy hill.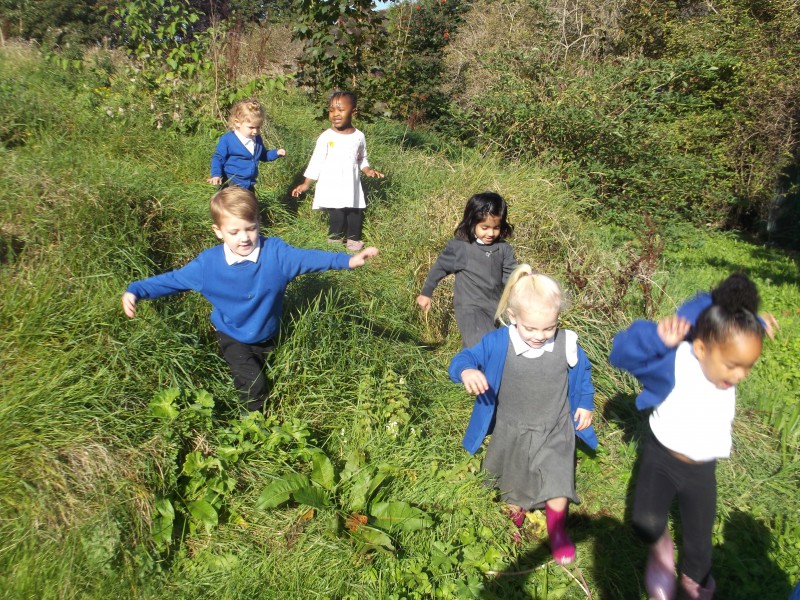 We are getting better at climbing trees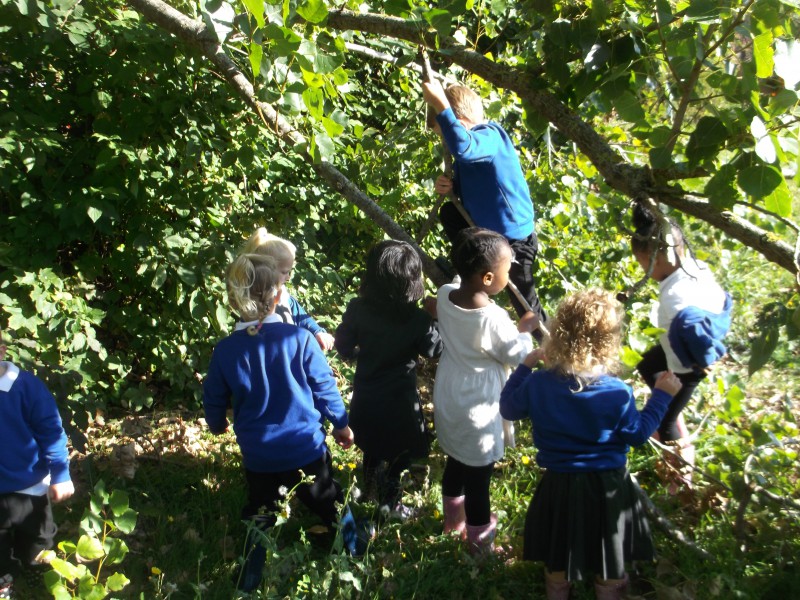 Please join us for a
Good Morning Story
& Teddy Toast
Thursday 26th September 9:00 o'clock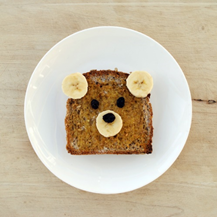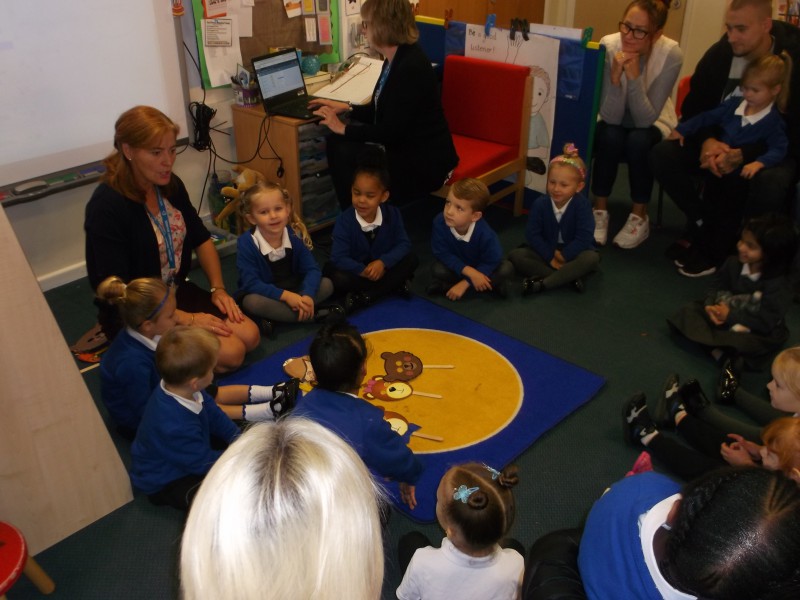 After the story we all had a piece of Teddy Toast with honey, banana and raisins.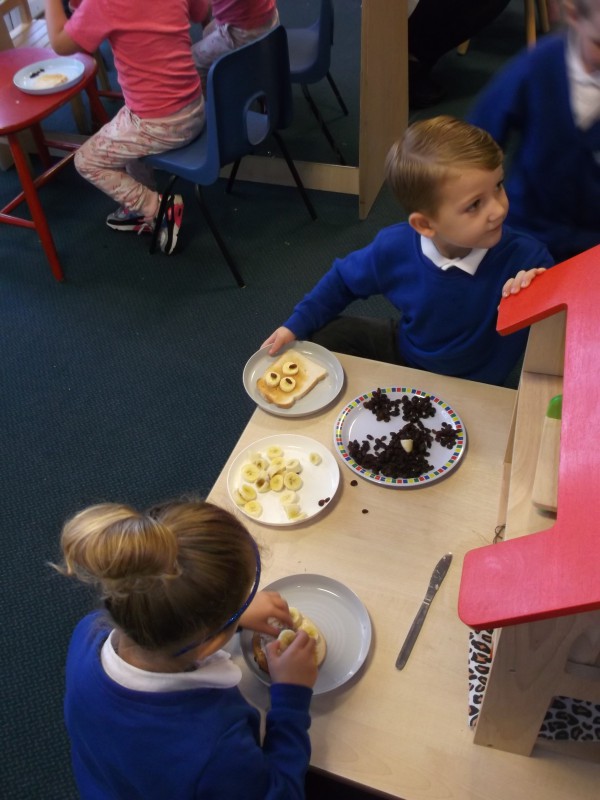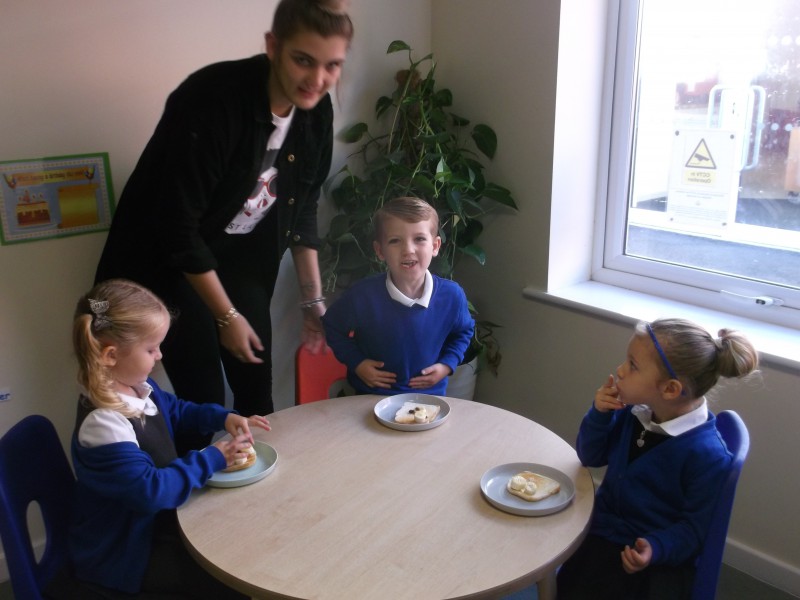 "Nee , naw, nee naw " it is the fire engine!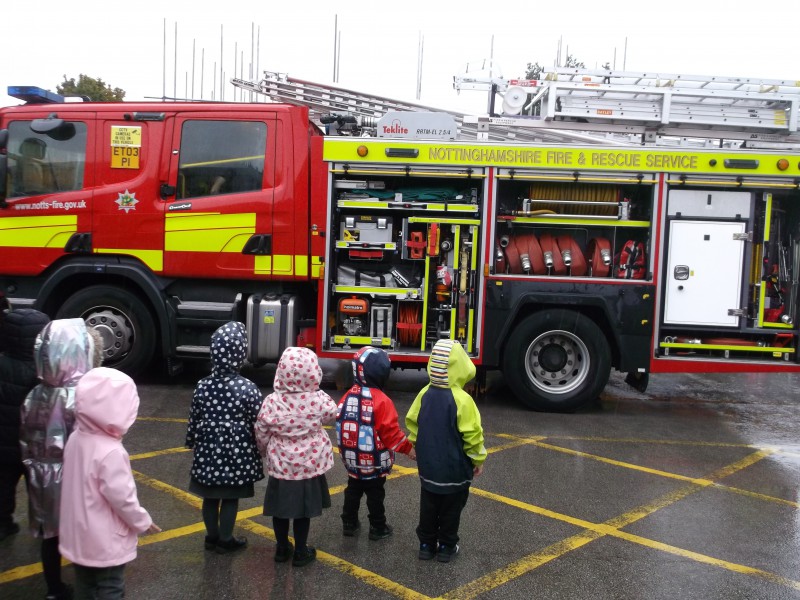 The firefighters visited the Nursery children on Tuesday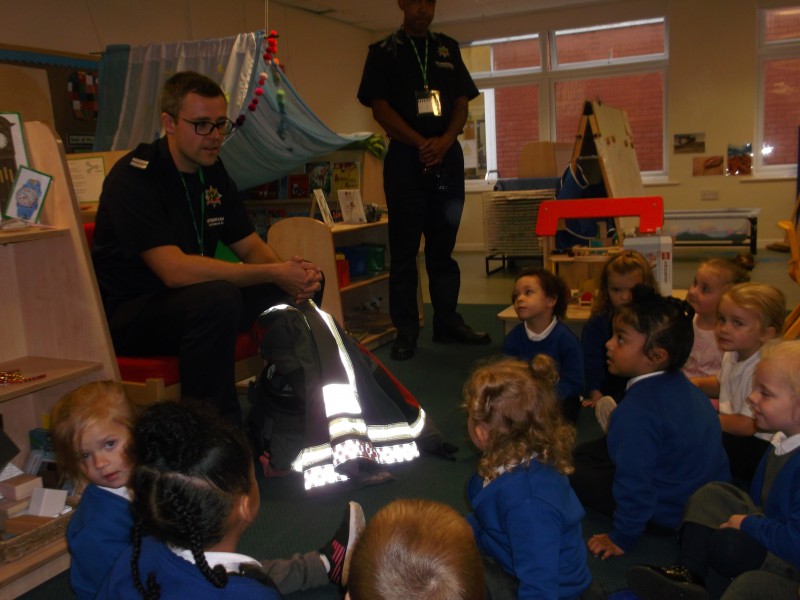 They told us about keeping safe from fire and they let us try on their uniforms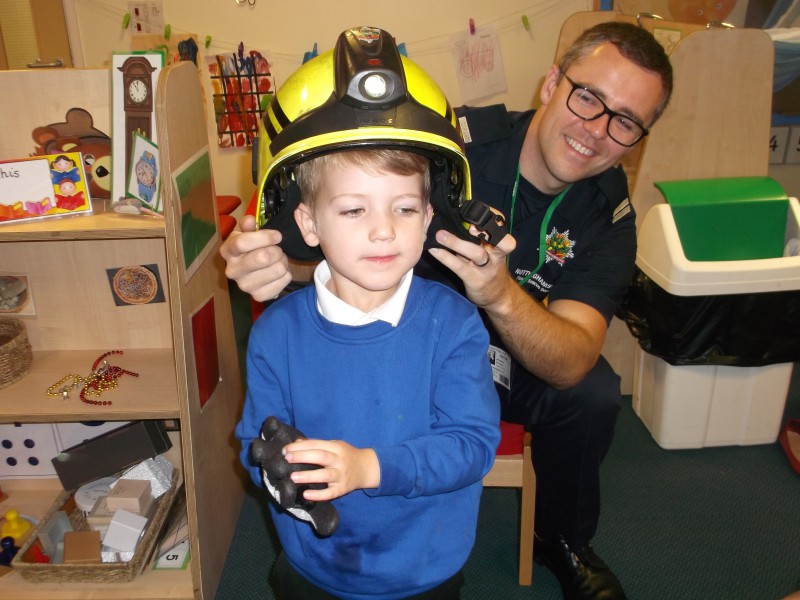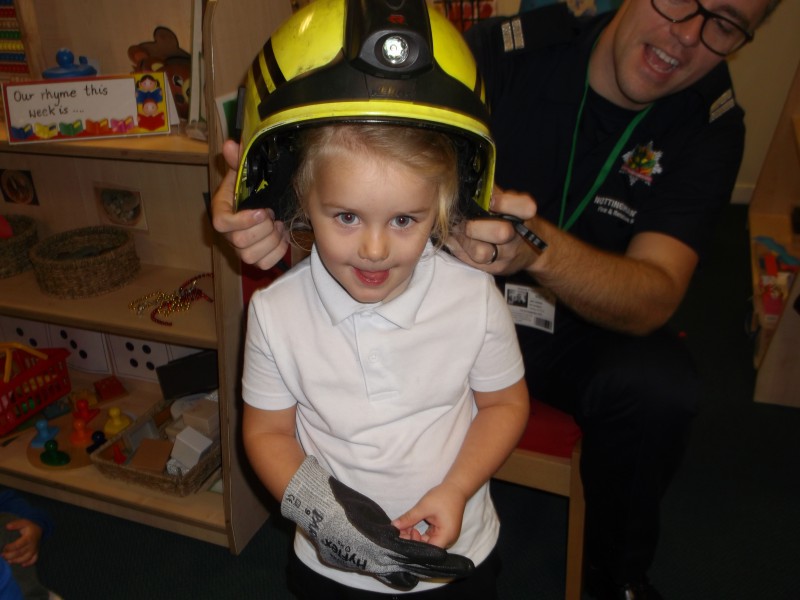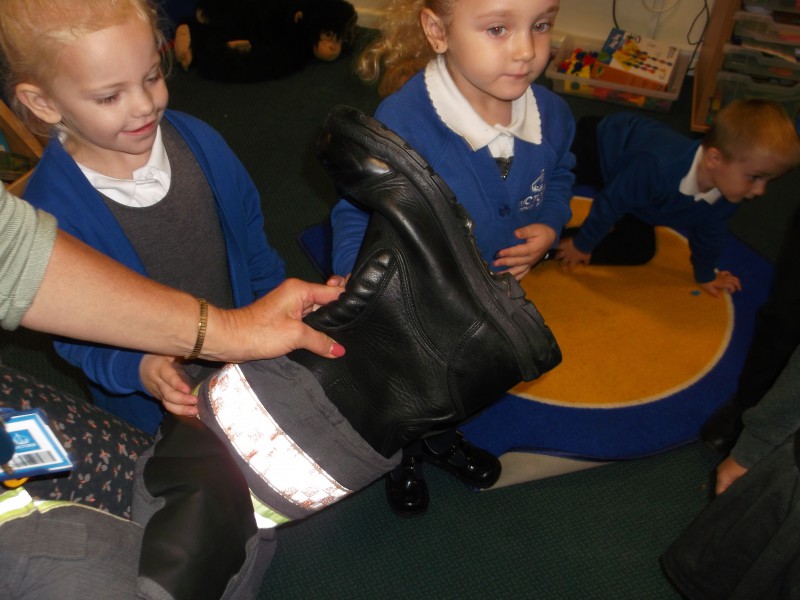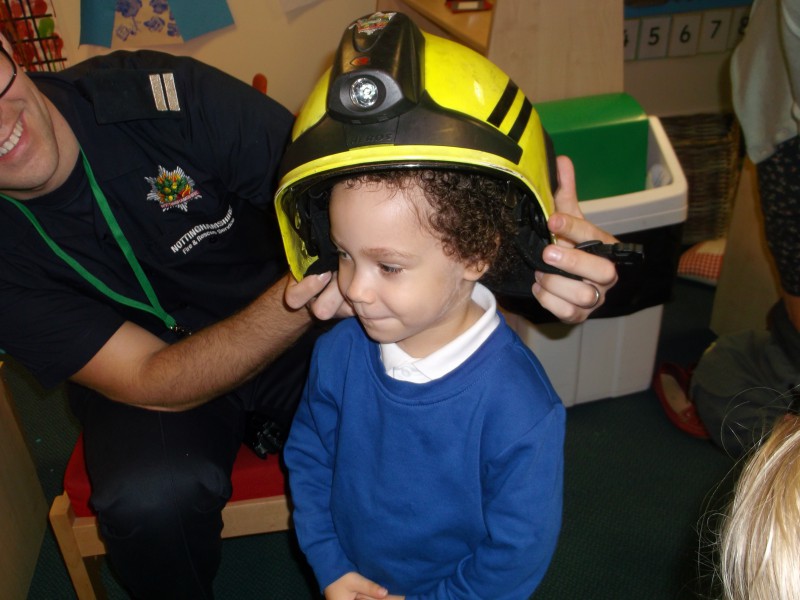 It has been so nice having Year 6 children reading to us and playing with us during lunch time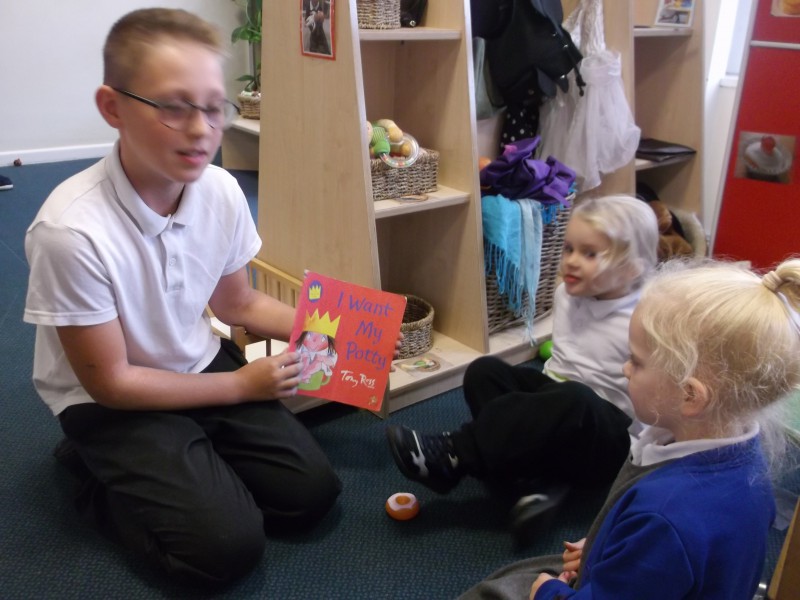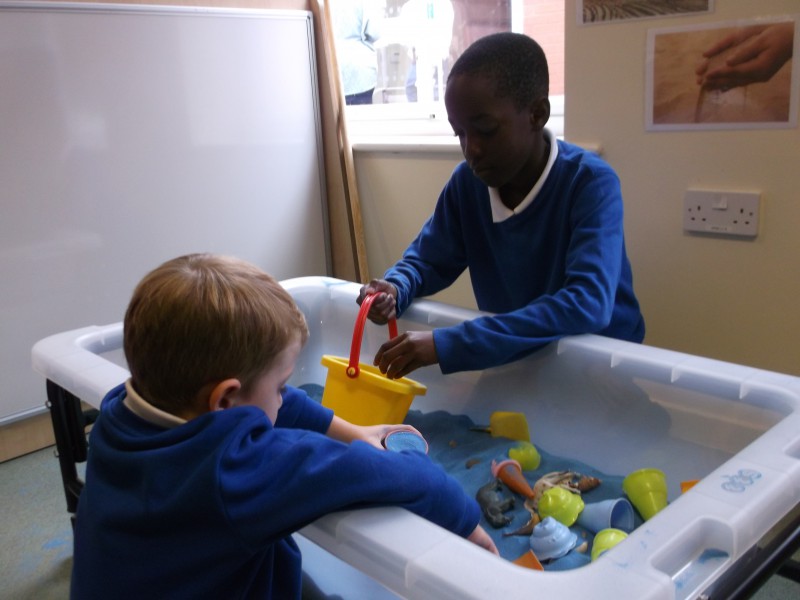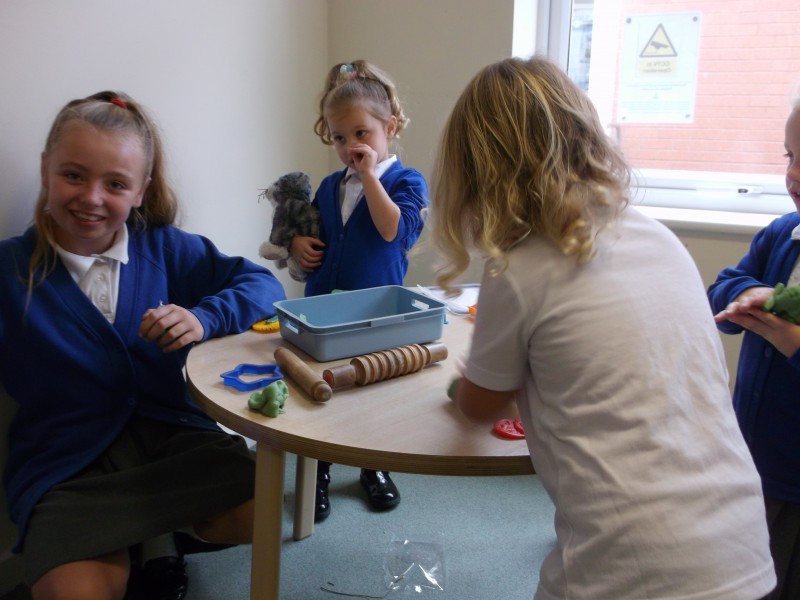 Forest School group on our special tree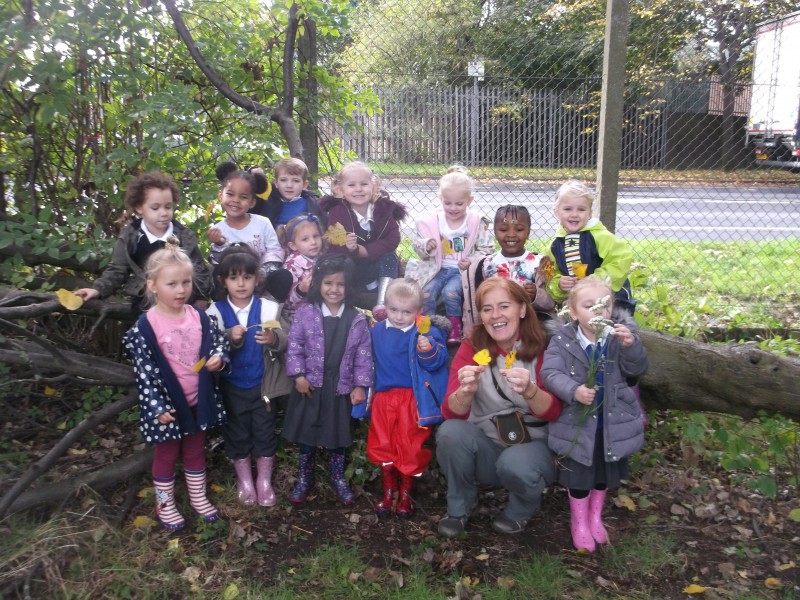 We harvested some potatoes, scrubbed them and showed to the rest of the children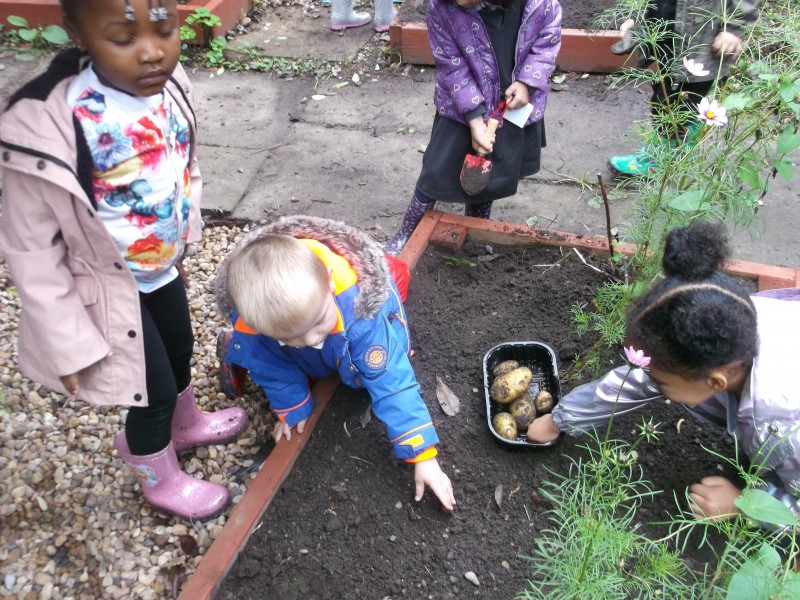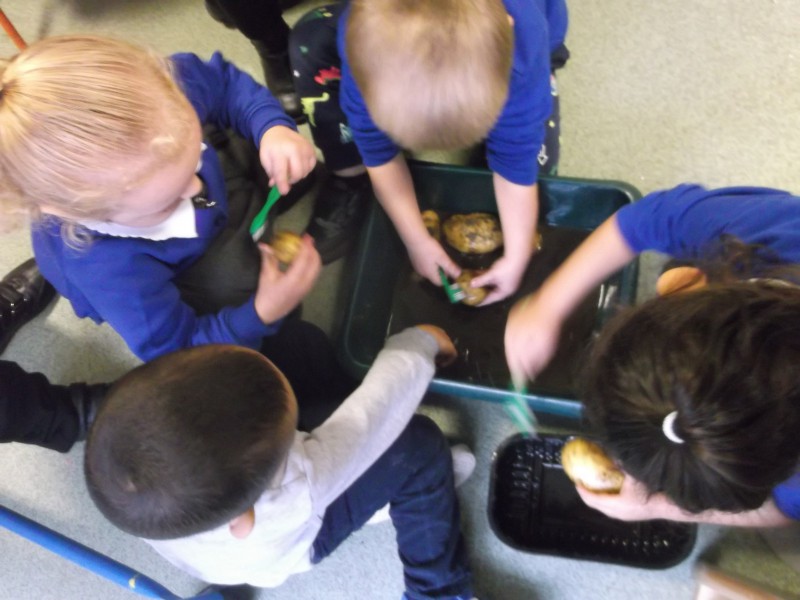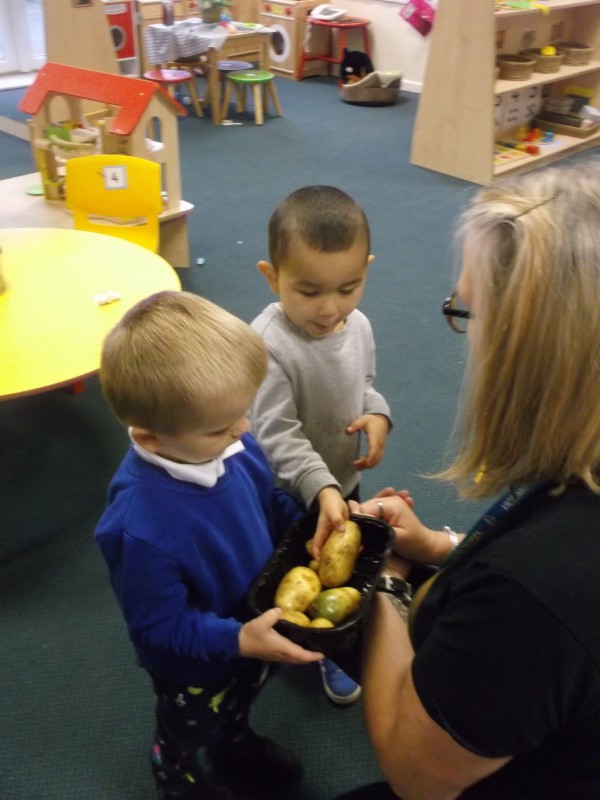 The story of Mrs Wishy-Washy
Mrs Wishy Washy washed the animals in her tub.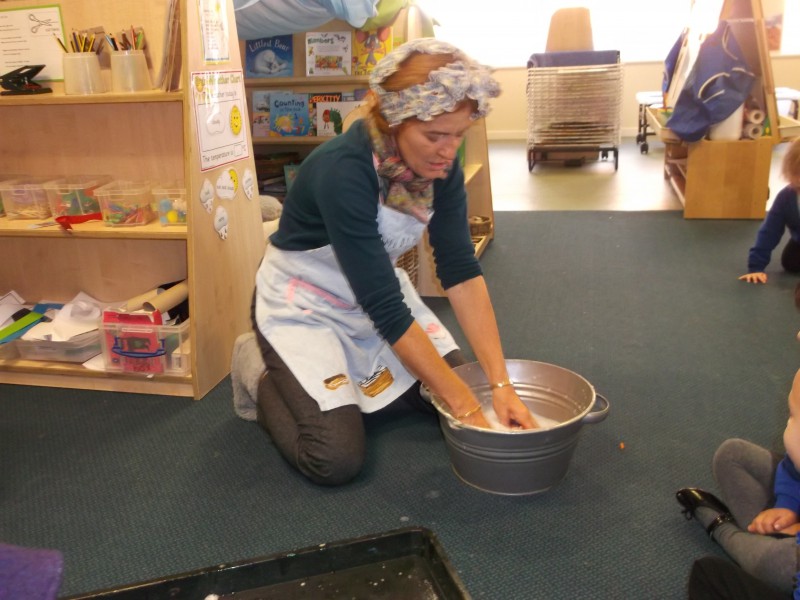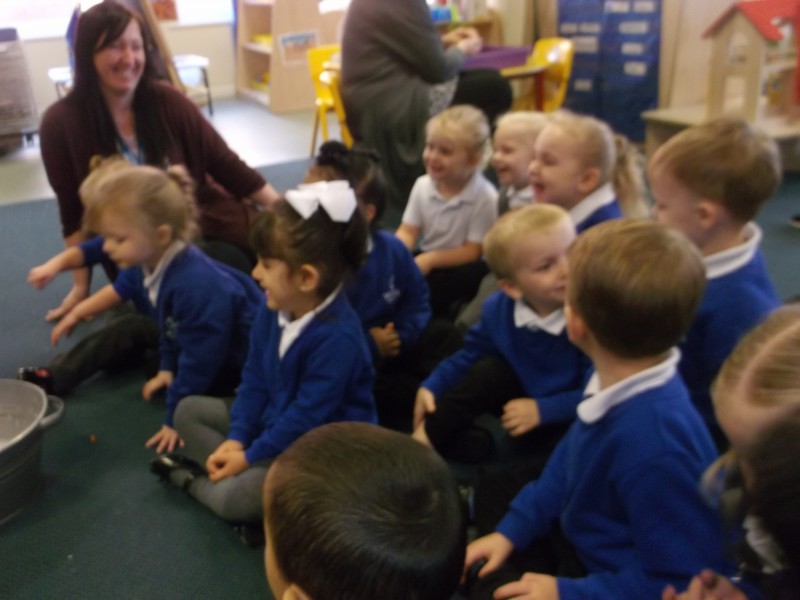 But the animals kept jumping in the mud.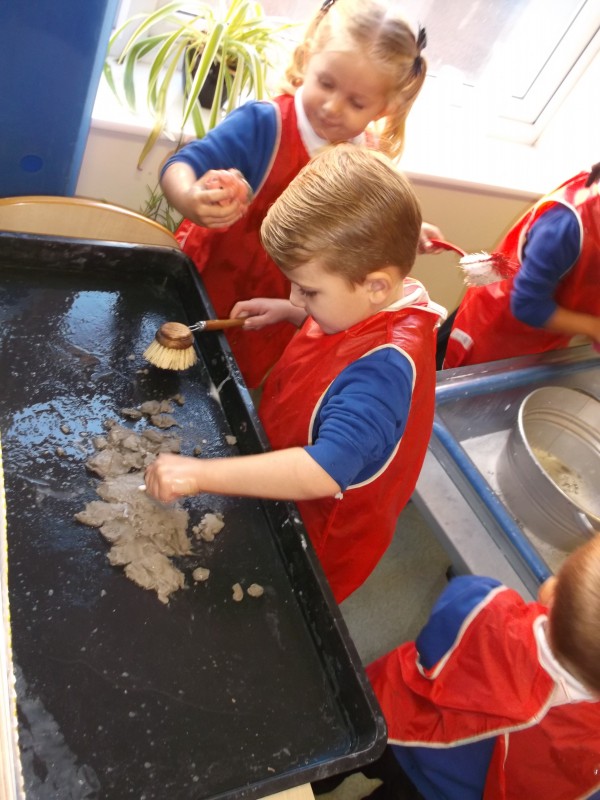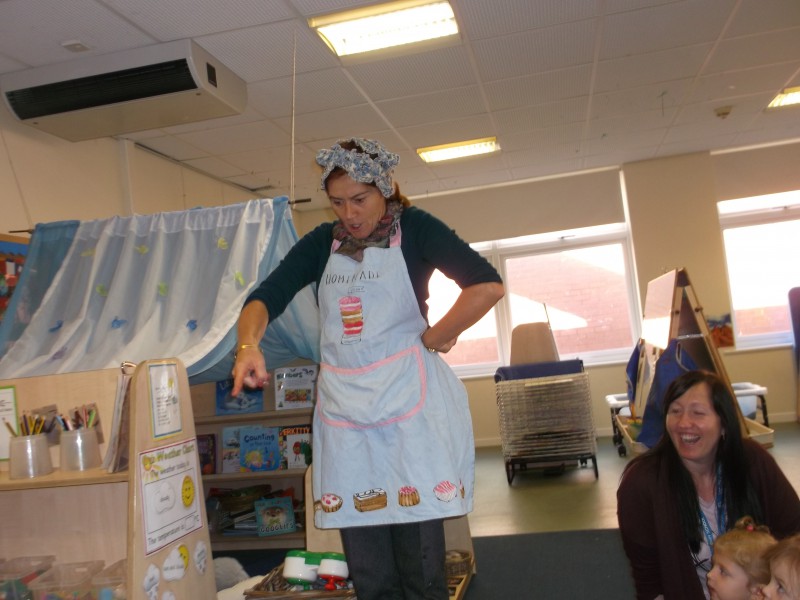 "Look at the state of you. In the tub you go!"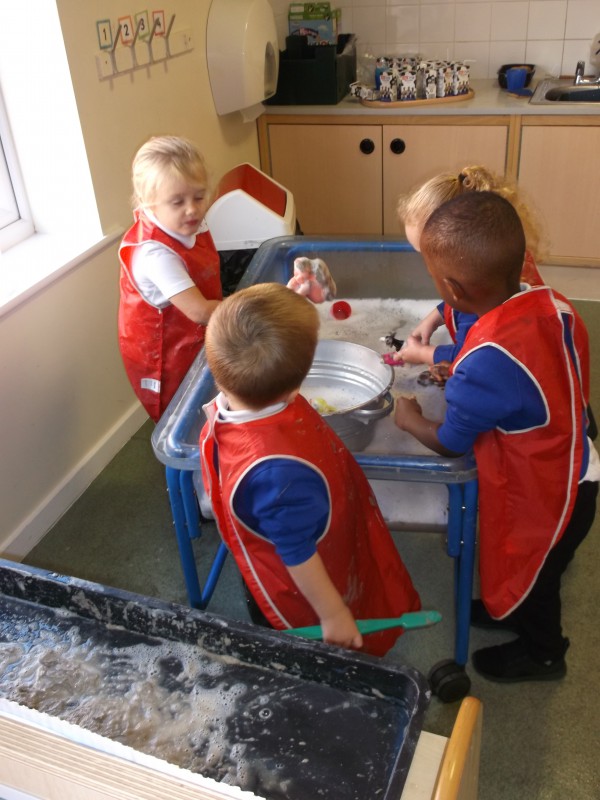 Wishy, washy. Wishy , washy.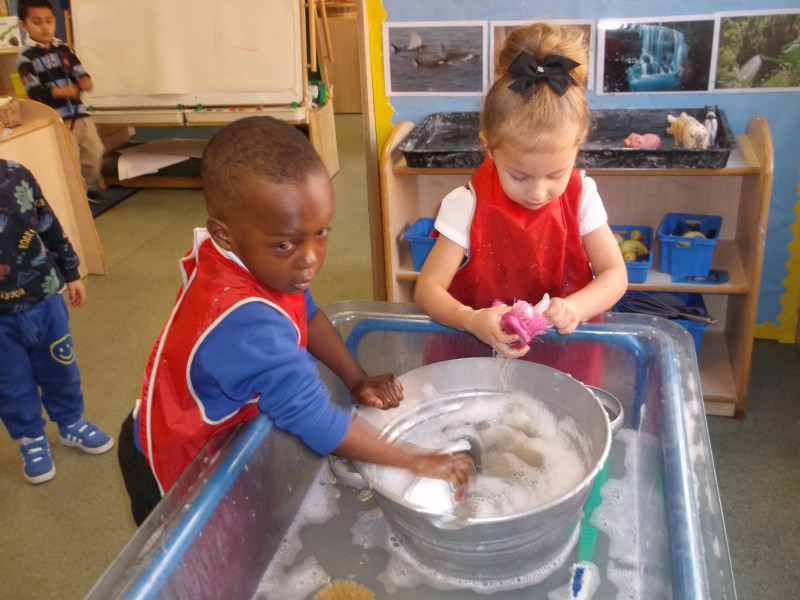 One child reads the story while others are acting it out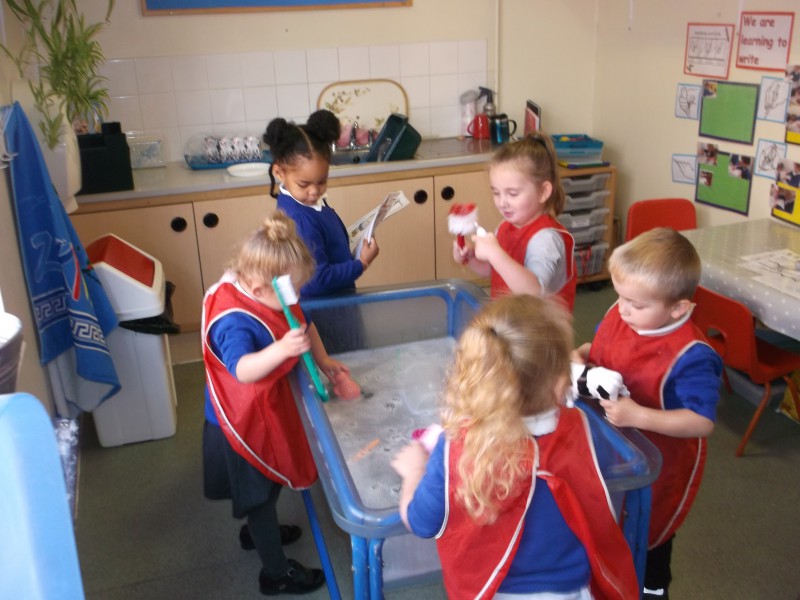 We are learning to make a person and later we will learn how to draw it.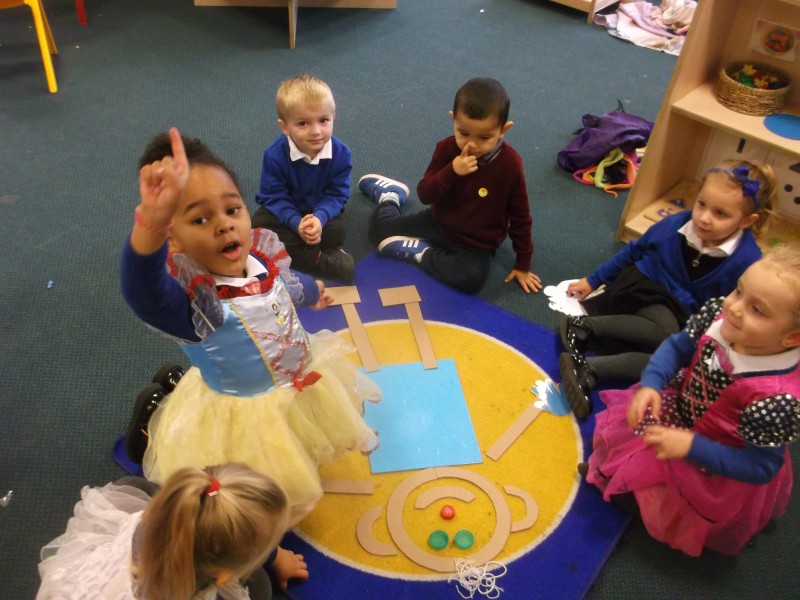 Learning maths.
4 bears on 4 chairs. What is going to happen if one more bear wants a chair?
Will anybody share with the bear?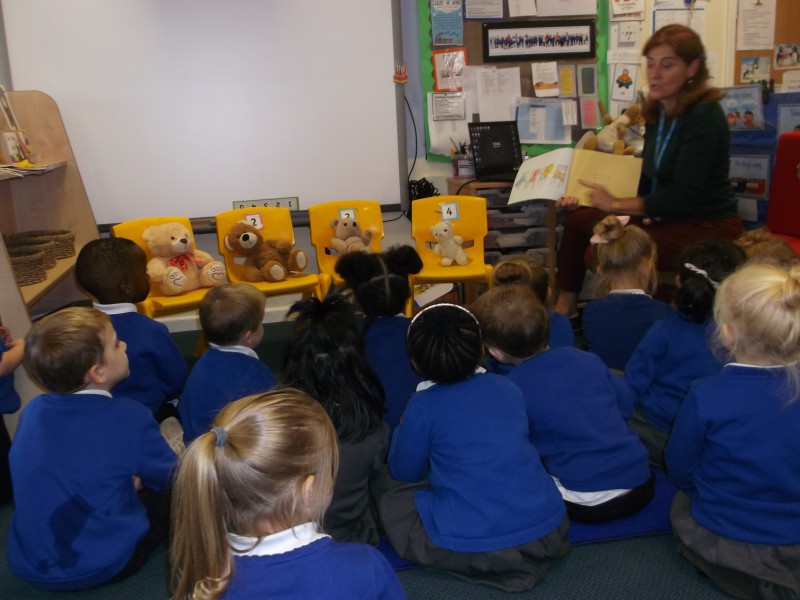 Our Autumn registration. Can you see your name?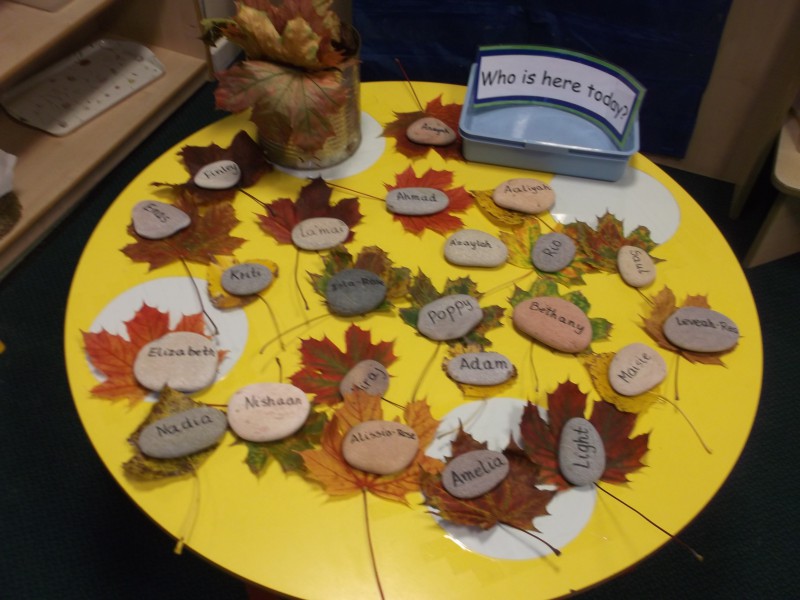 Who can build the tallest tower?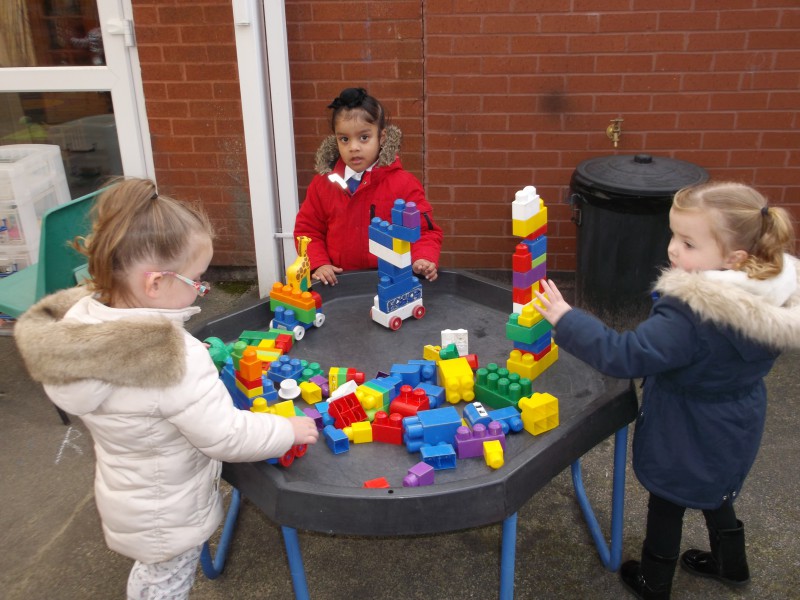 August 2020
| M | T | W | T | F | WE |
| --- | --- | --- | --- | --- | --- |
| | | | | | 1 |
| 3 | 4 | 5 | 6 | 7 | 8 |
| 10 | 11 | 12 | 13 | 14 | 15 |
| 17 | 18 | 19 | 20 | 21 | 22 |
| 24 | 25 | 26 | 27 | 28 | 29 |
| 31 | | | | | |